How has COVID affected college admissions?
How has COVID affected college admissions? The biggest loss was at two-year colleges, where first-year enrollment fell by 18.9% from fall 2019 to spring 2020. Low-income, first-generation, nontraditional, and students of color frequently use community colleges as a stepping stone to the middle class, which suggests that underprivileged students are abandoning their college ambitions in far greater numbers.
Students of color see significant drops in enrollment.
Students of color were particularly hard-hit by the epidemic in terms of undergraduate enrollment, with Native American and Black students experiencing the biggest drops from the previous academic year.
How has COVID affected college admissions? A startling 13% fewer first-year students were enrolled in colleges and universities, which includes two- and four-year institutions as well as public and private schools. Native American, Hispanic, and Black students in this category experienced the greatest enrollment declines.
The pandemic made it more likely that low-income and minority students would have trouble with money, and this lack of stability was a big reason for the sharp drop in enrollment.
Community college students are more likely to alter plans.
According to research by the Community College Research Center at Columbia University, these startling enrollment trends may persist through this fall. A total of 25,000 families having at least one person who has "plans for community college" were polled by the group. Here is an overview of what the CCRC discovered as of October:
A prospective student discontinued their plans to attend community college in more than 40% of homes. 15% of respondents said they were dropping classes or changing their program.
In comparison to 13% of high-income students, nearly 45% of low-income prospective students dropped out of community college.
More than one-third of homes with potential community college students say that the coronavirus has had a big effect on their plans to go to school.
Students with lower incomes are less likely to apply for financial aid.
How has COVID affected college admissions and students with low incomes? About 100,000 fewer high school graduates than the previous year submitted the Free Application for Federal Student Aid (FAFSA) in September, many of whom were from low-income households. Since this is the only clear evidence, it suggests that low-income students are less likely to apply to college during the pandemic.
Educators worry that enrollment declines may have an impact.
Experts are worried about the trends in college enrollment, especially since there is no guarantee that students who did not apply to college during the COVID-19 epidemic will do so after the vaccine has been given and the country has gotten used to life after COVID.
How universities are responding to COVID?
How universities are responding to COVID? In the middle of an international pandemic, recruitment is the largest problem. How has COVID affected college admissions? The list of responses from universities to COVID is provided by AdmissionSight below:
Delay in deadlines
In the US, May 1 is widely regarded as the cutoff date for high school students to choose their college. To help students and families who have been financially devastated by the virus, many colleges and universities are modifying their admission requirements.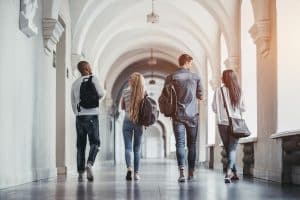 One such university that has since changed its decision day to June 1 is the University of Utah. George Mason University in Northern Virginia, Oregon State University, and Williams College in Massachusetts are some other institutions that provide a longer admissions process. Many students who are going through uncertainty because of the pandemic will find it very helpful to have time and space to think about their next step.
Fee waivers for applications and increased flexibility
99% of families, including 87% who feel it is "very critical," believe financial help is required to pay for college, according to The Princeton Review. In the current economy, they need to pay close attention to their students and families to figure out how to make college a financially smart choice.
By removing application costs, institutions are making it easier for their students to pay for their education. Ohio's Kent State University is waiving application costs and extending the deadline for applications from May 1 to June 1. The University of Akron has extended its deadline to June 1 and waived application fees in order to encourage other universities to do the same. All applicants who submit their applications by that date will also be automatically considered for their scholarship programs.
Adjusted entry requirements
Some have proposed decreasing language entry criteria in an effort to entice overseas students. While this would allow institutions to accept qualified applicants who met other requirements, it would also necessitate a focused support strategy to ensure students received the additional assistance needed to develop these skills to an acceptable level upon arrival.
Studying options that are adaptable
Many colleges are currently trying to make their learning options more flexible so that students don't have to wait to start their classes.
The Northern Consortium (NCUK), which offers foreign students access to study abroad programs in the UK, Australia, the US, and Canada, is aiming to provide more adaptable options for both students and academic institutions. Students who do well in the NCUK foundation year and get accepted to one of NCUK's partner institutions may be able to finish the first year of their degree from home before moving to the school for the last two years.
Improving the online experience
For this year's enrolling students, a strong online experience will be more important than location and on-campus amenities and activities, which have historically been the drawcards. This is more than just putting course materials online. The incorporation and promotion of curated tools, job aids, course templates, and in-person training should be considered by course facilitators. Universities should give faculty members the tools they need to support their students during this trying time by emphasizing engagement, compassion, and flexibility.
Personal communication
Universities should strive to communicate clearly with prospective students in addition to touting their fancy tools and course material. Personal emails, thoughtful video greetings, or even regular Instagram posts can do this.
The future of college recruitment post-pandemic
How has COVID affected college admissions? What is the future of college recruitment post-pandemic? Now that 2021 has finally arrived, many of us are speculating about what the far-off, post-COVID future means for student recruitment. Check out the list below:
In-person training trumps in-person recruiting.
The value of in-person education is immeasurable, and it will resume as it should. However, recruiting new students can be another matter.
Universities sprang into action to meet the new demands of their frantic admissions offices when US lockdowns initially started in March. They improved their virtual engagement tools by adding peer-to-peer chat features, virtual events, and more.
Virtual events will be beneficial.
As they go through the COVID learning curve, some university admissions officers have lots of small successes and big discoveries.
The hybrid events approach has multiple benefits, including assured engagement for any prospect desiring it, the distinct experience of something wholly distinct from your in-person events, and of course, the on-demand aspect of everything.
Even though we won't have to rely on digital events alone in the future, combining them with physical events may be the key to taking your post-COVID recruitment plan to the next level.
Post-COVID, chat is here to stay.
When potential customers can once again interact with student ambassadors in person, digital communication—and I don't mean chatbots—will likely continue to be a valuable supplementary tool. Online peer-to-peer connections are the way of the post-COVID future since the accessibility issue is gaining ground.
Prospects can get their most specific queries answered in a few keystrokes, regardless of their schedule, location, or socioeconomic status, and then go about their day. We have seen how eager Gen Z is to embrace innovation, particularly in the tech sector. It is in our best interests to pay attention to this growing body of facts.
Wondering how has COVID affected college admissions? Do you need assistance determining your post-pandemic course of study in academics or extracurriculars? We can help you with that! Contact AdmissionSight's college admission specialists for a free first session to discuss your college admissions strategies and how to start your application. Book your consultation today!