The Best Merit Scholarships For High School Seniors
The NCES reports that 14 percent of American undergraduates receive merit-based aid, with an average payout of $4,700. We've produced a list of the most significant scholarships for high school seniors that provide substantial sums based on merit.
Merit-based scholarships are financial aid gifts wrapped in lucrative packages given to exceptional achievers who have worked hard to attain tremendous success. Much merit-based funding is intended for academically brilliant students who are at the top of their class and have a lot of As.
Conversely, merit-based aid might award scholars for artistic talent, athletics, research, or community service. It is the polar opposite of need-based scholarships, which are provided entirely based on financial need. Students from affluent families have equal access to merit-based programs because income is not considered.
What are the best merit scholarships for high school seniors?
What are the best merit scholarships for high school seniors? Read the list of top merit scholarships for high school seniors below. Begin applying for these scholarships right away—achieve your scholarship application goals:
ABA Academic Merit Scholarship
The American Bus Association (ABA) awards a $5,000 Academic Merit Scholarship each year to two freshmen, sophomores, juniors, or seniors majoring in transportation or travel, including hospitality management.
Eligible members and non-members must be enrolled in authorized four-year universities in the United States and have a cumulative GPA of 3.4 or above. The Peter L. Picknelly Honorary Scholarship and the Driving the Future Award are two more merit-based funds.
Barry M. Goldwater Scholarship
The Barry M. Goldwater Scholarship, established by Congress in 1986, is a competitive, merit-based award of up to $7,500 for sophomores and juniors majoring in mathematics, engineering, and natural sciences.
Eligibility requirements include being nominated by an eligible undergraduate school, being a US citizen or resident alien, expressing an interest in research jobs, demonstrating academic excellence with a minimum 3.7 GPA, and presenting an essay outlining a scientific issue.
Bryan Cameron Impact Scholarship
The Bryan Cameron Education Foundation established the Impact Scholarship to provide excellent high school seniors with a minimum unweighted GPA of 3.7 with complete tuition up to $50,000 per year. One-fourth of the grants are designated for students seeking careers in public services, such as education, government, healthcare, and the military.
Eligible applicants must be United States citizens, enrolled full-time in a bachelor's degree program, have a good work ethic, and participate in civic-minded activities.
Davidson Fellows Scholarship Program
Since 1999, the Davidson Institute has awarded over $6.7 million in grants to extraordinarily gifted young people under 18 who consistently score in the 99th percentile on achievement tests. Thus, it is one of the best merit scholarships for high school seniors. The Davidson Fellows Program awards $50,000, $25,000, and $10,000 fellowships to outstanding projects nearing the graduate level of a college.
Citizens of the United States may apply in one of eight categories: Science, Technology, Engineering, Mathematics, Literature, Music, Philosophy, or Outside the Box.
Elks Most Valuable Student Scholarship
The Elks National Foundation holds the Most Valuable Student Competition each year, awarding two $50,000 scholarships, two $40,000 scholarships, two $30,000 scholarships, and 14 $20,000 scholarships. The merit-based program examines high-achieving graduating high school seniors with US citizenship who will enroll full-time at qualified universities with 12+ credits.
Top Elks finalists are invited to an all-expenses-paid Leadership Weekend in Chicago, where they will network and serve at a local veteran's hospital.
GE-Reagan Foundation Scholarship
The GE-Reagan Foundation Scholarship, named after the country's 40th President, awards $10,000 over four years for a total of $40,000 to excellent undergraduates who demonstrate ambition, honesty, and citizenship via service commitments.
Qualified applicants must be US citizens, enrolled full-time in bachelor studies, have a cumulative GPA of 3.0 or above, and be suggested by qualifying community leaders. Semifinalists must have a Skype or phone interview with the selection committee.
Gordon Hay Scholarship Fund
The Gordon Hay Scholarship Fund, sponsored by Blumenthal Performing Arts' Education Department, selects one beneficiary each year for $5,000. It is intended for Greater Charlotte, North Carolina, high school seniors, first-year college students, and sophomores interested in non-performing arts occupations such as music composition, choreography, stage management, costume design, or playwriting.
Academic merit, artistic talent, community involvement, and theatrical achievement are all considered in the selection process.
Jack Kent Cooke Foundation Scholarship
The Jack Kent Cooke Foundation Scholarship, valued at $40,000 annually, assists high-achieving high school seniors who have worked hard to enter the United States' most prestigious four-year universities. Hence, it is among the best merit scholarships for high school seniors.
Scholars must have a cumulative unweighted GPA of 3.5, a composite SAT score of 1200, a combined ACT score of 26, and a yearly household income of less than $95,000. An academic transcript, standardized tests, two recommendations, and a page-long personal essay are all required.
National Merit Scholarship Program
The National Merit Scholarship Program began in 1955 and is a long-running competition that selects the top three percent of high school seniors who score exceptionally well on the Preliminary SAT exam.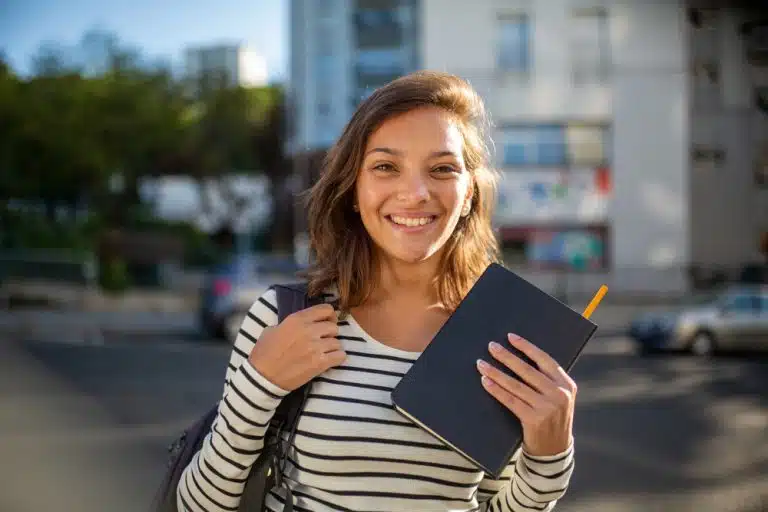 The index score is determined by multiplying the sum of the Reading, Writing, and Language examinations. The $2,500 scholarships require regular progress toward high school graduation, US citizenship or valid residency, and the intention to enroll full-time in authorized post-secondary education.
Paul Tsongas Scholarship Award
The Paul Tsongas Scholarship Award, administered by the Massachusetts Office of Student Financial Assistance (OSFA), waives full tuition for outstanding academic achievers at nine state-funded universities. Fitchburg State, Salem State, Westfield State, and Bridgewater State are among the schools that qualify.
High school students must have lived in Massachusetts for at least 12 months, have a minimum secondary GPA of 3.75, an SAT score of 1200 or above, and be registered for Selective Service if applicable.
Ron Brown Scholarship Program
The Ron Brown Scholarship Program, named after the first African American Secretary of Commerce, offers $10,000 annually to intellectually gifted Black graduating high school seniors.
Eligible winners must be US citizens or possess a visa, thrive academically, plan to attend an approved four-year college, participate in community activities, and have a strong desire to serve the public. A Guided Pathway Support (GPS) program is also available to assist rising juniors and seniors of color with college admissions.
Ruth K. Jacobs Memorial Scholarship
The Ruth K. Jacobs Memorial Scholarship is one of the best merit scholarships for high school seniors. It is endowed by the founder of the Choristers Guild, which provides merit-based, renewable $1,500 grants to full-time college students seeking careers in church music ministry.
Qualified candidates must enroll in 12 or more credits at an authorized U.S. university, be at least junior standing, major in music with a choral concentration, and demonstrate musical skills for church service. References from an ordained pastor and a music professor must be included in electronic applications.
SAPA Excellence in Education Scholarship
The Sino-American Pharmaceutical Professionals Association (SAPA) awards $2,000 in Excellence in Education Scholarships to deserving high school seniors who want to pursue full-time bachelor's degrees in the life sciences each year.
Applicants must be admitted to approved four-year universities, be US citizens or resident aliens, have a minimum overall GPA of 3.3, have an SAT score of 2000 or an ACT score of 30, and demonstrate potential for contribution to the pharmaceutical sector.
The Hungry to Lead Scholarship
The Hungry to Lead Scholarship, sponsored by Professional Reps., awards $2,500 based on the academic distinction to high school seniors or college students pursuing degrees in food service or hospitality.
Judges look for applicants who are citizens of the United States, attend accredited two or four-year institutions, have leadership skills, have a minimum 2.5 GPA, and score at least 1300 on the SAT or 18 on the ACT. There's also the Amana Leadership Scholarship, which is worth $2,500.
Udall Undergraduate Scholarship
Udall Undergraduate Scholarship is one of the best merit scholarships for high school seniors. The Morris K. Udall and Stewart L. Udall Foundation in Arizona annually award a $7,000 Undergraduate Scholarship to 60 high-achieving college sophomores and juniors. Specific funding is set aside for Native American and Alaskan Native students interested in careers in healthcare or tribal policy to improve Indian national circumstances.
Others are awarded to researchers who have demonstrated a solid dedication to environmental conservation. Unlike most merit-based programs, community service and leadership are more important than grades.
When should a high school senior apply for scholarships?
When should a senior in high school apply for scholarships? This is determined by the deadline for each scholarship. Some deadlines are as early as a year before the start of college, so if you're still in high school, you should start studying and applying for scholarships during the summer between your junior and senior years.
But keep going if you missed that window! Examine each scholarship's information to discover which ones are still open for applications.
Tips for searching and applying for scholarships for high school seniors
Searching for and applying for scholarships for high school seniors can be challenging. However, the fact that you've read this far and are taking the initiative to learn more about scholarships is a terrific start!
Here are a few basic recommendations for scholarship search and application advice for high school seniors.
1. Set yourself goals along the way.
We understand how difficult it is to balance homework, extracurricular activities, college applications, and scholarships.
It isn't always easy, but that is why you should concentrate on setting goals for yourself and developing a scholarship strategy!
Your objectives should be SMART (specific, measurable, achievable, relevant/realistic, and time-bound). Setting goals like how much you want to earn through scholarships and when you will set aside time to search for and apply will help you stay on track with your goals.
2. Understand where to look.
There are a lot of fantastic resources that contain a plethora of scholarships for high school seniors. In addition to the list mentioned above, make sure to contact your school counselor to learn about some available area scholarships that you can apply for.
Visit your state's financial assistance page to learn more about available grants and programs.
3. Apply often.
Think of something other than the scholarship process as something you can do once every few months and succeed at.
The scholarship application process necessitates consistency and perseverance. If you want the best chance of receiving scholarships, you must be dedicated to the process and put in the effort!
4. Be well-organized, comprehensive, and punctual.
Many students find that utilizing a spreadsheet to manage their scholarship application and the search process is beneficial (virtual or physical). These are particularly beneficial because you can keep track of critical dates, scholarship criteria, and more.
5. Consider thinking beyond the box.
In this post, we have listed a plethora of excellent merit scholarships for high school seniors.
In addition, feel free to look for scholarships tailored to YOU in every way! This entails thinking critically about your interests, hobbies, and passions outside of academics.
It also entails considering aspects of your personality that you could use in your scholarship pursuit. Are you, for example, a first-generation college student? Or you may intend to pursue a STEM degree. These are only two examples of locations where you might look for scholarships!
AdmissionSight is here to help. With extensive experience from college preparations to graduate school admissions, AdmissionSight offers programs and tutorials for students who need assistance. Feel free to book an initial consultation to start your admissions journey