What Grade to take on the SAT?
When should you sign up for the ACT or SAT so that you can send your scores with your college applications? Retesting may also pique your interest. Here is a summary of when to take (or retake) certain exams and how to submit the results.
What is the SAT?
Because it consists of several examinations, the SAT is referred to as a "suite of assessments." The various tests are given and what grades to take on the SAT are listed below:
PSAT 8/9 is taken by students in eighth and ninth grades.
The PSAT 10 is normally taken by sophomores in high school.
The PSAT National Merit Scholarship Qualifying Test (PSAT/NMSQT) is taken by students in tenth or eleventh grade.
Students in their eleventh and twelfth grades generally take the SAT.
The tests in the suite evaluate linguistic, literary, mathematical, and writing abilities.
When are the PSAT and SAT given?
About answering the question "What grade to take on the SAT?" Learning the decision date is also essential.
Each school determines when to give the PSAT 8/9. The PSAT 10 is only offered in the spring to students. The PSAT/NMSQT is given across the country on the same days, with the major test day happening somewhere in the middle of October and the secondary test date and a Saturday test date following shortly after. Seven times a year in the US, the SAT is given: in August, October, November, December, March, May, and June. The test can also be given at participating schools on certain dates in the spring and fall.
The PSAT is often only taken once by students, although the SAT can be taken seven times a year. In the spring of their junior year, most students take the SAT for the first time. So, if students wish to try to raise their scores, they can repeat it before they apply to colleges. For early-decision admission, scores must typically be submitted in November; for standard-decision admission, they must be submitted in December and January. To ensure that you submit your grades on time, check the application deadlines.
PreACT and ACTs
Concerning what grade to take on the SAT, you can take the PreACT in the tenth grade to gain an indication of how well you will perform on the ACT. The ACT is often taken by most students in the spring of their junior year, just like the SAT.
Since the deadlines for regular decision applications occur in December or January and the deadlines for early decision applications often fall in November or December, you can retake the exam in the fall of your senior year if you wish to try to raise your score. To make sure you submit your results on time, check and maintain track of the application deadlines for the universities you want to attend. The ACT can be taken up to 12 times.
How to Send in the SAT Scores?
After learning what grade to take on the SAT, you can ask for free score reports to be sent to the colleges you're applying to when you register. After you take the exam, you can request that extra ACT and SAT results be sent to other schools, but you'll have to pay for them unless you qualify for a cost waiver.
When Should You Take the SAT?
To answer the main topic of this article "What grade to take on the SAT?" The answer lies in the below paragraphs.
The March SAT date is a huge favorite of many college counselors, and the majority of high school students are advised to take the SAT in the spring of their junior year. The issue with this advice is that many students are quite busy in the spring when it is provided without considering a few particulars.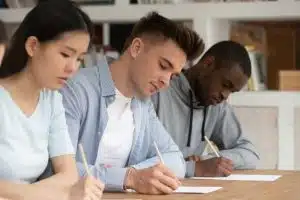 Is it wise to assign an additional exam to the AP student who participates in a spring sport? Not. You might also need to take the SAT Subject Tests in your junior year, depending on the admissions requirements at your preferred universities. We must keep this in mind as we plan our SAT trip because scheduling too much testing in one season might be overwhelming. The optimal test dates for the SAT Subject Tests are May and June.
What grade to take on the SAT? You might start taking the SAT as early as the eighth grade because the results are good for five years.
And with 7 SAT dates every year over 5 years, you will have a choice of 35 test dates. However, I somewhat reduce this window for convenience and everyone's sanity.
As per the advice of experts regarding what grade to take on the sat, the best time to take the SAT is in the spring of your sophomore year and closes the summer of your junior year.
You should aim to take the SAT as soon as you can within this range after preparation, keeping in mind your level of math and your schedule of activities, to ensure that you experience the least amount of stress possible along this journey.
Your junior year's spring testing may make you a strong contender. Or perhaps you should wait until the fall of your junior year because of your obligations in the winter and spring. Or perhaps—just perhaps—you can begin the summer following your sophomore year, which is a fantastic option for many students.
Can you take the test in your senior year as well? Absolutely! However, testing in the final year is excellent for raising an already high SAT score a few points. By having SAT scores you're proud of by the end of your junior year, you may finish your college list the summer before your senior year using actual exam results—not outcomes based on wishful thinking—as a solid foundation for discerning choices.
How Long is the SAT?
While learning about what grade to take on the SAT, let us discuss how long is the SAT.
When taking the SAT, time pressure might bring out your worst tendencies. After all, how frequently do you have one minute or fewer to respond to a question on a high school English or Math exam?
Get the pacing advice you need to achieve the SAT score of your dreams, along with recommendations on how to manage your time in each section.
What Is the SAT's Time Limit? The SAT lasts for three hours (3 hours and 15 minutes with breaks). Additionally, the SAT takes three hours and fifty minutes to complete if you decide to sign up for the optional essay (or 4 hours, 5 minutes with breaks).
Tips for Pacing the SAT
For your SAT date, are you prepared? Have you fully understood what grade to take on the Sat? Be sure you are aware of how long is the SAT. Spending too little time on simple and medium-level questions and too much time on difficult ones is the main error that test-takers make. The issue with this strategy is that you are nearly certain to make a few thoughtless errors if you rush through the easy and medium problems. The pacing steps that will help you raise your score are listed below.
1. Take it Slow, Score More
How many questions you answer does not affect your grade. How many questions you accurately respond to affects your score. Doing fewer questions can result in overall more accurate replies!
2. Copy the Actual Situation
Time yourself during practice exams just like you would be timed during the real SAT. Learn how long 35 minutes is, for instance, and how much time you can afford to devote to solving challenging puzzles. You won't feel as anxious about how long is the SAT if you are prepared and know what to anticipate.
3. Avoid becoming bogged down by difficult questions
Avoid getting caught up in difficult or time-consuming questions. Stop telling yourself, "But I've already worked on this question so much, I know I can finish it," in your head. If you're stuck or pressed for time, make a guess and go on.
How Many Times Can You Take on the SAT?
Not least of the concerns, you should decide how many SATs you plan to take. Some institutions will let you submit the exam results with your top sectional scores from all of your attempts. It's known as super-scoring.
Even if your school only considers the top result from a single test date, taking the test more than once will help you become more familiar with it and lessen the pressure of having only one test day count.
One of the reasons a competent test preparation company would provide their pupils numerous chances to take proctored practice exams is because of this.
Do not worry if you are unable, logistically or otherwise, to take the test more than once during your junior or any other year.
According to the CollegeBoard, 55% of juniors who retake the SAT as seniors see an increase in their scores. While the scores of 10 percent of pupils fall while the scores of 35 percent of students remain unchanged. Similar statistics apply to the ACT, where 57% of students see an improvement after retaking the exam.
The ACT and SAT both now more closely mirror the Common Core, explaining the rise in scores: the more time kids spend in high school, the more proficient they are with the Common Core, and the higher their test results.
Improve SAT results
For first-timers, what grade to take on the SAT? March, May, or June of their junior year is when many students take the SAT for the first time. You are prepared at that stage because you have completed nearly three years of high school study, and you still have lots of opportunities for how many times can you take the SAT (and improve your score) if you'd like.
By taking the SAT again, you may focus your study efforts on the areas you need to improve on the most, and you'll also have the added benefit of knowing what to expect on test day. Before the deadlines for college applications, the months of August, October, and November are popular for taking the SAT again.
Avoid These Common Errors in SAT Test Preparation
In this part, you're now aware of what grade to take on the SAT. Let us discuss the common errors in SAT preparation.
There are some traps to avoid when choosing when to begin preparing. One thing to think about is how definite you need to be about the school you want to attend the sooner you start preparing.
Starting early may give you more prep time overall, but if you don't have a specific target score in mind, you risk spending more time than is necessary on test preparation. It is more important than asking when you take the SAT. And that's time that may be used to boost your GPA or extracurricular activities, two components of your college résumé.
If you have a more defined objective in mind, you can also discover that you are more driven.
College Entrance Exams
There are several types of college entrance exams, it is not just a topic about whether should I take the SAT or ACT. A standardized aptitude test, such as one taken for college admission, assesses your ability in several categories, including verbal, mathematical, analytical, and writing abilities. These exams assess your potential for future success rather than your knowledge of what you have studied in school.
You can get ready for these tests with the help of your high school studies. But taking practice examinations is another option to study because they will make you more accustomed to the kinds of questions offered, the format of the questions, and the amount of time needed to complete each part.
Which college entrance exams you must take depends depend on the college you are applying to and where you are in your academic career. Here is a list of the exams that universities most frequently employ to evaluate potential students:
PSAT (Preliminary Scholastic Aptitude Test): High school sophomores and juniors who want to practice taking exams in advance of the ACT and SAT take the PSAT. The PSAT offers excellent preparation, and taking it makes you eligible for the National Merit Scholarship, which can ultimately allow you to save money for college.
The PSAT score you obtain has no bearing on your transcript because it is merely a practice test. Your PSAT score can help you discover areas where you need to spend more time studying, which could help you prepare for the ACT and SAT more effectively. Your PSAT score is for your benefit.
SAT (Scholastic Assessment Test) (Scholastic Assessment Test): The SAT is a nationally normed aptitude test that gauges a student's college readiness. Reading, writing, language, math, and an optional essay make up its three portions. Only those states that mandate the Essay as a component of SAT School Day administrations have access to it. The inclusion of the Essay should be confirmed with the school before taking the SAT on a day when classes are in session. The essay requires examining a piece of writing, and the questions are typically multiple-choice.
With a maximum score of 1,600, each section is graded on a range from 200 to 800. Results from optional essays are presented separately. Before you take the SAT, make it important to find out if the universities of your interest require SAT essay scores. The SAT is presented seven times a year, and you have three hours to finish it (the optional essay takes an additional 50 minutes).
ACT (American College Test) (American College Test): Another standardized aptitude exam used to gauge a student's college preparation is the ACT. The ACT gauges a student's capacity to succeed in college, much like the SAT does. Exam questions are based on subjects taught in high school.
There are four academic areas in the multiple-choice test: science, reading, math, and English. The ACT English test is supplemented, if desired, with an optional writing portion. The writing test is required by some colleges but not by others. Based on the requirements of the colleges you intend to apply to, you should decide whether or not to take the writing test.
Your final result is an average of the four topic areas, with each portion being graded on a range of 1-36. (If you take the writing test, you will receive an ELA score that averages your English, reading, and writing scores in addition to a subject-level writing score.) The ACT is given six to seven times a year, and it lasts just under three hours in total (not including the 30-minute writing section).
TOEFL (Test Of English As A Foreign Language): A standardized test used to assess college-level English speaking and understanding is called the TOEFL. This test, which can be completed online, is frequently a requirement for students applying from outside the United States. The four-hour TOEFL exam covers reading, writing, speaking, and listening and has four different sections. After the test date, scores are valid for up to two years.
AP (Advanced Placement): High school students can demonstrate their understanding of college-level material in a range of subjects by taking the Advanced Placement exams, a series of standardized achievement assessments. Similar to the SAT Subject Tests, AP tests assess students' understanding of the material they have studied in class and are often taken after they have finished (or are nearly through with) an AP course. Students may take the tests even when they have not finished the AP course, as not all schools offer AP courses.
Each exam is graded on a scale from 1 to 5, and the grades are determined by how well the student performed to all other exam-takers. Most colleges and universities will frequently count exam scores of 4 or 5 (or perhaps even 3) toward college credits.
GED (General Education Development): For those who did not complete high school, the GED exam is a test to receive a certificate that is comparable to a standard high school diploma. It consists of four topic areas: language arts reasoning, social studies reasoning, scientific reasoning, and mathematical reasoning. It assesses the abilities and general knowledge of four-year high school education.
Should I Take the SAT or ACT?
Is the SAT or ACT better for me? Both the ACT and SAT, which examine related intellectual ideas in distinct ways, are accepted by colleges.
Different pupils find different tests appealing for various reasons. Furthermore, because the timing and strategic approach are so drastically different, preparation for one won't necessarily help you for the other.
Both tests are equally challenging. However, you might naturally be more suited to one exam than the other depending on where your skills lie. In addition, the SAT features a No-Calculator Math component, which the ACT does not, and the ACT does not have a Science section.
The SAT gives somewhat more time per question than the ACT, but the SAT's questions also demand more logical thought, so extra time is required. Math concepts like matrices and logarithms are tested on the ACT more than they are on the SAT, but the ACT math problems are also simpler than those on the SAT. You should take practice exams to determine which test you are strongest in because the differences between exams are very evenly distributed.
Although the ACT and SAT share many similarities, there are a few key differences to be aware of as you choose which test to take and start your preparation.
The SAT has a No-Calculator Math component, whereas the ACT features a Science section. Each has one section that the other does not. The ACTs on a greater array of math topics than the SAT does, including matrices, logarithms, and graphs of trigonometric functions, despite the absence of a No-Calculator Math block. Additionally, the ACT includes a lot more geometry than the SAT does.
The ACT will challenge you to assess several perspectives, including your own, on a particular subject indicated in the question. The essay prompts are slightly diverse as well. You'll be required to read a passage on the SAT and evaluate the author's position.
The SAT gives students more time for each question than the ACT, but SAT questions need more logical thought than ACT questions do. The timing breakdown chart shown above contains more timing details.
The SAT is scored between 400 and 1600, while the ACT is scored between 1 and 36. The score equivalent chart above can be used to learn more about SAT vs. ACT scoring.
Colleges do not have a preference between the ACT and SAT. Both the SAT and ACT are accepted by all universities that accept scores from standardized tests. However, in general, universities do not favor one exam over another. You can check the admissions statistics of previous freshman classes at the universities you are interested in to see what proportion of incoming students took the SAT vs. ACT and use that information to decide which test you take.
Should I take the SAT or ACT? Why not both? It's not a bad idea to take the SAT and ACT if you have the time and finances. You might perform better on one examination than the other due to variations in topic and approach between the two exams.
How Much is the SAT?
You are not the only one who is curious about how much the SAT costs. When the SAT examinations are about to begin, many candidates have the question of how much is the SAT in mind.
Prices for the SAT range from $49 for the normal exam to $64 for the essay-only version. The College Board determines the SAT registration costs each year. The cost of the Math and Evidence-Based Reading and Writing course is $49 as a whole.
It's important to keep in mind that there are extra charges if you modify an existing SAT registration, schedule your exam late, or register by phone. If you are taking the SAT outside of the United States, there are additional regional fees.
How much is the SAT? You might not be familiar with college entrance exams like the SAT as a high school student. This is a test required by several institutions for high school students' college admissions process. It's a multiple-choice test with sections on math and reading.
There is an essay, although it is not required. You are free to accept it or decline it. You must pay $49.50 for the SAT and $64.50 for an essay. Plan and schedule your exam to avoid paying unnecessary fees.
Register for your exam as soon as possible to avoid the $30 late registration fee. Register for the exam with the College Board online or by mail.
Are you a foreign-born student? For taking the exam outside of the US, there are unique costs.
For many students, applying for scholarships is part of the college application process. AdmissionSight college admissions experts can assist you in becoming acquainted with the process of applying for financial aid and locating these coveted free sources of funding. AdmissionSight can assist you in developing a strategy for standing out when applying for scholarships.