A Comprehensive Guide to MTNA: Unleash Your Musical Potential
What is MTNA?
What exactly is MTNA? MTNA or the Music Teachers National Association is a prominent, non-profit organization dedicated to promoting the value of music education and nurturing a love for music-making. Established in 1876 by Theodore Presser and 62 fellow music teachers, it has since become an essential resource for music teachers, students, and enthusiasts across the United States and beyond.
The association aims to advance the quality of music education by fostering a supportive community of professionals and amateurs alike. They support music teachers through professional development opportunities, resources, and networking events. At the same time, it offers music students access to skilled instructors, competitions, scholarships, and performance opportunities.
They are guided by four core values: professionalism, leadership, inclusiveness, and partnership. These values are reflected in the programs, services, and opportunities that they offer. As a result, MTNA plays a critical role in shaping the landscape of music education in America.
What are the benefits of becoming an MTNA member?
What are the advantages of becoming an MTNA member? Becoming a member offers numerous benefits and resources that cater to music teachers, students, and enthusiasts alike.
These advantages can significantly enhance your musical journey and provide you with opportunities for growth, development, and networking. Some of the key benefits of the membership include:
Access to the American Music Teacher (AMT) magazine: As a member, you will receive a bi-monthly subscription to the AMT magazine, which features informative articles, educational resources, and news about the music world. This publication helps you stay up-to-date with the latest trends, techniques, and opportunities in the music industry.
Networking opportunities: The association offers a platform for members to connect with fellow musicians, teachers, and music enthusiasts. Through various events, conferences, and workshops, you can meet and collaborate with like-minded individuals, share knowledge, and form lasting connections that can benefit your musical journey and career.
Professional development resources: Members are provided with access to valuable professional development resources, including webinars, workshops, and conferences. These events feature industry experts and cover a wide range of topics, allowing you to expand your skills, knowledge, and expertise in music.
Participation in competitions and events: As a member, you can participate in various music competitions and events organized by the association. These opportunities give you a chance to showcase your talent, gain performance experience, and receive constructive feedback from esteemed judges.
Access to job listings and performance opportunities: They also offer an online database with job listings, auditions, and performance opportunities for musicians. This resource can help you find employment, freelance work, or performance gigs that align with your musical interests and goals.
Discounts on music-related products: Members can enjoy discounts on sheet music, instruments, and other music-related products from selected partners. These savings can help you access high-quality materials and tools without breaking the bank.
Scholarships and financial aid opportunities: MTNA provides various scholarships and financial aid opportunities for its members. These offerings can help you fund your musical education, instrument purchases, and other music-related expenses, easing the financial burden of pursuing your passion.
Certification program for music teachers: For those interested in teaching, they offer a certification program that helps establish professional standards and recognizes excellence in music education. Becoming an MTNA-certified teacher can enhance your credibility, increase your career prospects, and demonstrate your commitment to excellence in the field.
How to join MTNA?
How to sign up for MTNA? Joining the MTNA is a straightforward process, and you can complete it online. Here's a step-by-step guide to help you:
Visit the MTNA website: Navigate to the MTNA website to access information about membership, benefits, and resources.
Go to the membership page: Locate the "Join & Renew" link on the main menu to access the membership page.
Choose your membership type: MTNA offers several membership categories to cater to different needs and interests. Some of the membership types include:

Active Membership: For professional music teachers, providing full access to benefits and resources.
Collegiate Membership: For college students enrolled in a music-related program, offering access to resources at a reduced rate.
Retired Membership: For retired music teachers who want to maintain their connection with the MTNA community.
Patron Membership: For individuals who wish to support MTNA's mission without being an active music teacher.
Review the various membership options, their benefits, and annual fees, then choose the one that best suits your needs and interests.
Complete the online application form: Click on the "Join Now" or "Renew Now" button corresponding to your chosen membership type to access the online application form. Fill in the required personal and professional information, including your name, address, phone number, email, and teaching experience.
Choose your state and local affiliate: As an MTNA member, you'll also become a member of your state and local affiliate organizations. Select your state from the dropdown menu, and choose a local affiliate if available. These affiliations will provide you with additional resources and networking opportunities at the state and local levels.
Review your application and accept the Code of Ethics: Before submitting your application, review the information you've provided for accuracy. You'll also need to read and agree to the MTNA Code of Ethics, which outlines the professional conduct expected from all members.
Pay the membership dues: Once you've completed the application form and accepted the Code of Ethics, you'll be prompted to pay the membership dues. These fees will vary depending on the membership type you've chosen. You can make the payment using a credit card, debit card, or electronic check. After your payment has been processed, you'll receive a confirmation email and become an official MTNA member.
What are the MTNA competitions and events?
What are the competitions and events that MTNA offers? MTNA competitions and events are a crucial part of the organization's offerings, providing valuable opportunities for students, teachers, and music enthusiasts to showcase their talents, learn from experts, and connect with others in the music community.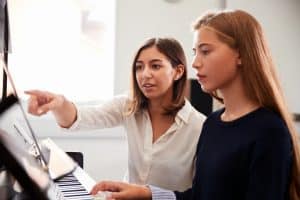 It caters to a wide range of instruments and age groups, ensuring there is something for everyone. Here is an overview of some notable competitions and events:
Performance Competitions: These competitions are divided into various categories, such as piano, strings, brass, woodwinds, voice, and chamber music. The competitions are further divided into four age groups: Elementary, Junior, Senior, and Young Artists. Participants compete at the state, division, and national levels, giving young musicians the chance to showcase their skills, gain performance experience, and receive feedback from esteemed judges.
Composition Competitions: These competitions are designed for aspiring composers, providing them with a platform to submit their original compositions and receive recognition for their creativity. Like the performance competitions, the composition competitions are divided into age groups and follow a tiered structure, with winners advancing from the state to division and finally to the national level.
Collegiate Chapter Competitions: These competitions are specifically tailored for college students who are members of a collegiate chapter. They offer a variety of categories, such as chamber music, piano duet, and woodwind ensemble. Participants can compete in these events to enhance their college experience, showcase their talent, and network with fellow musicians.
National Conference: This annual event brings together music teachers, students, and enthusiasts from across the country for several days of learning, networking, and inspiration. The conference features keynote speakers, educational sessions, masterclasses, performances, and exhibitors, making it an invaluable experience for anyone passionate about music education.
Webinars and Workshops: Throughout the year, they host webinars and workshops covering a wide range of topics related to music education, pedagogy, and the music industry. These events offer members the opportunity to learn from experts, enhance their skills, and stay up-to-date with the latest trends and techniques in the field.
State and Local Events: In addition to national competitions and events, state and local affiliates organize their own events, such as conferences, workshops, masterclasses, and recitals. These events give members more accessible opportunities to learn, perform, and network within their local music community.
How can MTNA helps students prepare for college?
How can MTNA assist students in preparing for college? MTNA offers various resources and opportunities that can help students prepare for college and enhance their college applications including the following:
Access to experienced music teachers: Students can connect with skilled music teachers who can provide guidance, mentorship, and training. These teachers can help students develop their technique, refine their musicianship, and prepare for college auditions and applications.
Participation in competitions: Competitions offer students the chance to showcase their talents, gain performance experience, and receive constructive feedback from esteemed judges. The tiered structure of these competitions allows students to compete against their peers and improve their skills. Success in these competitions can boost college applications by demonstrating dedication, accomplishment, and a high level of musicianship.
College preparation resources: MTNA provides resources and information to help students navigate the college application process, including tips on choosing the right music program, preparing for auditions, and crafting a strong application. By utilizing these resources, students can enhance their chances of getting accepted into their desired music programs.
Exposure to diverse musical experiences: Attending MTNA events, conferences, and workshops can expose students to different genres, styles, and techniques in music, broadening their musical horizons and enriching their overall college experience.
Development of soft skills: Participating in MTNA competitions and events can help students develop essential soft skills, such as discipline, time management, communication, and teamwork. These skills are not only valuable in the music world but also highly sought after by colleges and future employers.
In summary, MTNA can play a significant role in helping students build a career in music by providing access to expert guidance, networking opportunities, skill development resources, and valuable experiences. By leveraging these benefits, aspiring musicians can create a strong foundation for a successful and fulfilling career in the music industry.
Moreso, the combined resources and support from AdmissionSight and MTNA create a powerful partnership for aspiring musicians seeking to pursue their passion in higher education and beyond.
AdmissionSight's expertise in college admissions and personalized guidance, coupled with MTNA's valuable offerings and connections within the music community, equip students with the tools and knowledge they need to excel in their chosen field.
By taking advantage of these comprehensive services, students can confidently navigate the competitive world of college admissions and build a strong foundation for a successful and fulfilling career in the music industry. Contact us!