Columbia Interview
How Do You Get An Interview With Columbia?
How do you get an interview with Columbia? Getting a Columbia interview can depend (at least in part) on chance. Columbia is unable to interview every applicant due to the number of applications and the lack of available student and volunteer alumni. Unfortunately, not all applicants can receive the opportunity to interview.
Understanding the ins and outs of the Columbia University interview process is the first step to succeeding in it. You should be aware that you will not be dealing with an admissions officer, but rather a local alumnus. Interviews typically have a relaxed tone because they are intended to be more informative than evaluative.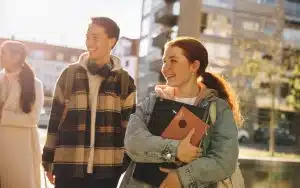 You will be paired with a local alumnus, making this an excellent chance to learn more about what a Columbia alum is from your neighborhood. According to Columbia's website, students who do not interview will not be at a disadvantage because interviews are not a requirement for the application process.
While the interview procedure differs between campuses, undergraduate interviews at Columbia University are always conducted by alumni representative committee volunteers. Interviewers have personally experienced the college, so they can provide students with more information about campus life and academics.
Webex, Zoom, and Skype are the only virtual platforms used for the Columbia interview held online. Candidates are free to request a phone interview in place of a video interview if they are concerned about having access to dependable Wi-Fi for the call.
What Is the Duration of the Columbia Interview?
You can spend as much time as you like during your interview with Columbia University. Depending on the interviewer you are paired with, the topic you discuss, and the number of questions you have, the length of your conversation will change. When it comes to interviews, more time doesn't always equal better; what counts is how well you can express your enthusiasm for the college and the impact you hope to make. Students should be aware that interviews won't happen between 7:30 am and 3 pm local time, while classes are in session.
Protocols for In-Person Interviews under COVID-19
The 2022–23 application cycle will allow for virtual (video chat or telephone) or in-person Columbia interviews, depending on local public health regulations, the applicant's preferences, and the interviewer's preferences. The ideal format should be discussed and decided upon by both the interviewer and the candidate. Interviewers must make every effort to foster an atmosphere that is secure, upbeat, and courteous to all participants.
In-Person: The interviewer and candidate must meet in a common area, like a coffee shop, food court, or library.
Virtual: The candidate and interviewer must choose a platform for the interview that they both agree upon (such as Zoom, Google Meet, Skype, Phone call, or FaceTime). The assumption is that both sides will have cameras on and suitable virtual backgrounds if a video meeting is agreed upon.
Interviews for International Applicants
As mentioned above, Columbia conducts interviews with candidates from both locally and abroad with the assistance of the Alumni Representative Committee. It is advised that Chinese students also submit their InitialView or Vericant interviews.
For Early Decision, these interviews must be arranged, finished, and submitted to Columbia by November 15; for Regular Decision, they must be submitted by January 15. For some candidates, the interview with InitialView or Vericant will substitute for the alumni interview.
What Are the Questions To Expect In A Columbia Interview?
You must be well-prepared for your interview at Columbia University by having a clear sense of the types of questions that may be asked. If you intend to apply to any school at Columbia, prepare responses to conventional interview questions, behavioral interview questions, and industry-specific questions.
Traditional Interview Questions
Typical interview questions concentrate on general information that you can immediately respond to. Some questions during the Columbia interview will be dependent on your application materials, so make sure you properly understand your resumé before responding. Give the interviewer a sense of who you are as a person and possible employee by using examples to support your ideas.
Typical interview inquiries as posted by Columbia include:
Tell me about yourself.
Why did you decide to go to Columbia?
Why did you major in _____________?
Tell me about your job at ___________.
Why did you leave your job/internship at ___________?
What are your strengths? What are your weaknesses?
What are your long-term and short-term goals?
How do you plan to achieve your goals?
What do you see yourself doing five years from now?
Why did you choose the career for which you are preparing?
What qualifications do you have that will make you successful in your chosen career?
What three adjectives best describe you? Why?
Why do you want to work for us?
What can you offer our organization that no one else can?
What do you think it takes to be successful in an organization like ours?
What have you learned from your mistakes?
Do you think your grades are a good indication of your academic achievements?
How would you describe the ideal job for you following graduation?
What criteria are you using to evaluate the company for which you hope to work?
What do you know about our organization?
Why should I hire you?
Behavioral Interview Questions
The foundation of behavioral interview questions is the idea that past performance predicts future success. Assessing your talents and abilities is the first step in preparing for behavioral questions.
Next, decide which talents best appeal to the employer. Consider instances from your past where you employed your talents and skills. You will provide a brief tale that demonstrates the skill or ability in issue when you respond to a behavioral inquiry. You can use your academic work, internships, volunteer work, and extracurricular activities as examples.
Your responses have to be well-structured and show how you were thinking. You can direct your responses using the SARA (Situation, Action, Results, Application) framework. Describe the circumstances, the tasks, the activities, and the outcomes before providing a summary of your entire experience.
Situation: Describe a situation, issue, or conflict you handled at work.
Action: Briefly outline the steps you took and the tasks you had to finish to react to the circumstance.
Results: Describe how the decisions you made in that circumstance worked out well.
Application: Talk about the things you took away from the experience, the abilities you developed, and how the issue relates to your future.
Here are some behavioral question examples provided by Columbia University:
Describe a time you faced a difficult situation, how you resolved it, and what you learned about yourself in the process.
Tell me about a time that you worked under deadline pressure.
Describe an accomplishment that has given you satisfaction.
Describe a situation in which you found yourself challenged. How did you handle it?
Describe a situation where you had a conflict with someone in an academic or professional situation. How did you resolve it?
Tell me about a project that you persevered through after wanting to initially abandon it.
Industry-Specific Interview Questions
Interview questions that are specific to your desired industry test your expertise in that field. Your chance to share your knowledge is now! Make sure to conduct online and face-to-face research on typical industry-specific inquiries. Check out Firsthand, which is available through Columbia's portal, Glassdoor, and Columbia's engineering interview resource, for questions specific to your field.
What Kind Of Students Does Columbia Look For?
If you're curious about "What kind of students does Columbia look for?", a lot of students frequently ask the same question to Columbia. The institution searches for students who are the best matches for Columbia, just as you search for the college that is the best fit for you.
Beyond the chance to highlight your academic accomplishments, Columbia considers your application as something that gives you the chance to represent who you are: your passions, interests, background, and—most importantly—what you might contribute to the Columbia community.
Your admissions officer will carefully review all your responses using a holistic approach to find the intelligence, curiosity, and dynamism that define the Columbia student body as well as the resilience and diversity of voice and background that are supported by its generous need-based financial aid program.
In addition, a student will fit in well at Columbia if they can handle the academic challenge, want to live in a metropolis, and will make use of the opportunities that Columbia offers explicitly. Anyone who wishes to go to an Ivy League institution, let alone Columbia, should not be surprised by intense academic requirements. The Core Curriculum ensures that at least some of the classes will be smaller, more discussion-based, and give students the ability to form close bonds with professors early on in their college careers.
Students will never run out of things to do, either on or off campus, because of Columbia's location in New York City. Some kids, however, could find city living and the abundance of accessible activities to be distracting. Therefore, having effective time management skills is very important for Columbia students.
Does the Columbia Alumni Interview Matter?
Select student interviewers and volunteer members of Columbia's Alumni Representative Committee conduct interviews on behalf of Columbia Undergraduate Admissions from October to March every year all around the world.
As discussed earlier, the school is unable to grant interviews to all the applicants, and again, Columbia can give no assurance that an interview will be available because of the limited number of alumni and current student volunteers to interview the many thousands of applicants.
Please be aware that neither on-campus nor admissions committee member interviews are available. Reports of external interviews done by private or independent organizations are not requested from or accepted by Columbia.
So, does the Columbia alumni interview matter? There is no advantage or disadvantage for those who are not offered an interview. Students are urged to refrain from calling or writing to enquire about receiving an interview because Columbia Undergraduate Admissions does not perform the actual assignment of interviews. If there is an opening for an interview, you will be contacted directly.
Though this portion of your application is not required, a Columbia interview is a chance to learn more about college life from someone who has been there. By taking part in this stage of the application process, students can get their burning questions addressed, express their interest in attending college, and improve their interviewing abilities.
How Do I Prepare For A Columbia Interview?
Even though the Columbia interview will be more of a conversation than a question-and-answer session, you must be at your best on interview day. To answer the query "How do I prepare for a Columbia Interview?" These pointers will help you prepare and ace your interview.
Recognize the Qualities Columbia Is Seeking
Interview reports are written by Columbia interviewers after meetings with prospective students. There are four key criteria interviewers use to evaluate your answers:
How would you perform at Columbia Engineering or Columbia College?
A perception of your moral character and intellectual prowess
Your capacity to confront your own assumptions and absorb new information
Your interviewer's assessment of your suitability for Columbia and New York City.
Remember to demonstrate, not tell, when giving your responses, and focus on these four key elements. You might feel more prepared and in control of the interview process by being aware of what the interviewer is looking for.
Know How to Generally Respond to Common Questions
You can protect yourself from blunders and blanking in the middle of a conversation by having a basic notion of how you'd reply to typical interview questions. Knowing what to anticipate can help, but you never want to appear rehearsed (it might make you sound robotic).
Dress Appropriately
You don't have to look your best, but you should wear something tidy, appropriate, and businesslike, such as a good top, shirt, button-up, or dress.
Test Your Technology
If the Columbia interview is held online, check all your electronics beforehand to make sure everything is in working order, especially your microphone and camera. To settle in and make sure everything is working, arrive at your computer or other devices at least 10 minutes before the interview.
Keep the Dialogue Flowing
Maintain a casual, yet professional, tone when speaking. Avoid using slang, but don't feel as though you need to consult your thesaurus to carry on a discussion. Keep it brief!
Conduct Research
A little bit of research for school is quite helpful. Show how you would fit in by referencing the course descriptions, research possibilities, club offers, and anything else that made Columbia one of your top-choice universities. Your determination to get accepted and your enthusiasm for the institution is demonstrated by your allusion to Columbia-specific offerings.
During the Interview
Be sure to pay close attention to the interviewer's questions and thoughtfully respond to them. If you are interviewed, the interviewer will assess you to give the admissions office more details about you. Keep your anxiety and confidence levels in check.
Just be genuine and truthful in your responses to the questions that are posed to you. The student or alumni who interviewed you will write a report thereafter and submit it to the admissions office. If you do well during the interview, the interviewer's judgment may be taken into consideration.
While a below-average applicant cannot be saved by an outstanding Columbia interview, and a highly-qualified candidate cannot be pulled down by a substandard performance in an interview, what matters more is the content and quality of your application requirements and your eagerness to attend Columbia. Start preparing early and ask help from experts like AdmissionSight to ensure your application will stand out among others.
On average, 75% of AdmissionSight students are admitted to an Ivy League university, Stanford, MIT, UChicago, and Caltech, one of the highest track records in the industry. Feel free to set up an appointment today to book your initial consultation.