Juilliard Acceptance Rate & Admissions Insights
With Juilliard's notoriously selective admissions, only a fraction of applicants are accepted each year. This competitive acceptance rate is a central concern for prospective students and their families. Yet, despite the challenging odds, countless talented artists vie for a spot, understanding that a Juilliard education can be the key to thriving in the performing arts world.
What is Juilliard's Acceptance Rate?
The Juilliard School, situated in New York City, ranks among the most prestigious performing arts schools globally. Catering to aspiring artists, Juilliard offers dance, drama, and music programs, focusing on nurturing the next generation of outstanding performers.
The Juilliard School stands out for its rigorous curriculum and unwavering dedication to excellence in the performing arts. Its globally recognized faculty, state-of-the-art facilities, and extraordinary student body make Juilliard one of the most sought-after schools. As of 2021, the Juilliard acceptance rate hovers around 7%.
To offer a clearer picture, let's delve into recent statistics: In 2019, out of nearly 2,700 applications, only 24 were accepted into the Dance Division. The Music Division, on the other hand, saw over 5,600 applications competing for about 150 spots.
Such a competitive acceptance rate underscores Juilliard's unparalleled program quality and the caliber of its student body. While maintaining its commitment to offering world-class education, the school draws a diverse pool of applicants from across the globe. This stringent admissions process ensures only the crème de la crème, the most talented and dedicated performers, secure a spot.
Though the odds might seem daunting, those fortunate enough to gain admission to Juilliard can look forward to an exceptional educational experience, becoming part of an artistic community dedicated to continually redefining the boundaries of their chosen craft.
What is Juilliard Known for?
The Juilliard School, founded in 1905, is synonymous with excellence in the performing arts, offering unparalleled education in dance, drama, and music. Throughout its storied history, it has nurtured countless world-renowned performers, ranging from actors and dancers to musicians and conductors.
Originally established as the Institute of Musical Art, its founders, Dr. Frank Damrosch and James Loeb, sought to prepare musicians for professional careers and promote classical music in the U.S. In 1926, in honor of its benefactor Augustus Juilliard, the school adopted its current name.
Today, beyond its foundational music courses, Juilliard offers programs in dance and drama. The curriculum balances technical training with artistic creativity, exposing students to a myriad of styles, from classical to contemporary.
The school is famed for its stringent admissions, accepting only a select few from a large pool of global talent. This rigor is mirrored in its faculty—seasoned performers and educators dedicated to student growth.
Juilliard's music curriculum stands out among its prominent programs, routinely touted as a global benchmark. It covers orchestral instruments, voice, composition, and more, ensuring a holistic musical education. Many of its alumni have risen to prominence as soloists, orchestral and chamber musicians, and composers.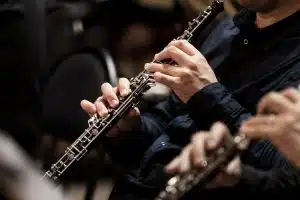 Equally celebrated is Juilliard's dance curriculum, which emphasizes classical ballet and modern dance. Graduates have graced renowned companies like the New York City Ballet and the Alvin Ailey American Dance Theater.
The school's drama program is distinguished by its classical theater concentration, particularly Shakespearean works. Rigorous training in acting, voice, and stagecraft equips students for success on stage, screen, and beyond.
Juilliard's commitment to diversity and inclusivity shines through its scholarships and financial aid, ensuring accessibility to all talented applicants regardless of economic standing. Initiatives like the Kovner Fellowship Program and partnerships with community organizations further this mission.
Furthermore, Juilliard champions innovative thinking in the arts. It spurs students to traverse new frontiers and promotes interdisciplinary collaboration, fostering a dynamic learning environment.
Esteemed alumni like violinist Itzhak Perlman, actor Kevin Kline, and choreographer Martha Graham testify to its legacy. Their accolades, from Tony and Grammy Awards to MacArthur Fellowships, mirror the institution's prestige.
In all, The Juilliard School is the epitome of performing arts excellence. Its holistic curriculum, commitment to diversity, and legacy of nurturing world-class talent render it a beacon in arts education.
How Hard is it to Get Into Juilliard?
Gaining admission to Juilliard is notoriously challenging. The institution stands as one of the world's most selective performing arts schools. With its demanding application process, only the most talented and dedicated performers make the cut.
Prospective students looking to join Juilliard must provide an array of materials tailored to their chosen program. For instance, music applicants must typically submit performance recordings, a repertoire list, and recommendations from their teachers and fellow musicians. Dance aspirants might provide performance videos and partake in an in-person audition. Drama hopefuls generally undergo an audition or present a monologue, followed by an interview with faculty members.
After submitting the required materials, each application is meticulously evaluated by a committee comprising faculty members and admissions staff. Given the intense competition—thousands contending for a handful of seats in each program—the selection panel not only assesses technical proficiency but also delves into an applicant's artistic expression, creativity, and potential.
While prodigious talent and unwavering dedication are paramount for a spot at Juilliard, the school's commitment to diversity and inclusivity shouldn't be overlooked. Actively courting students from diverse backgrounds and experiences, Juilliard ensures that financial constraints don't deter gifted students, offering monetary aid to those in need.
In conclusion, securing a place at Juilliard is an uphill task, necessitating remarkable talent, a compelling application, dedication, and even a touch of luck. Aspiring students should brace themselves for an arduous application journey and steel themselves for potential disappointment. Yet, for the chosen few, Juilliard promises an unparalleled education, paving the way for a myriad of opportunities in the performing arts.
What Kind of Students Does Juilliard Accept?
The Juilliard School, one of the world's most prestigious performing arts institutions, has a highly selective admissions process reflecting its unwavering commitment to excellence. While the specific attributes Juilliard seeks can vary by program, certain qualities are universally prized.
Foremost, Juilliard values exceptional talent. Accepted students usually display a high degree of technical proficiency and profound artistic expression. For music applicants, this could translate to outstanding instrumental or vocal skills pertinent to specific music genres. Dance students might demonstrate a keen sense of musicality coupled with the ability to communicate emotion through movement. Drama candidates are expected to have a strong command of language and the capacity to portray characters convincingly.
Beyond raw talent, Juilliard treasures dedication and passion. Accepted students are not just skilled performers but are intensely motivated, with a deep-rooted passion for their craft and a willingness to relentlessly work towards their aspirations. They are receptive to feedback, understanding that continuous growth often comes from constructive critique.
Diversity and inclusivity also lie at the heart of Juilliard's ethos. The school endeavors to admit students from varied backgrounds and life experiences. Recognizing the enrichment diversity brings to the performing arts, Juilliard ensures that talented candidates from all economic strata have the chance to enroll by providing necessary financial support.
In essence, while each program at Juilliard might prioritize certain qualities, the school universally values exceptional talent, unwavering dedication, fervent passion, and a commitment to fostering a diverse and inclusive environment.
AdmissionSight: Your Guide to Juilliard
If Juilliard is your dream, AdmissionSight has the expertise to guide your application journey. With over a decade of experience, we can help you present your best self. Reach out to embark on this transformative journey.