List of the Best International Business Schools
What are the best international business schools?
What are the best international business schools? The best international business schools we, at AdmissionSight, could discover are listed in this portion. When selecting an international business program, prospective students can use this useful resource to determine their priorities.
The ideal school for one student may not be the ideal school for another. What program is ideal for you is a decision only you can make. Check out the list of the best international business schools below:
University of South Carolina
The University of South Carolina at Columbia, the state's premier postsecondary institution, bought its first facility in 1805. The institution has a $788 million endowment and serves more than 35,000 students.
Bachelor of Science in Business Administration in International Business
Darla Moore School of Business is the University of South Carolina's business school, it provides a BSBA in international business with a focus on cross-border interactions. Students can add a second degree in business with concentrations in Middle Eastern and North African business, South American business, and European business.
The course offerings cover topics including overseas market entry and expansion, international finance management, exporting and importing, and business in Latin America.
Students who want to go to graduate school can also get a master's in international business and an international MBA from the University of South Carolina.
New York University
More than 50,000 students from 133 different countries attend NYU's 19 schools and colleges, which were founded in 1831. The university undertakes around $1 billion worth of research every year.
Bachelor of Science in Business with a Global Business Concentration
At New York University, students can pursue a multidisciplinary BS in business with a focus on international business. The degree examines topics like organizational communication, leadership, and the economics of international commerce.
Business majors finish an international studies curriculum in their junior year, which involves a class business trip abroad. A four-class social impact core that examines how business affects society is also included in the curriculum.
Business majors at New York University can take part in many professional development activities with former students, teachers, and possible employers.
University of Southern California
The University of Southern California, the city's oldest private research university, is one of the best international business schools. It awards more than $450 million in scholarships and financial aid to students every year.
Bachelor of Science in International Relations and Business
In collaboration with the School of International Relations, the University of Southern California's business school provides a BS in business administration and international relations. The course emphasizes global challenges while providing a foundation in business fundamentals. In order to solve international, commercial, civic, and political issues, students learn to utilize their business talents.
Courses on management and organization, corporate communication, and data sciences and operations are all included in the program. More than 250 business elective courses are available at the business school.
Additionally, students who enroll have access to an experiential learning center and a center for entrepreneurial studies.
University of Pennsylvania
With the founding year of 1740, the history of the elite Philadelphia Ivy League school Penn predates the Declaration of Independence.
Dual BA in International Studies and Business
The international studies and business undergraduate dual degree program at the University of Pennsylvania places a strong emphasis on experiential learning. The liberal arts, business principles, and foreign languages are all included in the curriculum. For their first year, students share housing in the Kings Court/English College House on campus.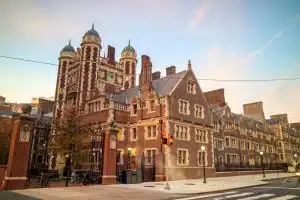 Business foundations, leadership, and the global economy are all included in the curriculum. The curriculum also features a study abroad semester where students can put their knowledge of a foreign language and their concentration area into practice. As part of their senior capstone, students are required to write a thesis under the guidance of an academic from the School of Arts and Sciences or the Wharton Business School.
University of California, Berkeley
UC Berkeley, the state's first land-grant institution and one of the best international business schools, was founded in 1868 and today has 184 academic departments and programs, in addition to eight faculty members who have received the Nobel Prize.
B.S. in Global Management
The UC Berkeley Haas School of Business offers a global management bachelor's degree that mixes project-based travel opportunities with introductory business coursework. The program places a strong emphasis on quantitative abilities, business expertise, leadership, language proficiency, and an international outlook.
Students spend the first semester of their freshman year studying abroad in London before returning to Berkeley for the spring semester with a group of global management peers.
The four-year program offers classes in brand management and strategy, negotiation and conflict resolution, international consulting for small and medium-sized businesses, and entrepreneurship to fight global poverty.
Florida International University
Florida International University, the sole public research university in Florida and one of the best international business schools, has the highest Carnegie classification for research activity among all higher education institutions. FIU, one of the largest colleges in the country, has around 54,000 students enrolled.
Bachelor of Business Administration in International Business
The undergraduate business program at Florida International University's school of business offers a 120-credit BBA in international business that covers global trade, cross-border financial and legal difficulties for multinational firms, and international marketing tactics.
Students who are majoring in international business can apply for financial aid and scholarships. The university offers the BBA program both in-person and online.
Students enroll in courses on topics like trade policy and commerce, Asian financial markets and institutions, international marketing, and international financial management. The business career management office helps students make plans for their careers and find internships.
St. Louis University
St. Louis University, a private Catholic Jesuit institution founded in 1818, enrolls close to 13,000 students. Over 1.6 million hours of community service are performed annually by members of the SLU community.
B.S. in International Business
The business school at SLU offers a global business BS degree that offers a comprehensive foundation in international business along with chances for internships, student activities, and special events. With chances for semester-long or shorter one- to two-week foreign immersion experiences, the school encourages students to study abroad.
During the program's final semester, a business capstone is included in the curriculum. The Association to Advance Collegiate Schools of Business offers a four-year, fully recognized international business degree.
University of Michigan – Ann Arbor
The University of Michigan – Ann Arbor, which was established in 1817, offers more than 275 academic programs. Over 900 student-athletes and 29 NCAA Division I teams make up Michigan's sporting program.
BBA with an International Studies Minor
The University of Michigan's business school offers a 120-credit BBA that can be finished in four years with a minor in international studies. The course includes practical learning opportunities that let students launch, finance, mentor, and manage actual businesses.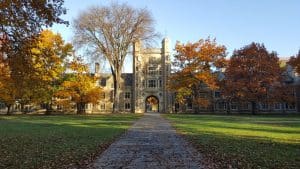 Classes like social venture funds, entrepreneurial management, and living business leadership experience are all part of the curriculum. In their last semester, business majors conduct an entrepreneurship practicum.
The course gives students the chance to manage a student-run investment fund, help plan a student-led conference, and join a group with a business-related focus. Students majoring in business can also sign up for a global student experience program to live and work overseas.
Georgetown University
One of the best international business schools at Georgetown University. It is the oldest Catholic and Jesuit postsecondary school in the United States, having been founded in 1789. With 350 student organizations available, the university places a strong emphasis on total education.
Georgetown University's international business bachelor's program prepares graduates to use their business knowledge in cross-cultural and international settings. Regional studies or international political economy and business are the two majors available in the program.
With the regional studies option, students can investigate the politics and economy of a particular region. An internship or study abroad experience is required for the international political economy and business degree, which focuses on the worldwide environment of international business.
Classes on international marketing, corporate government interactions, and international financial institutions are also part of the curriculum.
San Diego State University
SDSU is a public research university that enrolls more than 35,000 students. One of California's oldest institutions, SDSU, was established in 1897.
B.A. in international business
The multidisciplinary BA program in international business is provided by the Fowler College of Business and the College of Arts and Letters at SDSU. The degree combines a foreign language, regional and cultural studies, and business administration. International business majors are eligible for a number of program-specific awards as well as standard financial aid from SDSU.
The course provides many chances for practical learning, such as a full semester of study abroad and a semester-long internship. Learners can also take part in activities outside of school, such as language clubs, the International Business Society, and more than 20 student organizations for business students.
International business schools' admission requirements
Depending on the institution and program you are applying to, different students may be required to meet different admission standards for international business schools. However, a few of the usual requirements among the best international business schools are as follows:
Bachelor's degree from an approved institution: Most international business schools require applicants to hold a bachelor's degree.
GMAT or GRE score: Many business schools demand the GMAT (Graduate Management Admission Test) or GRE score (Graduate Record Examination).
Job experience: A specific amount of professional work experience is required for some programs.
Language ability: For non-native speakers, English proficiency is typically necessary and can be proven by taking a test like the TOEFL (Test of English as a Foreign Language) or IELTS (International English Language Testing System).
Letters of recommendation: The majority of business schools demand at least two or three letters of support from academic or professional sources.
Statement of Purpose: A paper outlining why you want to pursue a business degree and why the program is a good fit for you.
Resume: A polished resume outlining your training and professional experience.
Interview: As part of the admissions process, certain schools may demand an in-person or online interview.
Having to know the best international business schools, it's crucial to remember that entrance standards might vary greatly, so it's essential to confirm them with the particular business school you're interested in.
Are international business schools worth it?
Are international business schools worth it? The value of enrolling in one of the best international business schools will depend on a variety of elements, such as your personal objectives, professional aspirations, and financial situation.
The following are some possible advantages of enrolling in an international business school:
Global network: Enrolling in an international business school can give you access to a varied network of students and alumni from around the world, which is helpful for advancing your career and forging connections.
Exposure to various perspectives and cultures: Studying abroad can help you develop a broader perspective and a deeper understanding of various cultures and business methods.
Possibilities for overseas experience: Many degrees in international business give students the chance to study abroad or take part in global consulting initiatives.
Solid reputation: enrolling in a reputable international business school can help you gain access to opportunities and give you an edge in the job market.
Better career prospects: Employers may find business degrees from respected foreign schools to be attractive, and they may also help you make more money.
Nevertheless, enrolling in an international business school can be costly and necessitate large time and financial commitments. Before you decide to go to one of the best international business schools, you should carefully look at your goals, finances, and top priorities.
Learning how to attend school is just as crucial as selecting which best international business schools. With AdmissionSight, our college admission experts will provide the necessary guidance every step of the way.
AdmissionSight is the world's leading ivy league and college admission consulting company. You may acquire all the necessary advice from the team by making an appointment. Book your consultation today!