University of Florida vs Dartmouth: A Comprehensive Analysis
Are you deciding between the University of Florida (UF) and Dartmouth for your higher education? Look no further as we delve into a comprehensive analysis of these two universities and compare them on various aspects. From location to student body, academics, campus life, athletics, alumni network, and finances, we cover it all. This article will provide you with all the necessary information about University of Florida vs Dartmouth to make an informed decision regarding which school to attend.
Introduction: Why Compare University of Florida vs Dartmouth?
Before we dive into the comparison, let's understand the reason behind why we are comparing UF and Dartmouth. Both institutions provide excellent education and opportunities to their students, but they differ in a few aspects that might make one university a better fit for you than the other. The comparison will help you understand the key differences and similarities between these two top-notch schools.
One of the main differences between UF and Dartmouth is their location. UF is located in Gainesville, Florida, which is known for its warm weather and vibrant college town atmosphere. On the other hand, Dartmouth is located in Hanover, New Hampshire, which is a small town surrounded by beautiful mountains and forests. This difference in location can greatly impact your college experience, as it can affect the types of activities and opportunities available to you outside of the classroom.
Location: Where are These Universities Located?
When it comes to location, both universities are situated in different parts of the United States. UF is located in Gainesville, Florida, while Dartmouth is situated in Hanover, New Hampshire. Gainesville is in the central part of Florida, and Hanover is closer to the northern part of the country.
As a student, it is important to consider the region's climate, culture, and opportunities available. Florida boasts warm and sunny weather, while New Hampshire experiences colder temperatures. Gainesville is a vibrant college town that offers multiple outdoor recreational options, while Hanover is known for its close-knit community and surrounding natural beauty.
Aside from climate and culture, the location of a university can also affect the job opportunities available to graduates. UF is located in close proximity to major cities such as Orlando and Tampa, which offer a variety of industries and job markets. Dartmouth, on the other hand, is situated in a more rural area with fewer job opportunities. However, Dartmouth's strong alumni network and reputation can open doors for graduates in various fields.
Another factor to consider when it comes to location is transportation. UF is located near a major airport, making it easy for students to travel home or explore other parts of the country. Dartmouth, on the other hand, is located further from major airports, which can make travel more difficult and expensive. However, Dartmouth's location in the scenic Upper Valley region of New Hampshire offers plenty of opportunities for outdoor activities such as hiking, skiing, and kayaking.
History: A Brief Overview of UF and Dartmouth's Founding
Next, let's dive into the history of the two universities. UF was founded in 1853 and is often referred to as "Florida's flagship university." Dartmouth was founded in 1769, making it one of the oldest Ivy League universities in the United States. UF and Dartmouth have rich histories, and both institutions have evolved with time to offer their students a modern education.
Despite being founded over a century apart, both UF and Dartmouth have played significant roles in shaping their respective regions. UF has been instrumental in the development of Florida's economy, with its research and innovation contributing to the state's growth. Dartmouth, on the other hand, has a long history of producing influential leaders in various fields, including politics, business, and academia. Both universities continue to make significant contributions to their communities and the world at large.
Student Body: Who Attends University of Florida vs Dartmouth?
One of the critical aspects to consider while selecting a university is the student body. UF has a larger student body of approximately 55,000, while Dartmouth has about 6,600 students. UF is known for its diverse student population, with 35% identifying as racial or ethnic minorities. Dartmouth is committed to promoting diversity and has 46% of its students identifying as people of color. In terms of gender distribution, UF has more female students than male, while Dartmouth has a relatively equal gender distribution.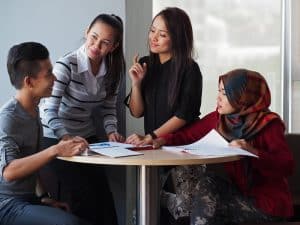 Another important factor to consider when looking at the student body is the academic profile of the students. At UF, the average SAT score for admitted students is 1350, and the average ACT score is 30. Dartmouth, on the other hand, has a highly selective admissions process, with an average SAT score of 1500 and an average ACT score of 34. Additionally, both universities have a high percentage of students who were in the top 10% of their high school class, with UF at 44% and Dartmouth at 90%. This indicates that both universities attract academically talented students.
Admissions Process: How Do You Get into UF and Dartmouth?
Both UF and Dartmouth are selective institutions, with an acceptance rate of around 40% and 8%, respectively. To gain admission to either university, you will need to submit a strong application that includes your transcripts, standardized test scores, essays, and extracurricular activities. In addition, both universities encourage their applicants to showcase their passion and commitment to their chosen field of study and demonstrate leadership qualities.
One important aspect of the admissions process at UF and Dartmouth is the interview. While not required, an interview can provide an opportunity for applicants to further demonstrate their interest in the university and their qualifications for admission. At UF, interviews are conducted by alumni volunteers, while at Dartmouth, interviews are conducted by admissions officers or trained alumni interviewers.
It is also worth noting that both UF and Dartmouth offer early decision and early action options for applicants. Early decision is a binding agreement, meaning that if accepted, the applicant must attend the university. Early action is non-binding, allowing the applicant to apply to other universities and make a decision later. These options can be advantageous for students who have a clear top choice and want to increase their chances of admission.
Academics: What Programs are Offered at University of Florida vs Dartmouth?
Both UF and Dartmouth offer a wide range of undergraduate and graduate programs across multiple fields. UF is a comprehensive research university with various colleges, including journalism, engineering, business, and medicine. Dartmouth is an Ivy League institution with a liberal arts curriculum and offers undergraduate and graduate programs in computer science, government, engineering, and more. Both universities have dedicated faculty and resources that enable personalized learning experiences for their students.
Additionally, UF offers unique programs such as sustainability studies, sports management, and Latin American studies. Dartmouth also offers programs in neuroscience, environmental studies, and film and media studies. Both universities have opportunities for students to participate in research projects and internships, providing hands-on experience in their chosen fields. With a diverse range of programs and resources, UF and Dartmouth are excellent choices for students seeking a well-rounded education.
Campus Life: What's it Like to Live on Campus at UF or Dartmouth?
Living on campus provides a unique experience for university students, and both UF and Dartmouth offer beautiful campuses that provide a conducive environment for learning and personal growth. UF is spread over 2,000 acres and has state-of-the-art facilities, including multiple dining options, recreational centers, and more.
Dartmouth's picturesque campus features Georgian-style architecture and multiple outdoor spaces that facilitate community building. Both universities offer student organizations, clubs, events, and activities that foster personal growth and development beyond academics.
One of the unique aspects of living on campus at UF is the opportunity to participate in the Gator Nights program. This program offers free events and activities every Friday night, such as movie screenings, game nights, and concerts. It's a great way for students to unwind after a busy week of classes and connect with their peers. Similarly, Dartmouth offers a variety of outdoor activities, such as hiking and skiing, that take advantage of the beautiful natural surroundings. These activities provide a great opportunity for students to stay active and explore the area around campus.
Athletics: How Do the Sports Teams at UF and Dartmouth Compare?
While academics are a priority, athletics are an essential component of university life for many students. UF has a storied athletics program, with over 30 teams participating in the NCAA Division I Southeastern Conference (SEC). Dartmouth also has a Division I athletics program that competes in the Ivy League. While UF is known for its football program, Dartmouth has a strong record of success in rowing and skiing, among other sports.
Despite their differences, both UF and Dartmouth share a commitment to providing their student-athletes with top-notch facilities and resources. UF boasts state-of-the-art facilities, including the Stephen C. O'Connell Center, which houses the basketball and volleyball teams, and the Katie Seashole Pressly Softball Stadium. Dartmouth's athletic facilities include the Leverone Field House, which houses the indoor track and field team, and the Scully-Fahey Field, which is home to the soccer and lacrosse teams.
Another key difference between the two universities is the level of fan support for their respective sports teams. UF has a passionate fan base, with thousands of students and alumni attending football games and other sporting events throughout the year. Dartmouth, on the other hand, has a smaller student body and a more intimate campus community, which can make for a more low-key atmosphere at sporting events. However, both universities offer plenty of opportunities for students to get involved in athletics, whether as athletes, coaches, or fans.
Research Opportunities: What Research Opportunities are Available at University of Florida vs Dartmouth?
Both UF and Dartmouth are research-intensive universities that offer students numerous opportunities to engage in research and innovation. UF is a leading research institution with over $900 million in research funding, providing students with opportunities to work alongside faculty on groundbreaking research. Dartmouth has various research centers and institutes, including the Thayer School of Engineering and the Tuck School of Business, where students can participate in research and innovation projects.
Additionally, both universities offer undergraduate research programs that allow students to conduct their own research projects under the guidance of faculty mentors. UF's Undergraduate Research Program provides funding and resources for students to pursue research in any field, while Dartmouth's Women in Science Project offers research opportunities specifically for women in STEM fields. These programs not only provide valuable hands-on experience for students, but also help to foster a culture of innovation and discovery on campus.
Alumni Network: How Strong is the Alumni Network at UF and Dartmouth?
An active alumni network is essential to a university's success. Both UF and Dartmouth have impressive alumni networks that enable students to connect with successful professionals across various industries. UF has produced several notable alumni, including journalist Chris Cuomo and musician Tom Petty. Dartmouth's alumni network includes Nobel laureates, business leaders, and government officials, including poet Robert Frost and former U.S. Treasury Secretary Timothy Geithner.
UF's alumni network is particularly strong in the fields of journalism and broadcasting. Many of its alumni have gone on to work for major news outlets such as CNN, NBC, and ABC. The university also has a robust mentorship program that connects current students with alumni in their desired career fields.
Dartmouth's alumni network is known for its close-knit community and willingness to help fellow alumni. The network has a strong presence in the finance industry, with many alumni working for top firms such as Goldman Sachs and J.P. Morgan. The university also hosts regular networking events for alumni to connect with each other and with current students.
Cost of Attendance: What's the Cost of Attending University of Florida vs Dartmouth?
Cost is a significant factor to consider while selecting a university. UF is a public institution, and the total cost of attendance for in-state students is around $21,000, while for out-of-state students, it's approximately $43,000. Dartmouth is a private institution, and the cost of attendance is around $80,000, including tuition, fees, room and board, and other expenses. Both universities provide financial aid options to make education accessible to deserving students.
It's important to note that the cost of attendance at both UF and Dartmouth can vary depending on factors such as the student's major, housing choices, and personal expenses. For example, students who choose to live off-campus may be able to save money on room and board costs. Additionally, some majors may require more expensive textbooks or equipment, which can add to the overall cost of attendance.
Despite the high cost of attendance at Dartmouth, the university has a generous financial aid program that provides need-based aid to eligible students. UF also offers financial aid options, including scholarships, grants, and work-study programs, to help students cover the cost of attendance. It's important for students and their families to research and understand the financial aid options available to them before making a decision about which university to attend.
Financial Aid: What Types of Financial Aid are Available for Students at UF and Dartmouth?
Both UF and Dartmouth offer financial assistance to students who meet specific eligibility criteria. UF provides need-based financial aid, including grants, scholarships, and work-study programs, to eligible students. Dartmouth practices need-blind admission, where the admission decisions are made irrespective of the student's financial circumstances. Additionally, Dartmouth meets 100% of a student's demonstrated financial need.
It is important to note that both UF and Dartmouth also offer merit-based scholarships to students who demonstrate exceptional academic achievement or talent in a particular area. These scholarships do not depend on financial need and are awarded based on the student's academic or extracurricular achievements.
UF offers a range of merit-based scholarships, including the Presidential Scholarship, the Machen Florida Opportunity Scholars Program, and the Lombardi Scholarship. Dartmouth also offers a variety of merit-based scholarships, such as the Dartmouth Scholars Program and the Stamps Scholars Program.
Career Services: How Effective are Career Services at University of Florida vs Dartmouth?
Preparing students for their careers is essential, and both UF and Dartmouth have dedicated career service centers that assist students with their job search process. UF's Career Connections Center provides students with resources, events, and workshops that help them identify their career goals, prepare their resume, and practice their interviewing skills. Dartmouth's Center for Professional Development offers a wide range of professional development and career coaching services to undergraduate and graduate students.
However, the effectiveness of career services at UF and Dartmouth varies. According to a recent survey, 80% of UF students who utilized the Career Connections Center found it helpful in their job search, while only 60% of Dartmouth students reported the same level of satisfaction with their career services. Some students at Dartmouth have expressed concerns about the limited availability of career coaching appointments and the lack of diversity in the industries represented at career fairs. UF, on the other hand, has received praise for its strong alumni network and partnerships with top employers in various fields.
Conclusion: Which University is the Better Choice?
In conclusion, the choice between UF and Dartmouth ultimately depends on your individual needs and preferences. Both universities offer exceptional education, opportunities, and resources to their students. While UF is a public research university offering education at a more affordable price point, Dartmouth is an Ivy League institution providing a liberal arts education with a strong alumni network and providing financial aid to students.
We hope this comprehensive analysis helps you make an informed decision on which university to attend and sets you on a path for unmatched academic and personal growth.
It is important to consider the location and campus culture when making your decision. UF is located in Gainesville, Florida, a college town with a lively student community and warm weather year-round. Dartmouth, on the other hand, is situated in Hanover, New Hampshire, a small town with a tight-knit community and beautiful natural surroundings. The campus culture at UF is known for its school spirit and diverse student body, while Dartmouth is known for its close-knit community and emphasis on outdoor activities.
Additionally, it is worth considering the career opportunities and post-graduation outcomes of each university. UF has a strong reputation for its STEM programs and research opportunities, with many graduates going on to work in fields such as engineering and healthcare.
Dartmouth, on the other hand, has a strong focus on the liberal arts and humanities, with many graduates pursuing careers in fields such as finance, consulting, and law. Ultimately, it is important to weigh all of these factors and choose the university that aligns best with your personal and professional goals.