Brown Freshman Class Size
How Big Is the Freshman Class At Brown?
On March 31st, Brown University extended admission offers to 1,651 students who are interested in joining the university's undergraduate program the following academic year. Students who were accepted through Brown University's regular decision procedure will join early decision applicants who were awarded admission in December 2021, bringing the total number of students admitted to Brown to 2,546.
You might wonder "How big is the freshman class at Brown?" Eventually, Brown freshman class size has an anticipated total number of 1,723 students enrolling this academic year. The university received applications from a total of 50,649 prospective students for 2022-2023 admissions. This is a 9% increase from the previous year and the highest candidate pool the university has ever received by more than 4,000 students.
"Brown was tremendously fortunate to select its incoming class from an outstanding pool of impressive applicants, who bring a wide range of academic and personal experiences and accomplishments," said Logan Powell, the dean of admissions at the university. "The intellectual vitality, optimistic spirit and commitment to community engagement represented in these Class of 2026 admitted students will be a wonderful addition to the University."
The vast majority of Brown University's 2,546 accepted students finished in the top 10% of their high school courses. Both the Brown-RISD Dual Degree Program and the Program in Liberal Medical Education, which is an eight-year program that leads to both a bachelor's degree and an M.D. from Brown's Warren Alpert Medical School, admitted a total of ninety-eight students. Nineteen students were accepted into the Brown-RISD Dual Degree Program.
However, the University will also continue virtual programming such as the "Bruniverse," an online platform through which admitted students can interact with one another and attend events that inform them about different aspects of Brown. The "A Day on College Hill" program will be brought back so that admitted students can visit campus for the first time since 2019.
Where Are Most Brown Students From?
Where are most Brown students from? Brown freshman class size represents all fifty states in the United States as well as nations located all over the world. The countries of China, the United Kingdom, Canada, India, Singapore, and Ukraine each contributed the most students.
According to Powell, the states with the most students in the admitted class are as follows: California, New York, Massachusetts, New Jersey, Texas, Florida, Connecticut, Illinois, Georgia, and Pennsylvania. California is the most represented state overall. Two percent of the accepted students are from the state of Rhode Island, while five percent of the accepted students are from rural areas. It was previously reported by the Herald that the number of applications received from students living in rural and small-town areas increased by 5% this year.
Brown University, like the other schools in the Ivy League and other elite groups, strives to achieve geographic diversity within its student body. It is possible that the fact that you are from the rural parts of the South or a state with a lower population density, such as Wyoming or Idaho, will work in your favor.
What Are the Demographics of Brown?
Let's take a look at what are the demographics of Brown. The university did not disclose the percentage of accepted students who either self-identified as students of color or sought financial help for the Class of 2026. According to Powell, approximately the same percentage of students in the class of 2025 will make up the first-generation college student population of 17% of admitted students.
In terms of racial composition, the present undergraduate student body at Brown University is comprised of the following groups (percentages do not total up to 100% because applicants can list more than one race):
White: 43%
Asian: 17%
Hispanic: 11%
African American: 7%
Two or more races: 6%
Unknown: 5%
Highlights of the Class of 2025 admissions:
The applicant pool of 46,568 is the largest in Brown's history.
The University admitted 5.4% of candidates to the Class of 2025.
Approximately 95% of the Brown freshman class size were ranked in the top 10% of their respective high school classes.
Diversity is represented by students of color making up 55% of the student body.
Students who are the first members of their family to attend college make up 17% of all college students.
The majority of students (69%) expect to submit an application for financial aid.
What Are the Top Majors At Brown University?
Brown University does not provide any degrees. Students who are aware of how typical it is for them to be required to select a course path before they ever set foot on campus are surprised to learn this. Instead, Brown University provides students with over 80 different "concentration" options.
The undergraduate concentrations at Brown are each designed with a specific goal in mind, much like a conventional curriculum would be. These many routes all culminate in the completion of a bachelor's degree program in either the arts or the sciences.
In spite of the fact that students must finish all of the classes that are provided in one of these specializations, they are permitted to take other courses that are unrelated to the core subject they are focusing on for their degree.
What are the top majors at Brown University? The students of Brown freshman class size choice of top 15 intended concentrations include engineering/biomedical engineering; computer science; economics; political science; biology; biochemistry and molecular biology; international and public affairs; neuroscience; applied mathematics; public health; psychology; health and human biology; physics, English; and history.
The majority of first-year college experiences are structured similarly to this: first, the student selects a major, then they are provided with a course catalog that outlines each and every required class for that particular degree path, and finally, the student meets with an advisor who explains the sequence in which the student will take the pre-selected courses.
You might have the opportunity to select from a few different electives here and there if you're extremely fortunate. However, during the majority of your time spent in school, you won't have much of a say in the subjects that you study.Computer science and economics have consistently placed among the top two undergraduate degree programs at Brown University throughout the course of the past few years.
The most recent computer science diplomas were handed out by Brown University to a total of 21.8% of the graduating class. Some of the most recent computer science graduates from Brown University have gone on to work in fascinating roles at companies such as Google, Disney, Deloitte, and the Washington Post.
Students have the opportunity to combine their studies in economics and one of the following fields: computer science, mathematics, or applied mathematics by enrolling in one of the various combined tracks that are offered by the economics department.
Computer science and economics have consistently placed among the top two undergraduate degree programs at Brown University throughout the course of the past few years. The most recent computer science diplomas were handed out by Brown University to a total of 21.8% of the graduating class. Some of the most recent computer science graduates from Brown University have gone on to work in fascinating roles at companies such as Google, Disney, Deloitte, and the Washington Post.
Students have the opportunity to combine their studies in economics and one of the following fields: computer science, mathematics, or applied mathematics by enrolling in one of the various combined tracks that are offered by the economics department.
Students at Brown who major in engineering can choose to get their degree in one of six different concentrations. Brown University provides a welcoming atmosphere for female students who choose to major in engineering, which is traditionally a male-dominated area.
Recent engineering student projects at Brown have concentrated on the development of methods for heart repair, the construction of robotic arms that are compatible with spacecraft, and the study of bubble growth in carbonated beverages.
Is Brown A Large University?
Is Brown a large university? In terms of student size, there are a total of 7,125 students enrolled in undergraduate programs, and there are 2,689 students enrolled in graduate programs. There are 819 people working as full-time faculty members. Brown freshman class size is 1,723 from an applicant pool of 50,649 students. There are less than 20 students enrolled in 69% of the subjects offered at the university, and the student-to-faculty ratio is 6:1. The percentage of applicants that Brown University will admit for the class of 2026 is 5%.
Brown University, which was founded in 1764, is widely regarded as the first school in the Ivy League to welcome students of all religious persuasions. It is one of the most prestigious research universities and is known for its outstanding teaching staff and student-centered educational approach. The institution has been established in Providence, Rhode Island for more than two and a half centuries, and it provides students with enriching academic and student life experiences as well as a positive environment.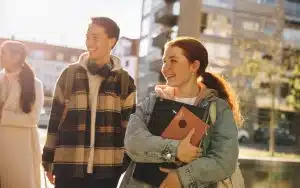 The exceptional student experience, funding facilities, world-class teaching, and high-impact research at this university have earned it recognition from the most prestigious university surveys and rankings, including those published by the Wall Street Journal and the United States News and World Report.
As a result, it is now considered one of the best educational institutions in the entire world. The Best Colleges 2022 guide that was published by the Wall Street Journal and Times Higher Education ranked Brown University as the sixth-best university in the country. Additionally, according to the QS World University Rankings 2023, it was ranked as the 63rd top university worldwide.
On the College Hill campus, one can partake in a traditional New England college experience complete with breathtaking natural beauty, cutting-edge architecture and facilities, cutting-edge labs, and world-class libraries. Students coming from New York or Boston will have no trouble getting to the school. The university offers prospective students the option of touring the campus in person or virtually, whichever is more convenient for them.
At Brown University, 74% of the undergraduate student body, which includes all students enrolled in their first year, are required to live on campus. There are a significant number of teaching and administrative staff members who also make the campus their home. Close-knit residence halls that can accommodate between 50 and 60 students each have been established specifically for first-year undergraduate students.
For returning students, there is a choice of living arrangements including private single rooms, suites, and apartments. A random drawing is used to determine who gets these spots. Those who are interested in living off-campus have the option of seeking assistance from the University Auxiliary Housing Office.
Providence, Rhode Island, is home to Brown University. Providence is a quirky city that stretches out along Narragansett Bay. The town is filled with places of artistic and architectural interest. Students take a stroll around WaterPlace Park, where they can see local street art displayed on Venetian-style bridges.
The majestic campus of the institution extends across 150 acres and is comprised of 230 different buildings. Because there are more than 500 student clubs on campus, students have the opportunity to pursue their individual passions and take part in a wide range of worthwhile activities. All students of Brown freshman class size are required to live on campus for the first six semesters of their time at the university; however, a select few juniors may be given permission to go off campus after reaching the junior year.
Brown Esports is not just one of the most well-liked groups on campus but also the most well-established esports and gaming organization in the Ivy League.
Brown University and the Rhode Island School of Design students make up the majority of its membership (in fact, many student groups have shared populations based on their proximity to one another). The group welcomes players of all skill levels, and there are currently close to one hundred students competing on a variety of teams.
There are currently eleven all-male, all-female, and coed a cappella ensembles on Brown's campus, so to say that a cappella singing is a popular hobby on campus would be a significant understatement. The Brown Derbies are the oldest, continuously performing tenor-through-bass a cappella group at Brown. They have a reputation for delivering high-energy performances since they were created in 1982.
Those who would rather watch than participate in a kind of entertainment may find the Brown Lecture Board's guest speaker series or podcast series to be more to their liking (known as the BLB). The BLB hosts a wide variety of cultural figures for in-person recording sessions as well as talks at its headquarters. Author John Green, actress Keke Palmer, and comedian Hasan Minhaj are among the notable guests who have visited in recent times.
Brown University competes in more than 35 sports at the NCAA Division I level and is a member of the Ivy League. The women's rowing team at Brown University has the most successful athletic record of any team at the university. In fact, the women's rowing team has won all seven of Brown University's NCAA national championships. The most recent time this group competed in the NCAA finals was the 24th time in a row that they had done so.
The Brown Sailing Club is one of the campus organizations that has been around the longest and has seen the most success. The current sailing class at Brown is placed in the top 10 of all teams competing in the sport in the United States. As part of the Excellence in Brown Athletics Initiative, the sailing team was elevated to the varsity level not too long ago.
Brown University has the third-highest number of varsity teams in the United States at present, and this initiative was designed to convert 11 of those varsity teams into club sports to increase the number of opportunities available to a more diverse range of student-athletes who were not recruited.
The men's ultimate frisbee team at Brown, which goes by the name Brownian Motion, has one of the most spectacular records of any of the several club sports offered at Brown. They have triumphed at the national level in men's competition three times, with their most recent victory coming in 2019. The squad is presently positioned at position 12 in the overall power rankings provided by Ultiworld.
Looking through the Brown freshman class size and the Class of 2026 statistics reveal that Brown is not an easy school to get into. Brown University is widely regarded as one of the most elite educational institutions in the United States. Each year, Brown University receives applications from thousands of prospective students, but it can only accept a limited number of these candidates into its freshman class. Students can improve their chances of getting into Brown University, despite the school's well-known reputation for having a very selective admissions process. This can be accomplished by beginning their preparations early and becoming thoroughly knowledgeable about Brown.
AdmissionSight can also help you do your research and prepare your application materials for Brown. We have been assisting college aspirants for over ten years now thus, you need not worry about AdmissionSight's experience and expertise when it comes to college admissions. Book an initial consultation with our experts now.