Brown Summer Program for High School Students
Decades ago, it used to be the norm for high school students to spend their summer months holding a part-time job, hanging out with their friends at the pool, and getting into trouble. Back in the day, high schoolers could spend their whole summer messing around and still get into the college of their dreams. Now, students are constantly looking for new great ways to spend their summer, like at a Brown Summer Program.
In order to get into the more competitive colleges, students have to not only excel in school and be great at taking all-important standardized tests, but they also have to make the most out of their summer months to prove that they are passionate and dedicated learners. One of the very best ways to do that is to sign up for a summer program at a prestigious school of higher learning. Some of the best summer programs are Brown Summer Programs. These classes that take place on Brown University's campus are open to high school students of different grades and age groups and cover a large array of different and fascinating topics.
Before we at AdmissionSight break down the details of many different Brown Summer Program options that are available to high school students across the globe, let's go over some of the basic information regarding summer programs at top universities.
Simply, universities all over the world offer high school students the opportunity to enjoy a bite-sized opportunity of what it is like to live on a bustling college campus as a student. Summer programs are incredible and exciting ways for great high school students to develop and refine their educational interests and passions. They are also a great way for students to start to get an idea about what kind of professions or fields they may want to pursue both during and after their college years.
Taking part in a summer program like one of the Brown Summer Program options also gives high school students an opportunity to figure out whether or not they can see themselves attending a specific school.
Finally, and perhaps most importantly, summer programs at top universities are a great way to improve a college application in the eyes of college admissions officers everywhere.

About Brown Summer Program
Brown Summer Program classes go by two different names and are either known as Summer@Brown or Summer Pre-College. Overall, there are over 200 non-credit courses that reflect a wide and diverse range of the classes that are offered in Brown University's Open Curriculum.
These classes are not only meant to put high school students in contact with styles of learning and thinking, seeing and doing that full-time student at Brown University enjoy and are accustomed to but are also meant to engage students with faculty and staff at Brown.
It's one of the very best ways for students to get a feel for what life at Brown is like. Perhaps that's why over 4,000 students, coming from all 50 states and from over 70 countries worldwide call the Brown University campus their home for a portion of the summer months.
Why no credit?
One of the things that may give some students and parents of students pause is learning that unlike many other colleges, Brown University does not offer for-credit classes for high school students.
While this may seem like a downside, Brown actually has an incredible reason for this decision. Essentially, the school wants to encourage learning and self-expression for its summertime students without having them worry about the added pressure of a formal grade. When it comes to Brown Summer Programs, the school itself wants its summertime students to know that above all, their ability to fully immerse themselves in the subjects of their choosing as well as their ability to experience all the positives of higher learning comes first.
When grading and credit plays a role, anxiety can soon follow. That is the last thing Brown wants its young students to be worried about during their time on campus.
What Brown is most focused on when it comes to its summer programs is learning, simply for the sake of learning. While they won't get a grade, students do receive a Course Performance report and Certificate of Completion after they successfully complete a course that lasts longer than one week. This certificate is meant to replace a final grade in the course.
Experiencing Brown outside of the classroom
One of the primary things that Brown University wants high school students to experience while enrolled in a Brown Summer Programs, is what Brown is like both in and out of the classroom. That means that students get the chance to participate in a full program of planned events and activities.
Both day and night on Brown's summer campus are filled with exciting workshops, fun activities, and informational events that both educate and entertain. The goal here is not only to fall in love with what life at Brown can be like but also to make some early friends who students might be spending class time with for many years to come!
How many Brown Summer Program classes can a student take?
Summer@Brown offers multiple start dates and sessions. They range from one to four weeks in length and there are multiple opportunities each summer for students to find the courses that best meet their interests and passions.
In fact, many students will end up enrolling in multiple sessions of varying lengths so that they can continue spending time at Brown and engage in different topics with every course. While taking multiple courses at one time is allowed, it is often advised against because the heavy workload can end up getting in the way of students enjoying all of the fantastic out-of-class activities that are available to summer students.
If you are interested in enrolling in overlapping or concurrent courses, it is wise to contact Brown to determine whether or not that kind of undertaking is advisable.
Online courses
If you are determined to take a course at Brown but are unable to come and enjoy the on-campus experience, Brown Summer Program classes are also available online for high school students. These online courses are designed as small seminar-style classes that make communication between students and professors very easy.
These courses are taught by experienced instructors who share the same commitment to student-centered teaching and learning. In fact, the communities that arise from these online courses make the nature of learning at home anything but isolating.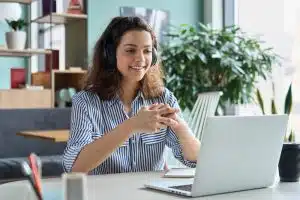 Why Brown Summer Program is so valuable?
At this point, chances are good that you are wondering about the main benefits that high schoolers actually gain when they enroll in one of the many Brown Summer Programs. The primary reason why would consider going this route, even before thinking about the value it can bring to a college application, is that it allows a student to explore and dive deep into a subject that they may already be passionate about or want to learn more about.
When enrolled in a single course at Brown, students can focus all of their attention on the subject and coursework of that class without having to worry about many other classes, like they are used to managing during their high school year. What is so valuable about this experience is that it gives a student the chance to better understand what life may be like one day when they are focusing primarily on topics that they want to focus on rather than classes they have to take a part of a required curriculum.
On top of that, Brown Summer Program offers students an opportunity to get a first-hand feel of what it's like to live and learn in Brown's beautiful campus in Providence, Rhode Island. More than anything, this will probably help a student better determine whether or not Brown University is the right school for them when it finally becomes time for them to continue their education at the college level.
Finally, a great reason to consider enrolling in a Brown Summer Program is that it does help a student's chances when it comes to getting accepted to a great college. Even if it is not Brown that your student is applying to, any college admission officer that sees that your student enrolled in a summer program at a prestigious university such as Brown will be impressed. It not only shows a commitment to learning but an ability to take initiative and seek out specific courses that interest them.
Moreover, if Brown is a student's dream school, getting to know the current faculty and students who work and learn at Brown right now. One of the best ways to ensure that a student gets into the school of their dreams is to connect with students who were admitted to that school and teachers who currently work there.
Available Brown Summer Programs
As previously mentioned, there are hundreds of Brown Summer Program options that are available to you or your child. While we won't be going over every single one, let's cover some of the most popular courses together so that you can get a good feel for what kinds of courses are offered at Brown.
Literature, Culture, and American Identities
This two-week course allows students to explore the concept of American identity through both classic and contemporary works of literature and culture. The works that are studied span multiple genres, historical periods, and cultural forms. In the end, the goal is to help the students enrolled in this course gain a greater understanding of how the cultural identities within America help inform daily life.
Ancient Greek Theater Production
This immersive two-week course asks students to explore the defining characteristics of ancient Greek theater and understand the notion of a Greek tragedy versus a Greek comedy. Through self-produced short videos that are made daily and through written responses, students will seek to better understand and define what it is that makes Greek theater such a powerful and lasting art form.
Narratives of Revolution and Colonialism: Race, Gender and Human Rights
This three-week course has the goal of introducing the students enrolled in post-colonial narratives in mediums of art and entertainment such as literature and film. Through essays and group discussions, students in the classroom will develop a far deeper understanding of how race, gender, and human rights have impacted narrative in literature and film and vice versa.
Writing Flash Fiction
In this highly creative summer program, students will be asked to sharpen their critical reading and writing abilities through what is known as "flash fiction." Flash fiction is micro-stories that encourage getting more information and feeling across in as few words as possible. Over the span of the two-week course, the students will discuss, workshop, and write their own pieces of flash fiction while also reading a huge variety of fantastic modern writers along the way.
Thinking Globally: Colonialism and the Making of the Modern World
This course, which spans two weeks, has the goal of helping its students improve and change their understanding of both local and global identity within the context of colonialism and the post-colonial world. Through discussion in class, research projects through the greater Providence community, and reading, students will learn how to better analyze the socio-political impact that the history of colonialism had and how it helped shape a modern world and global society.
Fiction for Social Change: Building a Shared Analysis of Justice and Community
This two-week course utilizes the classic science fiction fantasy novel "Binti" in order to discuss, study, and dive deep into the topics and themes of violence, power, home, and social privilege. This class encourages students to take the lessons that are taught in some of the most popular examples of media and art and apply it to real-life lessons.
Medical Diagnostics: Observation, Interpretation, the Art of Being a Better MD
In this three-week course, Brown will ask its students who are interested in pursuing a career in the medical field of medicine to explore the important role that skills such as observation and interpretation play in medicine. Through interactive learning, field trips around town and reading articles that are either by or about physicians, students will gain a far greater understanding of what it really means to be a great doctor.
Conclusion
When it comes to Brown Summer Programs, hopefully, this quick breakdown has given you a better understanding of why they can be so beneficial to high school students both now and in the future. Now, all that's left for you to do is figure out which of the many summer programs at this highly rated and prestigious university best fit your (or your child's) passions and interests.