Harvard Enrollment
Harvard University, a private Ivy League research university and the oldest higher education institution in the United States, is one of the most prestigious universities in the world. It is located in Cambridge, Massachusetts.
When it comes to academic excellence, Harvard University is ranked among the top institutions worldwide. The university has held the top spot in the US News & World Report – Global Universities ranking for five years running (2018-2022). The university has held the second-place position in the US News & World Report – National University Ranking for five years running (2018-2022).
How many students are enrolled at Harvard?
If you're curious about the Harvard enrollment results in Fall 2021, there are 25,510 students enrolled at Harvard University, of which 7,095 are in Harvard College and 18,415 are pursuing graduate and professional degrees. These students represent more than 50 states and 80 different countries.
How many students are enrolled at Harvard for the Class of 2025? A total of 57,786 people applied to Harvard College for the Class of 2025, and 2,320 of them were accepted into the university's various programs. International applicants made up about 15.6% of the applicants.
What Is Harvard's Acceptance Rate?
In the class of 2026, the College has accepted 1,954 of 61,220 applicants (740 of whom were admitted through early action in December), a rise of 6.6 percent from 57,435 applicants the previous year and a continuation of the standardized-test-optional application boom from the pandemic era.
So, what is Harvard's acceptance rate? The 3.2 percent admit rate, which is down from the 3.4 percent rate last year as a result of the applicant pool's ongoing growth, is the lowest in College history. Only 1,954 of the 61,220 applicants were accepted by Harvard, for a 3.2 percent acceptance rate. The 740 students from the early decision round and 1,214 from the regular round were admitted to Harvard.
Between 2020 and 2021, Harvard received a significant increase in applications. Applications increased by 7% in 2022, from 57,435 to 61,220. Due to the pandemic and the fact that many universities eliminated testing, many prestigious universities experienced similar growth patterns. The numbers of applications and acceptances over the previous three years are depicted in the graph below.
| | | | |
| --- | --- | --- | --- |
| Class | Princeton Enrollment Number of Applications | Princeton Enrollment Accepted Students | Princeton Enrollment Acceptance Rate |
| 2026 | 61,220 | 1,954 | 3.20% |
| 2025 | 57,435 | 1,968 | 3.40% |
| 2024 | 40,248 | 1,980 | 4.90% |
What GPA Is Required for Harvard?
Harvard is very competitive for GPAs. While some schools report an unweighted GPA, most use a weighted GPA out of 4.0. Now, to answer your question "What GPA is required for Harvard", the standard GPA is 4.18.
Harvard requires you to be at the top of your class with a GPA of 4.18. To compete with other applicants, you'll need to receive almost all A's. To demonstrate your capacity to excel at academic challenge, you should also have taken a significant number of AP or IB classes.
It will be difficult to change your GPA moving forward if you are a junior or senior. You'll need a higher SAT score to make up for a GPA that is at or below the school average of 4.18 and demonstrate your readiness for college-level coursework. This will give you a competitive advantage over other applicants.
Is Harvard Test Optional for 2023?
Big or small colleges have transitioned to being test optional. The list includes Harvard University. Now, is Harvard test optional for 2023? The SAT and ACT will continue to be optional for applicants through those applying for admission to the class of 2030, according to a recent announcement from Harvard.
The California public universities have already done away with the traditional standardized tests, and many other institutions appear to be on the verge of doing the same. The move to optional testing, which was implemented during the pandemic (when in-person testing was difficult), may be close to becoming permanent.
Conversely, institutions like Georgetown and MIT have brought back the demand for applicants to submit scores from standardized tests. MIT made a particularly strong argument for this change on the grounds of equity for students who come from underfunded high schools and educational systems.
What Are the Requirements for Harvard Enrollment?
As evidenced by the record-low acceptance rate of 3.1% this past year, it is obvious that getting into Harvard is becoming more and more challenging. To improve your chances of being accepted, you can start doing a few things right away.
When reviewing applications, admissions officers at Harvard look for the following traits and qualities:
Demonstrating leadership
Do volunteering
Solution-focused
Passionate
Self-aware
Visionary
Trustworthy
When creating your Harvard application, it's critical to provide evidence of these qualities.
Try to incorporate these qualities throughout your application, develop your tale, be sincere, and expose the REAL YOU to them. Instead of speaking about what you believe they want to hear, be genuine, embrace your interests, and express your passion for your aspirations for the future. Your sincerity and authenticity will make you stand out.
Requirements for Harvard Enrollment
Harvard is a very selective and academically rigorous university. The required GPA must be at least the minimum for applicants. Harvard values academic performance and awards, but these are not the only qualities the university looks for in applicants. Harvard is interested in a person's overall development, including their extracurricular pursuits, hobbies, and aspirations for the future. They want to know how you plan to make the most of your time at Harvard through essay questions and supporting materials.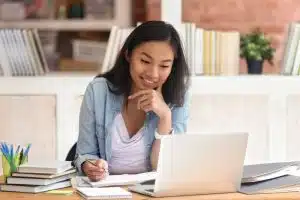 We'll find out the answer to "What are the requirements for Harvard enrollment?" as we go on with our discussion below.
What software does Harvard employ for applications?
For Harvard enrollment, both the Coalition Application and the Common Application are accepted.
Sections of Applications
On their website, Harvard Admissions has created a useful "Application Tips" section that directs applicants through the entire application process, addresses common queries, and provides direction and advice.
The Harvard application generally requests the following:
Profile
Family Details
Education
Optional Test Scores
Extracurricular Activities
Personal Statement
Questions specific to Harvard
Additional Writing
Acceptance of AP credit at Harvard
If they turn on Advanced Standing, students receive graduation credit for their Advanced Placement (AP) exams. Students who have 32 AP credits are qualified for Advanced Standing. They obtain these credits by receiving a five on at least four AP exams that are acceptable.
Requirements for the Harvard Standardized Test
Due to the COVID-19 pandemic, Harvard did not request applicants to submit their test results during the 2021–2022 admissions cycle. As part of their application materials, students had the choice to include their SAT scores. Harvard declared that for the cycle of applications from 2023 to 2026, tests are still optional.
SAT Requirements for Harvard
Harvard University requires a minimum SAT score of 1460 for admission; most applicants score in the range of 1460 and 1580.
Is the SAT essay required for Harvard?
The SAT essay was not required for Harvard's 2021–2022 application cycle. The SAT essay was an option that students could submit if they so desired. Future application cycles may change the SAT requirements.
SAT Subject Tests for Harvard
Harvard advises students who decide to take the SAT to take two SAT Subject Tests, only one of which should be the math test.
ACT Requirements for Harvard
A composite ACT score of at least 33 is required for admission to Harvard University. The typical range for admitted students is 33 to 35.
Students who don't submit their scores from this year's standardized tests won't be penalized when applying. They are encouraged to send whatever materials they think would best convey their achievements in secondary school and their potential for the future because their applications will be evaluated in light of what they have provided. Applicants may opt to self-report their test results or submit their official test results.
Requirements for the English Language Proficiency Exam
Harvard welcomes applications from people all over the world, but emphasizes that they need to be fluent in English and be able to express themselves clearly in it. Although English proficiency tests are not necessary, international students may submit their results (TOEFL, IELTS, etc.) to demonstrate their language skills.
Application Essays for Harvard
Another way to demonstrate to Harvard admissions officers that you belong on their campus is through your application essays. There are three chances to give Harvard more information about you.
Questions or Topics for Common/Coalition Application Essays Sample
The subjects for essays can vary depending on the application. Instead of attempting to write what you believe Harvard Admissions wants to read, these questions are meant to give you space to share something important to you.
Some students have a background, identity, interest, or talent that is so meaningful they believe their application would be incomplete without it. If this sounds like you, then please share your story.
Reflect on a time when you questioned or challenged a belief or idea. What prompted your thinking? What was the outcome?
Describe a topic, idea, or concept you find so engaging that it makes you lose all track of time. Why does it captivate you? What or who do you turn to when you want to learn more?
Share an essay on any topic of your choice. It can be one you've already written, one that responds to a different prompt, or one of your own design.
Supplemental Essays for Harvard
Harvard additionally has its own set of questions in addition to the personal essay. Your responses will enable them to learn more about you and how you intend to make use of your time as a student. They are interested in finding out more about your academic interests and leisure activities.
On the Coalition Application or the Common Application, you can directly fill out the Harvard Questions.
You will have one more chance to explain to Harvard why you are the ideal candidate for their university in the writing supplement section. You have the option to submit an essay you've already written, choose your own topic to write about, or use a suggested prompt to bolster the information in your personal statement. Select the prompt that best aligns with your overall mission and objectives if you must choose one.
Prompts for the Harvard Supplemental Essay Samples:
What you would want your future college roommate to know about you.
An intellectual experience (course, project, book, discussion, paper, poetry, or research topic in engineering, mathematics, science, or other modes of inquiry) that has meant the most to you.
How you hope to use your college education.
Extracurriculars for the Harvard Application
Harvard seeks outgoing leaders who will have a positive influence on both their campus community and the wider world. They're not looking for students who fit a predetermined mold and can only comprehend difficult equations and theories.
You must submit a history of your extracurricular activities both inside and outside of school to Harvard admissions officers. Although you are free to select what you want to display, Harvard frequently chooses events that support those values.
The extracurricular activities listed below show your dedication and interests:
Start a new business; direct a sports team; volunteer with a community organization; plan a fundraiser; write and publish a book; spend the summer working with underprivileged kids or working at a summer camp.
Select extracurricular pursuits that you are passionate about and that improve your neighborhood.
Deadlines for Harvard Enrollment
Regular Decision and Restrictive Early Action are the two application processes offered by Harvard. You can contrast admission and financial aid offers from various institutions using both programs. For both programs, the last day to choose a college is May 1.
How To Get Into Harvard?
Getting into Harvard, whether it be Harvard College or Harvard University, is a significant accomplishment. Nevertheless, admission to a Harvard graduate program is generally regarded as being more straightforward than admission to an undergraduate program.
For advice on increasing your chances on how to get into Harvard, continue reading.
1. Enroll in a strict course load.
Top test scores and a stellar GPA aren't enough to impress admissions officers at prestigious universities like Harvard; you'll also need a demanding course schedule full of difficult classes. Harvard is looking for students who can handle a rigorous academic schedule as well as those who push themselves by enrolling in challenging classes. You ought to enroll in any AP classes that your high school offers.
2. Score well on tests.
Almost all applicants to Harvard have outstanding test results. You will need them even if they don't make you stand out from the competition. Harvard's median 50 percentile test results are:
ACT: 33-35; SAT: 1460-1570
The 25th percentile (lower end) and the 75th percentile are indicated by the middle 50% range (upper end). The higher your score, the better your chances are of getting into Harvard. This range is a good indicator of the kind of test performance you'll need to get in.
3. Create a standout extracurricular profile.
The pursuit of interests outside of the classroom, or extracurricular activities, is one way to distinguish yourself from other applicants. In the eyes of college admissions officers, not all extracurricular activities are created equally. For instance, winning a prestigious award like the Jack Kent Cooke Young Artist Award is more impressive than playing the saxophone in your high school's jazz band.
Tier 1: These exceptional endeavors demonstrate national leadership or exceptional achievement. You might play bass in the National Youth Orchestra or be the third-best tennis player in the nation.
Tier 2: The hallmarks of tier-2 extracurricular activity are impressive achievement, high levels of leadership, and noteworthy accomplishments, such as serving as the President of the Model UN or earning all-state honors in a sport.
Tier 3: These accomplishments or leadership positions tend to be more widespread, such as being the treasurer of your debate club or a class representative on Student Council.
Tier 4: Participatory activities without leadership or other distinctions, like volunteering or belonging to a club, are included here. They are significant for demonstrating interests outside of the classroom, despite having a lower impact than higher-tiered activities.
At highly selective colleges like Harvard, extracurricular activities may account for as much as 25% of the admissions decision. One of the most crucial things to remember when choosing your extracurricular activities for Ivy League schools is to prioritize quality over quantity. A select few tier-1 and tier-2 activities will stand out more than a sizable number of tier-3 and tier-4 activities.
Select extracurricular activities that reflect your passion for certain subjects or hobbies. Schools are more concerned with success and achievement than they are with the activities themselves, though it is advisable to steer clear of polarizing ones.
4. Create interesting essays.
Essays give you the chance to discuss your interests and passions, as well as to highlight your goals, give a glimpse of your personality, and demonstrate why you belong on the Harvard campus. Extracurricular activities show admissions officers where your interests and passions lie.
You should write a compelling essay and stay away from tired topics when using either the Common Application or the Coalition Application to apply to schools. To demonstrate your ability to succeed on campus, make sure you proofread thoroughly to catch silly punctuation and grammar errors and to ensure that your tone and writing style are consistent.
Additionally, Harvard allows applicants to submit an additional essay.
You should submit a supplemental essay even though it isn't required because it will give you an additional opportunity to explain why you belong at Harvard and highlight aspects of your life that aren't covered in other parts of the application. Whatever topic you decide to write about, be sure to emphasize qualities Harvard values, such as leadership, intellectual rigor, and selflessness. AdmissionSight can help you create a dashing supplemental essay to impress the Harvard admissions committee.
Each applicant receives careful, individualized consideration during the Harvard enrollment process. Harvard is looking for students who will be the best teachers to one another and their professors—people who will motivate those around them both during and after their time in college. You need enough time for preparation and proper guidance to successfully submit a great application to Harvard. AdmissionSight has more than 10 years of experience in guiding students through their admissions journey. We help students, like you, get admitted to the school of their dreams. Feel free to reach us for a consultation.