Harvard's EA Acceptance Rate for 2023 – A Deep Dive
When it comes to prestigious higher education institutions in the United States, Harvard University consistently ranks at the top. Founded in 1636, Harvard's long-standing history of academic excellence has made it a dream destination for many students across the globe. One key aspect of its admissions process that garners much attention and speculation is its Early Action (EA) acceptance rate. In this post, we will delve deep into Harvard's EA acceptance rate for 2023, how it compares with Regular Decision (RD) rates, and what prospective students can infer from these numbers.
Harvard University: An Overview
Harvard University is one of the most prestigious higher education institutions globally, known for its rigorous academic standards, groundbreaking research, and transformative educational experience. Founded in 1636, it is the oldest university in the United States and is located in Cambridge, Massachusetts.
The university comprises 13 schools and institutes, including the top-ranked Business School, Medical School, Law School, and the esteemed Faculty of Arts and Sciences, encompassing Harvard College and graduate schools of Arts and Sciences, Engineering, and Applied Sciences. Harvard also boasts a vast library system, which holds the largest private collection worldwide.
Harvard is renowned for its diverse and talented faculty, which includes numerous Nobel laureates, Pulitzer Prize winners, and other distinguished scholars. Its student body is equally diverse, attracting students from across the U.S. and more than 100 countries.
The institution has produced many notable alumni, including U.S. Presidents, Nobel laureates, CEOs of major corporations, and various other leaders in different sectors. It is known for its significant impact in various fields, such as law, business, literature, science, and the arts.
Harvard's campus combines historical beauty with modern amenities, providing students with resources to learn, live, and thrive. Its residential housing system fosters a strong sense of community, and its multitude of clubs, organizations, and activities offer ample opportunities for student engagement.
With a strong commitment to financial aid, Harvard ensures its educational offerings are accessible to all admitted students. It operates under a need-blind admissions policy, meeting every student's demonstrated financial need. This commitment has made a Harvard education possible for students regardless of their financial circumstances.
Overall, Harvard University stands as a pillar of academic excellence and a transformative force that empowers students to make meaningful contributions to the world.
What is Harvard's Early Action Program?
Harvard University's admission process features a Restrictive Early Action (REA) program, distinct from the standard Early Action (EA) programs offered by many other institutions.
Restrictive Early Action is a non-binding early application process. Students who apply under REA receive their admissions decision earlier than those who apply during the Regular Decision timeline. However, while it's non-binding (meaning students aren't obligated to attend if admitted), there are certain restrictions in place that limit applicants from applying early to other private colleges and universities.
Rules of REA
Harvard's REA has a few critical stipulations:
Private Institutions: If you apply to Harvard under REA, you cannot apply to any other private college/university in the U.S. under their early action, early decision, or any other early application program.
Public and Foreign Institutions: You can apply early to any public or foreign institution, as long as their admission policies don't bind you to attend if accepted.
Regular Decision: You can apply to any institution under their Regular Decision program, regardless of your REA application outcome at Harvard.
Benefits of Applying REA
There are several advantages to considering the REA process:
Early Notification: Students get the peace of mind of knowing their admissions decision earlier, typically in December.
Non-binding: Even if accepted, students have until May 1 to make their final college decision. This gives them ample time to compare financial aid offers, visit campuses, and make an informed choice.
Demonstrated Interest: Applying REA may signal strong interest in the institution, which can be a favorable point in the holistic admissions process, though it's just one of many factors considered.
Is REA Right for You?
Students considering REA should reflect upon a few critical points:
Readiness: Is your application strong enough in the early stage, or would it benefit from additional months of academic achievements, extracurricular involvements, or test scores (if applicable)?
Commitment Level: While REA is non-binding, it's crucial to ensure Harvard is a top choice before applying. Remember, you're limited in terms of other early applications to private institutions.
Financial Aid: For some students, comparing financial aid packages from various institutions is crucial. With REA, while you will get an early decision from Harvard, you will not have competing offers in hand until much later.
Harvard's Restrictive Early Action program offers prospective students an opportunity to receive an earlier admissions decision without the binding commitment. However, with its associated restrictions, ensuring it aligns with your overall college application strategy is essential. Always research thoroughly, seek guidance from school counselors or admissions advisors, and consider your academic and personal readiness before making a decision.
What is the Acceptance Rate for EA at Harvard?
A total of 56,937 applications poured in from bright young minds around the globe, dreaming of joining the illustrious ranks of Harvard alumni. Out of this astronomical number, 1,942 students were admitted to the Class of 2027. This resulted in an acceptance rate of just 3.4%, making 2023 one of Harvard's most competitive admission years.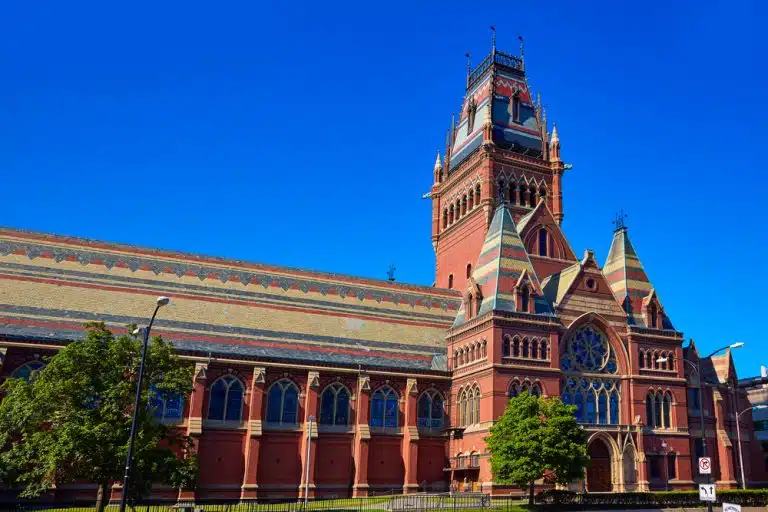 When breaking down the figures, 1,220 students were admitted during the Regular Decision round, while the remaining spots were filled by students who applied through the Restrictive Early Action program. However, Harvard's application process, whether Restrictive Early Action or Regular Decision, is extremely competitive, making an offer of admission a significant achievement.
Interestingly, the Class of 2027 represents a diverse and talented group of students. Harvard has a long-standing commitment to fostering diversity, believing that a broad range of experiences, perspectives, and backgrounds enrich the educational experience for all students. This diversity is reflected not just in terms of ethnicity or nationality, but also in the academic interests, talents, and life experiences of the admitted students.
This group of admitted students also signifies an exceptional academic prowess, having been chosen from an applicant pool teeming with valedictorians, national merit scholars, accomplished artists, world-class athletes, and community leaders. Harvard's holistic admissions process ensures that not only are students' academic achievements taken into account, but so too are their personal qualities and extracurricular involvements.
In the Class of 2027, Harvard's admissions officers have identified individuals who have demonstrated the potential to become transformative leaders and agents of change, in line with Harvard's mission to educate the citizens and citizen-leaders for society. These students, having succeeded in one of the most competitive admissions processes in the world, are poised to embark on a thrilling educational journey that will shape their futures and potentially, the world.
Harvard Class of 2027 Acceptance Rates
| | | | |
| --- | --- | --- | --- |
| | Number of Applications | Accepted Students | Acceptance Rate |
| Regular Applications | 47,384 | 1,220 | 2.6% |
| Early Applications | 9,553 | 722 | 7.6% |
| Overall | 56,937 | 1,942 | 3.4% |
Harvard Early Admissions Results for the Class of 2027
For the 2023 admissions cycle, Harvard University conducted its EA admissions process with 9,553 applications, resulting in 722 students securing their spots. This amounted to Harvard's EA acceptance rate of 7.6% for 2023.
Looking back at previous years shows consistency in the Early Action applications and acceptance rates. The Class of 2026 received 9,406 applications, 740 of which were accepted, leading to an acceptance rate of 7.9%. Meanwhile, the Class of 2025 saw a slight uptick in application numbers with 10,086 applicants, out of which 747 were admitted, translating to an acceptance rate of 7.4%.
By contrasting Harvard's EA acceptance rates with those of the regular decision, it is clear that students who apply early have a more favorable chance of being admitted to Harvard.
For 2023, Harvard's EA acceptance rate is 7.6%, considerably higher than the regular decision acceptance rate, which stands at a notably lower 2.6%. This suggests that students aiming for admission to Harvard may enhance their chances by opting for the Restrictive Early Action application process.
Harvard Restrictive Early Action Statistics
| | | | |
| --- | --- | --- | --- |
| Class Year | Number of Applications | Accepted Students | Acceptance Rate |
| 2027 | 9,553 | 722 | 7.6% |
| 2026 | 9,406 | 740 | 7.9% |
| 2025 | 10,086 | 747 | 7.4% |
Is it Easier to Get Into Harvard Early?
It's crucial to note that Harvard's EA is "restrictive" or "single-choice," meaning students can't apply to any other private colleges or universities for EA or ED.
Statistically speaking, Harvard's EA acceptance rates have often been higher than its Regular Decision acceptance rates based on the data presented above. On the surface, it might seem like applying early gives you an edge.
However, these statistics should not be interpreted simplistically. The EA applicant pool is typically a highly self-selected group consisting of extremely well-prepared students who have identified Harvard as their first choice. This pool often includes applicants with exceptional academic records, impressive extracurricular achievements, and substantial personal accomplishments.
It's also worth noting that a significant portion of recruited athletes and legacy students (those who have a parent who attended Harvard) apply in the EA round. These applicants have unique hooks that can influence admission rates, which could contribute to a higher acceptance rate for early applicants.
Factors Impacting Acceptance
Admission to Harvard isn't strictly a game of numbers. Beyond grades and test scores, Harvard seeks students who display intellectual curiosity, commitment, and potential for leadership. This holistic approach means that an applicant's essays, recommendation letters, extracurriculars, and interviews all play significant roles in their application.
Furthermore, Harvard's holistic review process is consistent across both the EA and Regular Decision cycles. This means whether you apply early or during the regular timeline, the admissions committee evaluates your application based on a broad range of factors. These include academic achievements, personal qualities, and potential contributions to the college community, rather than solely considering the timing of your application.
That said, applying early has its advantages. Firstly, it signals to the admissions committee that Harvard is your top choice, which can sometimes work in your favor. Secondly, if accepted, applying early allows you to prepare in advance for financial aid, housing, and course registration.
While numbers might suggest a higher acceptance rate for Early Action applicants at Harvard, understanding the context behind these numbers is crucial. Instead of focusing solely on when to apply, students should present a compelling, well-rounded application showcasing their strengths, passions, and fit for Harvard. Whether you apply through Early Action or Regular Decision, your unique qualities and potential truly count in Harvard's admissions process.
An applicant's alignment with Harvard's culture and values is as important as their academic prowess. This comprehensive evaluation process ensures that Harvard nurtures a diverse and vibrant community of scholars each year.
Advice for Prospective Applicants
Given the rigorous competition, prospective applicants might feel daunted. But remember, every accepted student started where you are now – contemplating the odds. Here are a few tips for those considering an early application at Harvard:
Start Early: Your application should reflect your best self. Starting early gives you time to craft thoughtful essays, prepare for standardized tests, and gather powerful letters of recommendation.
Engage Deeply: Rather than participating in numerous extracurricular activities, engaging in a few areas that truly interest you is more beneficial. This demonstrates dedication and passion.
Highlight Your Uniqueness: What makes you different? Is it a personal experience, a hobby, or a particular skill? Emphasize these unique aspects in your application to stand out from the crowd.
Prepare for Interviews: If offered an interview, use this opportunity to reinforce your interest in Harvard and to highlight aspects of your personality or experiences that aren't easily gleaned from your application.
Demonstrate Interest: Make sure your application reflects your genuine interest in Harvard and the unique opportunities it offers that align with your career aspirations.
Conclusion
Although the Harvard EA acceptance rate for 2023 is considerably higher than the regular decision acceptance rate, applying early might seem intimidating. Still, it's important to remember that Harvard's admissions process looks beyond mere statistics. While these numbers provide a snapshot of the admissions landscape, they do not capture the richness of each applicant's individual stories, talents, and potential.
As long as you present an authentic and compelling application demonstrating your fit with Harvard, there's a chance you might find yourself among the fortunate few who become a part of the Harvard community. Best of luck on your college admissions journey!
Interested in knowing more about your chances of being admitted into Harvard? You've come to the right place. At AdmissionSight, we have over 10 years of experience guiding students through the competitive admissions process.
AdmissionSight can help you put your best foot forward when applying to colleges this fall. Contact us today for more information about our services.