How To Get Into Brown University
If you've been wondering how to get into Brown University, you're in the right place! Situated in the beautiful and richly historic town of Providence, Rhode Island, Brown University holds a prestigious position as one of the ten oldest institutions of higher learning in the entire country. Established in 1764, Brown University has a long and unbroken history of providing unparalleled educational opportunities to students who are proficient enough to get accepted.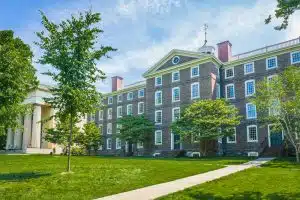 As one of the eight esteemed Ivy League colleges, you'll find over 2,000 unique course offerings spread out across over 70 broader concentrations at Brown University. Unlike some other of its Ivy League counterparts, the university offers students an open curriculum where there aren't any required General Education courses. Although you might still run into some specified classes within certain disciplines, you have more freedom to choose your schedule than many other colleges offer.
All undergraduates are also required to complete a two-part writing project along with a minimum of one writing-based course. Despite some of these requirements, Brown University is still lauded for its open curriculum that allows students the freedom to explore their academic concentrations. With guidance and support from faculty members, students are helped along in their academic journey throughout their time at Brown University.
With an established reputation and a relatively low acceptance rate when compared to other schools in the area, many people wonder how difficult is it to get into Brown University? Here, we'll take a deep dive into what it takes to get into this esteemed college and outline some specific strategies you can use to increase your chances for admittance.
FAQs on Brown University
To familiarize yourself with Brown University, we'll cover a few quick questions that many applicants have about this Ivy League college.
How difficult is it to get into Brown University?
With an acceptance rate well below 10%, it's no secret that getting into Brown University isn't easy. Since percentages can be a little abstract, let's put this into perspective. For every 10 people that apply to Brown University, roughly 8 people are going to get that coveted acceptance letter. In order to make sure you're one of those people, you'll need to jump all of the hurdles that the university puts in place to weed through applicants such as SAT and ACT tests, writing requirements, essays, letters of recommendation, and more. If you end up meeting all of these requirements and then some, your chances of getting in grow dramatically.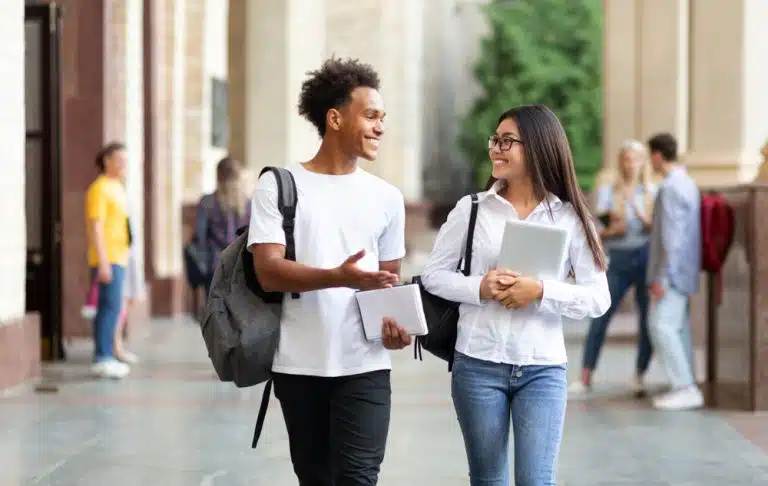 How can I get into Brown's early decision?
If you're wondering how to get into Brown early decision, you'll be pleased to know it's a popular offering of the university. All you have to do is fill out a Common Application and have it submitted by November 1st. You should receive a final decision in the middle of December informing you that your application has been accepted, rejected, or deferred. The university does ask early decision applicants to withhold from applying to similar programs at other universities.
What is Brown University's acceptance rate?
In 2019, Brown University admitted 7.7% of the total number of applicants. While it might not sound like a lot, it's important to consider this college's position as one of the top Ivy League schools in the country. All of these prestigious colleges are associated with being difficult to get into. When compared to similar colleges, the Brown University acceptance rate is considered fairly moderate.
How big is Brown University?
Brown University has 7,160 enrolled students, making it a little bit larger than the average size when compared to colleges across the country.
8 Tips to Get Into Brown University
Now that you know what you're up against, we'll outline some strategies you can use to help increase your chances of getting into Brown University. Keep in mind that even the highest GPA and most impressive test scores don't make you a shoo-in. You still need to master the art of completing an application.
1. Speak with alumni.
In the past, Brown University offered interested high-school students the opportunity to participate in an alumni interview. Just like the name suggests, this was a meeting where students got to speak with a person who's attended and graduated from the school. Although they've recently done away with this option, it's still a good idea to reach out to an alumnus independently to learn more about the university.
Not only can you get a more accurate idea of what it's like to apply, but you can also learn about what it's like to be a student there. There are more than enough resources online to help you find alumni from Brown University. Since there's a strong connection among graduates, you shouldn't have trouble finding someone who would hop on a call with you for a few minutes.
2. Submit a video portfolio.
Brown University allows students to submit a two-minute video portfolio in addition to their application. The purpose of this video supplement is to give admissions staff some additional information about you that wasn't covered in the application or essay requirements. It's not an essential part of the application process, but it's definitely something you should take advantage of. Although you should remain professional, don't be afraid to let your uniqueness shine through. It's one of the only opportunities you have to let Brown University know why you stand out and why you deserve to be admitted. Some topics you might want to cover in the video include:
Where you're from and how it shaped you.
Why you're choosing Brown.
What kind of academic interests you have.
People who inspire you.
3. Mention any family that's attended.
Brown University reports that roughly 10 to 12% of its students can be labelled as what's known as "legacies". This fancy term simply means that a student's immediate relative attended the university. If you have a parent who graduated from Brown University, you should definitely mention it on your application or within your essay (or both) in order to gain an advantage. Ivy League alumni are close-knit communities, and it always pays off to let admission officers know you're related to someone who has attended in the past.
4. Focus on what matters.
While there's a lot of overlap between the admissions landscape of various Ivy League universities, there are some important differences that should be taken into account. Not every university wants to see the same things from its applicants. In order to put yourself in the best position to get accepted into Brown University, you should double-down on what matters to them and not worry too much about the rest. For example, while some colleges like to see applicants display an eagerness to attend by visiting the school or reaching out via social media, Brown University doesn't take this "demonstrated interest" into account when choosing who to accept.
5. Find top-tier teacher recommendations.
Brown University places a lot of stress on teacher recommendations. It's not enough to have a few teachers say something nice about your work ethic and proficiency. These recommendations aren't just designed to give admissions staff a general idea of how you were as a student.
Brown University is also interested in some specifics about what kind of student and person you are. When choosing teachers to write your recommendations, be sure to choose ones that are more likely to say phenomenal things about you. Don't be afraid to talk with your teacher beforehand to let them know what kind of recommendation letters Brown University is looking for. The detail and bold declarations can go along way in distinguishing you in the Brown admission office.
6. Don't get too caught up in the admission data.
While it's important to know the details regarding how difficult it is to get into Brown University, you can't let this information overshadow your efforts. After seeing the challenging acceptance rate and requirements, some students get down.
Instead of focusing on these obstacles as negatives, reverse your perspective and think about what a great education awaits you at Brown University. Only consider the data to the extent that it helps you understand what is required to get accepted. Leave the rest of that energy for focusing on the actual work required to prepare. Overthinking and second-guessing is only going to hurt you in the process.
7. Get started early.
The admission requirements to get accepted into Brown university are no joke. However, they're also not impossible. Preparation will be your best friend when it comes to getting in. The minute you've decided that this is the university you want to attend, you should get started on the application process.
This means you should collect your GPA and test records, reach out to teachers for recommendation letters, read about admission requirements, and more. Every day you put off this inevitable work will reduce the quality of the final product. If you end up waiting too long, you'll most likely feel overwhelmed and your work will suffer as a result. By starting early, you give yourself the best chances of succeeding.
8. Dedicate enough time to the essays.
Essays are a critical component of the Brown University admission process. Even though many students dread the idea of having to write essays in tandem with their general application, it's essential to spend enough time on this portion of the application. You don't want to let a below-average response outweigh all of the hard work you did on your application and throughout high school.
Since the essays are geared towards helping admission officers learn more about students, don't hold back on showing your personality. However, there's a fine line between being open and being informal.
Here are the 2020-2021 academic year essays for Brown:
Brown's Open Curriculum allows students to explore broadly while also diving deeply into their academic pursuits. Tell us about an academic interest (or interests) that excites you, and how you might use the Open Curriculum to pursue it. (250 words)
At Brown, you will learn as much from your peers outside the classroom as in academic spaces. How will you contribute to the Brown community? (250 words)
Tell us about a place or community you call home. How has it shaped your perspective? (250 words)
To help you master the Brown University essays, it's a great idea to work with a college admissions specialist. An experienced expert can help provide you with starting points, editing services, and other critical information that can transform your essay responses from mediocre to amazing.
How I got into Brown
While it's worthwhile to understand the specifics about what it takes to get into Brown University, it's also helpful to hear from people who have actually gotten admitted into this esteemed university.
Here, we'll highlight some of the most inspiring, informative, and insightful Brown University admission success stories from around the internet.
"I researched the hell out of Brown and made sure that it showed in my application. I also made sure that it showed during my interviews. I asked about specific groups, showed knowledge about the open curriculum, its history, its uniqueness, its challenging, and how current students navigated the ambiguity of life at Brown. I reached out to current students through LinkedIn to get a sense of what their experience was like. This not only solidified my interest in attending Brown, but it positioned me as a student who really knew Brown and was confident in his reasons for wanting to attend the school.
That's the biggest mistake I see students make today. As an alumnus, I interview a lot of students who don't even know the open curriculum's history, or say things like "my aunt went there and had a blast, so I figured I'd apply". It doesn't make you stand out. It's a community I (and others) care deeply about. How are you going to contribute to it? What colours are you going to add to the beautiful canvas that is Brown?
It's difficult to get in, but, if you're sure it's the right place for you, then research the hell out of it and let it show in your application/interviews."
"Be personal. I wrote my essay about when I was most vulnerable when I made mistakes. It's OK to show colleges your flaws as long as you weave a compelling story about what you did to change it, how it had an effect on you in the future. A brag story can work, but write about where your interest developed, how it's precious to you, and how it's made you a better person. If you're worried about being to cliche,, stop it NOW.
Let's be real, the Admission Gods have been at work for thousands of years probably and they've seen every essay the thousands of seniors applying have to offer. As long as you write something beautiful and meaningful to yourself, and it shows your voice, it's a good essay. Don't listen to your mom roasting you (unless she's right), she's just being harsh bc she loves you & cares.
My essay was honestly really generic.. I wrote about the countless times I failed to talk to people (anxiety) and how I ended up being a public speaker and doing a lot of PR work two years later. I had so much essay regret that I think I spent around 30 hours doing a mix of staring at the screen, writing at a pace of about 2 sentences / 30 mins, and editing the most minuscule of things. But in the end, I think I submitted something that I was semi-OK with, and it showed my voice pretty well.
On the supplement side, I might have spent >20 hours agonizing over those 5 small Brown supplements. I wrote some stuff that showed my more humorous side, and honestly gushed when it came to the Why Brown essay (wrote about its philosophy, what classes I'd imagine taking, how I'd interact with everyone there, and threw in a few tidbits of culture to let them know I was paying attention at that tour)."
We can help you figure out how to get into Brown University
What many students and parents fail to realize is that there are college admission specialists that can help high schoolers drastically increase their chances of getting accepted into some of the best colleges in the country, including Brown University. As one of the preeminent specialists in this field, Admission Sight gives applicants a leg up on their competitors by supporting them through each step of the application process.
Whether you need advice on choosing summer programs, help editing your essays, or guidance on where to apply, we can help. With years of experience and a track record of proven success, we have the insider-knowledge, expertise, and insights needed to guide you on your path towards acceptance. Feel free to contact us to learn more about our services and how you can benefit from working with Admission Sight.