How To Get Into UPenn?
UPenn is one of the most sought-after universities due to its world-class offerings and a prestigious spot in the Ivy League. If you're wondering how to get into UPenn, you're not alone. Tens of thousands of students each year try their best to get admitted to this great school. Here, we'll outline some key strategies you can use to greatly increase your chances of getting into UPenn.
FAQs on UPenn
Before we dive into some specific tips for increasing your chances of getting into UPenn, let's get a better idea of this university's overall admissions process. We'll take a look at some common questions amongst applicants that you might be wondering about yourself. You'll be in a more advantageous position to nail the UPenn application once you're well-versed in what the admissions officers expect from applicants.
What kind of students are accepted into UPenn?
If you want to know how to get into UPenn, it's helpful to learn more about how admitted students perform on some key academic indicators such as GPA and standardized test scores. Since the UPenn acceptance rate is one of the most selective in the country – when compared to all colleges – it's no surprise that some of the most talented and brightest minds end up getting accepted.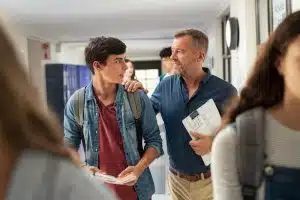 In fact, UPenn generally requires students to have excellent grades to gain admittance. On a 4.0 scale, the average GPA for admitted applicants was 3.9. This indicates roughly an A- average throughout high school. The performance of accepted UPenn students on standardized tests is just as impressive. Generally, UPenn will accept SAT scores ranging from 1450 to 1600. With the ACT, the range typically hovers from 33 and higher.
How difficult is it to get into UPenn?
If you're wondering how to get into UPenn, you're most likely interested in how difficult the process is. As mentioned before, although an 8% acceptance rate might seem low, it's relatively high when compared to other Ivy League schools.
While it's true that among state colleges, this admissions rate is low, you have to consider it within the context of UPenn's prestige and world-class offerings. Fortunately, the university's admissions process provides you with plenty of opportunities to stand out from the competition and demonstrate why you deserve to attend this school.
What is the UPenn acceptance rate?
For the class of 2024, UPenn accepted just over 3,400 students out of a total number of 42,205 applicants. This results in roughly an 8% acceptance rate, which is higher than in previous years. In fact, it's the first time the UPenn acceptance rate has increased in the past five years.
Overall, the acceptance rate at the university has been declining over the past years. In more concrete terms, for every 100 students that apply to UPenn, only eight are admitted. Although still challenging, this acceptance rate is higher than for many of the other Ivy League schools. It's certainly an obstacle, but one that can be overcome with the right support.
7 Tips to Get Into UPenn
1. Start the application process ASAP.
If you've struggled with procrastination throughout high school, now's the time to nip this bad habit right in the bud. Waiting until the last minute can have disastrous consequences when applying to UPenn. Imagine spending months of time and energy (and money!) only to realize that you forgot a document or transcript without having sufficient time to obtain this requirement. Sounds like a nightmare, right? Fortunately, it's completely avoidable.
We advise students to get started as soon as possible when preparing their applications to UPenn. Although there are slight changes to the admissions process each year, it generally remains the same. Making it easier for students to know exactly what's required and when. As a general rule of thumb, the earlier you start, the higher quality your finished application will be. On the flip side, if you procrastinate, you run the risk of turning in an incomplete application. Something that can drastically decrease your chances of getting into UPenn.
2. Take advantage of early admission.
UPenn, as with many Ivy League schools, offers applicants two different timelines for submitting applications: early decision and regular decision. As the name suggests, the early decision allows students to get a headstart and submit their application early. If you're wondering how to get into UPenn's early decisions, you'll be happy to know the process is relatively straightforward.
All you have to do is fill out the application and submit it earlier. It's important to bear in mind that early decision at UPenn is binding. In other words, if you end up gaining admittance, you have to accept the offer and not pursue other schools.
When you apply for an early decision at UPenn, there are three possibilities. The first, and what you're most likely aiming for, is acceptance. The second potential is a deferral in which your application is considered further down the road.
The final possibility is a denial of entry. Although UPenn's admittance rate is higher for their early decision than their regular decision, we only recommend it for students who are positive that UPenn is where they'll attend if accepted.
3. Reach out to alumni.
The alumni of Ivy League universities like UPenn have a long tradition of networking. It's actually one of the longest-lasting benefits of attending one of these prestigious schools. All graduates can tap into this broad network of alumni anytime in the future to help with professional endeavours. However, this connectivity isn't reserved for those who have been through UPenn. Applicants interested in attending the university will find many alumni more than willing to help.
A great way to become more knowledgeable about the university, what you can expect during the application process, along with some insider-tips is to speak with someone who's already succeeded at your goal. We advise parents and students to first ask around within their own social circle including family, friends, fellow students, teachers, and even coworkers. You never who you know who might know someone who attended UPenn.
4. Understand what's required (and what isn't).
If you're applying to more than one university (which you should), you'll notice that the vast majority of requirements overlap between all universities. However, you shouldn't take these similarities as an assumption that each school has the same application process. There are some important distinctions between universities that – no matter how small they may appear – can spell disaster for your application. Just because Harvard University requires a certain document or takes a particular activity into account, that doesn't mean the admissions officers at UPenn will do the same.
Once you've decided to add UPenn to the list of schools to which you'll apply, you'll need to get a clear idea of what's required and what isn't. You don't want to spend time and energy on tasks that aren't going to help you increase your chances of getting accepted into UPenn.
As a high schooler applying for college, you know just how precious and limited your time is. We always advise students to make a clear list of what's required for the school of their choice and diligently keep track of what's accomplished and what has yet to be completed. Fortunately, UPenn clearly outlines what's required by applicants.
5. Look for incredible letters of recommendation.
There's nothing better than an incredible letter of recommendation from your high school teacher to make an admissions officer at UPenn do a double-take of your application. Like many schools, UPenn requires students to obtain letters of recommendation from teachers.
This is another way the university tries to get a more complete picture of applicants. While you might be able to easily find a teacher to write your letter, we advise students to be diligent about their selection process. After all the quality of these letters can play a large role in whether or not you get accepted into UPenn.
Think back to your entire high school experience. Which teachers stood out to you? Which ones were you able to connect with? Were there any that you considered as role models? The whole purpose of a recommendation letter is to offer admissions staff a personal and unique perspective of the kind of person you are.
As a result, you want to find a teacher who knows you well enough to offer an illuminating, insightful, and personal account of your personality, achievements, and interests. Be sure to choose your teachers early to provide them with enough time to complete the letters.
6. Get stellar test scores and high grades
Earlier, we briefly mentioned the average scores and GPAs of those applicants who had been granted admission into UPenn. Keep in mind that the vast majority of those attending Ivy League schools, in general, were at the top of their high school classes.
As a result, a great way to improve your chances of getting into UPenn is to receive excellent grades in your high school courses while also aiming for perfect scores on the ACT and SAT. Although other non-academic components are taken into consideration by UPenn admissions officers, the importance of your academic performance can't be overstated.
When it comes to receiving a high GPA, it's advisable to take weighted courses such as honors or advanced placement classes. Don't make your schedule too difficult though. Poor performance even in advanced classes will result in a lower GPA.
In terms of the SAT and ACT, we recommend students sign up for dedicated classes to increase their performance on the exams. Although you're permitted to take these tests as many times as you like, you might want to limit it to two or three times. Too many might reflect poorly on your overall UPenn application.
7. Pen fantastic supplemental essays.
All-Ivy League schools have a set of supplemental essays applicants are required to complete in tandem with the standard application. These prompts are designed to give admissions officers a better idea of who you are as an individual, what makes you unique, along other, more personal information about you. While the standard application covers mostly boring admission data such as your GPA and test scores, these supplemental essays are more open-ended in nature. It's paramount that students pen their responses carefully as they play an important role in determining whether or not you end up attending UPenn.
Whether you always dread writing essays in school or you consider yourself a strong writer, it's a great idea to get some backup when it comes to nailing the UPenn supplemental essays.
AdmissionSight is a great resource that offers essay editing services to help make sure what you're submitting will play in your favor when admissions staff make their final decision. As a college admissions specialist, AdmissionSight has helped countless students perfect their college supplemental essays for some of the best universities in the country, including UPenn.
How I got into UPenn
While learning about the UPenn requirements is a must for all interested applicants, the information might seem dry. A great way to get some inspiration is to hear from people who have actually succeeded in the exact thing you're trying to accomplish: getting accepted into UPenn. Fortunately, some graduates have shared their experiences along with some helpful tips online. Here's one such personal account:
I had pretty good grades. I also had pretty good test scores. I didn't have a ton of extracurriculars, but I was really dedicated to the ones I did participate in. I also had a lot of variety (I did various things, dance, music, community service). I also did a fly-in program (mostly for underrepresented minorities, but there are a couple of kids who hear about it and get in who weren't invited). Doing a program on campus is a great way to express interest, and also to get to experience the school before you commit to applying.
I also applied ED, which in itself shows a huge level of commitment to Penn and its values, since you literally sign a contract saying "no matter what, if you accept me, I will attend this school". It's also worth it to mention that Penn was absolutely my dream school, and I literally couldn't imagine going anywhere else. I tried hard to portray this through my essays, but without sounding super desperate.
Also, if you're someone like me who is "pretty good" but not a complete knockout, the personal side of the application can really help. I worked really, really, really, really hard on my essays. Harder than I've ever worked on anything in my life. I don't think I've ever expressed myself as well as I did in my essays. My interview was pretty crappy (for technical reasons—my phone kept cutting off and hanging up on my interviewer) but I kept my head up and didn't get flustered.
Lastly, pick good recommenders! I picked teachers who knew me both in the classroom and outside of the classroom. That way, they can paint a more detailed picture of you, and also, they like you and will want to write super-positive things about you so you'll get in. I never read my recs, but I imagine they were strong because the teachers I picked were amazing.
Also, include a rec from a research or work supervisor if you can, I think that helped me a lot. I also had a family friend who did alumni interviews write a short thing about me, like she would have if I had been interviewed by her. I wouldn't normally recommend submitting a ton of recs, because they can be annoying, but I think in my case, each supplemental recommendation added something to my application. –Anonymous Quora User 
We can help you figure out how to get into UPenn
Have you set your sights on UPenn but aren't sure where to begin? You're not alone. Tens of thousands of students apply to the University of Pennsylvania each year. Given the selectivity and prestige of this school, it's understandable why many high schoolers are nervous about the application process.
Fortunately, you don't have to undertake this challenging process alone. AdmissionSight is a leading college admissions specialist with years of experience and a proven track record of successfully helping students like you reach the Ivy League. We've spent so much time learning and mastering the college admissions process and want to share our expertise.
From helping you choose the best summer programs and extracurricular activities to guide you through supplemental essays and high school courses, we offer a wide variety of services to help greatly increase your chances of gaining admittance to UPenn and other world-class universities.
Don't worry, we don't take a one-size-fits-all approach. Instead, we personalize all of our offerings to make sure we're taking your personal strengths, goals, and interests into account. After all, the college admissions process is all about selling yourself to Ivy League schools.
Feel free to reach out to AdmissionSight today to discover more about what we offer and how both students and parents can benefit from these services. We look forward to hearing from you