Johns Hopkins Graduate School
Private graduate education is offered at Johns Hopkins University, which is located in Baltimore, Maryland. The university was established in 1876, and it was named after Johns Hopkins, who was the institution's first patron. He was an American entrepreneur, abolitionist, and philanthropist who was committed to bettering public health and education.
He was also an advocate for the abolition of slavery. Daniel Coit Gilman, the first president of Johns Hopkins Institution, was responsible for the school's founding and went on to establish the standard for the American research university.
Even in the modern day, the Johns Hopkins University culture places a strong emphasis on inquiry. There are 20,088 graduate students enrolled at this institution, giving it a sizeable graduate student body. 28 of the 107 graduate programs that are offered via the Johns Hopkins Graduate School at Johns Hopkins University are made available either online or through graduate distance education programs.
At Johns Hopkins Graduate School, the three areas of study that are most sought after by prospective students are Teaching, International Affairs, and Finance. Part-time graduate students make up about 55% of Johns Hopkins University's total student body in the Graduate School.
Herbert Baxter Adams, who was working as a postdoc at Johns Hopkins at the time, had received his doctorate in Germany in 1876 and brought with him the seminar method of instruction. The assumption is that students will learn more by participating in hands-on activities rather than by sitting through lectures or testing.
This attitude of inquiry, of questioning the established order of things, continues to this day in each of our nine academic divisions, all of which offer full-time Johns Hopkins Graduate School programs.
How to get into Johns Hopkins Graduate School?
How to get into Johns Hopkins Graduate School? Although the Johns Hopkins Graduate School accepts applications throughout the year for all of its programs, the school strongly recommends that applicants finish the application process between four and six weeks before the semester in which they intend to enroll.
Before you can enroll in any of the Johns Hopkins Graduate School's Advanced Academic Programs, you are required to obtain a bachelor's degree in the relevant field. More than 180 different graduate-level degree programs are available to students at Johns Hopkins University's School of Education, as well as in the fields of the arts and sciences, business, and engineering.
It's possible that Johns Hopkins University is home to the graduate program that can help you take the next step in your career, whether you want to study on-campus, online, or in a hybrid style that gives the best of both worlds. In addition, some of Johns Hopkins University's master's and doctoral degree programs, including those in public health, nursing, and medicine, have received excellent rankings from U.S. News & World Report.
You are required to finish submitting your online application as part of the application procedure. Submit all required supporting paperwork. The requirements for supplementary materials change from program to program.
It is up to you to compile and submit all required application materials, and you can do so either using an online application form or by delivering them in person to our office. Please allow one week for processing once the payment has been received. You can submit your application at any point throughout the year, and you can start your studies in any of the three semesters (fall, spring, or summer).
Applications can be submitted to the Admissions Office up to one year before the semester in which the applicant intends to enroll. After it has been filed, an application that is not complete (including the payment of the application fee) has a validity period of one year.
Herbert Baxter Adams, a postdoctoral fellow at Johns Hopkins, brought the seminar technique with him from Germany, where he had earned his doctorate in 1876. The assumption is that students would learn more if they participate in hands-on activities rather than sitting through lectures and testing.
This culture of inquiry, of questioning the way things are done, is still alive and well today within our nine academic divisions, all of which provide full-time graduate programs to their students.
School of Advanced International Studies
An international educational establishment that offers courses in international politics, international studies, international economics and finance, and international public policy in order to provide students with a more well-rounded understanding of the world's most pressing problems.
Krieger School of Arts & Sciences
There are more than fifty graduate programs available, both full-time and part-time, including the arts, humanities, scientific sciences, and social sciences.
Carey Business School
Provides a Global MBA as well as additional master's degree programs, with a concentration on the management of health care organizations, real estate and infrastructure, financial firms, and enterprise risk management.
School of Education
According to U.S. News & World Report, this is one of the best colleges of education in the country. It offers degree and certificate programs in teaching, special education, counseling, administration, and leadership.
Whiting School of Engineering
Programs are offered on a full-time, part-time, and online basis in subjects such as robotics, biomedical engineering, cybersecurity/security informatics, and systems engineering. These fields are of fundamental relevance to the future, health, and safety of our world.
School of Medicine
Since its founding in 1893, the Johns Hopkins School of Medicine has made it its mission to educate the best and brightest future medical professionals. Internal medicine, women's health, HIV/AIDS, geriatrics, drug/alcohol misuse, and pediatrics are some of the main areas of expertise offered at this institution, which is widely recognized as having one of the world's finest medical schools and hospitals.
School of Nursing
The graduate-level pre-licensure students, current BSN nurses, and advanced practice nurses who are enrolled in one of the many Master of Science in Nursing, Doctor of Nursing Practice, or Doctor of Philosophy programs at the top-ranked school according to U.S. News & World Report are prepared to become health care leaders.
Students have the opportunity to concentrate their studies on a wide variety of advanced practice specialty areas, such as health care organizational leadership, nurse anesthesiology, pediatric, adult/geriatric, family, or critical care, among others.
Peabody Institute
This esteemed institution was established in 1857 and provides degrees in a variety of musical disciplines, including composition, computer music, conducting, performance, jazz, music education, music theory, and recording arts and sciences.
Bloomberg School of Public Health
The Bloomberg School is the graduate school of public health that is ranked number one by U.S. News & World Report. The Bloomberg School provides programs in health administration, health science, and public policy.
Johns Hopkins Graduate School Requirements
What are the needed Johns Hopkins Graduate School requirements for admission? U.S. News conducts an annual study of graduate schools at more than 800 different institutions, and Johns Hopkins University is one of those institutions.
A variety of institutions, including the School of Medicine, the Whiting School of Engineering, the School of Nursing, and the School of Education, in addition to the School of Business, are responsible for awarding degrees on behalf of Johns Hopkins University's Graduate School. The Johns Hopkins Graduate School has a variety of programs, each of which has its own set of entrance standards. The following are the criteria that must be met in order to be considered for admission to the Johns Hopkins Graduate School:
Unofficial Transcripts
In order to complete their online application, all applicants are asked to upload unofficial transcripts of all previous college and university studies completed.
In the event that your transcripts are not issued in English, you will be required to present documentation in both the original language and an English translation that has been provided by a qualified third-party source.
In addition to sending in their transcripts, applicants are required to give a list of all of the courses that they have currently enrolled in as well as any further courses that they plan to complete before beginning their graduate studies at Johns Hopkins. It is not necessary to produce transcripts for courses taken during a study abroad experience, provided that the courses and credits are included on the transcripts submitted by the applicant from their major degree-granting institution.
Requesting Recommendations
Your application will be strengthened by the inclusion of references written by faculty members and other individuals who are familiar with your previous work. In order to request electronic letters of recommendation, your online application will require you to provide the email addresses of those who will be recommending you. Your recommender will get instructions on how to submit an electronic recommendation through the system after they have been chosen.
Statement of Purpose
As part of your application to the Johns Hopkins Graduate School, be sure to highlight your long-term objectives, relevant past experience, and long-term ambitions. However, specific departments may have additional requirements, and it is essential to prepare for all of them before you begin the application process. A statement of purpose is required by every department. You can find further information about the length of your statement of purpose by visiting the website of the potential department you want to work for.
Application Fee and Fee Waivers
At the Johns Hopkins Graduate School, you will be asked to pay a non-refundable cost of $75.00 for each application you submit to the department of your choice. Applicants who can demonstrate financial hardship may have the application fee waived. The expansive financial aid program offered by the Johns Hopkins Graduate School enables the institution to provide life-changing opportunities to the brightest and most talented students. These students, in turn, are able to take advantage of the one-of-a-kind opportunities offered by Hopkins to have an enduring effect on the wider world.
Exams
Send in your exam scores, including those from the GRE and the English Language Tests. These are required by your degree program. In order to be evaluated for admission to degree programs, candidates for Graduate School may be required to produce acceptable test scores.
This requirement may apply to master's degree students as well as applicants who are not applying straight out of college. If English is not your first language, you must demonstrate an adequate level of English language proficiency and may be asked to provide scores from an English language proficiency exam such as the TOEFL or IELTS.
Additional Requirements
Extra records, prerequisites, or materials that are supplementary in nature and are particular to the software. Some degree programs ask applicants to provide a sample of their written work along with their application for admission. If the position requires you to write, include an example of your work that meets the standards of the industry in which you work.
What is a Good GRE Score?
What is a Good GRE Score? The fact that standardized examinations can have a substantial influence on your life can make taking them a stressful experience. The Graduate Record Examination (GRE) is essential since it helps determine which graduate programs you may be accepted into.
If you don't do well on the GRE, you might have to settle for a program that you're not as enthusiastic about as an alternative if you want to get into the school that you want to attend.
Most standardized examinations, including the GRE, do not employ the letter grading scale or the scale ranging from 0% to 100% which is common practice among students. Because of this, it may be difficult to determine whether or not your score is satisfactory.
Because of the odd nature of the grading structure, it can be difficult to determine what constitutes a decent score on the GRE. On a standard exam, a score of 130, along with any additional credit earned, would be considered excellent performance. The Graduate Record Examination (GRE) has a minimum score requirement of 130.
You are in luck because ETS occasionally publishes data that includes average test scores in addition to scoring percentiles, both of which you can use to evaluate how well you have performed.
The GRE was taken by approximately 1.64 million persons between July 1, 2016, and June 30, 2019, inclusive. The following is the typical score on the GRE:
The score for verbal reasoning was 150.37.
The numerical reasoning score is 153.39.
Critical Thinking in Writing: 3.58
If you achieve a score that is higher than these values, you can have a degree of confidence in the fact that you have outperformed the average score on the GRE.
However, if you have your sights set on enrolling in a prestigious graduate school, you could get the impression that you need to do more than just outperform the other applicants.
Researching the programs that interest you will give you an idea of the goal GRE score that you should strive to get. Many educational institutions provide information about the average GRE score of their incoming class on their websites. Although receiving a score that is higher than the program's average will not ensure that you will be accepted into the program of your choice, it certainly won't hinder your chances either.
Why Consider Johns Hopkins University?
Why Consider Johns Hopkins University? No matter where in the world you call home, Johns Hopkins University makes a variety of educational programs and opportunities available to its students. There are four campuses located in Baltimore, one in Washington, District of Columbia, and one in Montgomery County, Maryland, in addition to online degree programs and facilities located as far afield as China and Italy. The institution also has a total of eight locations.
Students at Johns Hopkins come from virtually every country on earth, and many go on to pursue careers in academia and research all across the world. Researchers at JHU can be found in every time zone, while the university's students come from more than 120 different nations.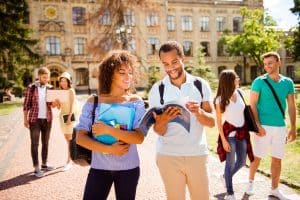 Additionally, the institution supports approximately 1,300 different educational, scientific, and other kinds of initiatives in over 150 other nations. You may benefit from Johns Hopkins University's (JHU's) global approach to research and scholarship, regardless of whether you intend to enroll in one of Johns Hopkins' online programs from wherever you are in the world or study abroad while earning a graduate degree at JHU.
Adults who are pursuing professional or personal enrichment are the target audience for Johns Hopkins University's Advanced Academic Programs, which are part-time graduate degree and certificate programs. These programs are typically adaptable and flexible, making it easy to include them in your hectic schedule. Courses are able to be taken either online or at one of the three physical campuses located in Montgomery County, Homewood, or the District of Columbia.
Pursue your education in a wide range of subject areas that are relevant to careers, such as applied economics, communication, government, science writing, nonprofit management, liberal arts, and food safety regulation, to name just a few. On-site classes are often held in the evenings and on Saturdays, and they are typically provided during the autumn, spring, and summer quarters.
Johns Hopkins University may be able to provide you with a path that is suitable for you, regardless of whether you are interested in studying an online PhD program, a career-focused certificate, or a master's degree program that is meant to help you make an impact in your profession.
The graduate programs in public health, nursing, education, medicine, and biomedical engineering at Johns Hopkins Graduate School are some of the most well-known in the country. Johns Hopkins Graduate School provides programs in all nine academic divisions.
Want to learn more about getting into Princeton Graduate School? You've come to the right place. At AdmissionSight, we have over 10 years of experience guiding students through the competitive admissions process, including our athletic recruitment program.
AdmissionSight can help you put your best foot forward when applying to college this fall. Contact us today for more information on our services.