Music Honor Society
What is the Tri-M Music Honor Society?
What is the Tri-M Music Honor Society? Junior high and high school students are eligible to join the Tri-M® Music Honor Society. This international music honor society aims to honor students for their musical and intellectual achievements, award them for their accomplishments and service efforts, and to encourage future students to thrive in music and leadership. The organization name's three M initials stand for "Modern Music Masters."
The National Association for Music Education (NAfME) adopted the Tri-M Music Honor Society as a program in 1983. Since then, it has been managed by the National Executive Board and guided by the Council of Music Honor Society Chairpersons.
The program's primary objective is to cultivate upcoming leaders in the fields of music education and music advocacy.
Tri-M is the only national honor society for student musicians in grades 6 through 12. There are almost 2,100 chapters located in 50 different states and 15 different countries. More than 84,000 students in grades 6-12 are a part of the Tri-M program.
Chapter Classifications
Divisions: There are Junior chapters and Senior chapters in the Tri-M organization.
Tri-M's Senior Division comprises chapters whose members are in grades 10, 11, and 12.
The grade levels for the Junior Division of the Tri-M Junior chapters include the 6, 7, and 8th meetings.
The ninth grade can be a part of either the Senior or Junior chapter, depending on the organization of the school.
Eligible Schools
Public: A local chapter may be chartered at any secondary public school.
Nonpublic: Any secondary school that is not publicly funded and is either accredited or approved by the education department of a state is qualified to create a local chapter.
Home Schooling: A school that provides an alternative form of education, which is more commonly known as homeschooling, shall be considered eligible to charter a Tri-M chapter only if its academic curriculum, including its music curriculum, is functionally equivalent to public school education under applicable state and municipal laws. The music teacher will serve as the Tri-M adviser. It is possible to obtain documentation in order to prove state or local equivalency. Another option is for the home-schooled student to submit a request to become an honorary member of a local chapter.
Student members raise approximately $1 million annually for organizations that are important to them, in addition to volunteering more than 750,000 hours of service each year in their schools and surrounding communities. In contrast to the communities that the other councils and societies serve, the communities served by the NAfME Music Honor Society Advisory Council are essentially connected to a program of activities and membership in a different way.
A programmatic structure is the most effective technique to encourage lifelong participation in the Association and in music education. To assist program initiatives for pre-college student activities, NAfME Advisory Councils will provide knowledgeable, committed, and representative leadership.
What Are the Requirements to Be in the Music Honor Society?
What are the requirements to be in the music honor society? Student members of Tri-M must have a GPA of at least 3.0 in their core subjects, a GPA of at least 4.0 in their music class(es), and a strong character. They must be enrolled in at least one music class for a minimum of one semester. If a transfer student provides their adviser with an impressive recommendation from their previous music instructor, the adviser may choose to exempt the student from the semester rule.
Selection Process
Candidate selection falls under the purview of the Tri-M adviser's responsibility. Advisers have the option of either coordinating the efforts of a faculty committee to identify Tri-M student candidates or making the decisions on their own.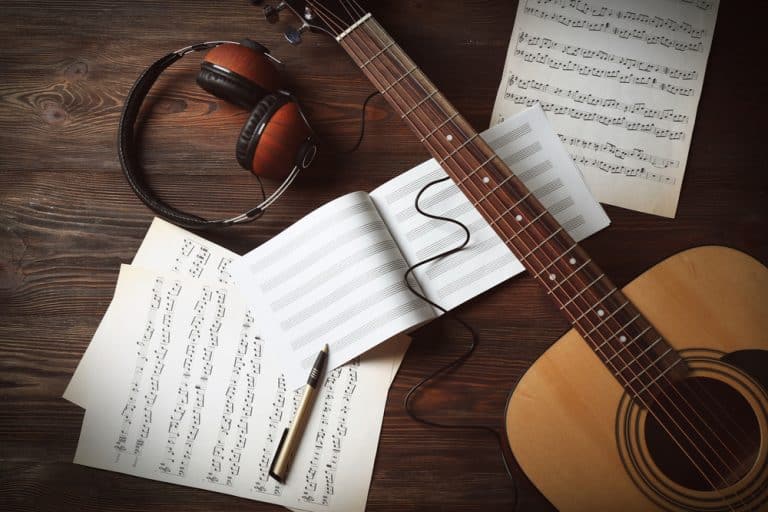 Before considering candidates, a detailed written description of the selection process must be available to all music students and their parents. The procedure for choosing winners must adhere to the various articles contained in these Tri-M Program Guidelines.
Eligibility of Candidates
To be eligible for membership, a candidate must belong to one of the classes that are specified in the rules of the local chapter. Candidates must complete the academic equivalent of one semester's worth of coursework at an institution. A transfer student may be exempt from the rule given that they will provide an impressive recommendation reference from their previous music instructor.
Membership Criteria
Candidates for membership are selected from high school or middle school music students who exemplify extraordinary scholarship, leadership, service, and character. The consideration of Tri-M members should not be restricted to a single component of a musical performance (such as band, chorus, etc.). The chapter advisor may, at their own discretion, request more evidence for any of the following criteria.
Participation in Music: Applicants must be enrolled in a school-sponsored music ensemble and/or class for at least one semester of the current academic year to be considered for this requirement.
Academic Achievement: Candidates must maintain at least an A average grade or equivalent in music, with at least a B average grade or similar in all other academic disciplines for the preceding semester. At the discretion of the chapter adviser and with the agreement of the school principal, local chapters may, in some circumstances, deviate from these standards.
Leadership: Positions of leadership in both the school and the community may be taken into consideration if they can be validated.
Service: Volunteer work completed at the student's school or in the local community may be considered upon verification. Service activities are any actions carried out by the student that are done with or on behalf of others without receiving any direct financial or material remuneration for their efforts.
Personality: Personality may be taken into consideration for the Tri-M award, but the evaluation of candidates should be devoid of rumors and speculation. Character can be defined as someone who exhibits respect, accountability, trustworthiness, fairness, caring, and citizenship. Chapter are recommended to use this template and adapt it to best serve the requirements of their specific communities. Any term that is utilized during the candidate selection process must be drafted into the local bylaws of the chapter and referenced quite frequently.
Membership in Tri-M is an honor that is conferred to a student as a privilege rather than a right. Students in the music program who meet the academic requirements but are not chosen for candidacy should have the selection process explained to them in greater detail than other students.
Furthermore, neither Tri-M nor NAFME will examine the conclusions reached by the chapter advisor or any other group involved in the process of selecting individual members.
Is the Music Honor Society Worth It?
Students who have excelled in both their academic studies and their musical performance can receive recognition from Tri-M. Additionally, students who participate in Tri-M are given opportunities to take on leadership roles and participate in community service initiatives that are centered around music. There are almost 2,100 chapters located in 50 different states and 15 different countries.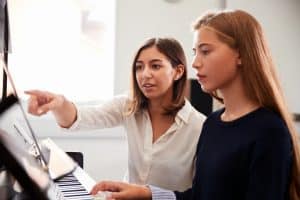 If you wonder, "Is the music honor society worth it?" here are some advantages you and your school can benefit from in being a member of the music honor society program/chapter.
Students who have excelled academically and participated in extracurricular activities are eligible to receive recognition and awards from the Tri-M Music Honor Society®.
Your school's music program will benefit tremendously from the presence of a Tri-M chapter at your institution. The importance of music in your school is demonstrated to the entire community through the involvement of the chapters in community service and events. Therefore, when it comes to budget cuts in the future, the activities of your chapter can help ensure that there will still be a music organization in your school in the years to come.
Tri-M is an opportunity for all the participants of a school's music program, including vocalists and instrumentalists, to collaborate with one another toward the accomplishment of shared objectives under the direction of members of the teaching staff.
You will have the opportunity to develop new skills through Tri-M's emphasis on community service and on taking initiative within chapter projects.
Tri-M Conferences
A significant number of Tri-M chapters take part in the organization's local, divisional, and national conferences.
Regarding the division and national events, they are hosted at or as a part of the chosen Music Educators National Conference (MENC) national and division conferences. They include special sessions that are reserved exclusively for Tri-M members. Students attending one of these conferences have the opportunity to network with members of other chapters, see special performances, attend music exhibits, and even provide performances themselves.
ASCAP JAM Program
All current members of Tri-M are eligible to participate in the Junior ASCAP Membership (JAM) Program offered by the American Society of Composers, Authors and Publishers (ASCAP). Young musicians are targeted by the initiative, which encourages musical composition and raises understanding of the rights associated with intellectual property.
Members of Tri-M are eligible for exclusive discounts on a variety of goods and services, including but not limited to movie tickets, T-shirts, electronic gear, and wireless products.
Scholarships
College may be a pricey endeavor due to the costs of both tuition and living expenses. However, there is potential financial assistance available in the form of loans, both public and private. Students can also acquire financial aid through scholarships and grants. Most of the time, honor societies are good places to look for funding. There are honor societies that run their very own database systems thus, you can find scholarship opportunities that you won't have access to elsewhere.
Chapters that have been honored with the national Tri-M Chapter of the Year Award are eligible to receive funding from Tri-M for participation in summer study programs. The chapter advisers decide which members of the chapter are worthy recipients of these scholarships and then grant them.
In addition, NafME has collected a list of resources for student grants and scholarships that are available for the benefit of members of the Tri-M® Honor Society as well as NAfME Collegiate members. Scholarships and awards are presented to chapters and individuals that excel in performing their Tri-M responsibilities and community service. These are also intended to encourage and recognize the students for their efforts.
Extracurricular Activities for High School Students Interested in Studying Music
Do you have an interest in studying music? Are you thinking about majoring in music in college? Students who intend to major in music after high school is required to show that they have a knack for music as well as a passion for it by constructing a robust portfolio of extracurricular activities that demonstrates their talents and dedication.
Your extracurricular activities will count even more than your academic record in many cases, depending on the level of difficulty of the program and school to which you are applying.  This is especially true for highly specialized students whose academics are not the primary emphasis of their application and future aspirations, such as music majors.
Colleges and universities will place a greater emphasis on your extracurricular profile because your musical talent is more important than your academics in this scenario.
Extracurricular activities are classified into four categories:
Tier 1: These activities include winning a significant, nationally recognized award or competition.
Tier 2: Tier 2 extracurriculars are remarkable activities that are slightly more common than tier 1 activities, such as having a leadership position in a respected club's chapter or winning a regional tournament.
Tier 3: These activities demonstrate that the student is pursuing interests outside of the classroom but are less common than tier 1 and 2 extracurriculars; for example, having a minor leadership position in a school club, such as treasurer.
Tier 4: The most often seen activities by admissions committees, such as being a member of a club or sports team; while these activities may not carry nearly as much weight as those in the other tiers, they can help colleges understand your potential and interests outside of the classroom.
Now that we have learned about these tiers and how these activities count in your application, let us go over some of the extracurricular activities for high school students interested in studying music.
All-State, Region, or Youth Ensembles
Many states provide high school students with the opportunity to participate in an all-state orchestra, band, or ensemble of some kind. The audition procedure is typically very tough, and only a small fraction of the pupils who try out end up being chosen to participate.
For instance, out of the 6,500 students in the state of New York, only 900 are selected to participate in the New York State School Music Association Conference All-State music ensembles. It is possible that an all-state competition will be ranked as a Tier 1 or Tier 2 event in your state, depending on how tough the process is.
In some states, if you audition and win one of the top seats in the state ensemble, you are also eligible to participate in the region ensemble that feeds into the state ensemble. Students should also take into consideration the region ensembles, which are less selective but nonetheless an accomplishment. Joining these groups should be regarded as strong tier 2-3 activities.
There are also audition-based youth orchestras available in a lot of cities; these youth orchestras are just as selective as regional orchestras. These are additional opportunities throughout the year to participate in musical activities.
The Tri-M Music Honor Society
Tri-M is a music honor society for middle-school and high-school students that was established in 1936 under the name Modern Music Masters and has become under the National Association for Music Education (NAfME) after almost 50 years. The group has chapters in schools all around the United States and even in international schools. For students to participate, the music department at their school must provide them with a recommendation, they must keep an A average in all their music classes, and they must maintain a B average in all their other classes.
Members' accomplishments will be acknowledged by the music honor society, and opportunities to volunteer will be made available to them.
This could be considered a tier 2-3 activity depending on how involved the student is in the Tri-M program. It would be considered a tier 2 activity if, for example, the student held a high-ranking official position in his/her chapter.
Music Clubs
The following are some examples of groups that students who want to learn music can join:
Chamber Orchestra
A Cappella Groups/Glee Clubs
Chorus
Concert Band
Guitar Club
Jazz Ensemble
Drumline
K-Pop Club
Marching Band
Music Composition Club
Music Production Club
Piano Club
String Ensemble
Percussion Ensemble
Ukulele Club
There is no doubt that the availability of these clubs will differ from one school to the next. These activities will most likely be classified as either tier 3 or tier 4 pursuits since they are not affiliated with any national club or society. However, this will depend on the degree of the student's participation.
Make the most of your musical possibilities in high school as you prepare to be a college music major. Joining the Tri-M Music Honor Society would be one of the best opportunities to boost your chances of admission to the best music colleges in the world. If you need an expert's guide in preparing for your journey to higher education, AdmissionSight is more than ready to help you.
AdmissionSight is one of the leading college admissions counseling companies in the US. We assist hundreds of high school students in getting into their dream colleges each year. Feel free to book an initial consultation today!