The Best Colleges For Business In California
What is a business degree?
What exactly is a degree in business? A degree in business will teach you the concepts behind management and administration, as well as finance and marketing. Students that study in one of the best colleges for business in California are equipped with this knowledge and are taught to apply these theories to real-world problems to prepare them for the business world.
Students can earn degrees in business at the associate, bachelor's, master's, and doctoral levels. After graduation, each degree has the potential to provide students with specialized training for particular business career paths. Bachelor's degree holders, for instance, are eligible for entry-level positions such as operations research analysts and budget analysts. A master's degree in business is typically necessary for advancement into managerial positions such as financial manager or marketing manager.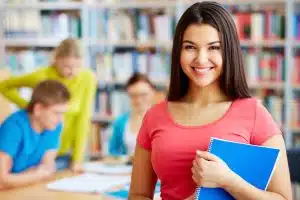 Earning higher degrees allows professionals to increase their earning potential and their number of job opportunities. According to the following chart, business professionals who have earned bachelor's degrees earn more than those who have earned associate's degrees, and business professionals who have earned master's degrees earn more than those who have earned undergraduate degrees.
Why study for a business degree in California?
There are several compelling reasons why one should study for a business degree in California:
Access to top-ranked universities: California is home to some of the world's top-ranked universities, such as Stanford University, the University of California, Berkeley, and the California Institute of Technology. These universities offer excellent business programs that provide students with a strong academic foundation, hands-on experience, and exposure to diverse industries and networks.
Thriving business ecosystem: California has a thriving business ecosystem with a diverse range of industries, including technology, entertainment, healthcare, finance, and more. Many of the world's leading companies, such as Apple, Google, and Facebook, are based in California, providing students with valuable opportunities to intern or work at these companies.
Entrepreneurial culture: California has a strong entrepreneurial culture, with many successful startups emerging. The state offers a supportive environment for entrepreneurs, with access to funding, mentorship, and resources to start and grow a business.
Diversity and culture: California is known for its diverse and vibrant culture, with a large population of people from different backgrounds and ethnicities. This cultural richness allows students to learn about different perspectives, ideas, and business methods.
Quality of life: California offers a high quality of life, with beautiful weather, stunning landscapes, and many activities to do in your free time. Students who study in colleges for business in California can take advantage of the state's many outdoor activities, such as hiking, skiing, and surfing, as well as its diverse cultural offerings, such as museums, galleries, and music festivals.
What are the best business schools in California?
The University of South California Marshall Business School
The University of Southern California is consistently ranked as one of the best business schools in California, and its campus can be found in one of the most exciting cities. Alumni of the Marshall Business School play important leadership roles in various fields, including real estate, accounting, marketing, finance, and technology, all of which contribute to the growth of those fields.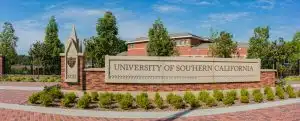 Marshall Business School provides ten different specialized programs and five MBA programs. This school takes great pride in its ability to assist students in exploring cultural diversity, opportunities for entrepreneurship, and creativity while simultaneously engaging in critical thinking.
Through the Trojan Family Network, Marshall Business School assists and supports its graduates. This network is diverse and widespread worldwide, fostering connections and relationships between tens of thousands of alumni, students, faculty, staff, partners, and other types of participants.
They guarantee unending assistance and dedication to one's professional advancement throughout one's entire life. Alumni are automatically inducted into the USC Marshall Alumni Association, which is recognized as one of the world's most influential professional networking groups.
University of California, Berkeley Haas Business School
There are three different Master of Business Administration (MBA) programs that the Berkeley Haas business school offers that can transform students into successful business leaders. As one of the colleges for business in California, students acquire skills in leadership and entrepreneurship, strategic thinking, financial responsibility, and other areas by studying required and elective subjects. Students can finish their Master of Business Administration degrees in 19 months to 3 years.
The total tuition for all students ranges between $127,500 and $149,060, depending on the student's residency and the program they select. The curriculum covers topics such as business, macroeconomics, and design thinking in addition to the study of the global economy. Alumni are encouraged to join regional chapters of the organization to improve their chances of finding employment and other professional opportunities. They are also informed about upcoming webinars and other events to assist them.
Stanford Graduate School of Business
The Stanford Graduate School of Business provides a two-year MBA program that can be completed on-campus or in full-time attendance. As they work toward earning their degree, students are instructed to develop their vision and the strategies necessary to realize that vision.
The importance of working together and being creative is emphasized throughout the curriculum at Stanford University, which includes classroom instruction, simulated job interviews, mock case studies, seminars, and a wide variety of other learning opportunities.
Skills in critical and analytical thinking and personal leadership development are emphasized at Stanford, an institution whose primary focus is on the social sciences and managerial functions. Students at Stanford University also participate in international competitions, which gives them firsthand experience in international business.
Their Alumni Network is comprised of chapters that each feature a collection of online tools, including directories, groups, discussions, and event information. These tools give alumni access to communities and assist in maintaining connections among alumni of all programs and graduate programs.
UC Davis Graduate School of Management
UC Davis is consistently ranked as one of the top two universities in the world for business. The university also offers four MBA degree programs, including a full-time program for on-campus students, two part-time programs in Sacramento and the Bay Area, and an entirely online program. Students at UC Davis can participate in the global food and agriculture, renewable energy, and biotechnology industries thanks to the university's commitment to maintaining corporate partner networks.
Within the first six months after graduation, MBA graduates from UC Davis secure jobs that pay an annual average salary of $103,000. As one of the colleges for business in California, the school is extremely proud of its job placement rate, which is an impressive 98%. Alumni of UC Davis are provided with post-graduate support for employment opportunities. They include various resources, such as committees, networking groups, etc.
The Integrated Management Project and Articulation and Critical Thinking (IMPACT) program make up the academic requirements for students at UC Davis. Students work in groups to develop strategic and efficient solutions for clients like Fortune 500 companies and Silicon Valley startups. Students can construct a solid foundation of skills and improve their knowledge in writing, speaking, and critical thinking as a result.
UCI Paul Merage School of Business
MBA students currently employed and wanting to continue their education can choose between a full-time or hybrid program at UCI. Every staff member has at least eight years of professional experience and views themselves as future leaders of the world.
While studying at one of the best colleges for business in California, students at UCI are equipped with the critical thinking and problem-solving skills necessary to succeed in today's technologically advanced world.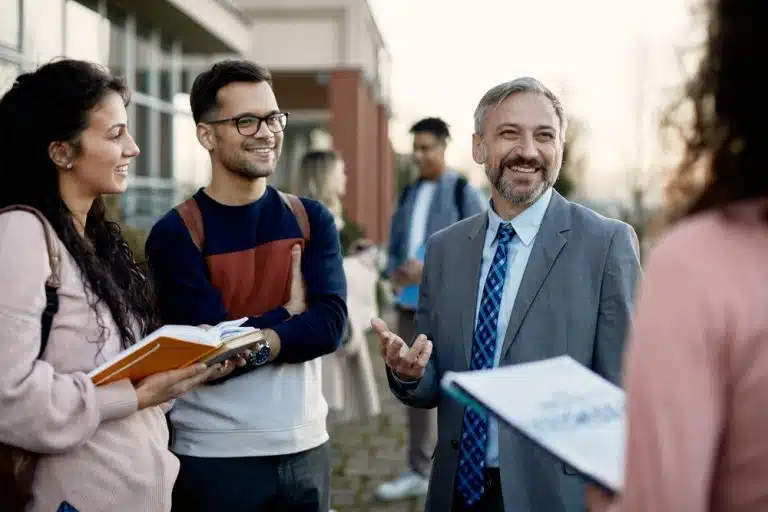 UCI takes great pride in the fact that it attracts students who are looking for a vibrant culture of collaboration and a faculty of the highest caliber. Its alumni connections make it possible for students to become members of the Dean's Leadership Circle and regional chapters for networking. Additionally, it provides "lifelong learning" opportunities for graduates who believe they may want to gain additional knowledge regarding their business options and career path.
Students can concentrate their studies on real estate, digital transformation, or entrepreneurship, depending on the program they enroll in.
Cal Poly Pomona College of Business Administration
The Master of Business Administration program at Cal Poly Pomona educates working professionals who wish to expand their knowledge and careers while continuing to work in their current positions. The coursework is hybrid, consisting of online learning and requirements to complete on campus. Some lectures take place in the evenings and on weekends. Their alumni network in business administration includes more than 40,000 former students.
This course can be completed full-time in two years by taking three classes per term, including those in the elective track. The program requires only three to six credits per term from students who enroll in it part-time, and it strongly emphasizes foundational subjects.
The core curriculum for this MBA program consists of classes on managerial decision-making, organizational behavior, and data analytics and modeling. You can find information here about the resources available to alumni. For students to graduate, they can take a comprehensive exam or complete a business research project.
Fowler College of Business
The MBA programs at San Diego State University's Fowler College of Business, which are offered both on a part-time and full-time basis, rank 34th and 44th, respectively, among the best public schools in the United States. What makes Fowler one of the best colleges for business in California is that students can select their major from a wide range of concentrations, with each concentration requiring a prerequisite of at least four courses in the subject matter covered.
Graduates of Fowler College are working for major corporations such as HP, Bank of America, San Diego Gas & Electric, and Sempra Energy, to name just a few of these companies. Fowler College has an impressive list of partnerships and network connections. Earning other degrees in conjunction with an MBA while enrolled in the MBA program is also possible.
California State University – East Bay College of Business and Economics
Students can enroll in one of three Master of Business Administration (MBA) programs at Cal State East Bay: a one-year MBA, an MBA for global innovators, or an MBA with various concentrations. Each Master of Business Administration (MBA) program is held on a distinct campus and adheres to its schedule.
Completing an undergraduate degree spanning four years and attaining a grade point average of at least 2.5 are prerequisites for this program. Students from other countries are required to obtain certain TOEFL or IELTS scores. The GMAT is not required of all applicants because some programs do not require it.
The career exploration opportunities at Cal State East Bay are diverse and extensive. It allows former students to find work in California areas rich in culture, technology, and educational opportunities. When you graduate from Cal State, you will have access to jobs that offer competitive compensation, excellent benefits, and opportunities for promotion.
Pepperdine University – Graziadio Business School
The Graziadio Business School at Pepperdine University provides various full-time and part-time MBA programs geared toward individuals at all stages of their careers. Depending on the program they are enrolled in at one of the best colleges for business in California, students can learn on campus, in a hybrid format, or entirely online. The faculty comprises some of the most successful businesspeople and entrepreneurs worldwide.
A full-time program, a part-time program, a joint bachelor/MBA program, and several joint MBA options are available to students interested in pursuing an MBA from Pepperdine University. These options are not the only ones available. The Master of Business Administration (MBA) programs offered by Graziadio are designed to provide each student with the knowledge and skills necessary for high-level career management.
Graziadio Business School is a prestigious educational establishment with an annual graduation rate of more than 47,000 students. The Department of Career and Professional Development at this institution is dedicated to fostering the personal and professional development of its graduates. Offering practical advice, career-building tools, and exclusive access to a vast network of current students, alumni, and employers worldwide.
Chapman University Argyros Business School
The Argyros Business School at Chapman University offers MBA and MFA degree programs with various concentrations, some of which are film and television production, entrepreneurship, and financial services, amongst others. Additionally, it offers the well-known Flex MBA, which allows students to choose between attending full-time or part-time classes during the evening. This makes the institution one of the best colleges for business in California.
The fundamental coursework at Chapman University provides a strong grounding in business and finance. The entrepreneurship, international business, and marketing classes are all available as electives. Students can tailor their academic experiences by selecting three specialized courses to complement their core curriculum. Even though the school will not note the student's specialization on the student's transcript or diploma, the student can mention it on their resume.
Now that you have a vision of where to go on your journey to a business degree, you should also prepare for your college admission. You can get help with AdmissionSight with the help of our world-class guidance. You can enter the best university that suits you best with the guidance of AdmissionSight. You can talk to our experts today to get started.