Juilliard School's Summer Percussion Seminar
Are you a high school percussionist looking to take your skills to the next level and pursue your dreams at the world-renowned Juilliard School? The Juilliard School's Summer Percussion Seminar is your golden ticket to unlock your potential and set you on the path to success.
An Exclusive Opportunity
This two-week percussion intensive is tailor-made for advanced high school percussionists aged 15 and up who are yet to graduate from high school. Located at the heart of New York's Lincoln Center, this seminar offers an electrifying cultural backdrop for your artistic journey.
Hands-On Learning
Get ready for a hands-on experience that will reshape your percussion skills. At the Summer Percussion Seminar, you'll immerse yourself in orchestral, contemporary, and world music styles. You'll dive headfirst into a world of masterclasses, clinics, lectures, rehearsals, and performances led by some of the brightest minds in the percussion world.
Meet the Masters
Your mentors aren't just any musicians; they're the cream of the crop in percussion. You'll be under the guidance of today's leading percussion teachers and performers. They'll share their expertise and secrets of success, exposing you to the diverse skills, careers, and passions that Juilliard's faculty and alumni represent.
What You'll Do
During the seminar, you'll have the chance to:
Attend 15+ Masterclasses and Clinics: Learn from acclaimed faculty members and special guests eager to share their wisdom.
Perform with the JSPS Percussion Ensemble: This includes the exciting premiere of a brand-new musical work.
Percussion Intensives: Dive deep into specific topics in mini-courses that will boost your percussion prowess.
Juilliard Ear Training Course: Sharpen your musical ear and elevate your sense of rhythm and harmony.
Juilliard Alexander Technique Course: Gain a valuable skill to improve your performance and prevent injury.
Enjoy Recitals by Renowned Faculty Artists: Be inspired by the performances of world-class musicians.
Attend Lincoln Center Concerts: Immerse yourself in the vibrant cultural scene of New York.
At the seminar, you'll not only learn a ton about music and percussion, but you'll also have a blast making lifelong friends. It's not all about practice and hard work – you'll have the opportunity to build connections and memories that will last a lifetime.
So, if you're a young, passionate percussionist with dreams of attending Juilliard, the Summer Percussion Seminar is your stepping stone. It's the perfect chance to refine your skills, gain insights from the best in the field, and prepare for the auditions that will lead you to the college of your dreams.
Don't miss this exclusive opportunity to unleash your percussion passion and start your journey toward success.
Dates and Fees
The 2024 Summer Percussion Seminar is scheduled to run from Sunday, July 7, to Saturday, July 20. It's an incredible opportunity to hone your percussion skills and immerse yourself in the world of music at one of the most renowned institutions in the field.
The total fee for tuition, room, and board is $3,700. Financial aid is available for qualified admitted applicants, ensuring that financial constraints don't stand in the way of your dreams. Remember, the deadline for application and audition recording is February 1, so make sure you don't miss out on this chance.
Eligibility Criteria
To be admitted to the Summer Percussion Seminar, there are some key criteria you must meet:
Prior Percussion Training: You should have some prior percussion training, which showcases your dedication to the art.
Age Requirement: You should have reached the age of 15 but have not yet graduated from high school by the start of the program. This ensures that you're at the right stage in your educational journey to benefit fully from the seminar.
Full Commitment: You need to be available for the entire two-week program. It's a comprehensive experience that requires your full participation.
Passion for Music: Successful applicants should be seriously considering music as a major area of college study. This is the place for those who are truly dedicated to pursuing a career in music.
What to Expect
During the Juilliard Summer Percussion Seminar, you can look forward to:
Intensive Training: Dive deep into your percussion skills, refining your techniques and expanding your knowledge of various music styles, from orchestral to contemporary and world music.
World-Class Faculty: Learn from today's leading percussion teachers and performers. They'll share their expertise, provide guidance, and inspire you to reach new heights in your musical journey.
Masterclasses and Clinics: Engage in over 15 masterclasses and clinics, led by acclaimed faculty members and special guests. These sessions will enrich your understanding and skills in percussion.
Performance Opportunities: You'll have the chance to perform with the JSPS Percussion Ensemble, including the premiere of a new musical work. This hands-on experience is invaluable for your growth as a musician.
In-Depth Learning: Explore specific topics in "Percussion Intensives," mini-courses that offer a deeper understanding of various aspects of percussion.
Ear Training and Alexander Technique Courses: These courses will help you develop your musical ear and improve your performance skills.
Recitals and Concerts: Attend recitals by renowned faculty artists and experience the vibrant cultural scene of New York by attending Lincoln Center concerts.
Beyond the rigorous training, the Summer Percussion Seminar is an opportunity to have fun, make lifelong friends, and build connections with fellow aspiring musicians. It's not just about mastering your instrument but also about enriching your life through shared experiences and memorable moments.
So, if you meet the criteria and have the dedication to pursue a music career, the Juilliard School Summer Percussion Seminar is your gateway to excellence.
Don't miss this chance to refine your skills, learn from the best, and prepare for your future as a percussionist. Start your journey today and make your dream of attending Juilliard a reality.
Meet the Program Director
The Juilliard Summer Percussion Seminar boasts an outstanding leader in the form of Artistic Director, Samuel Z. Solomon. With an impressive background in percussion and a rich history of musical contributions, Mr. Solomon is a key figure in the program's success.
Samuel Z. Solomon shares his wealth of percussion knowledge as a dedicated educator at The Boston Conservatory at Berklee and Boston University. His commitment to musical education also extends to his role as the Percussion Director of The Boston University Tanglewood Institute (BUTI).
In addition to his teaching roles, Mr. Solomon proudly serves as the Artistic Director of the Juilliard Summer Percussion Seminar. This leadership position is a testament to his passion for nurturing young percussion talent.
Mr. Solomon's involvement in the world of percussion extends beyond education. From 2007 to 2011, he held the esteemed position of President of the Massachusetts Chapter of the Percussive Arts Society.
His impact reaches composers, performers, and conductors worldwide through his acclaimed book, "How to Write for Percussion," available in three languages.
Apart from his written contributions, Mr. Solomon has authored three books on percussion playing and curated two collections of percussion etudes and solos. His dedication to the world of percussion is evident through these valuable resources.
As a multifaceted musician, Samuel Z. Solomon is a founding member of the Yesaroun' Duo and the Line C3 percussion group. His experience as a percussionist-in-residence at Harvard University from 2005 to 2010 speaks to his exceptional skills and talent.
Furthermore, from 2003 to 2015, he held the prestigious position of Principal Timpanist of the Amici New York chamber orchestra, demonstrating his proficiency in orchestral percussion.
Mr. Solomon's musical versatility shines through his contributions as a soloist and chamber musician on various labels, including GM, Albany, Bedroom Community, New Focus, and Tzadik. His artistry even extends to performing the music of Björk on her soundtrack to Matthew Barney's film, "Drawing Restraint 9."
For more information about Samuel Z. Solomon and his remarkable musical journey, please visit www.szsolomon.com. His expertise and dedication to percussion make him an invaluable asset to the Juilliard Summer Percussion Seminar.
Application Schedule
To ensure a smooth application process for the Juilliard Summer Percussion Seminar, here's a breakdown of the key dates and requirements:
Online Application Deadline: February 1. Submit your online application before the specified date to begin your journey towards the seminar.
Application Fee or Fee Waiver: Pay the application fee in USD or request a fee waiver when submitting your application.
Video Audition: Along with your application, provide a video audition showcasing your percussion skills. This step is crucial in demonstrating your musical abilities.
Request for ADA Audition Accommodations: If you require ADA audition accommodations, request this during the application process. We are committed to ensuring equal opportunities for all applicants.
Optional Recommendations: If you wish to strengthen your application further, consider including optional recommendations as part of your submission.
By following this application schedule, you can take the first steps toward becoming part of the Juilliard Summer Percussion Seminar. Your dedication and talent will shine through in your application and video audition, setting the stage for a transformative musical experience.
Application Fee Details
To complete your application process for the Juilliard Summer Percussion Seminar, you must be aware of the application fee, fee waiver options, and the due date.
Application Fee
A non-refundable application fee of $50 is required. This fee must be paid through your application status page at the time of submitting your application.
Please note that your application is not considered complete until the application fee has been received.
Fee Waivers
They firmly believe that financial limitations should never hinder your application to The Juilliard School.
Fee waiver requests are available for students who can demonstrate significant financial need. You can request a fee waiver by providing one of the following documents as proof:
An official NACAC fee waiver form, also signed by your high school counselor.
A letter on your school's stationery from a counselor, addressing one of the following points:
You are enrolled in or eligible for the Federal Free or Reduced Price Lunch program (FRPL).
Your annual family income falls within the income eligibility guidelines set by the USDA Food and Nutrition Service.
You are enrolled in a federal, state, or local program that supports students from low-income families (e.g., TRIO programs like Upward Bound).
Your family receives public assistance.
You live in federally subsidized public housing, a foster home, or are homeless.
You are a ward of the state or an orphan.
If you are unable to provide any of the above documents, you may present:
A letter from someone other than yourself (the applicant) addressing your financial situation.
All documentation must be in English, and we also accept original documents with translations.
Fee waiver requests will be evaluated after you have submitted a complete application. If you are requesting a fee waiver, please submit your application, including the required fee waiver documentation. There is no need to pay the application fee in this case.
The program believes in fostering a diverse and inclusive community of talented musicians, and our fee waiver options are designed to ensure that financial circumstances do not stand in the way of your aspirations.
Your Application Process
When it comes to your application for Juilliard's Summer Percussion Seminar, there are a few essential steps to follow. Here's a breakdown of what you need to do:
Online Application Submission
Your application should be submitted online, making sure to meet the relevant deadline. Start by creating your Juilliard Admissions Account.
Collect all the necessary application materials and adhere to the instructions to complete your application.
Video Audition Requirements
For your video audition, please keep in mind the following guidelines:
You are required to perform four solo works and provide a brief introductory video, resulting in 5 videos. Additional submissions beyond this number will not be considered.
In your performance videos, it's important to ensure that your hands remain visible and unobstructed by any music stand or other objects.
Introductory Video
Your introductory video should be under a minute in duration. In this video, introduce yourself by stating your name, age, and place of origin, and offer a brief overview of your percussionist background. You have the flexibility to record this introduction in separate takes; it does not need to be a continuous recording.
Required Solo Works
One snare drum solo or etude of your choice. Recommended composers include Delecluse, Cirone, and Peters. Concert-style etudes are preferred over rudimental ones.
One timpani solo or etude of your choice. Suggested composers are Hochrainer, Woud, Firth, and Delecluse. Solos that showcase traditional orchestral musicianship are favored over those with extensive techniques.
One two-mallet solo or etude of your choice. Suggested works include a movement from J.S. Bach's Violin Sonatas and Partitas, G.H. Green rags, and solos from MassChap Xylophone Collection. If you opt for a transcription, such as Bach, for one of your mallet solos, please select a contemporary solo for the other.
One four-mallet solo or etude of your choice. Suggested works encompass a movement from J.S. Bach's Violin Sonatas and Partitas, Cello Suites, or Lute Suites, as well as pieces from the Intermediate Marimba Masterworks books and those recommended here. Similar to the two-mallet category, if you use a transcription (e.g., Bach) for one mallet solo, balance it with a contemporary solo for the other.
It's important to note that the suggested works mentioned above are just recommendations. You can choose works not listed here if they align with your abilities and preferences.
As you embark on this audition journey, remember that your selections should reflect your skills and passion as a percussionist. The program looks forward to hearing your performances and learning more about your unique musical journey.
Applicants with Disabilities
At The Juilliard School, they aim to ensure that all audition applicants, including those with disabilities, have the opportunity for full participation. They align their practices with the Americans With Disabilities Act of 1990 (ADA), which requires reasonable accommodations or adjustments for qualified individuals with recognized disabilities.
Their approach does not include inquiries about disabilities during the pre-admissions stage. However, for applicants with documented disabilities who require reasonable accommodations to engage in the audition process, the following steps must be taken:
Notify the Office of Academic Support and Disability Services (OASDS) in writing by the relevant deadline to express the need for accommodations.
Submission of documentation of the disability to the OASDS is mandatory. Please be assured that this information will remain strictly confidential.
To facilitate this process, the completion of two essential forms is required:
Applicant Release of Disability-Related Information Form
Audition Accommodation Request Form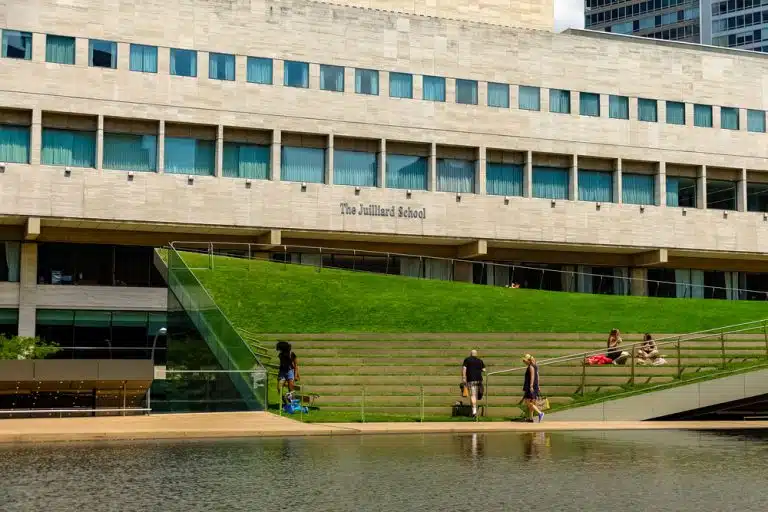 Decisions
After a thorough review of video auditions, the faculty will make selections for the program, typically choosing 16-18 percussionists. Additionally, a brief waiting list will be established. Notification of your admission status will be provided via your application portal, typically around two weeks after the application deadline—the Summer Percussion Seminar to celebrate your musical talents and welcome the diverse abilities that enrich our community.
How AdmissionSight Can Help You With College Admissions
AdmissionSight is a college consulting firm that provides personalized assistance to students throughout the college admissions process. Here are some ways that AdmissionSight can help you:
Admissions strategy: AdmissionSight can help you develop a strategic plan for your college application process. Our professional consultants can assist with identifying schools that are a good fit for your academic, extracurricular, and personal goals and help you plan and prioritize your application strategy.
Application review: AdmissionSight can review your application and provide feedback on how to improve it. We can offer suggestions on making your application stand out and highlighting your strengths and unique qualities.
Essay coaching: AdmissionSight can help you craft compelling essays that showcase your personality, goals, and achievements. We can guide you through the essay writing process and provide feedback on your drafts to help you refine your writing.
Interview preparation: AdmissionSight can provide interview coaching to help you feel confident and prepared for college interviews. Our experts can offer tips on how to present yourself professionally and how to answer common interview questions.
Extracurricular planning: AdmissionSight can help you plan and develop your extracurricular activities to make them more impactful and meaningful. We can suggest activities that align with your interests and goals and provide guidance on demonstrating your leadership and initiative.
Overall, AdmissionSight can provide valuable guidance and support throughout the college admissions process to help you maximize your chances of getting accepted into the college of your choice.
With a high success rate of over 75%, we have built a strong network in the past decade. Book an initial consultation today, free of charge!