8 Attributes Yale Admission Counselors Look for in Future Students
Yale University is one of the most popular universities in the country and in the world. Each year, tens of thousands of students try their best at getting into this prestigious university. The individuals tasked with reviewing all of these applications and determining which students end up getting in and which get rejected are known as admission officers. As the gatekeepers to the university, knowing what they're looking for in applicants can tell you everything you need to know about Yale and its admissions process. When asking "what does Yale look for in applicants?", you're essentially asking what the admissions staff makes their decisions upon.
To help increase your chances of getting into this top-tier school, we'll help answer this question. This way, you'll know how to tailor all parts of your application so it highlights certain strengths and attributes that Yale admissions staff will be looking for when reviewing your application. We'll also cover the process the university follows when looking at applications to ensure you're familiar with the admissions process overall.
What does Yale say about its admissions process?
One of the most reliable and accurate resources for determining what Yale admissions officers look for in applicants is the university itself. A well-known president of Yale, Kingman Brewster, has written that choosing the best candidates was a matter of finding individuals who would eagerly take advantage of the school's wealth of resources and those that are motivated to make a difference in the world. He said, "we have to make the hunchy judgment as to whether or not with Yale's help the candidate is likely to be a leader in whatever he* ends up doing."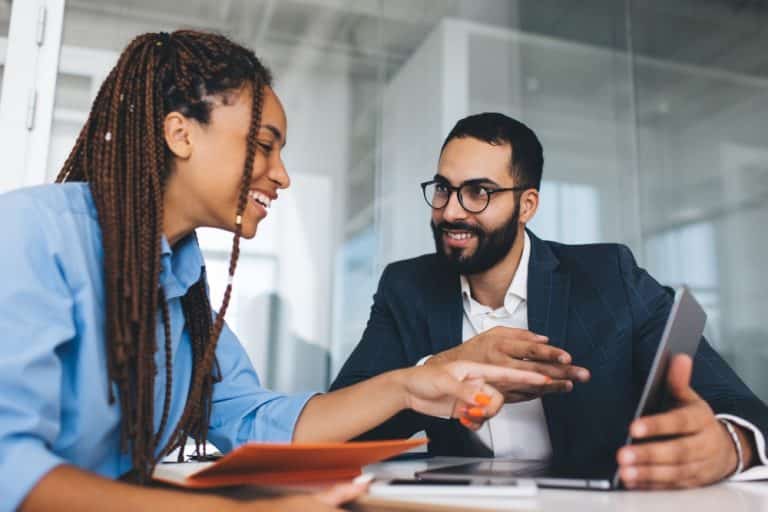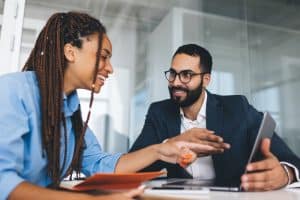 Centuries since its founding, the goals of Yale haven't changed. Each year, admissions officers are searching for people who have the potential to become effective leaders with a positive impact in whatever area they wish to enter into. Yale has made it clear that more than 75% of applicants are capable of performing well at the university. However, the ones that end up getting admitted are set apart from the crowd due to a number of "little things" that end up making a big difference when added up together.
What do Yale admissions interviewers look for?
Academic Prowess
What does Yale look for in applicants? First and foremost, Yale is an academic-focused institution. Although it has a wide variety of offerings both inside and outside the classroom, academic performance is still a critical metric admissions officers use to determine which applicants are the best fit for Yale. In fact, academic prowess is actually the very first factor considered when an application is reviewed. In order to greatly increase your chances of getting into Yale, your academic performance will need to wow the admissions staff from the get-go.
Yale makes it clear that the high school transcript is the most critical document in your entire application. It's used to determine an applicant's academic performance over a period of multiple years. It also demonstrates how you've pushed yourself to grow over that time. Yale is interested in finding students who take challenging classes in a wide range of fields while maintaining high grades. This highlights the importance of choosing the right courses through careful and personalized academic planning even early on in high school.
Are there certain scores I have to get?
Yale makes it clear that there aren't any score requirements for standardized tests. In other words, your application isn't automatically going to get thrown out just because of a lower SAT or ACT score.
Applicants might also be happy to know that applicants accepted into Yale represent a broad range of scores. The spectrum of scores over the past few years from admitted students was 720 to 770 on the SAT's Reading and Writing section and 740 to 790 on the Math portion. On the ACT, the same average was 33 to 35.
Although Yale's admission staff doesn't follow any steadfast rules when it comes to weighing test scores versus grades, the university has said "it is safe to say that performance in school is more important than testing." They've even made it a point that students who excel in college-prep courses might be able to make up for lower test scores. On the other hand, it's not likely that even high-end test scores would convince the admissions staff to look past a mediocre high school transcript.
High Remarks from Instructors
Admission officers at Yale are looking for students who have made an impression on their instructors. To get this information, Yale requires applicants to provide letters of recommendation. Through these letters, the admissions staff is hoping to get a better understanding of how your teachers and counselors view you as a student along with what kind of impact you've had on them.
While information about your academic performance in class is important, Yale is more interested in learning about more personal information in these letters such as your relationship with fellow classmates, what kind of energy you brought each day, how curious you were about the subject, and what kind of overall effect you had on the class.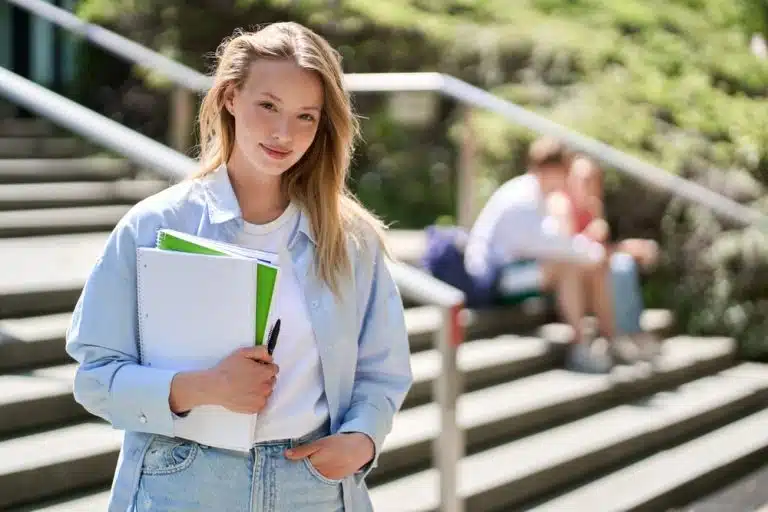 A recommendation letter from a school counselor can help provide Yale with additional information about you such as what leadership positions you took at school, how you pushed yourself academically throughout high school and the difficulty of your curriculum. While you don't have much choice when it comes to your counselor since most students only have one, you'll want to make sure you choose wisely when determining which teacher you ask to write your letter of recommendation.
Distinct Personality
Yale's application is specially designed to help admissions officers get a better understanding of each applicant on a more personal basis. The letters of recommendation your teachers write and the short essay prompts you answer are the two most important ways this goal is accomplished.
Through these requirements, the admissions staff is hoping to learn more about your personality. While you have less control over the letters, the essays are a perfect opportunity to let your uniqueness shine through. Worried about the content? Don't worry! The prompts are broad enough for each applicant to find a strong suit.
When writing your essays, keep in mind that Yale is going to be looking for applicants who are transparent and aboveboard about the experiences, interests, and activities that are meaningful to them. It's vital that you write in a natural and personalized manner instead of trying to formalize your writing to the point that all characters and styles are lost. You want your essays to sound like you. After all, that's the most effective way to put your unique personality on display, which is exactly what Yale admissions officers are looking for.
Willingness to Use Yale's Offerings
They're looking for students who are eager to take advantage of opportunities that are available. For instance, if your high school offered honors or Advanced Placement courses, did you take them or settle for easier classes. Or, maybe your school offered a unique extracurricular opportunity such as a competition or summer program. Regardless, Yale's admission committee will look to see if you're committed to using the resources that are at your disposal. Of course, you're not expected to take advantage of opportunities that aren't offered at your school.
Why is Yale so focused on this aspect when reviewing applications. Well, as one of the most well-funded and prestigious universities in the country, Yale has some world-class academic and non-academic offerings for students.
With limited spaces available and tens of thousands of applicants wanting to get in, admissions officers need to determine who will make the most of what the university has to offer. If you showed a willingness to fully utilize the resources offered to you in high school, Yale feels more comfortable assuming you'll do the same in college.
Public Motivation
Admissions officers aren't only interested in what you can accomplish individually. They're also eager to see how you contribute to your community overall. In this sense, the community could refer to your class, your school, your city or town, or even your entire state. However, the scale of impact isn't as important as the dedication you put behind it. Yale is known for producing impressively successful alumni that end up having a major impact on the world in positive ways.
Some prime examples are William Howard Taft, Anderson Cooper, Alexei Navalny, and many more. Clearly, admissions officers aren't expecting every applicant to make this type of impact, but they're definitely interested in finding candidates that are well-poised to carry on this tradition of public service.
Maybe you gave English lessons for free at a local government center or you helped fellow classmates with learning disabilities improve their grades. Finding a way you can give back and make a positive impact can help you catch the attention of admissions officers at Yale.
Community Fit
Each university has a unique culture and community that distinguishes itself from other schools. As a result, admissions officers are looking for applicants who mesh well with the characteristics of this community. Yale is no exception to this rule. So, the question for applicants is "what makes Yale's community unique?" This highly esteemed university attracts some of the best and brightest from around the world.
The student body is known for being intellectually curious, highly intelligent, passionate, and driven. However, Yale students also know how to let loose and have a good time whether that's in clubs, intramural sports, or just by hanging out with some friends. Although students come from many different backgrounds and perspectives, the community at Yale is very supportive, open-minded, and cohesive.
Yale admissions staff is going to be looking for applicants that will fit well into this community. As a result, it's a good idea to sprinkle your application with references that will position you as an excellent fit. While students should never lie during the admissions process, you need to know which attributes to highlight for admissions staff. This not only ensures your application will get noticed, but it also makes the job of admissions officers much easier. Something they'll definitely appreciate!
How does Yale review applications?
Every application cycle, Yale sets up a committee of highly experienced admissions officers along with deans and faculty from the university. This specialized group is tasked with hand-picking applicants who have demonstrated "exceptional engagement, ability, and promise." With a committee-based review process, Yale ensures that your application gets seen by more than one person before determining whether or not you get accepted. This puts to rest the fear many students have that the fate of their application rests in one person's hands.
Like many colleges, Yale admissions staff take a comprehensive approach when reviewing applications. This is just a fancy way of saying that multiple factors are taken into account when making a decision. For example, straight A's and perfect standardized test scores might aren't a surefire ticket to Yale if your extracurricular participation and professional experience are subpar. Admissions officers will take a look at every piece of your application including your high school transcripts, essay prompt responses, test scores, and recommendations.
President Kingman Brewster once described the admissions process like this: "I am inclined to believe that the person who gives every ounce to do something superbly has an advantage over the person whose capacities may be great but who seems to have no desire to stretch them to their limit." This further suggests that admissions officers take each student's unique circumstances and situation into account when looking for the best candidates for Yale. They're not so much interested in what you've done but how you've pushed and developed yourself from where you started.
Looking to increase your chances of getting into Yale?
Yale is by far one of the most prestigious and highly selective universities in the country and even the world. However, that doesn't mean it's impossible for you to get into this fantastic college. How do we know? Well, for over a decade, AdmissionSight has been helping applicants just like you optimize their applications in order to drastically increase their chances of getting into Ivy League schools. And with 75% of our students getting accepted to either the Ivies or Top 10 Universities, we've maintained an impressive track record of success. We have a deep understanding of the college admissions process and what admissions staff at esteemed universities such as Yale are looking for in applicants.
All of our services are specifically designed to help applicants cater their applications to their desired schools. When you work with AdmissionSight, you'll have a clear understanding of what universities are looking for and how you can ensure your application meets these expectations. Our highly experienced team specializes in top-tier universities, giving us a competitive advantage over other so-called admissions "experts" that don't really understand what it takes to get into these world-class schools. We'll work with you one-on-one throughout the application process to help you earn that coveted acceptance letter. Feel free to contact us if you're interested in learning more about what we have to offer