Psychology Major at USC
Does USC Offer A Psychology Major?
Aspiring college students often ask "Does USC offer a psychology major?" The University of Southern California Department of Psychology, located in the center of Los Angeles, features internationally recognized experts on its faculty and one of the most diverse student groups in the country. Students of the psychology major at USC take advantage of research opportunities and thrive academically to become strong candidates for graduate school at major research universities.
The Psychology Department has three majors and two minors. There are also several interdisciplinary minors related to Psychology.
Majors
Psychology (B.A.)
Social Sciences with an Emphasis in Psychology (B.A.): Social science is a category of academic disciplines that are concerned with society and the relationships that exist between persons within society.
Cognitive Science (B.A.): Cognitive science is an interdisciplinary major that examines the mind and cognition from various angles and perspectives. Courses in psychology, philosophy, linguistics, human and evolutionary biology, and computer science make up the core and electives.
Minors
Psychology Minor
Minor in Psychology and Law: This interdisciplinary minor combines psychology courses that focus on the social, clinical, cognitive, and societal components of psychology and how they connect to law. This expertise is supplemented by USC Gould School of Law courses that examine the relationship between mental health, social psychology, and the law.
Interdisciplinary Minors in Psychology (Minors in other departments)
Minor requirements are listed in the 2022-2023 USC Catalogue.
Minor in Consumer Behavior: Consumer behavior studies inform decision-makers in the business, government, and non-profit sectors about how factors such as culture, subculture, demographics, sensation, thinking, conscious and unconscious information processing, knowledge organization, beliefs, interpersonal communication, learning from experience, and values influence consumer decisions, preferences, activities, and other behaviors.
To comprehend the experiences of modern consumers around the world, this is an interdisciplinary field that draws on marketing, psychology, sociology, anthropology, economics, linguistics, ethnic studies, gender studies, geography, history, cognitive science, and communications.
Minor in Forensics and Criminality: The forensics and criminality minor was created for students interested in the study of law, aberrant behavior, or professions in the criminal justice system. Students in this program learn about psychological and/or ethical issues associated with criminal behavior, criminality in the context of social class analysis, and the American criminal justice system. Twenty units are required for this minor; four in the lower division and sixteen in the higher division. For more information, please contact Dornsife College Advising.
Many of the students combine their psychology education with careers in fields such as consumer behavior, marketing, human resources, industrial organizational psychology, and public relations. Other minors in diverse subjects are also pursued by students. If you are interested in minors outside of the Department of Psychology, please contact your Academic Advisor.
What Courses Do You Need To Take To Major In Psychology At USC?
The process for declaring your major at USC differs depending on the department or school. Some majors take students all year, while others only once a semester or once a year. Some can be declared at any time, while others require unit completion at USC first, and yet others require junior standing.
Some need prerequisite courses and even interviews, but others can be admitted with no prior knowledge of the subject. Some degrees are open to every student who is interested, but others are strongly impacted and thus highly competitive.
You may have previously come across information on any requirements or prerequisites to enter the major if you have been investigating various programs before settling on a major. If you wonder "What courses do you need to take to major in psychology at USC?" let's take a look at these lower-division requirements that freshmen and sophomores must finish before enrolling in upper-division courses of the psychology major at USC.
Lower-Division Requirements
PSYC 100Lg Introduction to Psychology Units: 4
MATH 114gx Foundations of Statistics Units: 4*
PSYC 274Lg Statistics Units: 4**
*At least one math course of at least 2.67 units is required. MATH 114x is required (or MATH 208x or MATH 265). Students with a solid mathematical background may benefit from taking a more advanced subject.
**It is suggested that no more than two upper-division psychology courses be taken before PSYC 274L and PSYC 314.
Does USC Offer A Master's Degree In Psychology?
Does USC offer a master's degree in psychology? The Master of Science in Applied Psychology (MAPP) is a unique free-standing master's degree program offered by the department. The Master of Science in Applied Psychology degree focuses on two critical business areas: consumer psychology and organizational psychology.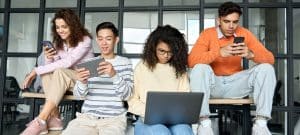 Other graduate programs may concentrate on either one or the other, while business programs may concentrate on the economics of desired outcomes. However, knowing both consumer and employee psychology is critical for corporate success. The special program prepares graduates to address both business difficulties using the language and techniques of psychology.
The department provides students with two choices for finishing the program:
MAPP Residential: Students attend a one-year intensive on-campus program. MAPP residential courses are only available to students in that year's cohort.
MAPP Online: Students from across the country enroll in this innovative online program, which may be finished in four semesters and as few as 16 months. Online students benefit from the same small class sizes and world-class teachers.
In addition, USC also offers the Master of Science in Applied Behavior Analysis program. This program is for students who want to work in the field of Applied Behavior Analysis (ABA). The goal of the program is for all graduates to become scientist-practitioners who are leaders in the provision of services that enhance the quality of life for individuals with autism and other developmental disorders and other populations that benefit from ABA services.
The courses in this program have been approved by the Association for Behavior Analysis International as meeting the curriculum criteria for taking the Board Certified Behavior Analyst® (BCBAB) or Board Certified Assistant Behavior Analyst® (BCaBA) test. This program's training includes 315 teaching hours of ABA coursework and 1500-2000 hours of supervised fieldwork.
Students will have completed all coursework and most or all fieldwork requirements prior to taking the Board Certified Behavior AnalystTM (BCBATM) certification exam after graduation from the program.
The curriculum includes two developmental psychology courses that give students an up-to-date examination of theory and research in the cognitive, social, and emotional development of children and adolescents. Child language acquisition, psychopathology, and Autism Spectrum Disorder are among the electives available.
Doctoral Programs
The University of Southern California also offers graduate training for doctoral programs in five areas of specialization:
Brain and Cognitive Science:  Investigates fundamental questions regarding the human and animal brain and mind in areas such as creativity, decision-making, emotion, learning and memory, linguistics, motivation, and perception.
Clinical Science: The application of scientific theories and methodologies to comprehend adaptive and maladaptive functioning, as well as to alleviate human suffering and encourage adjustment. The clinical-aging, child and family clinical, and adult clinical specializations are available.
Developmental Psychology: From childhood until early adulthood, developmental psychology analyzes changes in social behavior, cognition, language, neurological structure, and emotions.
Quantitative Methods and Computational Psychology: The basic and advanced methodology used in psychometrics and measurement, multilevel and longitudinal data analysis, behavior genetic methods, decision making, robust statistical methods, and computational tools for analyzing multivariate data are all covered in Quantitative Methods and Computational Psychology.
Social Psychology: The study of people's thoughts, feelings, and actions as they are impacted by other people and groups. Attitude modification, hostility, intergroup relations, decision-making, safe sex, gender differences, and self-regulation are among the topics to be discussed.
Prerequisites for the Course
Different areas of the department focus on different coursework, but it is recommended that prospective students should include Introductory Psychology and coursework from the following areas when choosing classes
Elementary Statistics
Research Methods
Biological Foundations – Courses in Comparative Psychology, Behavioral Neuroscience, Sensation and Perception, Learning and Memory, Cognitive Psychology, or Motivation and Emotion are examples of biological foundations.
Developmental, Social, and Personality Foundations – Covering Developmental Psychology, Social Psychology, Abnormal Psychology, and Personality Psychology coursework.
Cognitive Foundations – Include courses in Learning, Memory, and Intelligence.
Advanced or specialized psychology courses (e.g., Neuropsychology, Behavior Genetics, Advanced Statistics, Adolescence, Cognitive Development, Interpersonal Relations, Criminal Psychology, Psychology and Law, and Organizational Psychology) are preferred, as are courses in the biological, physical, and social sciences, and mathematics. Students that have exceptional records but have little background in psychology will also be taken into consideration for the program.
Is USC A Good School For Psychology?
Of course, choosing the right school for a psychology major is challenging. Before you opt to apply at USC or declare a psychology major at USC, you should consider the answer to "Is USC a good school for psychology?"
Students and professors at the Department of Psychology at the University of Southern California are conducting ground-breaking research. These projects are examining fundamental theoretical concerns while also applying their findings to some of the most important problems facing society.
One of the department's cutting-edge research facilities is the Dana & David Dornsife Cognitive Neuroscience Imaging Center, located in an adjacent building. The Seeley G. Mudd Bldg. has a shared, community social behavior laboratory with testing rooms and equipment for use by all faculty and students conducting behavioral research. Through the on-campus Psychology Services Center, the clinical science program provides clinical services to the community. The department's overarching purpose is to give students the experience of one of the country's top-ranked and best psychology programs.
There are roughly 80 doctorate students and approximately 1,000 undergraduates who are taking the psychology major at USC. Pre-health and pre-law students, as well as those majoring in other fields such as neuroscience and cognitive science, attend psychology courses and participate in research opportunities with department staff. Undergraduates are encouraged to pursue dual degrees or minors.
USC was one of the initial twenty-one foundation members of Psi Chi, the International Honor Society of Psychology, which was founded in 1929. Since 1948, one year after the Boulder Conference, the clinical psychology program has been accredited by the American Psychological Association. USC was one of the first ten clinical science programs to be accredited by the Psychological Clinical Science Accreditation System (PCSAS) in 2010.
The undergraduate major programs of the Department of Psychology are well-rounded and flexible, allowing students to explore a wide range of academic and professional interests, including psychology, medicine, law, and business. While taking the psychology major at USC, you may take advantage of the departmental opportunities presented by the department. The honors program, the Psi Chi Honors Society, and how to get involved in research and internships are just a few opportunities offered. Furthermore, many of the majors are involved in the university's overseas studies program, varsity athletics, and a variety of campus organizations.
One common source of concern among psychology students is the availability of work possibilities following graduation. Because many of the most desirable employment opportunities in psychology require a post-graduate education, students who do not wish to pursue doctoral studies frequently question what other options are available.
The USC Career Center could be a valuable resource for you while you examine your options. The USC Career Center can provide you with general information as well as assistance with resumes and job applications. You can also gain access to job search databases through the center.
Furthermore, through exploration and engagement in curricular and co-curricular programs, the USC Dornsife Career Pathways office seeks to link students' academic interests with individual career and professional pathways. You may contact their office directly if you want to meet with a career advisor. The American Psychology Association has also assembled some valuable resources.
The most important piece of advice USC can provide while you pursue a profession is to make sure that your time is always used productively. Your first job after graduating with a psychology major at USC may not be directly related to your eventual career path. Nonetheless, each step should be an opportunity to develop new abilities and gain valuable experience.
Before worrying over possible career options, you might have after graduating college, you must first check the USC admissions. The admissions process at USC is exceedingly competitive. Last year, almost 70,000 students applied, lowering the USC acceptance rate to 12%.
USC admission may become even more competitive; therefore, you must prepare your application well in advance of the USC application deadline. To stand out from the crowd, you will need to do more than just meet the USC average GPA or SAT scores. USC seeks students who are open to new ideas, eager to become lifelong learners, and eager to contribute to the learning environment and community at large. As you write your application, make sure to emphasize these characteristics in your USC supplemental essays to let your personality shine.
AdmissionSight has programs and services that can help you with components of your application such as essays, interviews, and SAT/ACT exams. You can browse through AdmissionSight's website or better set up an initial consultation with our experts to discuss what we can offer.