USC Official Mascot
The mascot is an excellent choice for representing academic institutions such as colleges and universities. In the paragraphs that follow, you will find some facts on Traveler, USC official mascot. In addition to that, we will talk about an additional mascot topic: How do schools decide which creatures to use as their mascots?
What is the USC official mascot?
What creature serves as the university's mascot? One of the best-known college mascots is Traveler, the majestic white horse that is ridden by a royal-looking Trojan warrior during all University of Southern California (USC)  home football games.
One of the best-known college mascots is Traveler, a virtuous white horse with a royal Trojan warrior mounted on its back.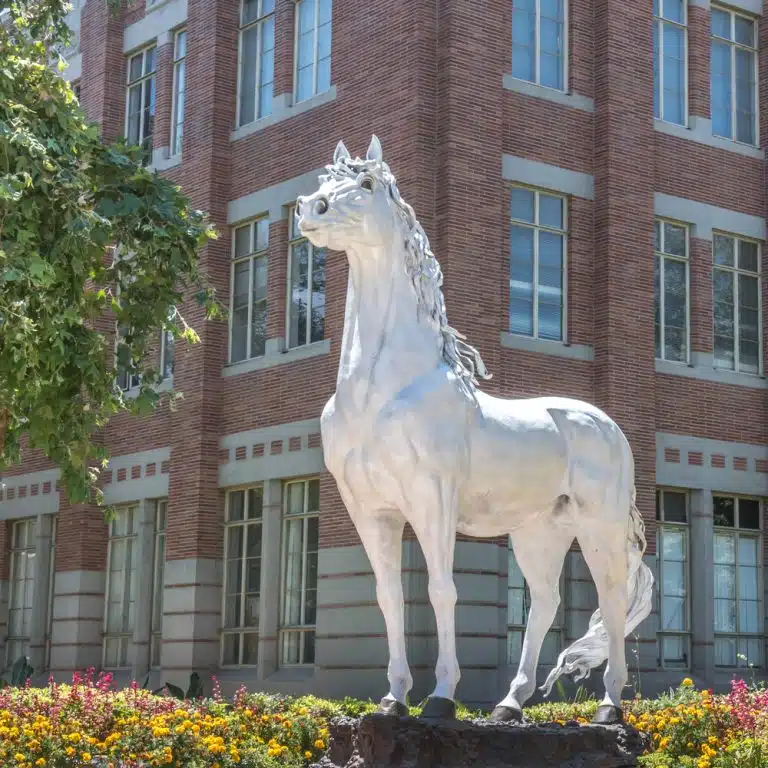 In 1961, Traveler made his debut at USC football games for the very first time (in the home opener versus Georgia Tech). Richard Saukko was seen riding his white horse, Traveler I, in the 1961 Rose Parade. Bob Jani, who was the director of special events at USC at the time, and Eddie Tannenbaum, who was a junior at USC at the time, observed Richard Saukko.
They convinced Saukko to act as a mascot for USC games by riding his white horse around the Coliseum before, during, and after the games. Since that time, every time the University of Southern California scores, the band plays the song "Conquest," and Traveler does laps around the Coliseum.
After the 1988 season, Saukko decided to retire from racing due to his ill health (he passed away in March of 1992). His successors have included Cass Dabbs, Rick Oas, Tom Nolan, Ardeshir Radpour, Chuck O'Donnell (Saukko's stepson), and the rider who is now working for Traveler, Hector Aguilar.
It can be noted that Dana Kanstul, Traveler's first female rider, rode for some time in 2017.
Patricia Saukko DeBernardi, who is also known as Saukko's widow, was the owner and trainer of Traveler up until the end of the 2002 racing season when she retired. In 2003, she approached Joanne Asman with the request to take over with her own Traveler (she also trains and houses the horse for USC). She has spent more than thirty years as a trainer and manager of equestrian artists, and she is the president of Asman & Associates, which is an entertainment and event-organizing organization located in Burbank, California.
Traveler IX is the current Trojan mascot. Traveler's color has always stayed pure white, despite the fact that the breed of horse has varied throughout the years, ranging from an Arabian/Tennessee Walker to a pure-bred Arabian to a Spanish Andalusian.
The late USC alumni Bill Tilley ('61), along with his wife Nadine, made a contribution of two million dollars in the fall of 2004, in order to establish a permanent endowment that would fund the eventual USC official mascot. Bill was the Chairman and Chief Executive Officer of the Jacmar Companies, which was a multidimensional multinational restaurant and food service organization. Bill was also the primary owner of the extremely successful B.J.'s Restaurant and Brewery.
Champion Andalusian horses are proudly bred by Nadine, an ardent breeder. She has high hopes that Tilley Andalusians' Fieldstone Farm in Hidden Valley, California, which is located close to Thousand Oaks and is now known as "The Home of Traveler," will one day produce a new Traveler.
The very first time we saw Saukko on Traveler, he was dressed in the costume that Charlton Heston wore in the film "Ben Hur." This proved to be too bulky, so in 1962 Saukko created his own leather costume based on the statue of Tommy Trojan that stands on the campus of the University of Southern California (that outfit is on display in Heritage Hall). However, he continued to don Heston's helmet on occasion. It is interesting to note that Saukko used to work for Jim Crowley, one of the "Four Horsemen" of Notre Dame.
It is said that O.J. Simpson, winner of the Heisman Trophy and tailback for the Trojans, made his decision to attend USC after watching Traveler play in a football game on television. The people who follow the Trojans believe the horse has some sort of influence on how games turn out.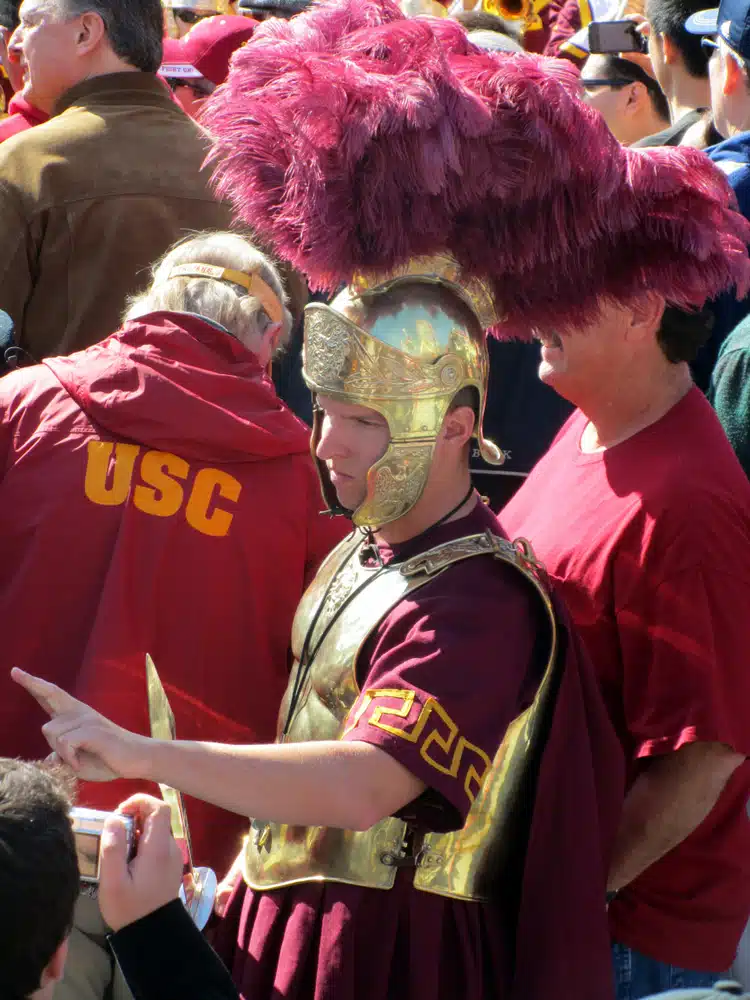 It should be noted that Traveler I, the first USC official mascot, was not the first horse to serve as a mascot for the Trojans. The first time a white horse was seen at a Trojan football game was in 1927, when Louis Shields began a four-year term riding a horse that was owned by a local banker.
Since that time, the white horse has been a tradition at Trojan football games. When Tommy Walker was the band director at the University of Southern California in 1948, he once had the USC colors carried by a Trojan on a palomino.
Then, prior to the start of the 1954 USC-Pittsburgh game, a man named Arthur J. Gontier III, who was at the time a member of the Trojan Knights spirit group, shakily rode a rented gray and white horse while wearing a costume that had previously been worn by the actor Jeff Chandler. He was filling in for another rider who had backed out at the last minute.
The following game was taken up by a more skilled rider who was a member of the USC alumni community named Bob Caswell and his white horse named Rockazar. They continued to perform until they retired in 1959.
In addition to these horses, USC previously had a dog as a mascot.  In 1940, a mongrel named George Tirebiter I made his debut at USC football games. George Tirebiter I was famed for his habit of chasing automobiles across the USC campus. In 1947, he was able to escape from UCLA after they made a public attempt to kidnap him, but in 1950, he was killed when a car ran over his body. He was succeeded in office by George II, who served for three years (1950–1952), George III, who served for one year (1953); and lastly, George IV, who served for one year (1954). (1957).
How was George Tirebiter I as a USC official mascot like?
What was it like for George Tirebiter I when he was the official USC mascot? Even though it's been more than seventy years since a fiery dog named George Tirebiter was seen on campus for the first time, his monument at Zumberge Hall still maintains a steady gaze toward the Coliseum.
In the year 1940, George Tirebiter was a well-known figure on campus, and he was frequently spotted pursuing automobiles along Trousdale Parkway (then called University Avenue and open to traffic). He slowly worked his way into the affections of students and professors, and on October 23, 1947, the student body decided to declare him the first official mascot of the University of Southern California.
A procession was held in honor of the occasion by the Trojans, and shortly afterward, a dog left his paw prints in the newly laid cement at the intersection of University Avenue and Hoover Street.
When he was recovered with "UCLA" shaved on his back, he became an unintentional superstar and made headlines all across the country, propelling him into the public eye. He had been abducted by UCLA students. Later on, during a game between USC and UCLA, George would have the last laugh when he bit Joe Bruin.
Even though some of the Tirebiter tales may appear exaggerated, the majority of them are based on real events. One example of this is when they chased Oski, the bear mascot of the University of California, Berkeley, up a goalpost. In addition to that, he was seen riding in a convertible at the Coliseum alongside the previous President of USC, Fred D. Fagg, during a football game.
Tirebiter's celebrity status took its toll on him after a few years, and he began to exhibit increasingly questionable conduct as a result. His hunger for rubber quickly evolved into a hunger for anything and anybody within biting distance. After retiring, George moved to a property close to the border with Mexico, where he spent his days chasing his final tire. Following his demise, the Daily Trojan published the following:
"Gone to Heaven where he will have cushion rides for breakfast, white sidewalls for lunch, and cold rubber recaps for dinner."
It is possible that the memory of the courageous dog has faded over the years, but his statue serves as a constant reminder that the Trojan Family honors its commitments and never forgets.
Where does USC official mascot get funding?
Where does the financing come from for the USC official mascot? The Traveler Fund is designed to make certain that the USC mascot will continue to play an important role in many events, including football games. Donations of any amount, from $5 to $500, help to ensure that this unique USC tradition will continue to be celebrated by future generations of Trojans.
Please make checks payable to the "Traveler Fund" and send them to the following address: USC Recreational Sports, LRC 101, Los Angeles, California 90089-2500, or call (213) 740-8120.
Who is Tommy Trojan?
How does he impact USC official mascot? Tommy Trojan, one of the most recognizable symbols of American higher education, may be seen at the heart of the USC campus.
Not only has the statue of the bronzed Trojan warrior served as a popular gathering point on campus since it was dedicated in 1930 for the 50th jubilee of the University of Southern California, but it has also functioned as a symbol of the indomitable fighting spirit of the university.
Tommy Trojan, which was sculpted by Roger Noble Burnham and whose construction cost $10,000, was inspired by Harry Lee Martin and Dr. James D. McCoy, who came up with the idea for the monument. Back then, a $1 surcharge was added to the price of football season tickets to help pay for it.
On the pedestal of the statue is the inscription "THE TROJAN," as well as the seal of the institution and the Latin motto "Palmam qui meruit ferat," which translates to "Let him who deserves it bear away the palm." Inscriptions may be found below the seal that describe the ideal characteristics of a Trojan, including "Faithful, Scholarly, Skillful, Courageous, and Ambitious."
It was in October of 1941 when the first documented instance of UCLA pranksters painting Tommy Trojan in blue and gold occurred. Since that time, Tommy has taken a lot of "hits," but USC maintenance personnel now protect him by wrapping him in plastic and canvas during the week leading up to the annual football game between USC and UCLA.
Because Tommy's sword has been stolen so frequently in the past, the one that is currently being presented to him is made of wood rather than the more expensive brass that would have been used to replace it each time.
Why is it that Traveler is the official mascot of USC, whereas Tommy Trojan is just considered an unofficial representative of the university? There are a few explanations that come to mind. When compared to felt-based costumed mascots, a real horse trotting around the Los Angeles Memorial Coliseum is a much more a fun sight to see than one of those mascots.
It's also possible that the university would like the monument to be known as The Trojan Shrine, a focus of curiosity on campus, rather than an official mascot. In any event, both the horse and the monument are university mascots.
Experience USC school spirit with both The Traveler and Tommy Trojan
If getting into USC is one of your goals, you should seek the advice of specialists who work in college admissions, such as those at AdmissionSight, to boost your chances of acceptance. Perhaps this is your chance to be a part of the school community and meet USC official mascot.
Because of its more than a decade of experience supporting students like you in achieving admission to the universities of their first and second choices, AdmissionSight has become the most trusted name in the business of college admissions guidance. Please contact us as soon as possible so that we can organize an initial consultation, which will be offered at no cost.