USC Traditions
Why is USC so special?
Why is USC so special? USC is renowned for many things – its renowned sunny location; its top-notch and student-centered academics, illustrious alumni, lively campus life, diversity, dominant athletics, school spirit, and even its longstanding USC traditions.
USC might be the right school for you if you're looking for one that offers top academics, a traditional college experience, and championship sports teams to support.
Why do people like USC so much?
Why do people like USC so much? The University of Southern California (USC), the first private research university in California, is renowned for its esteemed creative offerings, particularly film. With a wide selection of highly regarded academic programs, USC is extremely selective.
What are the traditions at USC?
If you are curious to know what are the traditions at USC, continue reading; they may interest you.
USC's University Seal
The three torches on the university's seal stand for philosophy, the arts, and the sciences.
Original Seal of USC
The initial seal for the University of Southern California was created in 1884 to emboss the diplomas of the institution's first graduating class. The name of the organization was inscribed around the perimeter of this mark, which featured the year of USC's formation (1880) emblazoned on a scroll next to a palm tree (in heraldry, a symbol of justice and victory).
The Seal in 1908
Jesse Ray Miller created a new seal in 1908 at the request of university officials that featured the official flower of USC, the California poppy, a heraldic representation of recollection, hope, joy, and progress. Three flames and a shield with a setting sun were also part of the seal. The three torches on display here symbolize learning in the arts, sciences, and philosophy.
According to heraldic tradition, the torch is a symbol of learning. According to heraldic iconography, the sun stood for the west and represented strength and vitality. The shield was finally enclosed by a scroll bearing the new university motto, "palmam qui meruit ferat."
The University of Southern California's Current Seal
A modernized version of the university seal was authorized by the USC Board of Trustees in 1948. The Latin motto is inscribed on a separate scroll at the base of the seal, and the poppies are now displayed next to the shield inside the outer band, which is now formatted as a scroll. Even now, USC's imprimatur, or official signature, is still represented by this seal.
What is the USC motto and what does it mean?
What is the USC motto and what does it mean? As part of USC traditions, the Latin phrase that serves as USC's motto, Palmam Qui Meruit Ferat, roughly translates as "let whoever earns the palm bear it." The expression refers to the broad significance of palms, palm fronds, and other foliage branches as symbols of triumph, victory, ascension, and regeneration in ancient times.
It may specifically refer to the Roman practice of awarding a palm branch to the gladiator who has won a fight as a sign of respect for skill.
One of the phrase's earliest citations can be found in the 1722 edition of Lusus Poetici, a tiny book of Latin poetry by English theologian John Jortin. Years later, Horatio Nelson, a British naval hero who stood out during the Napoleonic Wars, made it famous as his personal slogan.
The lines "Palmam Qui Meruit Ferat" were added to Nelson's coat of arms in 1798 following his stunning victory against Napoleon at the Battle of the Nile. Nelson was also given the title of Baron Nelson of the Nile.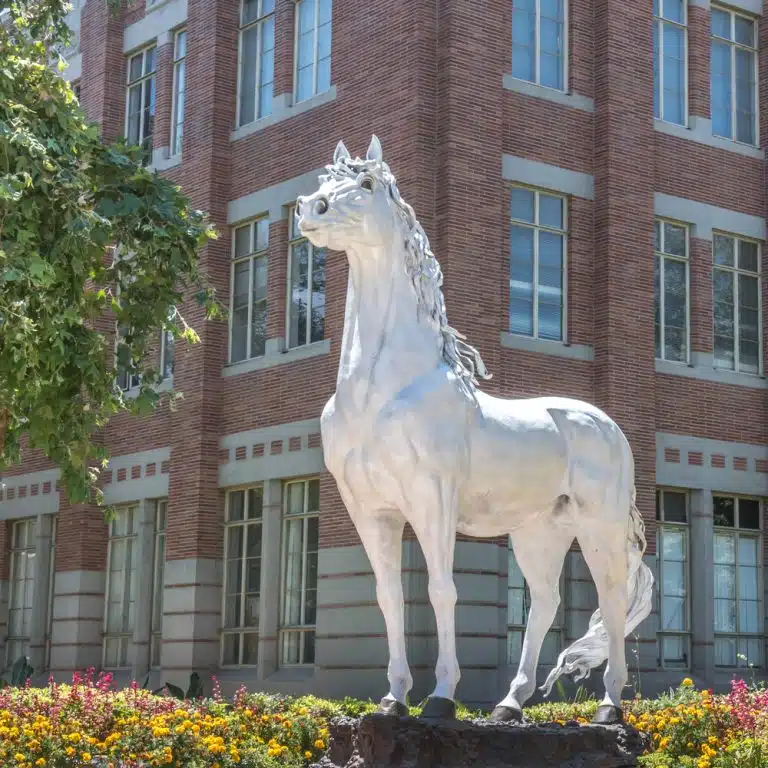 The adage has been adopted as a motto over time by a wide range of groups, including sports teams, academic institutions like the British Royal Naval School and other military academies, high schools, prep schools, and colleges and universities around the globe. When the phrase was incorporated into the layout of a new university seal in 1908, USC officially adopted it.
Colors of USC
Gold and Cardinal. Prior to 1895, the College of Liberal Arts' official color was cardinal, and USC's was gold. Both hues were chosen as USC's official colors in 1895.
Alma Mater of USC
"All Hail to Alma Mater
To thy glory we sing;
All Hail to Southern California
Loud let thy praises ring;
Where Western sky meets Western sea
Our college stands in majesty;
Sing our love to Alma Mater,
Hail, all hail to thee!"
Of course, AdmissionSight wouldn't let this one be left out of the USC traditions.
USC has had two alma maters since its inception in 1880. The first, sometimes referred to as the "University Hymn," featured four verses and was composed by John Oliver Wilson in 2008. The second song, which is still in use today, is "All Hail" by Alfred F. Wesson.
Wesson '24, a journalism major and trumpet player in the Trojan Marching Band, wrote the song for the Campus Frolics of 1923 student fundraiser in the early 1920s.
Where did the USC Trojans originate?
Trojan? What is that?
People from the Greek mythology city of Troy, which participated in the Trojan War against the Greeks, were initially referred to as "Trojans." According to legend, the Trojan War took place hundreds, if not thousands, of years ago.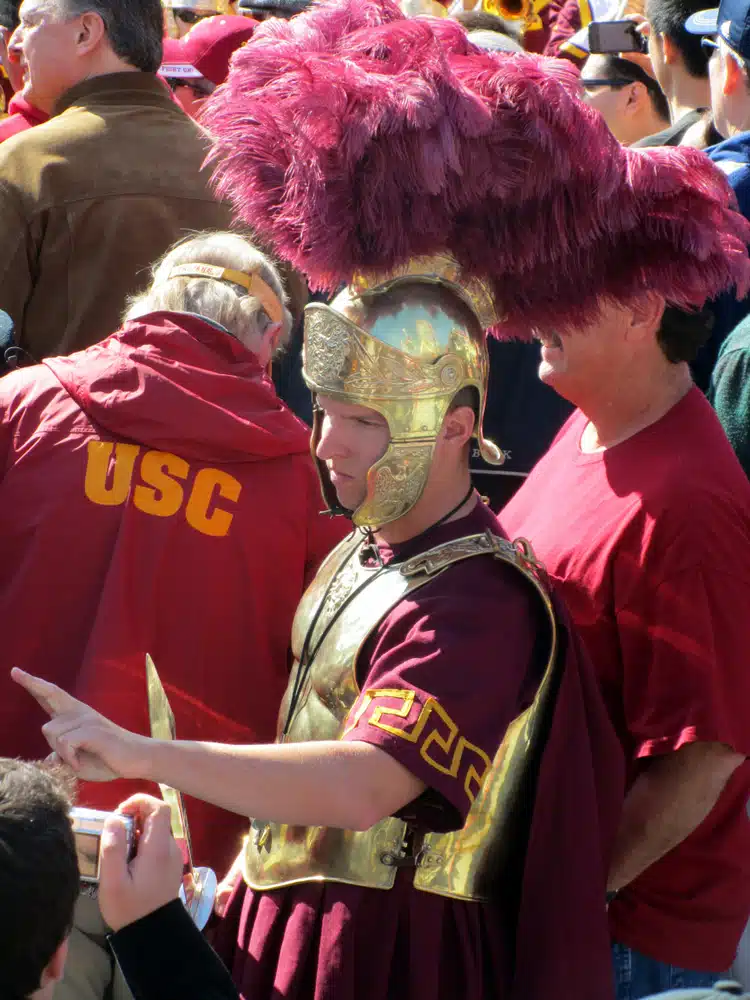 "The term 'Trojan' as applied to USC means to me that no matter what the situation, what the odds, or what the conditions, the competition must be carried on to the end, and those who strive must give all they have and never be weary in doing so," said Owen Bird, who is credited by Southern California as being the one who came up with the nickname.
Where did the USC Trojans originate?
Southern California's athletic director, Warren Bovard, whose father, Dr. George Bovard, served as the school's president, reportedly contacted Owen Bird, the sports editor of the Los Angeles Times, to assist Southern California in selecting a moniker. The website for Southern California claims that the sports editor Bird is responsible for coining the term "Trojans."
Newspapers frequently provide inspiration for school mascots and nicknames. After a 1914 article in the Los Angeles Times claimed that "The Arizona men showed the fight of wild cats," the University of Arizona adopted the nickname "Wildcats."
It's not entirely clear, though, whether Bird came up with the moniker "Trojans" on his own or whether Bovard asked him to. And so, this is how the Trojans, as part of USC traditions, came into being
Trojan Shrine at USC
Tommy Trojan, a sculpture by Roger Noble Burnham, was based on many USC football players. The characteristics of the ideal Trojan are written on the granite pedestal holding the bronze statue: faithful, scholarly, skillful, courageous, and ambitious.
What is USC's official fight song?
"Fight On for ol' SC
Our men Fight On to victory.
Our Alma Mater dear, looks up to you
Fight On and win for ol' SC
Fight On to victory. Fight On!"
What is USC's official fight song? The fight song for the University of Southern California is "Fight On." It was written in 1922 for a student spirit competition by Milo Sweet, a dental student at USC, with lyrics by Sweet and Glen Grant. The USC Marching Band, Spirit of Troy, performs the song at all USC sporting events as well as many other USC-related occasions.
The song served as motivation for the Aleutians Campaign's combat-bound troops during World War II. The song, according to history, was played off the deck of a transport transporting American soldiers into the shore of a Japanese-held island. When the men heard the music, they let out a yell and went on to conquer the island.
The phrase "Fight On" is also chanted by USC supporters as a rallying cry.
USC's Traveler
Let's not forget on the list of USC traditions, the Traveler. One of the most well-known college mascots is Traveler, a majestic white horse that rides a Trojan warrior at all USC home football games.
The home opener against Georgia Tech in 1961 marked Traveler's debut at a USC football game. Eddie Tannenbaum, a junior at USC, and Bob Jani, director of special events at USC, had seen Richard Saukko riding his white horse, Traveler I, in the 1961 Rose Parade.
During USC games, they convinced Saukko to ride his white horse around the Coliseum as a mascot. Since then, the band has played "Conquest" every time USC wins, and Traveler gallops around the Coliseum.
With Traveler I, the Traveler tradition was launched. The equestrian mascots for USC were chosen, prepared, and ridden by Richard Saukko from 1961 through 1988. Until 2003, when equestrian manager Joanne Asman took charge, the Saukko family carried on the heritage of breeding the well-known Trojan horses.
Steven and Kathryn Sample gave the Traveler statue, which is situated in Hahn Plaza across from Tommy Trojan and was unveiled on May 4, 2010, as a present. The statue, which is made of bronze and has a white patina, is based on Traveler, the magnificent Andalusian horse that serves as the university's mascot.
Troy's legendary horse serves as the mascot for USC. Its rider is a representation of a Trojan warrior, complete with armor and a sword. One "l" is used to spell the name Traveler, which is popular among horses. One illustration is the American Quarter Horse's founding sire, who passed away in 1912 and was inducted into the Quarter Horse Hall of Fame in 1994. Troy's proud emblem has traditionally been USC's Traveler. Any other assertions or rumors regarding its name are untrue.
Trojan Marching Band of USC
Last on the list of USC traditions is the Trojan Marching Band, often known as the Spirit of Troy. They often appeared in various movies and television shows, as well as the Hollywood Bowl, the Rose Parade, and the Academy Awards.
No other university marching band has ever received such honors. In 1979, the group collaborated with the rock band Fleetwood Mac to produce the title tune for the album Tusk, which resulted in a platinum album for that song.
How to get admitted to USC?
If one of your goals is "How to get admitted to USC," then when it comes to the admission process, AdmissionSight can definitely guide and help you! Also, read below so you can get a clear idea of the admission requirements and application deadlines.
How difficult is it to get into USC?
After learning the USC traditions above (and maybe you even got more interested in USC), let's see how hard it is to get admitted to USC.
Admission to USC is challenging. For the class of 2025, the institution received an unprecedented 70,971 applications; however, only 8,804 of them were accepted—a 12% acceptance rate.
Although USC has a very low acceptance rate, your individual prospects of admission rely on the strength of your profile.
What is the yield rate at USC?
The yield rate, or the proportion of accepted students who choose to enroll, as a percentage of all admitted students. What is the yield rate at USC? It was 41% for the Class of 2025. Several other prestigious private universities, including Northwestern (55%), Duke (54%), and Georgetown University (45%), have higher yield rates for comparison.
Academic Profile of Accepted USC Students on Average
GPA
The Class of 2025 at USC has an average high school GPA of 3.96.
SAT/ACT
For the Class of 2025 at USC, the middle 50% SAT and ACT scores are 1360-1510 and 30-34, respectively.
Class Rank
USC did not provide the average class rank for its class of 2025. Understand that you'll need to perform well in class to be admitted; 26.52% of the Class of 2025 graduated from high school with a 4.0 GPA, while 47.97% graduated with GPAs between 3.75 and 3.99.
USC's Class of 2026 Overall Acceptance Rate
8,198 people were given admission offers out of roughly 69,000 candidates for the 2022–2023 academic year. USC's Class of 2026 overall acceptance rate of 12% is nearly equal to the previous one.
Previously, this institution did not provide any early action or early decision options. For students applying to most majors this cycle, the university did include an EA option.
Notes and Trends in Admissions (Class of 2026)
The Class of 2026's accepted students had an average unweighted GPA of 3.91.
International applicants made up 18% of the freshmen class accepted for 2022–2023.
The Golden State was the home state of 38% of the admitted Class of 2026.
More first-generation students made up 20% of the accepted Class of 2026 compared to 17% in the Class of 2025.
From 8% to 9%, admitted African American students grew.
There were 69,000 applicants overall, a modest drop from 70,971 the previous year.
Who obtains admission to USC?
Now let's examine the composition of the USC Class of 2025.
The states that produced the most freshmen for 2021–2022 were California, New York, Texas, Illinois, New Jersey, Florida, and Washington.
The countries that produced the most foreign freshmen for 2021–2022 were China, India, Canada, the United Kingdom, Hong Kong, South Korea, and Taiwan.
The battle is fiercest among residents of states with thousands of competent applicants, as it is at any highly selective university (the entire Northeast & the West Coast). This has become a part of the USC traditions.
Your geographic origins are more likely to improve your chances of admission if you are from a sparsely populated state like Alaska, North Dakota, or Montana. Usually close to 40%, USC does prefer to have a sizable proportion of students from its home state of California. For the Class of 2025, it was 42%.
There are several high schools in California that annually send a sizable number of students to USC. The following high schools graduated the largest number of students to USC in 2021:
Canyon Crest Academy (San Diego): 14
Palos Verdes HS (Palos Verdes Estates): 14
Harvard-Westlake (North Hollywood): 11
Bellarmine College Prep (San Jose): 11
Foshay Learning Center (Los Angeles): 40
Mira Costa High School (Manhattan Beach): 16
Wilson High School (Los Angeles): 15
The composition of the Class of 2025, when broken down by ethnicity, was as follows:
24% are Asian Americans
20% are Hispanic
9% are African American
13% are International
26% are White
6% are Multiracial Population
The Class of 2025's gender distribution clearly favored women:
The following is a breakdown of the academic institutions where members of the Class of 2025 were enrolled:
USC's Schools of Visual and Performing Arts: 16%
Viterbi School of Engineering: 12%
Annenberg School for Communication & Journalism: 5%
Dornslife College of Letters, Arts and Sciences: 46%
Marshall School of Business: 15%
Application Deadlines at USC
November 1: Early Action and USC merit scholarship deadlines, excluding the institutions indicated below.
December 1 is the deadline for consideration of USC merit scholarships for the following institutions or programs:
School of Dramatic Arts
Kaufman School of Dance
Thornton School of Music
Iovine and Young Academy
School of Architecture
Roski School of Art and Design
School of Cinematic Arts
USC can surely give a lot of unforgettable memories to students. Your college life at this prestigious institution won't be complete without those traditions. If the University of Southern California is your college of choice, we at AdmissionSight are here to provide our quality consulting service and help you achieve your goals. Contact us to learn more about our service from our trusted team.