What Are The Best Film Schools In America?
What is a film major?
What is a film major? What are the best film schools in America? The idea behind this degree program is the same whether it is referred to as film and television production, motion picture arts production, cinematic arts production, or film and television production. Students gain knowledge in all aspects of filmmaking.
To learn how to bring ideas from script to screen, film majors collaborate both individually and in teams with their peers. To understand the functions of sound, lighting, editing, and other parts of producing a film, they go through a rigorous and practical curriculum.
Benefits of film schools
What are the benefits of film schools? The majority of artists did not simply take up a brush and begin creating works of art. Before they produced their best works, they painted for years as professional artists' apprentices, had some kind of formal training, and painted. Attending the best film schools in America can teach you the skills that the majority of filmmakers need.
So, while attending film school won't make you a better director, it isn't a requirement. When making your choice, think about the following pros listed by AdmissionSight and check the ones that apply to you:
Filmmaking is a communal craft.
And by that, we mean that unlike writing or sketching, cinema as an art form cannot be entirely completed by a single person. When you're not alone, it's at least a little easier, and one of the best film schools in America is the best location to meet people who are also working in the industry. Collaboration is key to making a good movie, and going to film school will make it easier to find people to work with.
Connections, connections, connections
Following on nicely from the previous sentence, people who attend film school inevitably form close relationships with other people attempting to advance in the business. Even though creating a network of reliable contacts won't always compensate for lackluster filmmaking abilities, having both talent and connections can be advantageous.
Most of the time, the relationships you make in school have a bigger effect on your career after you graduate.
On-hand access to equipment
Technology might prevent even a non-professional, non-student filmmaker with the best of intentions from making the best movie imaginable.
Given that not everyone has $20,000 Red cameras and professional editing suites in their houses as a matter of course, filming equipment can be a serious barrier to entry. At film school, however, you'll have access to just about everything you need to give your ideas life.
Competitive Edge
Anything that helps you stay one step ahead of the competition in the fiercely competitive entertainment industry is worth its weight in gold. A degree from a reputable film school can be worth its weight in gold, given that your portfolio is typically your only chance to make a lasting impression.
Eliminating the mist
Being overwhelmed when just starting out (or even years into your career) is a totally typical reaction because the craft of making films is so complex and multifaceted. You can decide how to proceed by being in an environment with like-minded people who are being guided by others who have already done it. Without a doubt, the world of filmmaking is a maze where it is easy to become lost without a few signposts.
Top 10 best film schools in America
What are the top 10 best film schools in America? You're interested in attending film school since you've developed a love for making movies. Awesome! What are the best film schools in America? You might be asking yourself at this point. Here, we highlight the best from the group, with some placements modified based on our judgment.
10. Emerson College – Visual and Media Arts
Undergraduate Tuition: $50,240
Graduate Tuition: $1,296 per credit
Notable Alumni: Norman Lear, Henry Winkler, and Iliza Shlesinger
Despite having the image of a tiny liberal arts college in the Boston area, Emerson boasts a vast global network of relationships with film schools. A semester-long Los Angeles program that focuses on networking opportunities and internships is also available to students who want to start careers in the media and visual arts.
The home campus of Emerson, meanwhile, has recently undergone media facility renovations, including cutting-edge studio space for AR, VR, and 3D modeling.
9. University of North Carolina – School of the Arts
Undergraduate Tuition: $23,040 (out-of-state)
Graduate Tuition: $23,203 (out-of-state)
Notable Alumni: Travis Beacham, David Gordon Green, Danny McBride, and Zoe White
The 30,000-square-foot New Media Building at the University of North Carolina School of the Arts is home to first-rate CGI facilities. The school's departments of animation, production, motion capture, gaming, digital design, and visual effects are housed in the on-campus facility.
While undergraduate students are required to direct and shoot several digital projects as part of a hands-on learning experience covering every aspect of contemporary cinema production, two new MFA programs have just been added: producing and screenwriting.
The goal of the UNCSA Conservatory is to help its students become skilled in all areas of the moving picture arts, as well as experienced storytellers and all-around filmmakers.
8. Chapman University – Dodge College of Film and Media Arts
Undergraduate Tuition: $56,830
Graduate Tuition: $56,830
Notable Alumni: Matt and Ross Duffer, Justin Simien, and Travis Knox
The Dodge College of Film and Media Arts at Chapman University, which is close to Anaheim, has just added VR and AR minors to its curriculum and is hosting producer Bill Gerber (of "A Star Is Born") this year as its filmmaker-in-residence.
In addition to teaching students how to tell stories, this one of the best film schools in America. It also offers a wide range of undergraduate and graduate degrees that address the rapidly evolving entertainment industry. These degrees teach students not only how to tell stories but also how to pitch, produce, finance, market, and distribute those stories.
Their state-of-the-art facilities and award-winning teachers, many of whom are still working in the industry, are always open to aspiring filmmakers.
7. Wesleyan University – Center for Film Studies
Undergraduate Tuition: $69,704 to $71,764
Graduate Tuition: N/A
Notable Alumni: Michael Bay, Joss Whedon, Lin-Manuel Miranda, and D.B. Weiss
The renowned cinema scholar Jeanine Basinger, who launched Wesleyan's film department in the 1960s and tenaciously advanced it, will still be on the faculty for the debut of The Basinger Center for Film Studies.
A modern soundstage and a further 16,000 square feet of workstations will be added to this newly renamed and renovated area. With all majors studying the movie in unison, Wesleyan has long been a pioneer in undergraduate film studies.
From beginner to senior levels, the program integrates filmmaking in 16mm, digital, and virtual forms with historical, formal, and cultural analyses.
6. Loyola Marymount University – School of Film and Television
Undergraduate Tuition: $52,553
Graduate Tuition: $33,240
Notable Alumni: Patricia Whitcher, Emily Spivey, and Barbara Broccoli.
Loyola Three greenscreen studios, a Foley stage, and eight Avid editing rooms are part of the impressive Playa Vista facility that Marymount University's Film, Television, and Media Studies department recently opened. And they still haven't finished! The Howard B. Fitzpatrick Pavilion, a 25,000-square-foot building containing a camera-teaching stage, a screening room, and a motion-capture workplace, was officially opened by school dean Peggy Rajski.
Students who major in FTMS concentrate on the theoretical and historical underpinnings of filmmaking and are encouraged to study abroad, giving them a well-rounded perspective that is necessary for success in today's media environment.
5. Columbia University – School of the Arts
Undergraduate Tuition: $55,056
Graduate Tuition: $62,912
Notable Alumni: James Mangold, Jennifer Lee, and Kathryn Bigelow
One of the best film schools in America is found at Columbia University and is unmatched in its emphasis on the most crucial component of filmmaking: the story. The uptown Ivy League college has been enhancing its production skills by adding new cameras and lenses to its expansive, two-year-old production center north of campus, in addition to emphasizing the discipline of narrative in its curriculum.
With a staff of working professionals from both Hollywood and the independent filmmaking industry, Columbia University School of the Arts is a top national choice because of the university's old-world status and modern pedagogical embellishments.
4. American Film Institute
Undergraduate Tuition: $63,575 to $65,800
Graduate Tuition: N/A
Notable Alumni: Patty Jenkins, Ed Zwick, David Lynch, and Mimi Leder
AFI has retained a top-notch faculty that emphasizes a practical, hands-on approach to studying filmmaking despite a change in leadership over the past few years. Six separate MFA degrees are offered by the acclaimed AFI Conservatory: producing, directing, editing, production design, and cinematography.
AFI also offers two intensive, tuition-free courses in cinematography and directing for women. Their new emphasis on inclusion and diversity is having a positive impact. A majority of the graduating class of the following year will be female, adding important perspectives to the filmmaking process.
3. University of California, Los Angeles – UCLA School of Theater, Film, and Television
Undergraduate Tuition: $27,712; $57,466 (out-of-state)
Graduate Tuition: $17,486; $32,588 (out-of-state)
Notable Alumni: Alex Gibney, Ava DuVernay, Frank Marshall, and Marielle Heller
The UCLA School of Theater, Film, and Television is a leading, multidisciplinary, international professional university that produces outstanding filmmakers, business titans, and academics. They benefited from a recent $20 million gift from the Mitchell Trusts (the same foundation that provided $20 million to USC), of which 50% will be used for scholarships and 50% for the UCLA Film & Television Archive.
The largest university-based media library in the world is The Archive. A state-of-the-art curriculum is provided by the school, merging the study and production of film, performance, television, and digital arts. Acting, directing, writing, producing, animation, cinematography, lighting, costuming, set, and sound design are among the topics covered in the programs.
2. New York University – NYU Tisch School of the Arts
Undergraduate Tuition: $60,282
Graduate Tuition: $65,926
Notable Alumni: Martin Scorsese, Elizabeth Olsen, Dee Rees, and Rachel Bloom
The foundation of New York City's illustrious film scene is NYU's Tisch School of the Arts. Additionally, some people might be pleasantly surprised to find that the prestigious institution is expanding its permanent campus to Los Angeles, intensifying its competition with USC for the title of best film school.
With a performance center at its 181 Mercer St. building, this one of the best film schools in America, scheduled for completion in 2021, this 55-year-old auteur factory is also making even more investments in its facilities. This center will be the biggest and most advanced building on the NYU campus.
1. University of Southern California – USC Cinematic Arts
Undergraduate Tuition: $59,260
Graduate Tuition: $39,900
Notable Alumni: Robert Zemeckis, Doug Liman, Tim Story, John Singleton, and Shonda Rhimes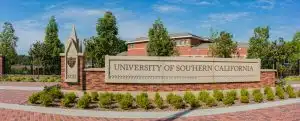 The University of Southern California is consistently ranked as the top film school in the country. Its main point of distinction is that it is one of only a few media institutions in the world that teaches all of the key disciplines of the cinematic arts. The curriculum is continuously updated with fresh, cutting-edge initiatives, like a Todd Garner-taught podcasting session and a required diversity course.
On top of the $10 million check George Lucas donated in 2017, Dean Elizabeth Daley has continued to ensure the school's financial success by receiving a further sizable donation of $20 million from a trust in memory of late Columbia Pictures TV president John H. Mitchell.
Now that you've learned about the best film schools in America, it's time to decide where you'll prepare for college admission. With AdmissionSight's top-notch advice, you can get assistance anywhere you may desire to enroll. Choosing the best university for you should be simple with the help of AdmissionSight and the advice of our college admissions specialists. You can start by booking a consultation with us today.