Yale Letters of Recommendation
How Many Letters Of Recommendation Does Yale Require?
Recommendation letters reveal a lot about your cognitive and learning style, your involvement in the school community, and your impact on the dynamics of the classroom. The teachers who know you best and can speak to the depth of your intellect and character, compared to those whose classes you had the greatest grades, are the ones who can give the best Yale letters of recommendation.
As much as Yale is interested in your natural talent and work ethic, the university also cares about your intellectual curiosity and fortitude. The value of a detailed, in-depth description of your skills is greater than a list of generic awards.
How many letters of recommendation does Yale require? A counselor recommendation, preferably from a school counselor or school official, is required. In addition, Yale needs two letters of recommendation from instructors who have taught you in credit-bearing classes for core academic subjects such as English, Foreign Language, Mathematics, Science, or Social Studies. Although it is not necessary, applicants are advised to request recommendations from their 11th and 12th-grade instructors as they may generally offer the finest insight into their most challenging academic work.
Additional Yale letters of recommendation are neither advised nor required. A supplemental letter's author should be familiar with you personally and/or have worked closely with you in the past. For instance, if you have participated in cutting-edge scientific research, you might want to ask your research mentor to submit an additional letter of recommendation on your behalf.
What Should Be In A Yale Recommendation Letter?
What should be in a Yale recommendation letter? The recommendation may nevertheless offer useful context regarding your school and its academic programs even if your counselor does not know you on a personal level. Your counselor may write about their interactions with a particular student, but they may also discuss other aspects of their application (activities, academics, examinations, etc.) that they believe could use more context or explanation.
For the teacher's recommendations, request two teachers who taught you core subjects such as English, a foreign language, mathematics, science, and social studies in high school. These teachers must know you well and have seen you at your best at school. Although it is not necessary, recommendations should come from professors whom you studied under in your junior or senior year of high school. The most enlightening letters are usually those from these professors.
Most qualified candidates just submit the necessary Yale letters of recommendation. You can invite one more recommender to write on your behalf if you feel the need to offer further information.
The most helpful additional suggestions add new information and depth to a candidate's candidacy as opposed to restating their strengths and qualifications from their application. The individual writing the recommendation need to be familiar with you personally or have worked closely with you as a mentor. Consider asking a research mentor who has worked closely with you on your scientific work for a letter of recommendation if you have been involved in advanced scientific research.
The following are some matters to bring up when writing recommendation letters as suggested by Yale:
| | | |
| --- | --- | --- |
| Academics | Personal Qualities | School Context |
| Academic rigor | Classroom participation | Campus setting |
| Keen interest in knowledge | Leadership | Available resources |
| Growth | Inclusivity | Curriculum format |
| Adapting to challenges | Peer interactions | Commute |
| Notable accomplishments | Emotional quotient | Performance |
| Exceptional distinctions | Superlative qualities | COVID-19 disruptions |
What Is the Deadline For Yale Recommendation Letters?
One crucial query that we must answer upon applying to Yale is "What is the deadline for Yale recommendation letters?" The application deadlines for first-year admission are as follows:
Single-Choice Early Action: November 1
QuestBridge National College Match: November 1
Regular Decision: January 2
By these deadlines, applicants must submit their online Common Application, Coalition Application, or QuestBridge National College Match Application.
When feasible, kindly request that your instructors and guidance counselors send the Yale letters of recommendation or other necessary paperwork by the dates indicated. Teachers and counselors who are unable to meet these deadlines will be given reasonable accommodations by the admissions office however, it is best if you will submit your application materials altogether.
What Are the Requirements To Get Into Yale?
Yale University followed the same path as fellow Ivy League powerhouse Harvard University. The admission percentage for Yale University's Class of 2026 was a low 4.46%, the lowest in recent memory. For you to be able to secure your spot in Yale's acceptance rate, you must first submit any of the following:
Any of these applications will be accepted by Yale and none will be preferred over the other. Each admissions cycle, students should submit one—and only one—application.
Now, what are the requirements to get into Yale? For all first-year applicants, these are the application requirements:
A fee waiver or an application fee of $80
Two teachers and one counselor recommendations
Transcript with School Report
Standardized test scores (ACT or SAT) are not necessary for admission in the Fall of 2023.
Mid-Year Report (due when your school releases the first semester/term senior grades).
Transcript with School Report
Your guidance counselor or another school official should submit a School Report along with an official transcript listing all your secondary school courses, including any that you may have taken in college or at an earlier secondary school. You may ask for official transcripts from the colleges or secondary schools where you took any courses that are missing from your present secondary school's official transcript.
Standardized Test Results
Yale has extended its test-optional admissions policy for an extra year in response to the persistent disruptions brought on by the COVID-19 pandemic. With or without ACT or SAT scores, all applicants for undergraduate admission for fall 2023 enrollment may submit an application.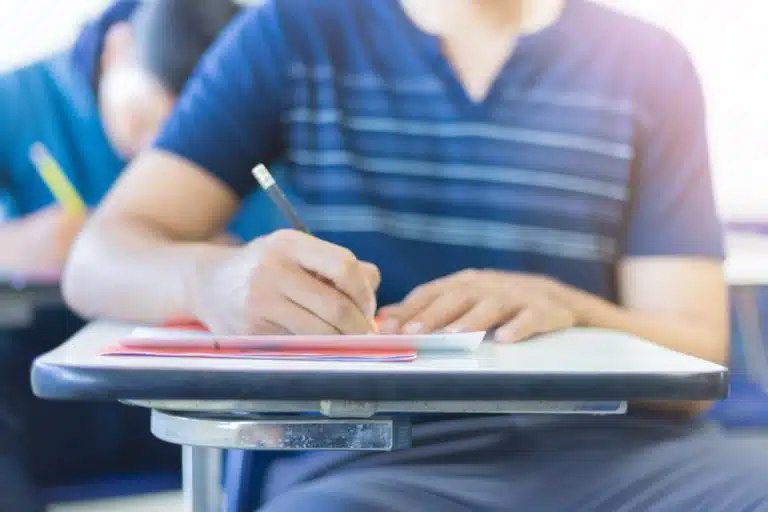 Mid-Year Report
As soon as official grades from the first marking period of the current academic year are available, all applicants for first-year admission who have not yet completed secondary school must submit a mid-year report with those grades. The grades should be sent to Yale by a school official or counselor, either in person, by mail, electronically, or via the Common Application or Coalition Application.
Interview
The application process does not necessarily include a Yale interview. Due to a shortage of interview slots, the Office of Undergraduate Admissions gives interviews to applicants whose applications require further information from the Admissions Committee. While candidates are not penalized if they do not receive an interview invitation, they are urged to connect with a Yale alumni interviewer or a student interviewer if they are.
Wherever there is a local group of alumni volunteers, the Yale Alumni Schools Committee (ASC) conducts interviews. Additionally, a select number of Yale seniors who work as senior interviewers conduct online interviews with chosen candidates from anywhere in the world.
Supplemental Materials
Before including supplemental materials with your Yale College application, you should give it some thought. Most successful applicants merely send in the necessary application materials. It is advised that you concentrate your efforts largely on the essential documents since the Admissions Committee weighs them more heavily than the other components of the application.
You may think about sending an audio recording, musical score, artwork sample, writing sample, scientific study paper, film, or dance video if you have a significant and well-developed ability that cannot be appropriately expressed in other components of your application.
What Does Yale Look For In Applications?
What does Yale look for in applications? A lot of students frequently ask which component of the college application carries the greatest weight. The fact is that your application consists of several components, all of which help Yale understand and appreciate your unique combination of traits. Although test scores and grades are essential factors in Yale's stringent admissions process, there are many other factors that are considered.
Each applicant offers the admissions committee something special. One application may stand out due to amazing Yale letters of recommendation, while another may highlight exceptional extracurricular skills. You may also stand out for your strong written voice or your sharp mathematical mind.
Yale wants to enroll a student body that is varied and well-rounded, therefore outstanding people of all backgrounds are admitted.
More students than Yale can ever admit will apply with nearly perfect grades and test scores. In making their admissions decision, Yale will also consider what are frequently referred regarded as the "soft" parts of a Yale application. Yale is not just interested in intellectual standouts.
They are looking for applicants who can contribute to the Yale campus through their hobbies, interests, and passions. If your grades and test results are relatively below average, strengthening some of your other applications may be able to assist you to get accepted.
Academic Capability
Students frequently worry that their applications will be affected by subpar freshman and sophomore grades. Colleges, however, frequently prefer to see student development. Your ability to raise your grades by your junior and senior years will show Yale that you value education and are prepared for college-level work.
Additionally, you should explain on your application if you believe a personal situation during a particular semester or academic year had a detrimental impact on your GPA. Taking challenging classes is another method to demonstrate to Yale your intellectual potential. Colleges are interested in knowing what opportunities and resources high school students make use of.
Extracurriculars
Another excellent technique for students to stand out from other applicants and showcase their interests is through extracurricular activities. Keep in mind that colleges emphasize extracurricular engagement. Focus on allocating ample time to a select few activities and sticking with them for at least a few months rather than spending an hour on a different activity every day. This does not imply that you should feel compelled to carry on with a hobby you detest, but you should concentrate on choosing and keeping up extracurricular activities that are right for you.
Students frequently believe that because their extracurricular activities do not fit the traditional definition of an extracurricular, they can't be mentioned on a college application. However, universities value diversity in the student body and enjoy learning about how students spend their time. You should include information on your valuable extracurricular activities in your application, such as time spent earning a job, looking after a sibling while your parent is away from the house, or engaging in a hobby.
Kingman Brewster, a former president of Yale, stated in an essay, "selecting future Yale students was a combination of looking for those who would make the most of the extraordinary resources assembled here, those with a zest to stretch the limits of their talents, and those with an outstanding public motivation."
The institution must determine whether the candidate is likely to be a leader with Yale's help in whatever he or she ends up doing, the speaker stated. Yale students have worked to improve the world decade after decade. In whatever field they choose, Yale seeks students that can be mentored to become leaders of their age.
Ultimately, the admissions committee is guided by two questions as they thoughtfully and respectfully go through each application: "Who is likely to make the most of Yale's resources?" and "Who will make the biggest contribution to the Yale community?" Therefore, use each part of your application, specifically your essays, Yale letters of recommendation, and even in the interview to show Yale that you are a great addition to this prestigious institution.
Yale is regarded as an Ivy League institution that is both academically demanding and fiercely competitive, with acceptance rates falling below 10% in recent years and has reached its lowest at 4.46% this admissions cycle. If Yale is your dream school, you should start preparing your application well in advance of the deadlines. AdmissionSight can help you in your preparation for admission to Yale.
AdmissionSight offers varied programs that focus on individual components of your application. To craft an impressive application, you must not take one part for granted. To know more about our services, book an initial consultation with our experts.