Emory University Campus Tour
Venturing on the Emory University campus tour isn't just an ordinary walk through scenic routes and architectural marvels. It's an immersive journey that offers a glimpse into the very soul of the university. Prospective students get to explore the university's expansive libraries, innovative research centers, vibrant student hubs, and tranquil green spaces while experiencing the welcoming and intellectually stimulating atmosphere that permeates Emory.
In the bustling heart of Atlanta, Georgia, Emory University stands as a beacon of academic excellence, renowned for its strong commitment to pioneering research, comprehensive education, and transformative social impact. As a leading educational institution, it attracts many students globally, enticing them with its beautifully landscaped campus, state-of-the-art facilities, and myriad academic and extracurricular opportunities.
But what sets an Emory University campus tour apart isn't merely the sightseeing—the stories come to life with every step you take. It's about envisioning yourself in the classrooms where dynamic discussions and groundbreaking ideas are born. It's about imagining the friendships and collaborations you'll form within Emory's diverse and inclusive community. It's about appreciating the university's rich history and envisioning your place in its future.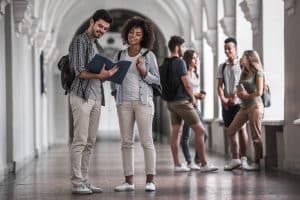 A campus tour at Emory is a crucial step in your journey to higher education. It offers a unique opportunity to experience the campus life, academic rigor, and vibrant community that has distinguished Emory University among the world's top universities. Whether you are a prospective student or a curious visitor, an Emory University campus tour invites you to discover a world of opportunities waiting to be explored.
Is the Emory campus open to the public?
Is the Emory campus open to the public? Emory University warmly welcomes visitors to explore its vibrant campus. As a key part of Atlanta's cultural fabric, the university takes pride in its accessibility to the general public. However, as with any esteemed educational institution, certain rules and regulations have been established to ensure a harmonious coexistence between the Emory community and the public.
While most outdoor spaces and several buildings, including libraries and certain dining facilities, are open to visitors during designated hours, access to academic buildings and dormitories is usually reserved for students, faculty, and staff. Furthermore, access to certain areas may be limited during special events, exams, and university holidays.
In response to the ongoing COVID-19 pandemic, Emory University has implemented several safety protocols aligned with local health guidelines to safeguard its community. This includes mandatory mask-wearing in indoor public spaces and maintaining social distancing when possible. Visitors should check the university's website for recent COVID-19 updates and campus visit policies.
Finally, visitors are kindly asked to respect the Emory community's space and environment while exploring the campus. The university is, after all, a place of learning and discovery, and maintaining a quiet, respectful atmosphere ensures that everyone can enjoy the campus and its facilities to the fullest.
So, whether you're an alumnus reminiscing about your college days, a prospective student looking for your future academic home, or simply a member of the public with a keen interest in Atlanta's architectural gems and lush green spaces, Emory University extends a warm invitation to experience its campus. Just adhere to any posted guidelines and respect the university's regulations during your visit.
How to experience the Emory University campus tour?
Taking the first step towards experiencing the Emory University campus tour is a simple process. Whether you're a prospective student keen on understanding the Emory experience or an enthusiast eager to explore the beautiful campus, this section will guide you on how to get started.
Registration Process:
Registering for a campus tour at Emory University primarily occurs online via their official website. Under the 'Visit' section, you will find an option to schedule your campus tour. Typically, the university offers group and individual tours to suit various visitor needs.
Complete the online form by selecting your preferred date and time from the available slots. You'll need to provide basic information like your name, contact details, and your group size, if applicable. Once your registration is confirmed, you'll receive a confirmation email with further details about your visit.
Key Points to Consider Before Visiting:
Before embarking on your journey to Emory University, here are a few key points to keep in mind:
Check the Weather: Atlanta weather can be variable, so check the forecast and dress appropriately. Comfortable shoes are also recommended as you will be walking around the campus.
Arrive Early: Plan to arrive at least 15 minutes before your scheduled tour time. This lets you locate parking, find the tour starting point, and resolve last-minute issues.
Parking: Check the campus map for visitor parking locations. Some may require a small fee, so be prepared.
COVID-19 Guidelines: Don't forget to check the latest COVID-19 protocols Emory University has implemented for campus visits.
Questions: Prepare a list of questions about the university, its programs, student life, etc. Your tour guide, usually a current student, will be a great resource for these insights.
Embarking on a campus tour at Emory University is an opportunity to see this prestigious institution's infrastructure, feel its vibrant atmosphere, and envision life as a part of its community. By considering these points and registering for your campus tour, you're all set to experience the best Emory offers.
Does Emory have a virtual tour?
Does Emory have a virtual tour? Not all those interested in Emory University can visit the campus in person. Geographical constraints, time limitations, or ongoing pandemic-related travel restrictions can pose significant challenges. That's where the Emory Virtual Tour comes into play, allowing you to immerse yourself in the university experience from the comfort of your home.
The virtual Emory University campus tour provides an in-depth, interactive, and user-friendly campus exploration, complete with 360-degree panoramas, videos, and informative descriptions of key locations. It offers a comprehensive view of the campus's notable spots – from academic buildings and student hubs to libraries and recreational facilities.
Navigating through Emory's virtual tour is akin to taking a guided tour on the ground. You'll traverse walkways adorned with verdant greenery, step into cutting-edge research facilities, and glimpse into the spaces where students live, learn, and engage in co-curricular activities. It's a holistic experience designed to give you a feel of Emory's life and culture without physically setting foot on the campus.
Accessing the Emory Virtual Tour is a breeze. Simply visit Emory University's official website, locate the 'Visit' section, and click on the link provided for the Virtual Tour. From there, you can explore the campus at your own pace, diving deeper into areas of interest and even getting a feel for the surrounding neighborhoods of Atlanta.
While a virtual tour can't replicate the in-person experience – the buzz of student chatter, the rustling of leaves underfoot, the inspiring aura of an ongoing lecture – it offers a convenient, comprehensive, and engaging overview of the campus. You can expect a well-curated and informative tour providing valuable insights into the world-class institution of Emory University, no matter where you are in the world.
How long is the Emory University campus tour?
When planning for your Emory University campus tour, one of the essential aspects to consider is the duration of the tour. Understanding how much time to allocate will ensure a seamless, enjoyable, and maximally informative experience.
In-Person Campus Tours
An in-person campus tour at Emory University typically takes about 2 hours and 15 minutes. This duration may vary slightly depending on group size, specific areas of interest, and any special events or circumstances on campus. The tour involves walking through the campus's major points of interest, with stops at various academic buildings, student facilities, libraries, and other notable landmarks.
Virtual Tours
The duration of the virtual tour largely depends on your pace and interest. You could spend as little as 30 minutes for a quick overview or several hours if you're delving into detailed information about specific buildings, departments, or amenities. The beauty of the virtual tour is its flexibility—you can pause, revisit, and explore the campus at your leisure.
Tips to Maximize the Tour Experience
To make the most of your Emory University campus tour, here are a few tips:
Research Ahead of Time: A basic understanding of the university's offerings and facilities can help you focus on areas of interest during the tour.
Plan Your Questions: Prepare a list of questions you'd like to ask your tour guide. This could include questions about academic programs, campus life, student services, housing, or any other topic that piques your interest.
Explore Surrounding Areas: If you're on an in-person tour, consider setting aside additional time to explore the neighborhoods surrounding Emory University. The surrounding area is a vibrant part of the Emory experience, and getting a feel for it can add another dimension to your tour.
Interact and Engage: Whether it's an in-person or virtual tour, don't hesitate to interact and engage. In-person, this could mean talking with students or staff you meet. Use interactive features, view photos and videos, and read the additional information provided.
Remember, the tour's goal is to see the campus and experience it. Allocate enough time to absorb the sights, sounds, and overall atmosphere of Emory University, and you'll be able to make the most of your tour.
What can you see at Emory University?
What can you see at Emory University? Emory University's campus serves as a visual feast for visitors, revealing a blend of architectural splendor, historical significance, and vibrant student life. Some of the must-see locations include:
The Robert W. Woodruff Library: An architectural marvel, the heart of Emory's academic research with a wealth of resources.
The Michael C. Carlos Museum is home to over 17,000 artifacts from ancient civilizations, making it a compelling visit.
Emory University Hospital: Renowned for its medical services and research contributions, a campus tour without acknowledging its presence is incomplete.
White Hall and the Quad: Academic nerve centers with picturesque surroundings perfect for peaceful study or relaxation.
Student Activity & Academic Center (SAAC): On Emory's Clairmont Campus, this facility boasts recreational spaces, swimming pools, and fitness facilities.
Emory's Oxford College: A few miles from the main campus, Oxford College offers a distinct, close-knit community atmosphere.
Emory University's unique features lie in its commitment to sustainability (evident in its green spaces and LEED-certified buildings), its rich history (from antebellum architecture at Oxford to modern designs on the Atlanta campus), and its vibrant, diverse, and inclusive community.
Making the most of your Emory University campus tour
To enhance your visit to Emory University, consider exploring the wider Atlanta area:
Accommodation: For overnight stays, several hotels near the campus offer varying levels of comfort and price.
Eateries: From quick bites to fine dining, the area surrounding Emory offers diverse culinary delights.
Nearby Attractions: The Martin Luther King Jr. National Historic Site, the Atlanta Botanical Garden, and the High Museum of Art are within reach and add cultural flavor to your visit.
Frequently asked questions about the Emory University campus tour.
Can I join a campus tour at any time? Tours must be booked through Emory's website to ensure a structured and comprehensive experience.
Can I bring my family or friends on the tour? Yes, you can bring guests. However, the number of guests may be limited due to capacity constraints.
Is the campus wheelchair accessible? Yes, Emory University is committed to ensuring accessibility for all visitors.
What if I have to cancel my tour? If your plans change, please update your registration on the university's website or contact the visitor's center.
By exploring Emory University's campus and Atlanta's broader community, visitors can truly immerse themselves in the vibrant culture and opportunities that await at this esteemed institution.
Conclusion
With its rich history, world-class academic offerings, and vibrant community, Emory University provides a unique environment where ambitious dreams transform into impactful realities. Walking through the verdant pathways and state-of-the-art facilities, you can feel the stimulating pulse of the Emory spirit, inspiring curiosity and aspiration.
Whether you are a prospective student envisioning your future academic journey or simply a visitor interested in experiencing the palpable energy of a top-tier university, an Emory University campus tour is a step into a realm of endless possibilities. Every corner of this campus tells a story of innovation, diversity, and a relentless pursuit of knowledge, waiting for you to become a part of it.
Experience the Emory University magic for yourself. Discover a vibrant community, immerse yourself in an atmosphere of intellectual pursuit, and explore the spaces where tomorrow's leaders are nurtured today. Your journey at Emory starts with a simple step – scheduling your campus tour.
Visit the Emory University website, reserve your spot, and prepare to embark on an unforgettable journey. Emory University awaits your arrival. Discover, explore, and imagine your future here. The path to your extraordinary adventure starts now. Schedule your Emory University campus tour today.
If you're set on getting into a world-class college but aren't sure how to make it happen, we can help! AdmissionSight is a leading college entrance expert with over a decade of experience helping students just like you get into the schools of their dreams.
At AdmissionSight, we focus on offering a wide range of services, all aimed at helping students perfect their applications to catch the attention of admissions officers. Contact us today to schedule a free consultation to learn more about what we offer.