The Most Prestigious High Schools in the US
Most prestigious high schools in America
What are the most prestigious high schools in America? We rate institutions based on the influences connected to them, taking into account both professors and graduates. By taking into account the authority of the organizations producing the citations in addition to the volume and frequency of web mentions, we may measure influence and map the pertinent linkages between individuals and institutions. Our data shows that the top-ranking private high schools have stronger associations with influential people. This list of the most prestigious high schools is very unusual because influence can take many different forms. Check them out below:
1. Phillips Exeter Academy
New Hampshire's Exeter
In Exeter, New Hampshire, there is a residential school for students in grades 1 through 12 called Phillips Exeter Academy (often known as Exeter). The school, which has been around since 1781, has one of the highest rates of teachers with advanced degrees: 80%.
2. Phillips Academy Andover
The oldest boarding school in the US is Phillips Academy in Andover, Massachusetts (sometimes referred to as "Andover" to distinguish it from rival Phillips Exeter Academy).
3. Los Angeles' Harvard-Westlake High School
The co-educational prep school Harvard-Westlake High School is located in Los Angeles, California. The school, which was founded in 1900, has two separate campuses—one for middle school students and one for high school students—and educates pupils in grades 1 through 12.
4. Vegas, Nevada's Bishop Gorman High School
In Las Vegas, Nevada, Bishop Gorman High School is the only Catholic high school. The school, which was established in 1954, provides a conventional curriculum along with responsibilities for community service.
5. California's Concord De La Salle High School
Concord, California, is home to the private, Catholic De La Salle High School. This 1965-founded, all-boys institution is committed to fostering the development of godly men. The faculty has advanced degrees in excess of 50%.
6. Santa Ana, California's Mater Dei High School
Santa Ana, California's Mater Dei High School was created in 1950 as a Catholic preparatory school. Mater Dei is the largest private school west of Chicago, with over 2100 pupils. Over 10% of the faculty are Mater Dei alumni, and 40% of them have advanced degrees, making it one of the most prestigious high schools.
7. New York's Horace Mann School
The Bronx, New York-based Horace Mann School was established in 1887 and educates children from kindergarten through high school graduation. 32 of the 263 faculty members hold PhDs, while 176 have master's degrees.
8. New York's Dalton School
The co-educational Dalton School in New York City educates children from kindergarten through high school graduation. The Progressive Education Movement was prominent at the time the school was founded in 1919 by Helen Packhurst, a friend of Maria Montessori.
9. Catholic High School, DeMatha
In Hyattsville, Maryland, DeMatha Catholic High School was established in 1946. It is a Catholic high school that enrolls only males in classes 1 through 12. Students can enroll in a wide range of AP and honors subjects at the school and join clubs like the Investment Club or the Ecology Club.
1o. Notre Dame Senior High
Los Angeles, California
In Sherman Oaks, California, there is a coed Catholic school called Notre Dame High School. 87% of the faculty hold master's degrees, and 3% hold doctoral degrees. The institution was founded in 1947.
Most prestigious online high schools
In this portion, let's check out the most prestigious online high schools because there are some students who wish to learn remotely. AdmissionSight prepared a list; check them out below:
1. High School Online at Stanford
Location: Redwood City, California
Annual tuition is $28,160.
Numerous AP courses are offered, along with 25 post-AP and university-level courses.
Fast facts:
In their fields, 64% of professors have PhDs. 903 students are enrolled, the average class size is 13, 12% of students get financial aid, and the average SAT score for graduates is 1482, making it one of the most prestigious high schools.
2. Physical Address of Davidson Academy Online: Reno, Nevada
Fees: $14,595
Students construct a personalized learning plan as part of the course offerings (PLP). Despite not having an AP distinction, the courses are very challenging. Several kids still take AP exams.
3. University of Texas High School
Physically: Austin, Texas
Free for Texas residents; $3,600 for non-residents in terms of tuition
Course offerings include numerous AP and IB alternatives throughout 60 subject areas. 800 students are enrolled full-time, according to quick facts.
Alumni have continued their education at institutions like MIT, Cornell, USC, NYU, and Johns Hopkins.
4. High School at George Washington University
Location: Ashburn, Virginia
Founded in 2011
$12k in annual tuition
16 AP courses are available, as well as tuition in five different international languages.
Quick facts:
Four-year colleges accept all graduates without exception.
Stanford, Swarthmore, Columbia, and Harvard have all recently accepted students.
5. Laurel Springs School is located in West Chester, Pennsylvania.
established in 1991
Fees: $1,175–1,775 (depending on course selection)
22 AP courses are available, along with honors choices for the majority of topics.
Fast Facts
More than 75% of AP test participants receive a "3" or higher.
Colleges including Georgia, UMich, Columbia, Cornell, and Dartmouth have accepted students.
6. Whitmore High School
Location: Morgantown, West Virginia
Founded in 1994
$1,599 per year for tuition
offers a variety of courses in English, math, science, social studies, world languages, the fine arts, and computer science, including honors alternatives, but does not provide AP courses.
Quick Facts
Brown, Carnegie Mellon, Duke, Georgetown, Dartmouth, and Yale are among the colleges that have accepted applicants, making it one of the most prestigious high schools.
7. James Madison High School
Location of James Madison High School: Norcross, Georgia
Founded in 1996
Fees: $1,630 to $2,300
Full high school course offerings, as well as numerous online college dual enrollment possibilities, are available.
8. Indiana University High School
Founded in 1925 as a distance learning school,
Fees: $231 for each course.
Three AP courses are available, as well as language choices in French, German, and Spanish.
Quick Facts:
Three diploma tracks are available: college prep, general education, and academic honors;
NCAA approval allows athletes to train for a Division I or II school;
graduates have gone on to Indiana University as well as Ivy League schools like Harvard and Columbia.
9. Northstar Academy's address is Southaven, Mississippi.
Founded in 1997
$4,315 for tuition
Offerings for courses: Northstar offers 200 core classes, including 21 AP courses.
The average SAT score is 1243, while the average ACT score is 25.
Approximately 70% of recent graduates have enrolled in a four-year college.
The school is Christian, has more than 3,000 students in grades 4–12, and accepts students from Hamilton College, Northeastern, the University of Wisconsin, and Dartmouth College.
10. University of Nebraska High School
founded in 1929 (for distance education)
$250 for each course in tuition (with a $50 state resident discount).
There are over 100-course options available, including AP and dual enrollment classes.
Quick Facts
The school is NCAA-compliant and accredited by Cognia. Alumni include Justin Timberlake, Andy Roddick, and Brittany Spears. Since 2010, students have been accepted to institutions including Yale, Brown, Wellesley, Vassar, and Purdue.
Most expensive high schools in the US
Ever wonder what the most expensive high schools in the US are? We've got you covered! Check them out below:
1. Brooks School
Location: North Andover, Massachusetts, Brooks School
$57,805 in tuition yearly
Near Lake Cochichewick lies the college-preparatory Brooks School. Small classes, intimate ties with professors, and a close-knit community are all fostered by the school, making it one of the most prestigious high schools. There are 17 AP courses available for those with a passion for learning, and there are programs for study abroad in China, Europe, and Africa.
2. Rivers School
$57,950 for tuition per year
For students in grades 6 through 12, The Rivers School is a day school that prepares them for college. Excellence in academics, the arts, and athletics is given great priority at Rivers, where the goal is to prepare students for leadership.
3. The Browning School
$58,280 for tuition each year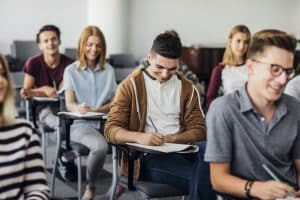 Boys entering kindergarten through grade 12 attend the Browning School. The school fosters a passion for learning and a robust academic program designed to create scholars, leaders, and compassionate people with a variety of academic backgrounds.
4. Rivers School
$58,600 for tuition per year
In addition to other academic pursuits, Sacred Heart aspires to support girls in reaching their full academic potential through the arts, athletics, and community engagement. Students of all faiths and origins are welcome to the program, which places a strong focus on engaging with the world's cultures.
5. The Brearly School
$58,700 for tuition each year
The Brearley School tries to help girls from different backgrounds reach their full intellectual potential so that they can think critically and creatively about the world.
6. The Nightingale-Bamford School
$59,000 in tuition yearly
Nightingale tries to make girls who are interested in learning, have deep thoughts, and can think critically into girls who care about fairness.The school encourages variety, self-determination, and challenging the established quo. It also values good relationships.
7. Horace Mann School
$59,800 for tuition each year
From kindergarten through grade 12, children can attend the independent Horace Mann School, which focuses on preparing pupils for college. In addition to fostering students' intellects, morals, and senses of identity and purpose, the school tries to foster their imaginations as well. They also oversee a number of other campuses, including the John Dorr Nature Laboratory in Washington, Connecticut.
8. Fieldston Campus (ECFS) Middle/Upper School Ethical Culture
$60,595 for tuition each year
Pre-K through 12th grade students can receive an education at the Ethical Culture Fieldston School's two campuses in Manhattan and the Bronx. The practice of ethics among students and in society at large is at the heart of the school's goal, making it one of the most prestigious high schools. They take pride in encouraging children to question, think, and discover.
9. The Spence School
$60,880 for tuition each year
For girls in grades K–12, there is a reputable private school called The Spence School. There are five students for every teacher in classrooms. The school has a remarkable track record of sending pupils on to four-year institutions.
10. The Hill School
Pennsylvania's Pottstown is the location.
$61,410 for tuition each year
For pupils in grades 9 through 12, there is a private boarding and day school called The Hill School. This small town places a strong emphasis on education with a liberal arts orientation. Family-style meals, family nights in the dorms, and weekly chapel services are just a few examples of the "family-like" environments that students and professors are encouraged to cultivate. Whatever is true is the school's motto.
Advice from admissions professionals is also essential to your success as you learn and choose where you want to study. Getting advice from the college admission specialists at AdmissionSight can be very helpful. You can get into any school of your dreams with help from AdmissionSight's experts, who have over 10 years of experience. To get started, you can book your consultation with us today.