UCLA Traditions
Some UCLA traditions date back to the 1920s, when the school was still known as the Southern Branch of the University of California. While some of the original customs have changed with time and are still prevalent today, others have vanished.
What are the UCLA traditions?
What are UCLA traditions? If you are curious to know, continue reading; they may interest you.
School Colors at UCLA
UCLA sports blue and gold as its official colors, just like the University of California. The colors of the institution were selected to symbolize the diverse qualities of the state: Blue represents the ocean and nearby wildflowers.
Using the color yellow, UCLA can symbolize the Golden State, the California poppy, and sunsets. Naturally, the colors have evolved with time. For instance, the color blue has been described as powder, sky, and regal.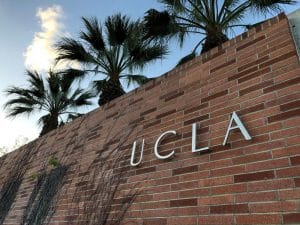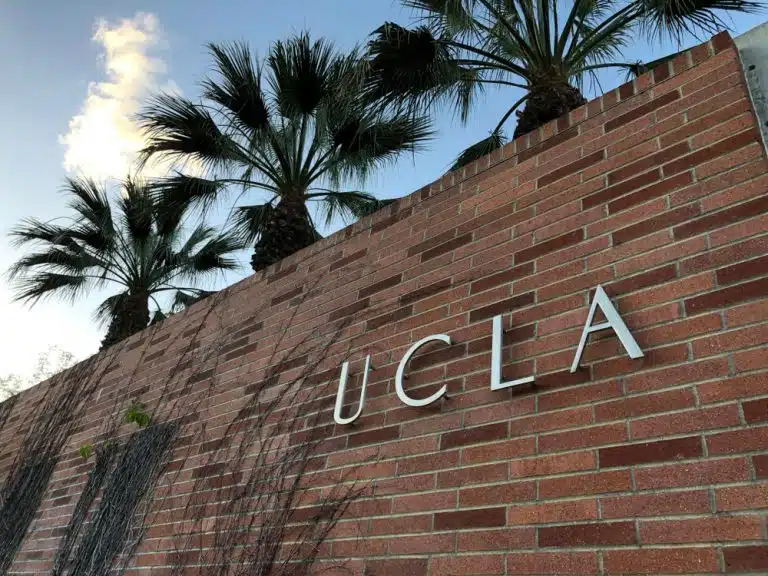 Color is more than just a style preference. Because they convey identity, official colors are recognized and protected in trademark law. Additionally, colors serve as the foundation of accessibility. The standardized UCLA color palette was developed after extensive research in order to produce good contrast in the interest of legibility across all channels and media.
Mascot at UCLA
Of course, part of the UCLA traditions is the university's mascot. Students at UCLA were formerly known as Cubs, a reference to the school's infancy that wasn't popular for very long. Students, therefore, adopted the more vicious Grizzly in 1924. The University of Montana, a member of the Pacific Coast Conference, however, pushed for Grizzly control in 1926 as UCLA sought to join.
UCLA was looking for a name once more. Students were stuck after thinking of anything from gorillas to buccaneers. UC Berkeley, at the time, used both Bears and Bruins. After Berkeley's student government decided to drop the Bruin moniker, UCLA finally had a mascot.
Live bears served as UCLA's first mascots and provided entertainment for home fans at the Los Angeles Memorial Coliseum. The bears were given many other names, but Joe Bruin has endured. Alumni sent the first Josephine Bruin, a tiny Himalayan bear, to the university in 1961. Before she was transported to the San Diego Zoo because she was too big, Josephine lived in the backyard of the Rally Committee chair.
In the middle of the 1960s, costumed student mascots took over the role. Joe was played by a number of pupils alternately, and in 1967 Josephine (or Josie, as she is more commonly known now) joined the cast in costume. Over the years, Joe's appearance and outfits have changed, from a Mickey Mouse-like Bruin in the 1930s to a cheerful Joe in the 1970s. In 1996, the current layout was unveiled.
Crosstown Rivalry at UCLA
An addition to the list of UCLA traditions is the rivalry between UCLA and USC. None of the Bruin customs is more cherished than the ones that mock and jeer at their crosstown rival USC.
The rivalry dates back to when USC students would jeer Southern Branch students by dubbing them "twigs," back when the university was still known as the Southern Branch. From there, it only got worse.
Favorite forms of harassment had included counterfeit campus newspapers that made fun of both universities since 1929, when the Bruins and Trojans first played each other in football games, as well as countless practical pranks and snarky taunts.
One specific episode in 1941 had a significant impact on the competition. Some USC students took the truck's keys during a Washington State game at the Coliseum and left after stealing the 295-pound Victory Bell from UCLA. The bell was given to UCLA by the Alumni Association and was once part of a Southern Pacific Railroad engine.
When threats were made to abduct the USC student body president if the bell was not returned, the students' wave of vandalism at UCLA and USC came to a stop in the fall of 1942. Finally, the Trojan students decided to give back the bell as long as it was kept as a game prize. Since then, the bell has become a winner's trophy.
Students now attempt to destroy the mascot monuments of their rival colleges. The Bruin in Westwood Plaza is draped in a thick tarp the week before the big game and has a sign that reads, "The Bruin Bear is hibernating." The Tommy Trojan statue across the street is also kept secret. It has been the victim of numerous Bruin practical jokes, including having its sword taken away and having blue paint splattered all over it.
Spring Sing at UCLA
Nearly 70 years ago, when fraternities were vying to be crowned "Champion Serenaders of Sorority Row," Spring Sing was born as one of UCLA traditions. As the competition's recognition increased, ASUCLA director William C. Ackerman made plans for it to take place at Royce Hall in 1944.
More than 10,000 people attended the event at its peak, which was staged in the Hollywood Bowl before moving to the campus' amphitheater in the late 1950s and early 1960s. Celebrities acted as masters of ceremonies and judges, including Ronald Reagan in 1952.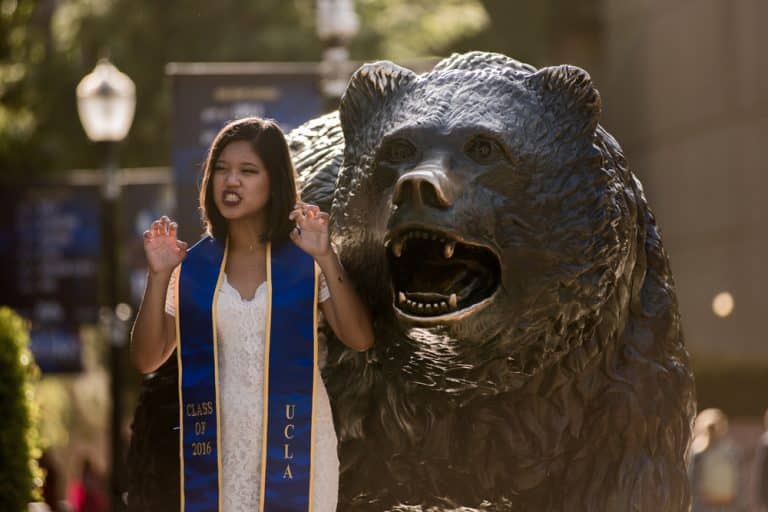 The late 1960s political action reduced interest in Spring Sing, and the event became dormant in 1968. It was recreated ten years later and relocated back inside Royce Hall by students and alumni. In an effort to bring Spring Sing back to its former splendor, the Student Alumni Association took over as the event's official organizer in 1986. Since then, the Los Angeles Tennis Center and Pauley Pavilion have both hosted sold-out audiences for the event.
What are the past traditions at UCLA?
What are the past traditions at UCLA? We listed them below. Let's check them.
The Big C at UCLA
Because UCLA was founded by Cal, many Berkeley features were incorporated into the UCLA campus. Students carved the "Big C," a huge cement letter "C" for California, into the hillside where Sproul Hall currently stands in 1939, for instance. On the cliff under Sproul Hall, which is where Drake Stadium currently stands, "Big C junior," which was completed in 1960, was slightly less in size than its predecessor.
Light Stunts at UCLA
Nowadays, card tricks are occasionally performed at football games, like during Homecoming. But the UCLA fan base made light stunts their signature in the 1930s. They first appeared in 1935, when the football team occasionally played at night. Each student received four light bulbs, each of a different color, and the roots area was wired. In 1953, the students created a card identical to the sort used in standard card stunts with eight different light filters put in a circular pattern. Each student was given a flashlight to shine through the filters because the light bulbs and wiring were both difficult to handle and expensive.
Mardi Gras at UCLA
Last on our list of UCLA traditions, Mardi Gras, which for many years was UCLA's biggest student-run event, got its start in a 1943 "Carnival" that was hosted in the women's gym and featured jigs and reels with Elizabethan costumes. According to some versions, Mardi Gras started as a masquerade ball in 1941 or possibly earlier, an annual celebration put on by a Masonic associate organization.
The specifics of the extravaganza's origins are still unknown, though, because of the paucity of records detailing the event. What is known is that the festival vibe of the 1943 party was carried over to a college celebration called "Mardi Gras" in 1945. The evening featured dancing, 40 decorated booths run by campus organizations, and the coronation of the king—a beloved professor chosen by the students—to cap off the festivities.
What is the UCLA game day tradition 8-clap?
What is the UCLA game day tradition 8-clap? You can tell you're a UCLA fan if you uncontrollably count to eight before each round of applause.
On game day, graduation, or pretty much any other occasion, the Bruins' standard chant. The rallying cry, which is just eight claps, two U-C-L-A spellouts, and the words "Fight Fight Fight!" effectively tell the story. The final sentence can also be substituted with some scathing remarks about Southern California if you're among a rowdier group.
What is the motto of UCLA?
What is the motto of UCLA? The lower half of the book is covered in a streamer that reads, "Let There Be Light," the university's motto. A five-pointed star with light rays pointing downward is depicted above the book as a representation of the discovery and transfer of knowledge.
What is UCLA famous for?
What is UCLA famous for? UCLA is well-known for its outstanding schools of dentistry and theater, film, and television. Although some of their most popular undergraduate degrees include Biology, Business Economics, Psychology, and Political Science, UCLA's seven academic divisions provide 130 top-notch undergraduate majors. It is also known for its long withstanding UCLA traditions.
UCLA Facts and Figures
AdmissionSight made a summary of the information that distinguishes UCLA.
UCLA takes pride in the variety of its neighborhood and in giving everyone the chance to succeed, regardless of socioeconomic status.
Diversity, according to UCLA, equips students to function in a global society. They are aware that by cultivating an inclusive environment that values and accepts people from all backgrounds, they are creating the foundation for their students' future success.
A university is more than the sum of its parts, which is uncommon. Their capacity to unite various minds from all over the world and make a beneficial impact on society is their greatest strength as a university. The UCLA facts and figures below highlight the breadth and depth of the University of California, Los Angeles.
31,600 undergraduate students
14,300 graduate and professional students
5,400 international students
7,790 faculty members
118 nations are represented by students.
31% of first-generation college students
Undergraduates Internationally: 10%
Pell Grant recipients among undergraduates: 34%
| | | |
| --- | --- | --- |
| Ethnicity | Undergraduate | Graduate |
| African American | 5% | 6% |
| American Indian & Alaska Native | <1% | <1% |
| Asian and Pacific Islander | 33% | 22% |
| Hispanic | 21% | 12% |
| White | 26% | 32% |
| Other Domestic or Unknown | 4% | 5% |
| | | |
| --- | --- | --- |
| Gender | Undergraduate | Graduate |
| Male | 41% | 51% |
| Female | 58% | 48% |
What is the UCLA Class of 2026 acceptance rate?
What is the UCLA Class of 2026 acceptance rate? Although the data for the Class of 2026 have not yet been made public, we do know that there were 149,779 applicants for the 2022–2023 freshman class. AdmissionSight can predict that it will likely be lower than it was the prior year based just on this number.
Out of the 139,490 freshmen that applied for admission to the Class of 2025, UCLA only accepted 15,028. This translates to an acceptance rate of only 11%. California residents were accepted at a 14% clip last year (the most current data available), but out-of-state students were accepted 21% of the time, while the overall acceptance rate was a more favorable 14%. To enter as a non-resident, however, is actually far more challenging.
Admissions to UCLA: SAT/ACT Policy, GPA
The mid-50% unweighted GPA range for members of the Class of 2025 was 3.92–4.0, and the weighted GPA range was 4.36-4.68.
In-state applicants typically have lower measurables than their out-of-state counterparts, despite having a greater acceptance rate. California residents had a mid-50% unweighted GPA of 4.30–4.60 in a recent cycle (when test scores were considered in the application process), SAT scores of 1250–1500, and ACT composites of 26–34.
The GPA range for out-of-state applicants was 4.35–4.80, the SAT range was 1390–1530, and the ACT range was 31–34. In high school, admitted students typically took 17 to 25 honors or advanced courses.
UCLA is a test-blind institution; therefore, test results are not taken into account. Test results that you choose to submit with your application may be used as an alternative method of meeting eligibility requirements or for course placement once you've enrolled.
Admissions Notes and Trends
The most important observation is that all of the universities in California now have a test-blind policy

which has slowly become one of the

UCLA traditions.

The Class of 2025 included 33% first-generation college students.
30% of first-year students also come from minority backgrounds.
The most recent freshman class's need-based aid participation rate was 50%.
Between the freshman classes of 2020–21 and 2021–22, the yield rate rose from 41% to 44%, indicating that more admitted students are now choosing UCLA than in previous years.
Does UCLA use the Common App?
Because UCLA is a member of the UC application system, neither the Coalition App nor the Common App is accepted. Its method for selecting students is unique.
Does UCLA have Early Action?
Early action or early decision for any applications is not available at UCLA. Additionally, they only accept applications for the fall term and use a quarter calendar.
Deadlines and Dates at UCLA
When it becomes accessible on August 1 during your senior year, you can begin working on your application. Applications are accepted from October 1 through November 30.
August 1: Start of the UC Application
On October 1, the Free Application for Federal Student Aid (FAFSA) and the Dream Act Application is open to all applicants. Additionally, the GPA Verification Form is also available for submission (required for California residents only for Cal Grant consideration)
October 1 to November 30: Application submission window
March 2: Due date for submission of the FAFSA, Dream Act, and Cal Grant GPA verification forms by applicants
Admission notification in late March
May 1: Deadline for submitting enrollment deposits, housing applications, and UCLA College Honors Program applications.
Send your official final transcripts to admissions by July 1. They must be delivered by post or electronically by July 1 at the latest.
Admissions must receive official AP and IB exam scores by July 15. Test results must be sent electronically or by post by July 15 at the latest.
UCLA's Special Features
Academics
Over 90 minors are also available at UCLA, which has 125 undergraduate majors offered across 109 academic departments. Biology, business economics, political science, psychology, and psychobiology are the most popular undergraduate majors. The university puts a lot of emphasis on student research, awarding over $1 billion in grants and contracts for it each year. The campus' thriving research community is enhanced by its close proximity to Ronald Reagan Medical Center.
U.S. News and The Hollywood Reporter consistently rank UCLA's School of Theater, Film, and Television performing arts programs highly. Mayim Bialik, an actor and neuroscientist; George Takei, a Star Trek actor and activist; and James Franco, an actor who even made a temporary return to campus to teach, are just a few of its well-known alumni.
Sports
UCLA is second only to Stanford in the number of NCAA team championships won with 118. This definitely has become part of the many UCLA traditions. There are 25 NCAA Division I sports offered at the university, with 14 for women and 11 for men.
The basketball teams for men and women are both successful, taking home 11 and 4 titles, respectively. It seems to sense that students would spend hours waiting outside Pauley Pavilion before basketball games or preparing for the yearly rivalry game with USC, given that the football team is as successful.
The school also offers a wide range of club sports for students to choose from. The competitive intramural sports program, which features 30 leagues, tournaments, meetings, and other unique activities, attracts more than 8,000 students. There are numerous intramural sports, including rugby, table tennis, and even Quidditch, to name a few.
Clubs
An annual Enormous Activities Fair that fills Royce Quad presents students with over 1,000 groups from UCLA's thriving extracurricular community. The Student Alumni Association, one of its most prominent clubs, has been hosting Dinner for 12 Strangers for more than 50 years. Through this community tradition, more than 3,700 students, alumni, and faculty members host more than 500 international dinners.
Furthermore, UCLA holds the biggest student-run hackathon in Southern California, drawing over a thousand hackers each year to develop technological solutions centered on a changing subject. Over 150 multifaceted creative projects are finished during the multi-day hackathon, which is open to students of all majors.
Moreover, UCLA is renowned for its thriving startup culture, which is supported by a wide variety of organizations and accelerator programs that assist students in coming up with ideas and carrying them out for their own businesses. Since 2000, startups created with the help of UCLA technology have been valued at more than $30 billion.
AWAK Technologies and Sike Insights are two notable firms that have grown out of UCLA's startup culture and offer medical devices and AI-powered productivity products, respectively.
UCLA can surely give a lot of unforgettable memories to students. Your college life at this prestigious institution won't be complete without those traditions. If the University of California, Los Angeles is your college of choice, we at AdmissionSight are here to provide our quality consulting service and help you achieve your goals. Contact us to learn more about our service from our trusted team.