USC Campus Tour
Is the USC campus open to the public?
Is the campus of USC accessible to the general public? Visitors to LA should make it a point to stop by the University of Southern California's (USC) lovely and historic University Park campus. Fortunately, the campus is open to the public and welcomes thousands of guests and visitors each year. And the best way to familiarize yourself with the culture of the university is to take the USC campus tour.
Student-Led Tours
USC undergraduate students who are currently enrolled at the university lead student-led tours and provide guests with an overall perspective of the school. Please come prepared for any kind of weather, and bring a bottle of water with you so that you can stay hydrated throughout the event.
Self-Guided Tours
Every day during the hours that our campus entrance is open, USC has self-guided tours available. Please make plans to visit during these times. Checking in at the Admission Center is not required under any circumstances.
These self-guided tours provide online and mobile access to a pdf that provides an overview of the University Park Campus in its various incarnations.
Accessibility
Guests on tours who require accommodations for mobility and/or hearing under the Americans with Disabilities Act (ADA) should send an email to visitusc@usc.edu or call (213) 740-6605 at least five business days before their scheduled tour.
Specific dates and times for available tour options will be listed on the calendar for the registration process.
Information Sessions
If you intend to spend the day on campus, you might want to think about adding an academic department session or an admission information session to your schedule. Admissions sessions are available before most tours. The department holds a variety of sessions.
First-Year Information Session
This course is designed for juniors and seniors in high school who are considering applying to USC.
A counselor who works in admissions will talk to prospective students about the one-of-a-kind educational opportunities that are available at USC, as well as provide an overview of the undergraduate admissions process and financial aid in general.
In-person sessions can be scheduled to take place right before the USC campus tour.
Talk to an admissions counselor to get all of your questions answered.
Transfer Information Session
Students who are interested in learning more about the process of transferring to USC are encouraged to attend this session, which will last for one hour.
Find out how classes will transfer over to USC, how to put together a strong application, discover what it's like to be a student at USC, and discover your options for receiving financial assistance.
Academic Department Information Session
Information sessions are provided by each undergraduate academic department at USC. These sessions cover the majors, minors, and opportunities that are available to students in that department. Programs that require additional materials in their applications will also discuss their admissions procedure and the expectations they have for applicants.
Group Tours
K–8, high school, community college, and community-based organizations are all eligible to participate in group tours that are provided by the Admission Center. Requests have to come from a teacher, counselor, or administrator at one of these schools or organizations to be considered.
Because there is such a high demand for their services, they only allow each school and organization to have one visit during each academic semester.
Please visit the website and follow the instructions that are provided below to either make a reservation or submit a request for a visit:
Dates from the available calendar can be reserved by secondary schools, community colleges, and community-based organizations that serve students in the twelfth grade and above.
K-8 grade schools and other organizations are encouraged to fill out the K-8 Group Tour request form that can be found on the website.
Please register for an in-person USC campus tour if you are an individual student or a family group.
Tour Policies and Guidelines
COVID-19 Symptoms and Testing
When entering the campus, all students, faculty, staff, and visitors should conduct a daily self-examination to check for symptoms. Please stay at home and make arrangements to have a COVID-19 test as soon as possible if you develop any of the symptoms that are listed by the CDC as being associated with COVID-19 or other transmissible illnesses.
Face Coverings
Masks are not necessary to wear inside the majority of buildings on the USC campus any longer. Despite this, they continue to come highly recommended. Continuing to wear a mask is required by local, state, and federal guidelines when in healthcare facilities (including patient care buildings and testing sites), as well as when riding public transportation (including USC shuttles).
Masking is an additional precaution that might be necessary for specific scenarios, such as when there is an outbreak on campus.
It is mandatory for guests to comply with all of the public health recommendations issued by the City and County of Los Angeles. The USC policies could become more stringent to maintain a secure environment for all students. Please visit the resource page for COVID-19 at the university for further information.
Observe proper hygiene practices, such as regularly washing your hands and using hand sanitizer.
If they do not have enough tour guides available, they will provide the guests with the option to take the Self-Guided Tour.
Minors Policy
To participate in a USC campus tour, visitors who are 12 years old or younger are required to be accompanied by an adult. When making a reservation, guests between the ages of 13 and 17 who will not be accompanied by an adult are required to provide written permission from a parent or legal guardian to participate in an activity that does not include an adult.
Does USC have a virtual tour?
Is there a way to virtually explore USC? If you can't make it to Los Angeles and take the in-person USC campus tour. You are highly encouraged to take the immersive tour that is available online.
Virtual Tour
Utilizing the fully immersive 360-degree virtual tour, you are more than welcome to pay a virtual visit to USC.
Virtual sessions
There are opportunities to participate in virtual sessions every Friday.
How long is the USC campus tour?
How long does it take to tour the USC campus? The duration of the student-led tours, which are available Monday through Friday, ranges anywhere from 75 to 90 minutes. Every excursion may be altered or canceled without prior notice; emailed updates will be sent out as soon as they are available.
What can you see at USC?
Where can you find the best views at USC? Privately established in 1880, the University of Southern California is one of the oldest universities in the United States. It is located in an urban environment, has a total undergraduate enrollment of 20,790 students (for the fall of 2021), and its campus spans 226 acres. If you spend enough time looking around the University Park Campus of USC, you'll find the ideal location.
When taking a USC campus tour, some of the most interesting nooks and crannies are listed below.
Tutor Campus Center
In the Ronald Tutor Campus Center, which spans a total area of 150,000 square feet, you'll find the Admission Center, Alumni Center, the First Generation Plus Success Center, student offices and workspace, multipurpose areas for meetings and gatherings, a wide variety of dining options, including a restaurant that provides full service, and performance venues.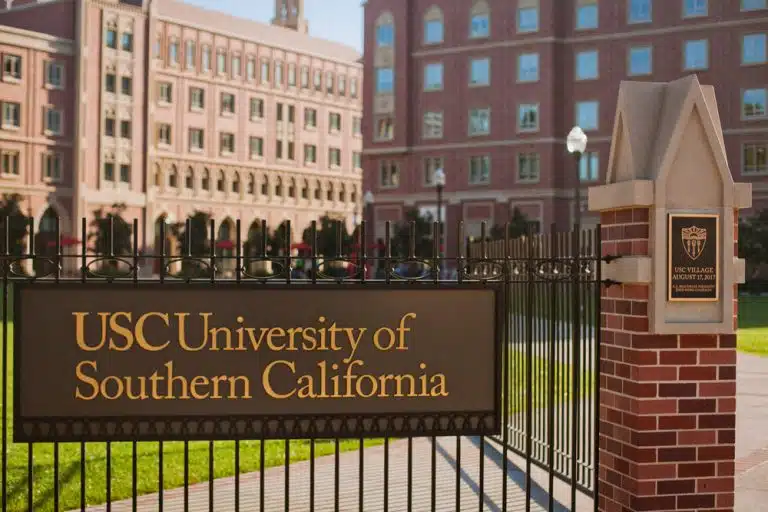 Students have access to a comfortable outdoor area that can be used for eating, lounging, and studying thanks to the building's International Plaza.
Student Union Building
The Student Union continues to be an important gathering place for campus activities outside of the classroom. Offices for various cultural centers on campus, such as the Center for Black Cultural and Student Affairs, the Asian Pacific American Student Services, the Latinx Chicanx Center for
Advocacy and Student Affairs, and the LGBTQ+ Student Center, are located within. In addition, the USC Pharmacy, the Career Center, and the USC student newspaper, the Daily Trojan, are all located in this building.
Leventhal School of Accounting
Students at the Leventhal School of Accounting are prepared to achieve the highest levels of success in the accounting profession because this school is the long-standing and nationally recognized sister school to the Marshall School of Business at the University of Southern California.
After completing the business administration curriculum for the first two years of their undergraduate education, all accounting majors transition to the accounting curriculum for the final two years of their studies.
Musick Law Building
The USC Gould School of Law was the first law school in Southern California and was established in 1900. It is currently located in the Musick Law Building, one of the best spots to visit during the USC campus tour.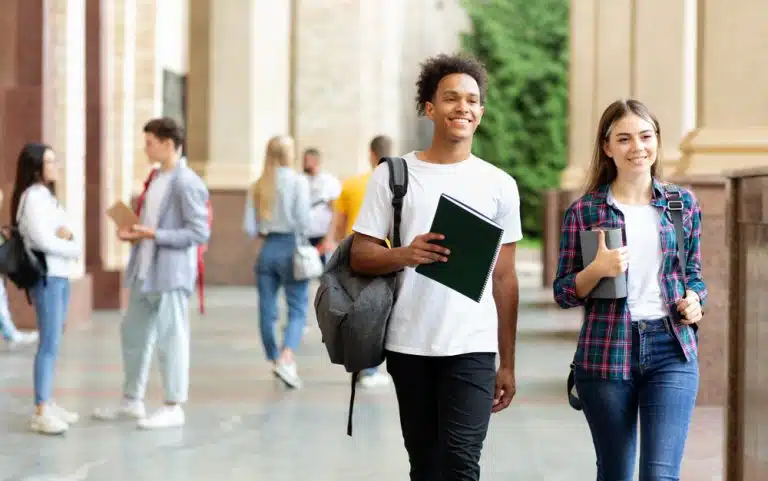 Students at USC Gould have access to clerkships, externships, and career options with law and business firms, public interest agencies, and entertainment, media, and technology companies. These opportunities are located throughout Los Angeles, from Silicon Beach to downtown.
Mudd Hall
The Mudd Hall of Philosophy, which was inaugurated in 1930 and has since become a distinctive and easily identifiable landmark on the University Park Campus, was named after its namesake. In addition to classrooms and faculty offices, it is currently home to the Hoose Library, which features one of the most impressive collections of philosophical texts anywhere in the world.
Tommy Trojan
This magnificent statue was erected in 1930 to celebrate the 50th anniversary of the University of Southern California and was formerly known as the Trojan Shrine, the five exemplary characteristics of a Trojan are depicted on the pedestal that Tommy occupies: fidelity, scholarship, skill, bravery, and ambition. These characteristics set USC graduates apart not only in Los Angeles but also in other parts of the world. Tommy Trojan is the university mascot that best represents USC.
McCarthy Quad
The McCarthy Quad is the center of student activity, especially for those students who are in their first year. Several of the 11 residence halls and suites can be found in the area surrounding the Quad. South Area Residential College is made up of the neighboring buildings known as Marks Tower and Pardee Tower.
Every first-year student lives in one of the residential colleges, which also has teaching staff living on campus. Throughout the academic year, the McCarthy Quad is transformed into a bustling farmer's market on Wednesdays. Hence, it continues to be a popular spot to visit during the USC campus tour.
Queen's Court
The Eileen L. Norris Cinema Theater and the Bing Theatre are located on either side of Queen's Court and serve as their bookends. In addition to its role as a lecture hall for students in the USC School of Cinematic Arts, the Norris Theater also operates as a standard movie theater for screenings held on the USC campus.
The Bing Theatre at the University of Southern California is the largest of the four theater performance spaces located on campus, and it has 550 seats to cater to the requirements of the School of Dramatic Arts' expansive productions.
USC Village
The USC Village is a town center that consists of 1.2 million square feet of retail and residential space. It features establishments such as Trader Joe's, Target Express, Starbucks, Bank of America, Cava, Trejo's Tacos, and a variety of other dining and public spaces. USC students have access to 2,500 beds across eight different residential colleges.
Heritage Hall
Heritage Hall is one of the best places to look forward to during the USC campus tour. The administrative and coaching offices for Trojan Athletics are located in Heritage Hall, which serves as the primary facility for Trojan Athletics. A stunning display of USC's six Heisman Trophies, as well as several other national championship awards and other prestigious athletic accolades, can also be found in Heritage Hall.
Fertitta Hall
The Marshall School of Business has recently expanded with the addition of Fertitta Hall. It has a total of 20 classrooms, as well as 50 modern breakout rooms, as well as a lounge, a café, and outdoor seating. This MBA program at Marshall University is consistently ranked as one of the best in the country due to the school's illustrious faculty, central location in Los Angeles, and access to a robust alumni network.
Ethel Percy Andrus Gerontology Center
This structure is home to the Davis School of Gerontology, which is both the world's first and largest school dedicated to the study of aging. The Davis School was an innovator in the field, as it was the first institution in the world to offer a doctoral program in gerontology, as well as the first joint master's degree in gerontology and business administration, and the first undergraduate health science track in gerontology.
Exposition Park Rose Garden
Even though tens of thousands of people visit this beautiful oasis in South Los Angeles each year, the Rose Garden is still a tranquil place where one can go for a stroll in peace, engage in quiet reflection, or take photographs.
The USC campus tour may be one of the things that pique your interest in attending the university. The University of Southern California was founded in 1880 and is the oldest private research university in the state of California. And is consistently ranked as one of the top 30 universities in the United States. You will require aid from college admissions professionals like AdmissionSight if your objective is to be admitted to USC.
We at AdmissionSight have more than ten years of experience helping students navigate the challenging admissions process so they can enroll in the best colleges in the world. Feel free to schedule a consultation session today.