Benefits of Traditional School
Since the beginning of the development of information technology, traditional classrooms have faced competition from virtual classrooms, which are gaining popularity at an alarming rate. Students who wish to obtain a degree in a more expedient and cost-effective manner should consider taking their classes online rather than in traditional settings. Students can earn their diploma in as little as a year or two, even if they have never met their teachers or fellow students. Still, many students continue to believe that the benefits of traditional school are superior to any other method of education.
Many parents are interested in learning about all of the available educational choices for their children because there are so many of them. However, the model of education that is most familiar to the majority of people is the conventional classroom setting.
The classroom that is overseen by a single educator within the context of a larger school community has a number of benefits that help shed light on the reasons for the model's widespread popularity, despite the fact that this style of education is criticized by some. The vast majority of children thrive and benefit from receiving their education in this manner.
What is a traditional school?
What is a traditional school? In the context of education, the term "traditional education" refers to the model in which a single educator is responsible for imparting knowledge to groups of students in a classroom setting.
Traditional schools typically place an emphasis on fundamental educational practices and require students to demonstrate academic mastery in the fundamental subjects of reading, writing, mathematics, science, and social studies. This educational model is generally followed by public schools, whereas charter schools may offer a more adaptable instructional approach.
Other options besides the standard public school include private schools that are not under the jurisdiction of the public schools, religious schools, homeschooling, and education gained through the use of the internet.
When deciding on a school to attend, it is important to consider not only the academic program but also the social environment and the availability of support services. This is because there are many factors that go into making this decision. It's best to check and consider the benefits of traditional school.
Traditional schools are the most common type of school across the country and are able to provide high-quality instruction along with the advantages of being subject to federal and state regulations and laws that are mandated.
Importance of traditional education
What is the importance of traditional education? Learning in a classroom setting was the only method that could be considered productive before the advent of online education. Learning on campus comes with a variety of benefits of traditional school for students, not all of which are strictly related to academics.
Students have the opportunity to improve their social skills while on campus by engaging in conversation with both their instructors and fellow students. It establishes a routine that the students are required to adhere to, which, in turn, will bring punctuality and discipline to the classroom.
Advantages of attending traditional school
Learning in a conventional classroom setting continues to be a formidable rival despite the growing prevalence of online education in this age of ubiquitous internet access. Despite the many benefits it offers, online learning cannot take the place of conventional schooling. Its many advantages will ensure that this is the case.
Active learning
The ability to interact with one's teachers and professors is among the most significant advantages that traditional campus life can bring to a student's experience of college. When it comes to online education, your choices are restricted. Students have the ability to schedule in-person meetings with their professors on campus to talk about the class, their performance, or a project they are working on.
Keeping up with personal connections and interactions
During their time in college, students will interact with a wide variety of people. One of the many benefits of traditional school is the opportunity to form deep connections with people that are likely to endure for many years.
The entire purpose of the college experience is to force you to participate in a variety of individual and group projects, all of which require you to maintain open lines of communication with your fellow students.
Some of the ways in which one can keep interpersonal relationships alive while attending university include participating in the various clubs that are established at the institution, getting together to study for exams, and exchanging study notes with one another. Maintaining those relationships off campus, however, will undoubtedly prove to be a challenge due to the nature of the internet.
Not all majors can be taught online
Online classes can only take a student so far toward completing their education if they are interested in pursuing a career in nursing, agriculture, biology, music, or theater. Even though it is possible to complete some of the necessary courses for these majors online, you will need to attend a traditional campus class for the courses that involve hands-on activities such as lab work, clinical practice, or performances.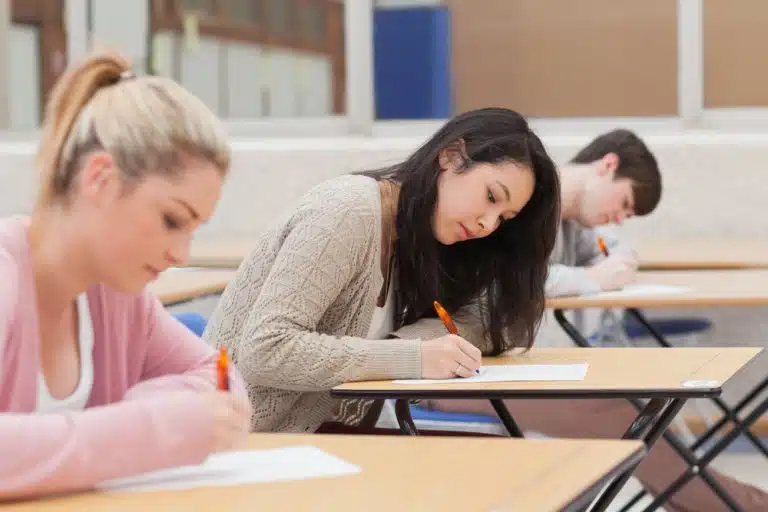 If these students were to take their classes on a traditional college campus, they would have access to a variety of resources, including hardware and materials, that would not be available to them if they took their classes online.
Learning is scheduled
The administrators of the university plan the classes in such a way that every student will be able to participate. When you say you're going to class, it means you have to show up on time. The students will develop their very own routines as a result of this, which will undoubtedly result in the students becoming more punctual and disciplined.
They will build habits that they will carry into adulthood if they practice being punctual throughout their academic years, and those habits will include being on time.
Extra-curricular activities
There are some experiences that you won't be able to get anywhere else, and school is one of those places. Some examples of those experiences include going on field trips, participating in school activities, and joining a variety of different clubs.
You will gain valuable lessons about life and how to navigate it better as a result of participating in each of those activities which makes it one of the many benefits of traditional school.
Online school versus traditional education
Because a traditional classroom setting and online education each have their own advantages and disadvantages, it is essential for students to have an accurate understanding of what to anticipate before they enter a classroom for the first time, whether physically or virtually.
In this side-by-side comparison, we focused on three primary factors that have a significant bearing on the overall experience that a student has. In addition to that, we are going to take a more in-depth look at what the "blended learning" model has to offer.
Online vs. Traditional Education: flexibility
When evaluating your choices, one of the most important aspects to take into account is the amount of time you have available each day to devote to your schoolwork. Do you intend to and have the capacity to attend college on a full-time basis, or do you require a greater degree of adaptability in order to accommodate your hectic schedule?
Education through the use of the internet: One advantage of enrolling in online classes is the flexibility they provide the student. People who already have time commitments with their families and their jobs would greatly benefit from this alternative.
As opposed to being required to attend a lecture at a predetermined time, your online classes will be able to accommodate your busy schedule, and you will be able to log into your online course whenever it is most convenient for you.
The majority of online classes will be organized around a weekly schedule, and students will be expected to log in, read the assigned materials, participate in online class discussions, and finish their assignments before the start of the following week. You will still have a significant amount of work to complete for each class; however, you will have more flexibility to schedule this work around your other obligations.
Education in the traditional model is, as a rule, the path to take for pupils whose timetables allow for a greater degree of flexibility than other available alternatives. In spite of this, traditional students do have some wiggle room in their schedules thanks to the fact that many educational institutions now provide evening classes as well as programs that only require students to attend once a week. This is one of the benefits of traditional school.
When it comes to time management, one factor that is easy to overlook is the amount of time it takes to get to campus. A lengthy commute can certainly make time management challenges, especially if you intend to maintain a job while you are attending school.
Online vs. Traditional Education: discipline & self-motivation
Your level of self-discipline is another factor that should be considered while you are deciding which college to attend. However, there can be significant differences in the way that learning is structured between traditional education and online education.
Although both types of education require some level of self-discipline to be successful, these structural differences have the potential to significantly impact your capacity to maintain your current course of action.
Education through the use of the internet: If you want to take advantage of the increased flexibility that comes with online learning, you'll need to be highly self-motivated. Some students may have difficulty maintaining their motivation to keep up with required reading and assignments when they are learning from the convenience of their own homes, but this is a requirement for all college classes.
The most successful students who choose to take their classes online devise methods that allow them to keep up with their assignments. Things like devoting a certain amount of time each week to studying and arranging one's workspace so that there are as few distractions as possible can be of tremendous assistance.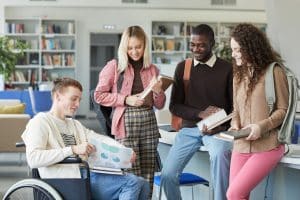 Traditional education: One of the many benefits of traditional school over other forms of education is how greatly it affects students on matters of discipline and motivation. Students may find it easier to stay on task if they follow a regimented schedule that requires them to go to school a few times per week and engage in consistent face-to-face communication with their teachers.
Students who attend classes in more traditional, on-campus settings have more opportunities to be reminded of upcoming assignments. This can be helpful if you have a tendency to put off completing lengthy and time-consuming assignments until the last minute.
Online vs. Traditional Education: social interaction
The amount of social interaction that you wish to have while pursuing your degree is the last factor that you should take into consideration. Do you need the interaction of your classmates and instructors in order to succeed and to keep yourself motivated? Or do you find that working on your own best suits your learning style?
Online education: Although social interaction with teachers and other students is not as common as it is in traditional classrooms, it still takes place on a regular basis. The most notable distinction is in the form that it takes, with the majority of online student interactions taking place either through video chat or through online discussion posts.
It's possible that some classes will also provide students with pre-recorded videos of the in-person lectures they would normally attend. These video lectures can assist you in attaining a more in-depth comprehension of the reading materials that have been assigned to you if you are the type of student who thrives on interaction with others while learning and enjoys quizzing and picking the brains of your teachers.
Education in the traditional model: In spite of advances in technology, education in the traditional model is likely still the best choice for people who learn best through direct interaction with their teachers. Some people find that seeing and interacting with their instructors on a regular basis serves as a source of motivation.
It is a little bit easier to go the extra mile if you are aware that your instructor is likable and invested in your education. Students may have an easier time understanding a concept and "getting it" in a traditional, in-class setting because there may be more opportunities for spontaneous questioning or interesting tangents.
The choice is entirely up to you.
There is no correct or incorrect response to the question of whether or not traditional or online education is superior. It all boils down to individual preference and being aware of the learning style that works best for you.
No matter what your preferred method of education is or what circumstances you find yourself in, each of these instructional formats has the potential to be very useful. It's best to look at the benefits of traditional school and online education first before making a decision.
Are you prepared to embark on an exciting new adventure at the college level? We can help you! Over the past ten years, we at AdmissionSight have helped countless students navigate the challenging admissions process at some of the most prestigious educational institutions in the world. Make an appointment for your first consultation with AdmissionSight anytime.