Cornell Music Program
A significant number of students pursue a bachelor's degree in music in order to broaden their knowledge and develop their abilities in preparation for careers as performing artists. If you want to pursue a career in the arts full-time or use your talents to make a positive contribution to your community, enrolling in the Cornell music program is a great place to start. You may pursue a career in teaching, or you could continue your studies at the graduate or professional level in performing, musicology, or education.
Because music is such a broad subject area, graduates with a bachelor's degree in music have a wide variety of job options to choose from. Naturally, the path that you choose professionally will be determined by the specific goals that you have for using your music degree.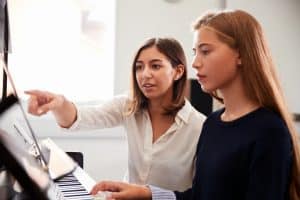 It is not a choice to be made in a flippant manner if one is considering a career in music. It is incredibly competitive and needs a lot of practice and schooling over a long period of time. We will delve more into the Cornell music program, specifically the performance ensemble specialization, as we progress through this blog.
Does Cornell have a music program?
Does Cornell have a music program? Absolutely, at Cornell University, the Department of Music is committed to achieving academic excellence in the study of music, which reflects a concern for the ongoing interaction of scholarship, performance, and composition on the part of both teaching staff and undergraduate and graduate students. The breadth of academic experience with the Cornell music program is reflected in the variety of available opportunities, which span not just genre but also place and time.
No matter which college they are enrolled in, students from all over Cornell are welcome to take classes in the Department of Music. They can count toward a major in music or a minor in music (which is an option for students attending any college), or they can be taken on their own as a free-standing elective option. In the College of Arts and Sciences, as well as frequently in other institutions, students can fulfill their distribution requirements by taking music courses.
The University, especially the Cornell music program allows a great deal of leeway to students to create their own individualized study plans in close collaboration with a "Special Committee" consisting of three or four members of the teaching staff of the student's choosing.
Students are strongly encouraged to make use of all of the different course options that are available within the Department of Music as well as to investigate a variety of other academic subjects.
Every graduate student is expected to select a secondary field of study, sometimes known as the Graduate Minor. This secondary field of study must be represented on the Special Committee by a secondary member, and the student must take classes in the secondary field.
Students have the option of selecting a minor subject either from within the field of music (theory, musicology, ethnomusicology, performance, and composition), or from another academic field (such as anthropology, art history, computer science, gender and sexuality studies, history, linguistics, philosophy, psychology, sociology, theater arts, and Western and non-Western languages and literature).
The provision of seminars and symposia, as well as the distribution of teaching responsibilities, encourages integration and exchange among the students and teachers of all musical subfields. As a consequence of this, the numerous activities of the Music Department mutually reinforce one another, and students from the Cornell music program enjoy a sense of community among themselves and with the faculty that extends beyond the divisions imposed by the various programming specializations.
The areas of Indonesia and Southeast Asia, jazz, popular music, the African Diaspora, gender and sexuality studies, the Mediterranean basin, and music cognition are some of the specific concentrations that are offered and areas of knowledge that are held by the faculty.
What is the Cornell music program like?
So, what is the Cornell music program like? Both the graduate and undergraduate levels of study in music and sound at Cornell include components of the broader study of music and sound, including musicology and music theory. The music department at Cornell places high importance on historical, anthropological, and philosophical approaches, as well as music-making and performance, cultural and critical theories, and interdisciplinary points of view.
Students in the Cornell music program will be able to establish ties to other departments, programs, and centers across the university, as well as be expected to take on leadership roles in the materials and techniques curriculum.
Keyboard Perspectives is a peer-reviewed academic publication that is published by the Westfield Center for Historical Keyboard Studies, which is located within the University.
An extensive collection of periodicals, books, scores, sound, and video recordings, a microfilm collection of early printed and manuscript sources (including early opera libretti and scores), eighteenth-century keyboard and chamber music, an archive of American popular song 1850-1950, a collection of German hymnals from the 17th and 18th centuries, and some medieval music manuscripts are all housed in the Sidney Cox Library of Music and Dance.
The Division of Rare and Manuscript Collections houses an extensive archive on the history of hip-hop and rap music. This collection includes sound recordings, a photographic archive, textile art, books, magazines, and more than 500 original flyers.
There are a number of excellent performing spaces, in addition to five digital music studios that are on the cutting edge of technology. A variety of organs, fortepianos, harpsichords, a drum ensemble from Ghana, six Philippine musical ensembles, North Indian tabla sets, Middle Eastern ensemble instruments, and a steel pan band are all included in the collections of instruments.
What are the various Cornell music groups?
With the knowledge of the Cornell music program, what are the various Cornell music groups? Both inside and outside of the department, the musical life at the Cornell music program is vibrant and full of variety. The emphasis in the Department of Music at Cornell is placed on small, individualized programs.
The Cornell music program is distinguished in a unique way because of its commitment to the pursuit of excellence in the field of music education. This dedication reflects a concern for the ongoing interaction of scholarship, performance, and composition on the part of both faculty members and students. The Cornell Music Program is responsible for guiding a variety of musical ensembles, some of which are listed below.
Chorus
The Cornell Chorus is a premier traveling choir that was established in 1920. Its members come from a diverse range of academic fields and walk of life, and their commitment to singing has helped the group achieve a reputation as one of the best treble choirs in the United States.
The repertory that the Chorus plays is quite varied; it includes anything from masses and motets to spirituals, folk songs, and various other compositions that are either classical or modern in nature.
In an effort to broaden the scope of the modern repertoire for treble voices, the Chorus has been commissioning new works written by female composers on a yearly basis since the year 2001. The sound of the Chorus is exposed to more people because of their ongoing albums and tour schedule. On a consistent basis, the Chorus and its sister ensemble, the Cornell Glee Club, work together to perform major works and other SATB repertoires.
Glee Club
The Glee Club is Cornell University's oldest student club, having been established in 1868. It is widely regarded as one of the most remarkable male choirs in the United States. The Glee Club is our university's other top traveling choir.
The ensemble, which typically consists of roughly 55 singers, performs and records a vast array of repertory, ranging from the Renaissance to the present day and incorporating annual commissions of new work.
The Cornell University Glee Club performs performances frequently, both on and off campus. They frequently collaborate with their sister group, the Cornell Chorus, on larger-scale initiatives, such as major works with professional orchestras and foreign tours.
Chorale
The Chorale is a mixed chorus that welcomes Cornell music program students to audition for membership each semester. Members of a chorale have the unique opportunity to concentrate intently on the growth of their individual skills, particularly those that are essential in singing in an ensemble, such as sightreading, vocal technique, interpretation of a variety of musical styles, approaches taken during rehearsals, and so on.
The goal is to cultivate a full vocalist while simultaneously opening up opportunities for performing throughout one's entire life. In addition to performances by the entire ensemble, soloists or smaller groups frequently take the stage at chorale events.
A significant number of students continue to be active members of the Chorale throughout their time at Cornell, while others take advantage of the opportunity to hone their musical abilities in preparation for future auditions.
Cornell Orchestras
The Cornell Orchestras program is one of the groups that has been around the longest on campus. It was established in 1871 under the name "University Orchestra." Students at Cornell music program came together to organize a community orchestra with the intention of playing music for the entertainment of the larger community, which eventually evolved into what is now known as the Cornell Symphony Orchestra and the Cornell Chamber Orchestra.
The ensembles are comprised of around one hundred young musicians who are committed to performing symphonic repertoire from the Western classical canon (Bach–Shostakovich), in addition to contemporary works of our day.
The orchestras are currently being directed by Guillaume Pirard and Kirsten Marshall, who are responsible for presenting seven to eight concerts each season. These concerts include the Annual Young Person's concert, as well as a concert at which the winner of the Cornell Concerto Competition performs with the orchestra.
The Cornell Orchestras perform concerts not only in the United States but also in other countries. These tours give young musicians an incredible opportunity to see the world, perform in world-class venues with top professional organizations around the world, bond as a group, and form friendships that will last a lifetime; international destinations such as Taiwan, Argentina, Ireland, Puerto Rico, and Germany have been visited in the past.
Wind Symphony
The Cornell University Wind Symphony is comprised of a very diverse set of individuals, but they all have one thing in common: a dedication to working together effectively and producing high-quality music.
Everyone who is a part of the Cornell community can take the class if they pass an audition, and the majority of our participants are studying subjects other than music. Our members and audience are treated to an experience that is not only academically but also musically engaging thanks to the Wind Symphony.
They do this by utilizing community-engaged performance tours to cultivate cultural knowledge, community service, and global citizenship through the medium of music. The Cornell Wind Symphony, in collaboration with the Cornell music program, is dedicated to expanding the repertory by adding new compositions, arrangements, and transcriptions of existing works.
The premiere performance of A.D. White Professor-at-Large Wynton Marsalis's first work for wind band is scheduled for November 2021 by the group.
Cornell University Jazz
The student performers who make up the membership of the ensemble are both undergraduate and graduate students from Cornell's seven different schools and colleges. They are interested in a wide variety of topics and fields of study. In some schools, students have the opportunity to try out for several ensembles each autumn, most frequently on the first day of courses or during orientation.
The Jazz Ensemble is the premier performing group in the University of Colorado's Jazz program. Students participate in a big ensemble setting where they perform classical, modern, and current material. The group has collaborated with numerous jazz greats, including the late Dizzy Gillespie, Joe Henderson, Barry Harris, and James Moody, and has commissioned compositions from Jim McNeely, Rufus Reid, and Paul Smoker.
In addition, the group has performed with many jazz masters. Maria Schneider, Joshua Redman, Peter Bernstein, and Wynton Marsalis are among the more recent guest performers that have performed there. Even though sight reading, musicianship, and working together as an ensemble are the primary focuses, there is also a significant emphasis placed on the cultural and historical backgrounds of the players and the music that is performed.
Deixa Sambar
Deixa Sambar performs different varieties of samba, Brazil's national music. A strong sense of rhythm is not required of members, but it is preferred. Members do not need to have prior experience composing music.
Students and members of the Ithaca community are both welcome to join, as are those who are familiar with Brazilian culture as well as those who are just beginning to learn about it. Playing skills are honed during rehearsals, with a strong focus placed on gaining a cultural understanding of this significant, community-based music.
Gamelan Ensemble
The repertory of traditional music played on the Central Javanese gamelan is performed. Priority is given to individuals who have previous experience, whether it be through having completed the course on Gamelan in Indonesian History and Cultures or from another source; however, those who are able to contribute to the group's musical endeavors are welcome.
It is not needed that you have the ability to read staff notation, although having a strong ear and a sense of rhythm can be very beneficial. When it is determined to be essential, individual instruction is provided.
Steel Band
The Cornell Steel Band performs a wide range of musical styles using an orchestra comprised of instruments made from 55-gallon oil drums and an "engine room" of non-pitched percussion instruments.
Formal education in music is not required, but having a strong sense of rhythm and an excellent ear are both beneficial. Priority is given to students majoring or minoring in music, as well as to members who have participated previously.
Music Improvisation Ensemble
Students will have the opportunity to investigate the components of music from the viewpoint of an improviser if they participate in the Music Improvisation Ensemble.
During each session, the focus will shift to a new facet of improvisation, such as noise, graphic scores, conducted improvisation, free music, small and big group improvisation, as well as interdisciplinary collaboration with dance and cinema. Any level of musical experience is welcome to participate in this ensemble. Cornell music program
Want to learn more about the Cornell music program? You've come to the right place. At AdmissionSight, we have over 10 years of experience guiding students through the competitive admissions process.
AdmissionSight can help you put your best foot forward when applying to college. Contact us today for more information on our services.