Creative Club Ideas For High School Students
School Clubs
A school club is an organization that is recognized by the association as a school club. Your involvement in clubs can improve your ability to communicate, encourage innovative thinking, and teach you how to collaborate well with others. One of the few ways that universities can learn more about your personality is through your involvement in extracurricular activities. Read on to see the most creative club ideas for high school students.
Good club ideas for high school
AdmissionSight has prepared a list of good club ideas for high school. Check them out below:
1. Student ambassadors
The Student Ambassadors group is a fantastic leadership opportunity for students who are committed to giving back to their community and changing the world. Students will devote their time to this club by looking for and volunteering for various charities in their community. Examples could include helping out at your neighborhood food pantry, sprucing up a park, etc.
2. Club International
The overarching objective of the International Club is to foster a community that is focused on international connections while also being student-centered. Each meeting will have a new topic for the students, such as international music, holidays, cuisine, etc. This club helps students learn about, respect, and understand the different languages and cultures in our school, neighborhood, and the rest of the world.
3. Pop culture club
Are you curious about current entertainment, fashion, and other topics? Is Pop Culture Club the right club for you and other topics, if so? If so, the Pop culture club is the right club for you. Pop Culture Clubs are established to provide a secure setting for students to interact and hear about the interests of others. Students can present in this group and collaborate on a variety of PCC projects.
4. Fashion club
Are you passionate about fashion? If so, you really ought to start a fashion club! Students who aspire to work in the design industry are mentored by the club. Students can freely exhibit their sense of style and passion for fashion in this club. Each meeting allows participants to prepare and make a presentation on a different theme related to the fashion industry!
These are only some of the good club ideas for high school students. Continue reading to learn more.
5. Cybersecurity club
Because of the general growth in technology use, thieves are now starting to locate their victims online. The Cybersecurity Club will plan out the best strategies for kids to protect themselves from these fraudsters online. Students can discuss the online safety information they have discovered at each meeting. Kids can then collaborate with their school to deliver these educational materials to all of the students.
6. Club for a future career
By joining a future career club, like a future teacher or lawyer club, students can learn from other people who are interested in the same job.
7. The creative writing group
The ideal approach for students to spread their passion for writing is through creative writing clubs. Students can practice writing literature, poetry, and other forms of writing in a club like this. Students will then have the opportunity to share their writing and perhaps motivate others.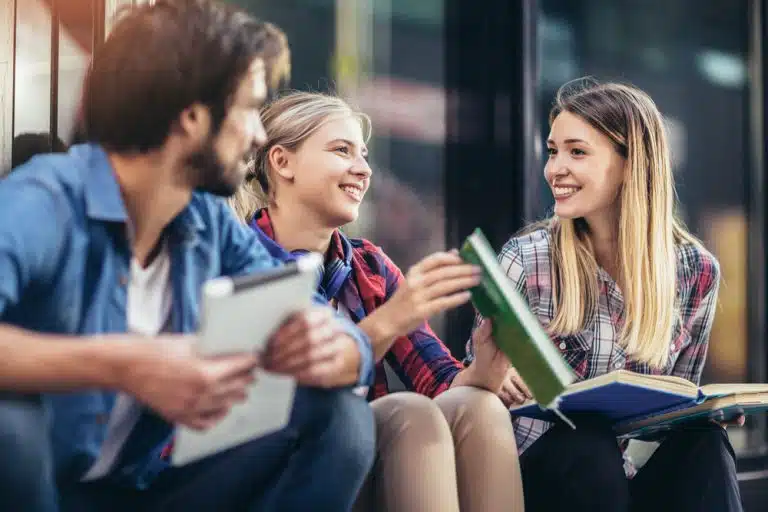 8. Outdoors club
Do you cherish the outdoors? An outdoor club is a fantastic solution if you do. It can be tough to spend six to eight hours a day, five days a week, in a classroom. Through this organization, students can participate in a variety of outdoor pursuits like hiking, kayaking, and more. For daring students, this is a fantastic opportunity to interact with people who share their interests.
9. The Opera Smile Club
Operation Smile Club can help people with cleft lip and palate. In underdeveloped nations, this organization performs hundreds of thousands of surgeries on children and people with cleft disorders. Students can launch fundraising campaigns, use social media to spread awareness, and more when starting a chapter at their school. Every student who participates in this club makes a difference!
These are only some of the club ideas for high school students. Continue reading to learn more.
10. Peer Instruction
A great way to assist other students at your school is through peer tutoring. Students can work together on class assignments and support classmates who are having difficulty in particular areas during meetings. Additionally, club members can organize study sessions for impending exams or presentation practice.
11. Investment Club
More and more people have started buying stocks over time. Students will gain knowledge of the stock market and other forms of investment in this group. Students can effectively learn how to make wise investments to maximize their returns by joining this club.
12. Superposition Club
Superposition is a group for women who work in STEM fields. Superposition is a nonprofit organization established in 2016 with the goal of closing the gender gap and empowering women in STEM. Students in their communities and schools can start their own chapters if they're interested. More information is available on their website!
After-school club ideas for high school
The following are the after-school club ideas for high school:
1. Club for Photography
Smartphones are making traditional photography with a real camera extinct. Many kids might not have seen or operated an actual camera. They will get the chance to express their creativity while learning some photographic skills in an after-school photography group. You might even incorporate some digital editing sessions, depending on the age and skill level of your kids.
2. Public Speaking Club
Students will gain public speaking and message-transmission skills through this club. Students will gain self-assurance, discover ways to get over their shyness or discomfort, and learn how to prepare, practice, and deliver an engaging speech.
3. Drama/Performing Arts Club
Everyone, whether they are more reserved or expressive, can benefit from joining a performing arts or theater club. Students can practice acting and reading monologues with a theater group.
At the conclusion of your time together, you might even decide to have your club perform a play or musical for friends and family. Students can help put together props and make their own costumes for the characters in the play.
4. Cooking Group
Cooking is a crucial life skill to learn. Students can learn a variety of cooking and food preparation skills in this group, including how to measure ingredients and read recipes. Depending on the age range of the students in your club, you may adjust the lesson and recipe skill levels.
It would be nice if you had access to an oven. If using an oven isn't an option, there are lots of no-bake recipes that you might have students create.
These are only some of the club ideas for high school students. Continue reading to learn more.
5. STEM Club
The best approach to pique students' interest in science, technology, engineering, and math is through a STEM club. You can design a wide range of experiments and practical investigations to help students learn new ideas and put what they have learned to use. You could even plan a STEM night where club members show their families different projects and ideas they have been working on.
6. Art Club
Students can express their creativity by joining an art club. You may offer a variety of art products, including paint, colored pencils, and clay, and let kids choose what they want to create, depending on how you want to set up the club. Alternatively, you may organize the club so that everyone works on the same kind of project each week (such as painting portraits one day and making clay sculptures the next).
7. Singing Group
Do the members of your club enjoy singing? If so, running a singing club might be a highly successful venture. You might either give kids samples of more contemporary songs to prepare and rehearse before they perform for their families, or you could teach more traditional tunes.
Ages vary based on the games you wish to play at the board game club.
Students have the opportunity to have fun while simultaneously learning strategy through board games. Many students might not have many opportunities to play board games at home due to everyone's hectic schedules, so offering them the chance to do so during an afterschool club may be a welcome option. Choose a handful of your favorite board games to present, keeping in mind the ages of your students.
8. School newspaper
Get some kids engaged in starting a school newspaper club if your school doesn't currently have one. Students can generate interesting concepts that other students will find interesting. Then, when they conduct interviews, conduct research, and write about their findings, they will have the chance to develop as journalists.
9. Gardening group
Students may have a ton of fun and pick up valuable skills by joining a gardening club. Students can learn how to be polite and compassionate in addition to the obvious skills of how to take care of plants and cultivate their own food. Kids will also learn how to work together and get along with others as they work on their projects for this after-school club.
Knowing and being part of the creative club ideas for high school students helps you develop your talents. You can always contact AdmissionSight if you have any questions or concerns. We have more than ten years of experience guiding students through the difficult admissions process.
Consult AdmissionSight to find out what we can do to make sure that you are adequately informed and well-prepared for the application process in order to help you get into the school of your choice.