Georgia Tech Campus Tour
A Georgia Tech campus tour is not just about understanding the layout of the campus. It's a behind-the-scenes look into what life is like at the institute, an opportunity to feel the pulse of the campus, and a chance to envision your place in this diverse community. It's about discovering the spirit of innovation that thrives at Georgia Tech, a spirit that drives progress and invites you to be part of the future.
Georgia Institute of Technology, better known as Georgia Tech, is a beacon of academic prowess and technological advancement. Situated in the heart of Atlanta, Georgia Tech is a cornerstone of innovation, creating a dynamic synergy between education, research, and the practical world of technology.
Founded in 1885, Georgia Tech has consistently ranked among the top public universities in the United States. The university's commitment to advanced research, a curriculum driven by technological and scientific discovery, and a distinguished faculty contribute to Georgia Tech's esteemed status. The breadth and depth of programs offered here are a testament to the university's comprehensive approach to education, from engineering and computing to business and design.
A walk through the vibrant Georgia Tech campus is a journey through a rich blend of history, innovation, and culture. Every building, lab, and public space tells a story, providing a glimpse into the past while paving the way for the future. Whether it's the historic Tech Tower, the state-of-the-art Klaus Advanced Computing Building, or the buzzing Student Center, the campus seamlessly weaves different facets of student life together.
So, whether you're a prospective student evaluating universities, a parent seeking the best environment for your child, or a visitor drawn to Georgia Tech's reputation, a campus tour provides valuable insights into this vibrant institution. It gives you a sense of the Georgia Tech community, the lifestyle, the culture, and the traditions that make it unique. A Georgia Tech campus tour is a glimpse into what it means to be a Yellow Jacket, an invitation to explore, discover, and belong.
Is the Georgia Tech campus open to the public?
Is the Georgia Tech campus open to the public? Exploring Georgia Tech is more than a tour; it's a journey into innovation and discovery. The university welcomes visitors and encourages public engagement with a campus that thrives on openness and community. However, like all institutions, Georgia Tech maintains policies to ensure the safety, privacy, and convenience of its students, faculty, and staff.
Georgia Tech's campus is generally open to the public during daylight hours. Visitors can stroll through its spacious green spaces, appreciate the architecture of its historic and modern buildings, or relax near the Kessler Campanile, a campus icon. The paths are well-marked, making it easy to explore the main areas of the campus.
Several facilities are open to the public, including the Clough Undergraduate Learning Commons, which houses art exhibits and offers a rooftop garden with a beautiful view of the Atlanta skyline. The Georgia Tech Library, with its cutting-edge design, is another noteworthy public location.
The Bobby Dodd Stadium, the oldest on-campus stadium in Division I football, is a must-see for those interested in athletics. While access to the field is restricted, the exterior and surrounding areas are open for visitors to explore. Similarly, the McCamish Pavilion, home to Yellow Jacket basketball, is an impressive sight.
Parking at Georgia Tech is visitor-friendly, with paid parking options available throughout the campus. The visitor parking lots offer an hourly rate, and several parking decks are accessible for a daily rate. Check the parking signs and follow the guidelines to ensure a hassle-free visit.
The best times to visit Georgia Tech can vary depending on what you want to see. Weekdays during the fall and spring semesters are ideal for a vibrant and active campus atmosphere. If you prefer a quieter, more relaxed visit, consider weekends or breaks when fewer students are on campus. Regardless of when you choose to visit, Georgia Tech's campus promises an engaging experience filled with the spirit of innovation and progress.
How to experience the Georgia Tech campus tour?
How to experience the Georgia Tech campus tour? A Georgia Tech campus tour is an immersive experience, offering a vibrant insight into life as a Yellow Jacket. Here's a step-by-step guide to making the most of your visit:
Planning and Booking Your Tour
First, visit the official Georgia Tech Admissions website to explore the tour options. Georgia Tech offers a variety of tours tailored to different interests, including general campus tours, group tours, and college-specific tours for those interested in particular academic areas.
You can book your spot online once you've chosen your preferred tour type. The online booking system is easy to navigate and provides real-time availability. Remember that tours can fill up quickly, especially during peak seasons, so booking your tour well in advance is a good idea.
Preparing for the Tour
Comfort should be your priority when preparing for your Georgia Tech campus tour. Wear comfortable walking shoes, as you will cover a significant part of the 400-acre campus. Georgia's weather can be unpredictable, so you should check the weather forecast before your visit and dress accordingly. Carry a water bottle and consider bringing an umbrella or raincoat in case of unexpected showers.
Remember to bring any necessary documentation, particularly if you're a prospective student planning to meet with admissions or departmental staff. This could include a copy of your transcripts, test scores, or any questions you might have about the application process or life at Georgia Tech.
What to Expect on the Day of the Tour
On the day of your tour, aim to arrive early. This gives you time to find parking, check-in for your tour, and take a moment to absorb the atmosphere before your tour begins.
Your tour will likely be led by a current Georgia Tech student, offering you an authentic perspective on life at the university. You'll explore key areas of the campus, learn about its history and culture, and gain insight into academic and student life. Remember, this is your chance to ask questions, so don't hesitate to engage with your tour guide.
Lastly, allow time after your tour to explore further. You might want to visit a particular building, spend more time in a favorite spot, or even sample the local cuisine at a campus eatery.
Taking a campus tour of Georgia Tech is more than just sightseeing; it's about experiencing the community, the innovation, and the buzz of one of America's leading technological universities. Plan your visit, immerse yourself in the experience, and take the first step towards your Yellow Jacket journey.
Does Georgia Tech have a virtual tour?
Does Georgia Tech have a virtual tour? Recognizing the evolving needs of prospective students and visitors, Georgia Tech has embraced technology to provide a comprehensive virtual tour. This interactive experience offers a unique way to explore the campus from the comfort of your home, providing you with a wealth of information at your fingertips.
The virtual Georgia Tech campus tour is an immersive experience that simulates a walk around the campus. It includes 360-degree panoramic views of key locations, academic buildings, student facilities, and recreational areas. Video clips, photos, and informational text are integrated with the visuals that provide a deeper understanding of each location and its significance to Georgia Tech's culture and community.
One of the primary advantages of the virtual tour is its accessibility. Whether you're an international student unable to travel or a resident wanting to explore the campus before visiting in person, the virtual tour is available anytime, anywhere. Furthermore, it offers the flexibility to explore at your own pace, rewind, revisit, and deep dive into areas of specific interest.
The virtual tour complements an in-person visit beautifully. It can be a pre-visit exploration, helping you familiarize yourself with the campus layout and identify areas you'd like to focus on during your physical visit. Post-visit, it's a great tool for reflection and further research.
To access the Georgia Tech virtual tour, visit the university's official website and navigate to the 'Virtual Visit' section. From there, click 'Start Virtual Tour' to begin your journey. You can explore freely or follow the guided tour option, which leads you through a curated selection of campus highlights.
As you navigate the virtual tour, remember it's an interactive experience. Click on icons for more information, watch embedded videos, and don't forget to rotate the view and look around – you never know what you might discover!
Exploring Georgia Tech virtually is a testament to the university's commitment to innovation and accessibility, proving that you can experience the spirit of being a Yellow Jacket no matter where you are in the world.
How long is the Georgia Tech campus tour?
How Long is the Georgia Tech campus tour? Embarking on a Georgia Tech campus tour is a journey of exploration, discovery, and making memories. A Georgia Tech campus tour typically lasts approximately 1 hour and 30 minutes. This allows enough time to visit key areas of the campus, learn about the university's history, academic programs, and student life, and get a sense of the vibrant Georgia Tech community.
However, the exact duration can vary depending on several factors. Group size is one such factor – smaller groups may move more quickly, while larger groups might take more time as more questions and discussions arise. Also, specific areas of interest can influence the tour's length. For instance, if your group is interested in the College of Engineering, you might spend a long time exploring those facilities.
Seasonal events and happenings on campus can also affect the tour's duration. If a special event, sports game, or festival occurs during your visit, there may be more to see and do, which could extend your tour time.
To make the most of your campus tour, here are a few tips:
Plan Ahead: Before your tour, review the campus map and familiarize yourself with the locations you are most interested in. This can help you prioritize your time and ensure you visit your top spots.
Ask Questions: Your tour guide is a valuable resource. Don't hesitate to ask questions about campus life, academic programs, or anything else you're curious about.
Explore Independently: If your schedule allows, plan to explore the campus independently after the official tour. This allows you to revisit any areas of interest or explore places not covered in the tour.
Enjoy the Atmosphere: Beyond the buildings and facilities, take time to soak in the atmosphere. Observe the students, take in the landscape, and imagine yourself as part of the Georgia Tech community.
Remember, the Georgia Tech campus tour is more than a walk around the campus – it's an opportunity to experience what it's like to be part of this prestigious institution. So, enjoy every minute of it!
What can you see at Georgia Tech?
What can you see at Georgia Tech? A tour of Georgia Tech offers an intriguing blend of history, innovation, and vibrant campus life. The sprawling 400-acre campus in the heart of Atlanta brims with notable landmarks, state-of-the-art facilities, and an active community.
Campus Landmarks and Attractions
The iconic Tech Tower is a must-see, symbolizing the university's dedication to advancing technology and education. Its distinctive architecture and historic significance make it a memorable sight.
Another highlight is the Kessler Campanile, an iconic 80-foot-tall stainless steel structure. It represents Georgia Tech's commitment to progress and innovation and's a favorite gathering spot and photo opportunity for visitors.
The campus is dotted with beautiful green spaces for nature lovers, including the lush Tech Green, a popular spot for studying, picnics, and events. The serene EcoCommons offers a tranquil respite amidst the bustling campus.
Art enthusiasts can appreciate the various art installations scattered around campus. The 'Burger Bowl mural, painted by Georgia Tech students, is a favorite.
Academic Facilities and Student Amenities
Georgia Tech is renowned for its cutting-edge research facilities and academic buildings. You can visit various colleges, such as the College of Engineering or Computing, each boasting unique features and state-of-the-art facilities.
The innovative Clough Undergraduate Learning Commons is a hub for studying, collaboration, and innovation. Its technologically equipped classrooms, labs, and study spaces represent Georgia Tech's commitment to providing world-class education.
Student life at Georgia Tech is vibrant and inclusive. The Campus Recreation Center, a transformed Olympic venue, offers excellent recreational facilities. The Student Center is a hub for socializing, dining, and engaging in numerous student activities.
Housing options range from traditional dorms to modern apartment-style residences, each fostering a supportive and dynamic living-learning community.
The Surrounding Community
A dynamic urban environment in the heart of Atlanta surrounds Georgia Tech. Local attractions include the vibrant Midtown district, home to excellent dining and entertainment options. The historic Fox Theatre and the sprawling Piedmont Park are also within easy reach.
Whether you're an academic enthusiast, a nature lover, or someone seeking a vibrant community, a visit to Georgia Tech offers a little something for everyone. It's not just a place to study; it's a place to live, explore, and create lasting memories.
Conclusion
Getting on a Georgia Tech campus tour is an immersive experience that reveals the essence of this renowned institution. From iconic landmarks and cutting-edge facilities to a vibrant campus community, the tour offers a glimpse into what makes Georgia Tech truly special.
Throughout the tour, you'll witness the rich history and architectural marvels that define the campus. You'll explore state-of-the-art academic buildings, student amenities, and green spaces fostering community and innovation. The tour presents an opportunity to engage with the vibrant student life and experience the spirit of progress and collaboration that permeates Georgia Tech.
If you're considering Georgia Tech as your academic home, the campus tour provides invaluable insights into the university's culture, programs, and resources. It allows you to envision yourself as a part of this dynamic community, discovering firsthand how Georgia Tech can shape your academic and personal journey.
The Georgia Tech campus tour is an enriching experience, even if you're not a prospective student. It invites you to explore the intersection of history, technology, and community, offering a unique perspective on Georgia Tech's contributions to the world.
So, whether you're a potential student, a parent, an alumni, or simply curious about this prestigious institution, we encourage you to experience the Georgia Tech campus tour firsthand. Immerse yourself in the vibrant atmosphere, engage with knowledgeable tour guides, and envision the possibilities. Georgia Tech awaits, ready to ignite your passion, expand your horizons, and empower you to make a lasting impact.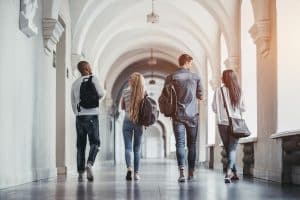 If you're set on getting into a world-class college but aren't sure how to make it happen, we can help! AdmissionSight is a leading college entrance expert with over a decade of experience helping students just like you get into the schools of their dreams.
At AdmissionSight, we focus on offering a wide range of services, all aimed at helping students perfect their applications to catch the attention of admissions officers. Contact us today to schedule a free consultation to learn more about what we offer.