Grad School Interview: Does it Matter?
Importance of grad school interview
What is the importance of a grad school interview? Does it matter? There are several reasons why the graduate school interview is significant. It's the last obstacle in the admissions process, and, more significantly, it's your last opportunity to leave a positive impression.
The interview will provide you the chance to illustrate your worth in terms of the intangibles you alluded to in your essays, resume, and recommendations, as well as to give yourself brand-new depth through a personal connection.
The grad school interview is now more crucial than ever because colleges are requiring (or should we say offering?) fewer and fewer essays each year.
How to prepare for a grad school interview
How to prepare for a grad school interview? Once you know what kind of interview to expect, the process of getting ready is similar to that of a job interview.
Here are some tips on how to prepare for a grad school interview from AdmissionSight to keep in mind:
Read some books. Although you've probably already learned a lot about the institution, reread its website and any notes or printed materials you have on hand to refresh your memory. Learn as much as you can online before visiting the campus or a particular lab or other facilities, and then make a note of any questions you may have.
Additionally, familiarize yourself with the interviewers. Identify their areas of expertise, for instance, if you'll be speaking with a professor. Review a faculty member's CV and any current study they have conducted, if they are a professor you would like to collaborate with. Before meeting with them, think about how you may help with their task.
Practice your interview techniques. The Career Development office at North Central College conducts practice interviews to help students feel more at ease asking and responding to typical interview questions (we'll get into particular questions below). Ask whether the college where you completed your undergraduate studies can assist in organizing a mock interview so you can practice asking specific grad school interview questions.
Body language. You can improve your body language by sitting up straight, smiling, and creating eye contact by visiting career services agencies. The university may examine your behavior not only during interviews but also while you're conversing informally with students, administrative staff, or even your restaurant server. Keep in mind that these abilities will be crucial during all of your encounters on campus. Choosing the correct interview questions for graduate school is important, as is using your body language to communicate with different parts of the business.
Be successful-ready. The majority of experts recommend business attire for interviews. If you don't already have one and are unable to purchase one at this time, search online for businesses that offer discounted business clothes. You might also contact your undergraduate institution. For example, North Central University hosts a "career closet" event where students can browse and try on business attire provided by alumni, instructors, staff, and other friends of the school. The costume that works best for each student can be kept. Pull back your long hair if you want to avoid the temptation to fiddle with it. Depending on what you want to study in graduate school, you may want to cover tattoos or take out body piercings.
Be prepared. Bring a pen and paper so you can take notes before, during, or after the interview. Even if you've already sent your resume or CV electronically, print off multiple copies of them as well. To ensure you get the right spelling of each interviewer's name and an exact email or mailing address for your follow-up thank-you note, request their business cards.
Make a plan. Spend the night before your meeting getting lots of rest. Of course, you should also know how to get there, where to park, and other details before the interview.
Grad school interview questions
Are there frequent grad school interview questions? Interviewers frequently ask identical questions to gauge your personality and attitude, despite the fact that many graduate programs are highly specialized. Your interview responses should highlight your accomplishments and reveal details about you that weren't in your application documents.
Make each response in your graduate school interview distinctive by showcasing your special abilities, motivations, and capabilities. Use these sample questions and answers to help you come up with good answers for your graduate school interview:
1. Please introduce yourself.
This question, which is frequently asked in different kinds of interviews, is intended to foster conversation and assess your capacity for information prioritization. List your significant experiences, interests, values, and accomplishments when composing your response to this graduate school essay topic. Consider how each of these ideas relates to you if you want to be successful in graduate school.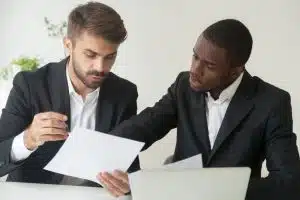 Personalize your responses, be real, and maintain professionalism. Interviewers ask you this question to learn more about your goals and characteristics.
2. How will you contribute to our program?
The advantages you would offer to their program are what graduate school interviewers are most interested in. Academic excellence, accolades, achievements, and publications are just a few examples of things that can benefit a graduate program.
Make sure you properly explore the program and connect your objectives and areas of interest to the department's most recent work before responding to this question. Describe your plan of action if you know what you want to do in your field.
3. What are your professional ambitions?
This is a crucial question during a grad school interview. Graduate schools frequently look for applicants who are ambitious and have a clear concept of what they want to achieve in their area, applicants with career goals
Having a successful career and achieving professional goals can enhance the graduate program's reputation. Additionally, your interviewer will check that the program will help you achieve your academic and professional goals.
4. What areas of study interest you?
This graduate school interview question is an opportunity for you to demonstrate your expertise in the particular field in which you are applying. Discuss your prior research and potential applications of your work when responding to this question. Give reasons for your love for each specialty and give examples of how you have previously followed your academic interests.
According to interviewers, the ideal candidate will likely have a track record of pursuing their research interests.
5. Describe a situation when you failed.
Use the STAR (Situation, Task, Actions, Result) Approach to describe how you dealt with and learned from failure when answering questions about it. Your attitude toward failure and your ability to overcome difficulties will be evaluated by interviewers.
Graduate programs are frequently quite demanding, and students must be dedicated to overcoming setbacks. Use this question to demonstrate your capacity to learn from prior errors, particularly because you are interviewing to join an educational environment.
6. What do you see as your most significant success?
By telling the interviewer about your best achievements, and your proudest moment, you demonstrate to them not only your potential for success but also what you value the most in life. Whatever you decide to highlight as your greatest achievement, connect it to your motivation for enrolling in graduate school and how you want to pursue excellence.
Additionally, give an explanation of why you made the decision you did, so the interviewer can clearly see your basic principles.
7. What are your interests and hobbies?
Here is another common question asked during a grad school interview. Candidates with a wide range of interests and the ability to apply their talents in various settings will be sought after by interviewers. You'll also need interests because graduate school programs can be difficult. This will help you handle stress.
Your interests and pastimes can also draw attention to skills like creativity and cooperation that may not be immediately apparent from a student's academic background.
Use this graduate school interview question to show the interviewer who you are, this is an opportunity to display your personality and establish a connection with the interviewer on a personal level.
8. Why are you interested in our program?
When submitting an application to a graduate program, you should be well aware of the particulars of the program and your reasons for choosing it. Although interviewers are aware that prospects frequently apply to numerous schools, demonstrating an interest in their specific program can help you stand out from the competition.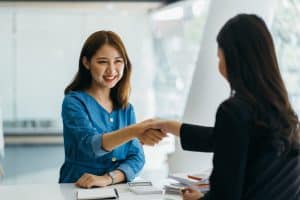 You might be able to persuade the interviewer that you will put in a lot of effort to ensure the success of their program by demonstrating your passion for their principles or approach.
9. What books have you recently read?
This graduate school interview question might reveal your aptitude for learning and intellectual zeal. What you have been reading will help the interviewer determine your intellectual ability and curiosity.
Choose books or articles that you can somehow connect to your academic interests and objectives. Choose a few important books or publications that demonstrate your interest in your field and your personal ideals before your interview.
10. What are your strengths and weaknesses?
During interviews, people who want to go to graduate school are asked this question to see how they think about themselves and how self-aware they are. As a graduate student, you should be very aware of the areas where you need to improve. This is because you will be focusing on improving your academic skills and knowledge.
This question also gives you a chance to describe the advantages you could offer to their program. Be honest in your answer and talk about how you overcame your weaknesses. Also, talk about your strengths.
If you think you will be needing assistance with your grad school interview, think about contacting a seasoned admissions consultant like the experts from AdmissionSight.
We at AdmissionSight have more than ten years of experience helping students navigate the challenging admissions process so they can enroll in the best colleges in the world. Please feel free to schedule a consultation session today.