Harvard Campus Size: A Comprehensive Guide for Aspiring College Students
What is the Harvard campus size?
What is the size of the Harvard campus? The Harvard campus, located in Cambridge, Massachusetts, covers an impressive 5,076 acres or 20.5 square kilometers. Now, that's no small number! To give you a better idea, that's roughly equivalent to 3,862 American football fields or 2,929 soccer fields.
This impressive size comprises various components, including the following:
Main Campus
The main campus of Harvard University occupies about 545 acres. This is where you'll find most of the academic buildings, residential houses, libraries, and athletic facilities.
The main campus is divided into several areas:
Harvard Yard: The historic heart of the campus, covering around 22 acres. It is home to iconic landmarks, such as the John Harvard Statue and the Widener Library, as well as many freshman dormitories, administrative buildings, and classrooms.
Radcliffe Quadrangle: Located just north of Harvard Yard, the Radcliffe Quadrangle, or "The Quad," houses several undergraduate residential houses and the Radcliffe Institute for Advanced Study.
River Houses: Along the Charles River, south of Harvard Yard, you'll find a cluster of residential houses, which are an integral part of the undergraduate residential experience.
Allston Campus: Situated across the Charles River, the Allston campus is home to the Harvard Business School, Harvard Stadium, and the Harvard Innovation Labs. The University also plans to expand its Science and Engineering Complex in this area.
Harvard Forest
The Harvard Forest is a 4,000-acre (16.2 square kilometers) ecological research site located about 70 miles (112 kilometers) west of the main campus in Petersham, Massachusetts. The forest acts as an outdoor laboratory and classroom, allowing students and researchers to conduct long-term studies on various ecological and environmental topics. The forest also provides opportunities for hands-on learning and internships in fields like forestry, ecology, and conservation.
Arnold Arboretum
The Arnold Arboretum is a 281-acre (1.13 square kilometers) living museum of plants, located in the Jamaica Plain neighborhood of Boston. Harvard University manages it and is part of the Emerald Necklace, a network of parks designed by Frederick Law Olmsted. The Arboretum offers a diverse collection of plants, research facilities, educational programs, scenic walking paths, and green spaces for relaxation and enjoyment.
In summary, the Harvard campus size is vast, encompassing not only the main campus in Cambridge but also the Harvard Forest and the Arnold Arboretum. This extensive land area provides students with a wide range of resources, learning environments, and recreational opportunities, making it an essential part of the overall Harvard experience.
How to navigate the Harvard campus?
How do you get around the Harvard campus? Navigating the vast Harvard campus can be an exciting experience for newcomers. While it might take some time to familiarize yourself with the campus, there are several resources and tips to help you find your way around:
Campus Maps
Familiarize yourself with the campus layout using online maps or printed maps available at the information desk in the Smith Campus Center. The official Harvard University interactive map is an excellent resource, providing detailed information on buildings, landmarks, and transportation options.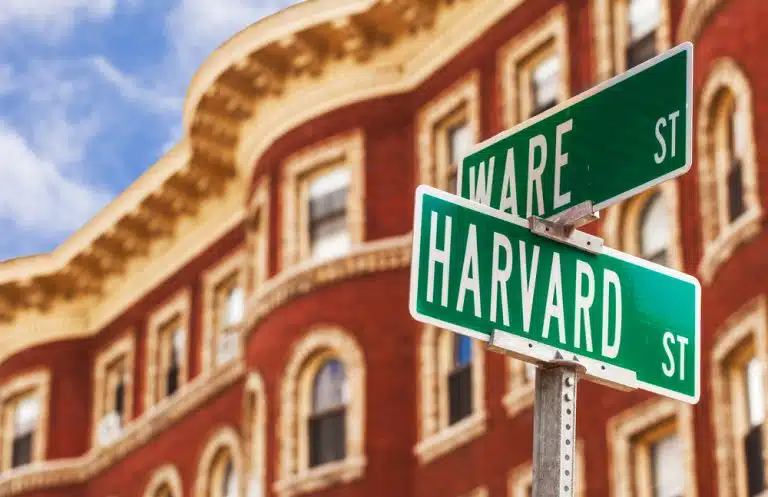 Harvard Mobile App
The Harvard Mobile App, available for iOS and Android devices, offers various features to help you navigate the campus, such as an interactive map, shuttle schedules, and a directory for locating faculty and staff.
Wayfinding Signs
You'll find signs and directories throughout the campus that help guide you to various buildings and areas. Pay attention to these signs as you explore the campus.
Harvard Shuttle
The Harvard Shuttle is a free service that connects various parts of the campus, including the main campus, Allston, and Longwood. Check the shuttle schedule and routes on the Harvard Transportation & Parking website or the Harvard Mobile App.
Public Transportation
The Massachusetts Bay Transportation Authority (MBTA) operates buses and subway lines that connect Harvard with the Greater Boston area. The Harvard Square station on the Red Line is located right next to the campus, making it a convenient option for traveling to and from the University.
Biking and Walking
Many students prefer to walk or bike around the campus. Bike racks are available throughout the campus, and you can also take advantage of the Bluebikes bike-sharing program.
Ask for Help
Don't hesitate to ask for directions or assistance from fellow students, faculty, or staff. The Harvard community is generally helpful and friendly.
Participate in Campus Tours
Attending an official campus tour can be a great way to familiarize yourself with the campus layout and history. The Harvard College Admissions Office offers guided tours led by current students.
Explore
Finally, take the time to explore the campus on your own, as this is often the best way to get comfortable with the layout and discover hidden gems.
By using these resources and taking time to explore, you'll soon become familiar with the Harvard campus and find it easier to navigate.
What is the impact of Harvard campus size on student life?
What effect does the size of the Harvard campus have on student life? The Harvard campus size has a considerable impact on student life, offering numerous opportunities for academic, personal, and social growth. Here are some ways in which the campus size influences the student experience:
Academic Resources
The vast campus allows Harvard to house numerous world-class academic facilities, libraries, and research centers. This provides students with an exceptional learning environment and access to extensive resources to support their academic pursuits.
Diverse Learning Spaces
The campus size accommodates a variety of learning spaces, including classrooms, laboratories, study areas, and outdoor spaces. This diversity allows students to find the perfect environment for their learning styles and preferences.
Social Opportunities
With its large size, the Harvard campus fosters a vibrant social scene. Students can engage in a wide range of extracurricular activities, clubs, and organizations, allowing them to connect with peers who share their interests and passions.
Residential Life
The expansive campus enables Harvard to offer a unique residential life experience, with 12 residential houses and multiple freshman dormitories. These residential communities provide students with a supportive environment, fostering a sense of belonging and camaraderie among peers.
Athletic and Fitness Facilities
The campus size allows for numerous athletic facilities, such as Harvard Stadium, the Malkin Athletic Center, and various sports fields. This enables students to participate in both varsity and intramural sports, promoting physical well-being and teamwork.
Green Spaces and Outdoor Activities
The large campus includes many green spaces, gardens, and the nearby Charles River, offering students opportunities for outdoor activities and relaxation. These spaces provide a balance between academic pursuits and leisure time, contributing to overall well-being.
Cultural Experiences
The Harvard campus is home to numerous museums, galleries, and performance spaces. These venues offer students access to a wealth of cultural experiences, enhancing their understanding of the arts and fostering intellectual curiosity.
Networking and Internship Opportunities
The campus size and location within the Greater Boston area provide students with access to a vast network of professional connections, internships, and job opportunities. This helps students gain practical experience and build a strong foundation for their future careers.
Exposure to Diversity
The large campus attracts students from diverse backgrounds and experiences, creating a rich tapestry of perspectives and ideas. This fosters an inclusive environment where students can learn from one another, challenge their beliefs, and develop a global outlook.
Sense of Independence
The vastness of the campus encourages students to explore, take responsibility for their schedules, and manage their time effectively. This sense of independence prepares them for life beyond college and contributes to their personal growth.
In summary, the Harvard campus size significantly impacts student life by providing a wealth of academic, social, and personal growth opportunities. It fosters a diverse, supportive, and engaging environment that allows students to thrive academically and personally during their time at the university.
Is Harvard's campus size right for you?
Is the size of Harvard's campus appropriate for you? Determining if Harvard's campus size is right for you depends on your personal preferences, learning style, and desired college experience. To help you make an informed decision, consider the following factors:
Educational Resources
If access to extensive educational resources, world-class facilities, and research opportunities is essential to you, Harvard's large campus size may be well-suited to your needs.
Diversity
A larger campus like Harvard typically attracts a diverse student body, exposing you to different cultures, backgrounds, and perspectives. If you value a multicultural learning environment, Harvard's campus size could be an advantage.
Sense of Community
Some students might find it challenging to form close connections in a large campus setting. However, Harvard's residential house system helps foster a sense of community and belonging among students. Consider whether this system aligns with your preferences for social interaction and support.
Urban Environment
Harvard's campus is located within the bustling Greater Boston area, offering access to a wealth of cultural, entertainment, and professional opportunities. If you enjoy an urban environment with plenty of off-campus options, Harvard's campus size and location might be suitable for you.
Independence and Personal Responsibility
Navigating a large campus like Harvard requires independence and effective time management. If you're comfortable taking charge of your schedule and seeking out resources, the campus size could be a good fit for you.
Ultimately, deciding if Harvard's campus size is right for you requires careful reflection on your preferences and priorities. Consider visiting the campus or taking a virtual tour to get a better sense of the environment and facilities. Additionally, talking to current or former students can provide valuable insights into their experiences and help you determine if Harvard's campus size aligns with your vision for your college experience.
In conclusion, understanding the Harvard campus size is crucial in determining if it's the right fit for your college experience. From world-class academic resources to a vibrant social scene and diverse learning environments, Harvard offers unparalleled opportunities for personal and academic growth.
To maximize your chances of gaining admission to this prestigious institution, consider partnering with AdmissionSight. Our team of experienced counselors will guide you through the application process, providing personalized support and expert advice to help you navigate the complexities of college admissions and secure your place in the esteemed Harvard community. Contact us to book your initial appointment.