Harvard Ethnic Breakdown
Harvard is one of the most prestigious universities in the world. It has a diverse student body with students from all over the world, including the United States and many other countries.
In terms of Harvard ethnic breakdown, it has a student body that is quite diverse and reflective of the changing demographics of the United States and the world.
In the lines that follow, we will offer you a slice of information about Harvard ethnic breakdown through its collected data on the class of 2026, how the university provides college access to all ethnicities, what is the Office for Equity, Diversity, Inclusion, and Belonging work at Harvard, and lastly, how diverse Harvard is as a community.
What is the student ethnic breakdown at Harvard?
What is the racial and ethnic makeup of Harvard's student body? Students at Harvard come from all around the United States and the rest of the world. These students come from a variety of backgrounds and have a wide range of abilities and interests.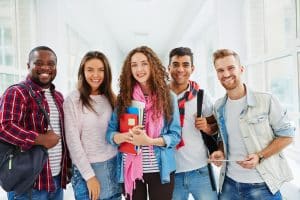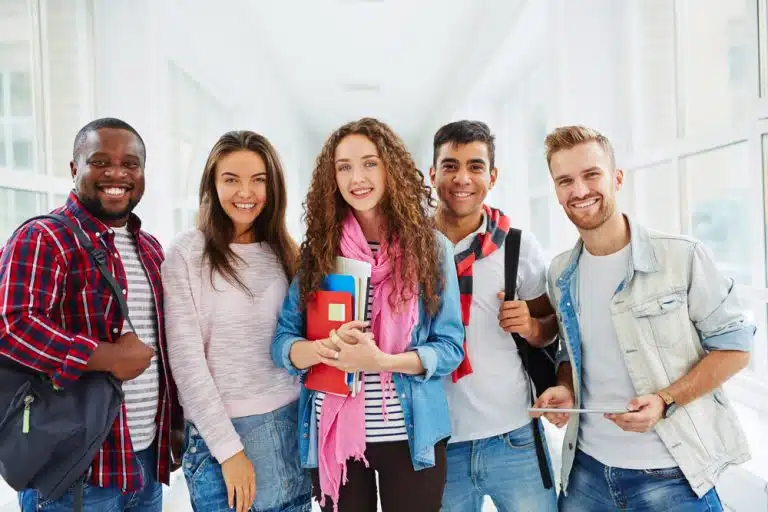 According to data from the Harvard College Office of Institutional Research, in the academic year 2022-2023, nearly 50% of the student body identifies as Asian, Latinx, or African American.
| | | | | | |
| --- | --- | --- | --- | --- | --- |
| Population | Asian American | African American | Hispanic or Latino | Native American | Native Hawaiian |
| Undergraduates | 27.9% | 15.2% | 12.6% | 2.9% | 0.8% |
This data has several implications for the university and for society more broadly. Firstly, it suggests that Harvard is doing a good job of attracting a diverse student body from different ethnic groups.
This is important because a diverse student body helps to create a rich and inclusive learning environment where students can learn from each other and gain a better understanding of different cultures and perspectives.
The data also implies that there is a large and growing population of Asian students in the United States, which is reflected in the high percentage of Asian students at Harvard.
This has implications for the education system and the workforce, as a growing number of Asian students are likely to become leaders in their fields and contribute to the growth of the economy.
Furthermore, the data shows that Black and Hispanic students are also well represented at Harvard, indicating that the university is doing a good job of attracting students from these groups as well.
This is important because it helps to create a more diverse and inclusive society, where different perspectives and experiences are valued and respected.
They bring their skill, their curiosity, and their intelligence with them when they come to Harvard. They also provide their viewpoint on the world, which is an understanding that is inextricably linked to their culture, history, and the experiences they have had.
The end effect is a community that is not just varied and welcoming, but also one in which conversation and argument are not only encouraged, but also unavoidable.
How does Harvard provide college access to all ethnicities?
As we begin to see diversifying Harvard ethnic breakdown, how does Harvard ensure that students of all races may attend the university? They hope to attract students from a variety of backgrounds and beliefs who will learn from and alongside one another.
Integrity, maturity, character strength, and care for others all play important roles in the admissions process. More importantly, they are critical components of a successful Harvard education.
They aim to attract the brightest people to Harvard, regardless of their financial means. Your financial situation will have no bearing on your admissions decision. Neither will be seeking financial assistance.
Furthermore, they cover 100% of documented financial need, allowing as many families as possible to benefit from a Harvard education.
After you've been admitted, the Financial Aid Committee will examine your family's financial need and make you an award to help you fulfill it. Your family's income, assets, and general financial conditions are used to evaluate need.
They will never compel you to take out loans, and they will not consider your home equity or retirement funds when designing your help package. Most significantly, your financial position will have no bearing on your admission to Harvard College.
They understand that each student's financial situation is unique. Your financial assistance specialist will work with you over the four years to understand your requirements and relieve the burden of paying for Harvard.
Other kinds of funding, in addition to Harvard's scholarship monies, include:
Student employment
Optional loans
Outside awards
What is OEDIB at Harvard?
What is exactly OEDIB in the context of Harvard ethnic breakdown? Harvard is dedicated to cultivating an inclusive excellence culture. It is dedicated to creating a campus culture in which everyone may thrive, a significant component of which is ensuring that everyone of us feels a genuine feeling of inclusion and belonging.
The Office for Equity, Diversity, Inclusion, and Belonging aims to ensure that every student feels valued as a part of the Harvard community.
In the goal of inclusive excellence, it supports group decision-making and localized execution.
These activities, in collaboration with stakeholders and partners throughout the university, will exponentially increase the effect of Harvard's equity, diversity, inclusion, and belonging (EDIB) work.
OEDIB sees diversity, equity, inclusion, and belonging as the road to inclusive greatness and creating a campus culture in which everyone may thrive.
They believe that everyone should be able to bring their whole self to campus in pursuit of common goals, regardless of their background, culture, experiences, nationality, religion, sexual orientation, gender, gender identity, gender expression, race, ethnicity, age, ability, political views, or veteran status.
They aggressively seek and invite individuals of color, women, people with disabilities, LGBTQIA people, and others at the intersections of these identities to join us from a variety of disciplines and methodologies.
They work together to foster an atmosphere that celebrates diversity, fosters an inclusive culture, and instills a strong feeling of belonging in every member of the community.
How does a diverse community at Harvard look like?
Given the Harvard ethnic breakdown, what does it look like for Harvard to have a diverse community? The coursework is only the beginning of your education.
Student activities provide one-of-a-kind opportunity to grow beyond one's comfort zone, acquire new skills, and network with other people. Student clubs at Harvard cover a wide variety of topics and cater to a variety of interests.
Student clubs are another great way to expand your social sphere and make new friends. You'll have the opportunity to get to know students whose academic interests are different from your own, or who grew up in places of the world that you haven't traveled to before.
At Harvard, it doesn't matter how far apart your hometowns are; you'll always find something in common with your classmates.
Multicultural Organizations
More than fifty different cultural, ethnic, and foreign student groups may be found at Harvard. Additionally, they have organizations here that are representative of hundreds of religious and political viewpoints.
These organizations host gatherings and activities throughout the year to honor their distinctive identities and the values they uphold.
The fact that they are frequently accessible to all members of the Harvard community contributes to the vibrant culture that exists on campus.
Some of the cultural and racial groups that provide life to the ever-increasing Harvard ethnic breakdown are listed below:
Asian American Brotherhood
In order to develop a deeper feeling of togetherness among Asian Americans in the community and to encourage solidarity without resorting to pressure, the brothers of the Asian American Brotherhood have banded together.
The Asian American Brotherhood aspires to empower both the members of the organization as well as the communities that they are tasked with helping via the promotion of understanding and bonding across racial and ethnic divides.
Eritrean and Ethiopian Students Association
The Eritrean and Ethiopian Students Association (EESA) at Harvard College is a cultural organization devoted to promoting the culture among the community of Ethiopian and Eritrean Harvard College students, the general Harvard community, and all those living in the Boston area. EESA's mission is to reach out to as many people as possible in order to share the heritage.
The organization will strive to foster a sense of community among Ethiopian and Eritrean students enrolled at Harvard by hosting events that focus on socializing, educating, and performing community service.
At the same time, they will work to have a significant and long-lasting effect on the communities in the greater Boston area and across the United States.
Harvard College French Club
The Harvard College French Club was established in 2016, and it serves as a community for any and all students at Harvard who have a connection to the culture of France.
They have a shared appreciation for fine foods and beverages, and they throw parties complete with aperitifs, galettes des rois nights, and raclettes on a regular basis.
They are also here to provide assistance to the larger academic community in France by arranging meetings on campus with French academics or specialists in the field. The community is made up of people from all over the world, which contributes to its rich diversity and inclusive atmosphere.
Spiritual Life
For students of all faith traditions, Harvard provides several opportunities to study religious and spiritual life. There are about thirty chaplains representing many religions from across the world that would hopefully cater to the growing Harvard ethnic breakdown.
Furthermore, student clubs enable you to practice and examine your faith with like-minded individuals. Some of the spiritual groups in the Harvard community are listed here.
Harvard Catholic Center
The mission of the Harvard Catholic Center is to form disciples who use their gifts for the flourishing of the Church and the world through Catholic worship, inquiry, prayer, and service. This mission is accomplished by extending an invitation to the greater Harvard community to grow in a meaningful relationship with Jesus Christ through Catholic worship.
Since 1893, the historic St. Paul's Parish has been home to the Roman Catholic chaplaincy that serves the students, faculty, and staff of Harvard University. You can find us on the edge of Harvard Square.
The thriving community is made up of people from all over the world, including undergraduate students, graduate students, faculty members, staff members, families, and alumni.
Harvard Dharma
Dharma offers members of the Harvard community a venue in which they may learn about and participate in the celebration of Hindu holidays, as well as engage in the study and practice of Hindu principles and traditions and engage in conversation on the South Asian and Hindu experience.
The Hindu notion that one can achieve spiritual progress and fulfillment via any one of a number of different routes is essential to the work that Dharma does. This principle is notably represented in the welcoming atmosphere that is fostered during Dharma's community and social gatherings.
The Harvard Community of Humanists, Atheists, and Agnostics
Undergraduate students at Harvard University who identify as humanists, atheists, agnostics, skeptics, or in any other way as non-religious can join the Harvard Community of Humanists, Atheists, and Agnostics (HCHAA), which is an organization.
They have weekly meetings, maintain an active email discussion group, and occasionally host guest lecturers.
Experience a diverse community at Harvard
Harvard has a diverse student body that reflects the changing demographics of the United States and the world.
This diverse Harvard ethnic breakdown is celebrated and embraced, and Harvard has made a strong commitment to promoting diversity and creating a welcoming environment for all students.
Whether it's through its programs and initiatives, student organizations, or the overall culture of the university, Harvard is dedicated to fostering a diverse and inclusive community.
If getting into Harvard is one of your goals, you should seek the guidance of professionals who work in the subject of college admissions, such as those who work at AdmissionSight, in order to increase your chances of being accepted there.
AdmissionSight has become the most trusted name in the field of college admissions advice as a result of its more than a decade of expertise assisting students just like you in gaining admission to the colleges of their first and second preferences.
Please get in touch with us as soon as you can so that we can schedule an initial consultation that will be provided free of charge.