How to Take AP Courses Online?
How Many AP Courses to Take To Get into A Top University in the US?
The CollegeBoard administers Advanced Placement (AP) Courses, which are first-year college courses that are offered as high school electives. Globally, 38 distinct AP tests in subjects like psychology, art, humanities, science, math, history, and languages are available. AP courses provide a more expedited approach to the standard high school courses to better prepare students for college-level work.
AP classes are different from regular classes in that they are created to help students be ready for a spring standardized test that is created by the CollegeBoard and intended to show a student's understanding of college-level subjects. Read on to learn how to take AP courses online.
What Makes AP Exams Important?
There are numerous benefits to taking Advanced Placement tests. The most obvious justification is that having worked hard all academic year to stay up with the subject in your AP class, you have nothing to lose by taking the test, even if you have any doubts about your ability to understand the material. You can simply decide not to submit the score if you receive one that is below what you require for college, typically a three or lower. As though you had never taken the test.
Excellent AP grades can help you finish college sooner, saving you a ton of money on both your current tuition and your future student debt. You may be able to bring in enough AP credits to complete a semester or perhaps a whole year early, depending on your school's regulations.
Additionally, you can utilize your AP test results to test out of foundational college courses so that you can enroll in more interesting subjects faster. Even if the college you ultimately attend forbids AP course credit from counting toward your bachelor's degree, most educators advise students to take advanced classes as early as possible. For instance, if you were close to fluent in Spanish in high school, you will avoid having to take Spanish 101 in your first year of college, which will save you a lot of frustration.
How Many AP Courses Should I Enroll In?
State institutions often give credit for AP courses, but they won't turn away applicants who don't have any AP credits on their transcripts. Ask yourself which college-level introductory courses you want to finish as a high school student so you can start advanced classes when you start college if your aim is the entrance into a state college.
Take AP classes if you want to, but don't overburden yourself. On college applications, two AP courses with scores of 4 or 5 stand out significantly more than four AP courses with scores of 2 or 3.
Now, how many AP courses to take to get into a top university in the US? You must show that you took the most difficult courses you could in your junior and senior years, including honors classes and AP courses, if you're applying to selective colleges like the Ivy League schools. Again, there is no set amount of AP subjects you must enroll in because the availability of AP courses varies from school to school.
The top 100 schools in the US typically prefer applicants who have completed AP classes in any of the key subjects that are offered, such as English, Mathematics, Science, History, and Foreign Languages (AP Spanish is very popular with college-bound students). It's also advised to enroll in a few extra classes that align with your planned major. In your junior and senior years, aim to take four to eight AP examinations.
Admissions officers also want to see AP courses for essential subjects and supplementary courses for competitive Ivy League schools. If applying to these very elite schools, try to pass seven to twelve AP exams. Admissions officers for colleges look for proof that you took use of your educational chances while still a high school student.
If you're looking for scholarships, keep in mind that the scholarship committees also want proof that you're eager to take tough courses and have the skills necessary to succeed in them. If AP courses aren't available at your school, you might be able to take them online thanks to the growth of virtual learning.
What AP Courses Are the Best to Take?
Colleges are searching for a variety of disciplines, but the greatest AP courses are those that pertain to your field of study.
Think about the following programs:
Biology
Chemistry
Psychology
Computer Science
Economics
Calculus
Statistics
US History
European World History
Where to Take AP Courses Online?
You might ask "Where to take AP courses online?" Finding the correct organization or school for an online AP course is extremely difficult because there are so many predatory online "schools" with poor technological and/or teaching capabilities.
The following schools are each respected, high-quality establishments with years of expertise instructing thousands of satisfied pupils.
 Johns Hopkins CTY
Cost: $1,605 to $1,980
Eligibility: Grades 9-12; required to test at the CTY or Advanced CTY levels
Courses Available: 18 AP courses
Additional information:
Although more expensive than other schools on this list, it provides personally paced and session-based options.
Courses in computer science, economics, government, history of the United States, mathematics, psychology, science, writing, and foreign languages are available.
How to take AP courses online at CTY? Live chats, interactive review sessions, and virtual classroom lectures are all examples of teaching techniques.
Northwestern CTD
Cost: $700 to $1,215
Eligibility: Grades 9-12; 95th percentile on any normed, standardized achievement exam; and a required admissions portfolio
Courses Available: 24 AP courses
Additional information:
Enrollment is open to all students, and courses start on the 15th of each month.
Courses range from AP World History to AP Biology. Includes certain courses that are difficult to find online like AP Latin, AP Physics C, and AP Computer Science A.
By obtaining "personalized guidance from expert instructors," you can study at a faster rate.
Florida Virtual School
Cost: Non-residents – $475; Residents – Free
Eligibility: Grades 9-12; with various prerequisites for each course
Courses Available: 15 AP courses
Additional information:
FLVS provides courses in biology, calculus, English, environmental science, geography, economics, psychology, statistics, U.S. government, and history.
The Computer Science A program has been operating for a while and gets generally positive feedback from students.
Course lengths range from 16 to 36 weeks.
UC Scout
Cost: $399
Eligibility: Open; some courses require prerequisites
Courses Available: 26 AP courses
Additional Information:
Provides a staggering selection of courses in history/social science, English, math, physics, languages other than English, visual and performing arts, and computer science.
One of the few institutions that offer AP Art History and AP Music Theory online.
Founded by the University of California in 2013; curricula are in line with what students must have completed in high school to be admitted to a UC campus.
National University Virtual High School
Cost: $395
Eligibility: Open; some courses require prerequisites
Courses Available: 16 AP courses
Additional Information:
How to take AP courses online at NUVHS? You can finish courses at your own pace, although instructors are always available.
AP courses must be finished in at least 8 weeks.
While NUVHS does offers a decent selection of social science courses, no hard science nor computer science are offered here.
Pennsylvania Homeschoolers
Cost: $625 to $875
Eligibility: Open
Courses Available: 25 AP courses
Additional Information:
The same highly competent professors teach many of the courses each year.
You can research your instructor in advance and, in many cases, choose from a variety of sections and instructors for each course.
The courses AP Studio Art – Drawing, AP Studio Art – 2D Design, and AP Latin are difficult to find.
The Potter's School
Cost: $550–$695
Eligibility: All students in the 11th and 12th grades; some courses are open for 10th graders
Courses Available: 20 AP courses
Additional Information:
Many teachers hold doctoral degrees.
Read the complete curriculum and everything there is to know about the teacher before enrolling in the course.
Most of the semesters last from late August to early May.
VHS Learning
Cost: $975
Eligibility: Open
Courses Available: 24 AP courses
Additional Information:
There are typically 21 pupils in each class at VHS Learning.
Within 24 hours, teachers must react to questions from students.
Calc AB, Calc BC, AP Latin, Physics C, and AP Music Theory are among the courses that are available.
How Do AP Online Courses Operate?
How to take AP courses online? Online AP classes are quite like traditional AP coursework. You have an instructor, are given a syllabus, are expected to read and do your homework, listen to or read lectures, take examinations, etc. The distinction is that the course is taken online, at home, or at school.
A well-designed online course combines conversations, presentations, audio, video, and animations. Online, through email, and occasionally over the phone, professors and students can communicate with one another.
How Can I Find AP Courses Online?
Learn about the AP alternatives that are offered at your high school. Many high schools buy or rent AP online courses from for-profit organizations. Ask your teacher or guidance counselor about how to take AP courses online and suggestions if your school is not a part of the program.
Consider state-based initiatives. There are "virtual academies" in most states that provide online courses, including AP. For more information, go to the website of the state department of education.
Think about the programs that colleges and institutions provide. Online learning programs that incorporate AP courses are offered by some universities, including the University of California. Frequently, students must pass a qualifying exam or be a resident of the state in order to qualify for these programs. Make sure you are eligible by checking with the program or your counselor.
What Must You Understand Regarding an Online AP Course?
Will an instructor be in charge of the class? An instructor with subject-matter expertise should be in charge of a quality online course. You should be able to reach the teacher frequently for assistance with any academic concerns.
Will you have access to technical support when you need it? If you encounter any administrative or technical issues, the course provider ought to be accessible to help you right away.
Are you eligible for high school credit? To ensure that you will receive credit for your work, check with your high school.
What is the price? Online AP classes range in price. Some service providers provide courses without charge, while others do. The cost of textbooks and course materials is frequently distinct.
Has the College Board approved the course? All AP tests are developed by and all AP courses are approved by the College Board. To ensure that your course is approved, contact your counselor or the College Board.
What technological prerequisites exist? What hardware and software prerequisites are necessary? Do you have to use a specific operating system, web browser, plug-in, or media player, or stay away from them?
Can You Study for AP on Your Own?
Colleges value APs highly, and students frequently use them to highlight their strong points. However, you could be thinking about whether you should self-study for AP examinations owing to uncertainties like school closings because of COVID-19 or because your school doesn't offer courses on the subjects that interest you the most.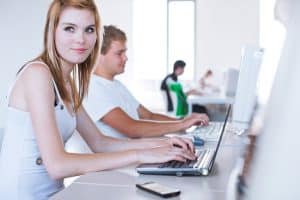 Now, can you study for AP on your own? Self-study for AP examinations is unquestionably a brave decision. If a particular subject is not taught at their school, many students might elect to take the risk, and it can show admissions officers that they have skills in that area. Of course, not all AP examinations are as simple to study for independently.
If you're debating whether to study alone for exams like the AP Environmental Science, AP Psychology, or AP Human Geography, you should know that these disciplines are typically simpler to comprehend on your own than classes like AP Calculus, AP Physics, or AP Chemistry.
Another reason you might choose to self-study for the AP exams is if you believe you have a lot of time on your hands. A high school student's schedule is jam-packed with classes, studying for exams, extracurricular activities, and more. Additionally, it's wonderful if you think you'll have time to squeeze in extra studying outside of your normal class hours.
Why Self-Study for the AP Exams May Not Be the Best Option
It's crucial that you only take the AP tests for which you are registered at your school if you don't have much time on your hands. Do not attempt to self-study for AP examinations as extra scores are typically not considered to be a smart use of your time. You won't stand out with even a few more extra 5-star ratings. It would be far better to put that time to use improving your neighborhood.
Additionally, since your professors have a lot of experience, studying with an instructor will help you learn more quickly and effectively. This method is far different from how to take AP courses online. Also, letters of recommendation could not be provided if you haven't directly learned from a certain instructor.
Advice on How to Decide Whether to Self-Study
Examine Past Classes and Performances.
As you choose which AP course to self-study, consider the courses in which you did particularly well during your freshman or sophomore year. It will get harder and harder to self-study for AP Physics or Chemistry if you're not a particularly strong STEM student. On the other hand, AP Biology can be the best option if you have a particularly strong memory.
Consider Your Future Plans.
Carefully before selecting whether or not to self-study for the AP examinations. What subject do you intend to major in when you enter college? Do you have a career goal? What academic fields are you most interested in? You may choose the route you want to go by asking these questions yourself. A wonderful method to demonstrate your talent if you want to major in environmental science in college is to do well in AP Environmental Science.
Think About Whether It Will Give You A Balance.
Self-studying might be a smart idea if the courses offered by your institution lean too heavily toward one particular topic. Every AP course isn't offered at every institution. As a result, it's not uncommon for your school to offer many more AP STEM alternatives than history. Admissions committee members will want to know that you have interests outside of your chosen field. Colleges are interested in knowing if you succeed in your chosen subject, but they are also interested in learning about your abilities in other fields.
Therefore, you should think about self-studying if passing an exam for a class that isn't offered at your institution demonstrates that you have a decent balance in terms of your understanding of course materials.
After we have discussed how to take AP courses online, it's time to decide whether you will take AP classes online or choose to do self-study.
You can give colleges your transcript, which includes a letter grade and verifies that you took the AP-level course if you enroll in an accredited online AP course.
The College Board does not, however, mandate that you take a course before you can sit for the AP exam in that field. This indicates that you are free to self-study, i.e., use materials like books, lecture videos, and websites to be ready for the test independently.
Either way, AdmissionSight is here to help. With extensive experience from college preparations to graduate school admissions, AdmissionSight offers programs and tutorials for students who need assistance. Feel free to book an initial consultation to start your admissions journey