Rice vs Bates: A Comprehensive Look at the Two Universities
If you're considering attending college, you might be weighing the pros and cons of various institutions. Two highly respected universities that attract students from all over the world are Rice and Bates. While both institutions offer rigorous academics and extracurricular opportunities, there are some differences between them that could make one a better fit for you than the other. This article will take a comprehensive look at Rice vs Bates, comparing the two universities across several categories to help you make an informed decision.
Introduction: Why Compare Rice and Bates?
Choosing a university can be a daunting task, especially if you're considering attending two institutions that are so unique and well-respected. That's why we're comparing Rice and Bates, which are both institutions that offer high-quality education in very different settings. To get a better idea of which university might be best for you, let's dive into a comprehensive comparison of these two institutions.
While both institutions offer excellent academic programs, they have distinct differences in their campus culture, student life, and location. By comparing these two institutions, we hope to provide you with a better understanding of what each university has to offer and help you make an informed decision about your future education.
History and Background of Rice University
Located in Houston, Texas, Rice University was founded in 1912 and has a long history of academic excellence. The university is known for its strong science and engineering programs, and for its close-knit community of students and faculty. Rice is also home to the Baker Institute for Public Policy, which is a think-tank that works on issues of domestic and international policy.
In addition to its academic and research programs, Rice University is also known for its beautiful campus. The campus spans over 300 acres and features a mix of historic and modern architecture. One of the most iconic buildings on campus is Lovett Hall, which was built in 1912 and serves as the university's administrative center. The campus also includes several green spaces, including a large central quad and a peaceful reflecting pool. Students can often be found studying or relaxing in these outdoor areas, enjoying the natural beauty of the campus.
History and Background of Bates College
Bates College is a private liberal arts college located in Lewiston, Maine, and was founded in 1855. The college has a strong tradition of academic excellence and emphasizes interdisciplinary approaches to learning. Bates is known for its commitment to access and social justice, and for its close-knit community of students and faculty. The college is also committed to sustainability and has made significant strides in this area in recent years.
Bates College has a rich history of promoting diversity and inclusion. In 1944, the college became one of the first in the United States to admit African American students, and in 1984, it established the Multicultural Center to support students from diverse backgrounds. Today, Bates continues to prioritize diversity and inclusion, with initiatives such as the Office of Equity and Diversity and the Harward Center for Community Partnerships.
In addition to its academic and social justice commitments, Bates College also has a strong athletic program. The college is a member of the New England Small College Athletic Conference (NESCAC) and offers 31 varsity sports teams. Bates has a long-standing rivalry with nearby Colby College, and the annual Bates-Colby football game is a highly anticipated event in the region.
Location and Campus Setting: Rice vs Bates
The two universities differ greatly in terms of their location and campus settings. Rice is located in a major metropolitan city, Houston, which is a hub of industry and commerce. The campus is urban and modern, with sleek architecture and cutting-edge facilities. Bates, on the other hand, is located in a small town in Maine and has a more traditional New England campus setting, with historic brick buildings, sprawling green lawns, and a close-knit community.
Despite their differences, both Rice and Bates offer unique opportunities for students. Rice's location in Houston provides students with access to a diverse range of cultural experiences, including museums, theaters, and music venues. Additionally, the university has strong connections with local businesses, providing students with internship and job opportunities.
Bates, on the other hand, is located in a picturesque town surrounded by natural beauty. The campus is situated near several state parks and hiking trails, providing students with opportunities for outdoor recreation and exploration.
Another difference between the two universities is their student population. Rice has a larger student body, with over 7,000 undergraduate and graduate students, while Bates has a smaller student body of just over 1,800 students. This difference in size can impact the overall campus culture and student experience. At Rice, students may have more opportunities to meet a diverse range of people and participate in a wider variety of activities, while at Bates, students may benefit from a more intimate and personalized learning environment.
Academics: Rice vs Bates
Both Rice and Bates offer rigorous and highly respected academic programs. Rice is known for its strong STEM programs, including bioengineering, computer science, and applied physics. Bates has an excellent undergraduate liberal arts program, with a focus on interdisciplinary studies.
Both institutions have impressive faculty members who are well-respected in their fields, and both offer state-of-the-art facilities to support student learning. The curriculum at both Rice and Bates is challenging and provides students with a strong foundational education.
Additionally, Rice University offers a variety of unique academic programs, such as the Shepherd School of Music, which is consistently ranked as one of the top music schools in the country. Rice also has a prestigious School of Architecture, which offers a five-year Bachelor of Architecture program. Bates College, on the other hand, has a strong emphasis on community-engaged learning, with opportunities for students to participate in service-learning projects and internships that connect them with local organizations and businesses.
Furthermore, both Rice and Bates have robust research opportunities for undergraduate students. Rice has a number of research centers and institutes, including the Baker Institute for Public Policy and the Smalley-Curl Institute for Nanoscale Science and Technology. Bates has a strong commitment to undergraduate research, with opportunities for students to work closely with faculty members on research projects in a variety of fields, including neuroscience, environmental studies, and economics.
Student Body: Rice vs Bates
At both Rice and Bates, you can expect to find a diverse and dynamic student body. Rice has approximately 7,000 undergraduate and graduate students, with a fairly even split between male and female students. Bates College has around 2,000 students, with a slightly higher proportion of female students.
Both institutions have competitive admissions processes, with Rice being slightly more selective than Bates. The retention rates at both universities are high, which is a testament to the quality of education and the supportive nature of the respective communities.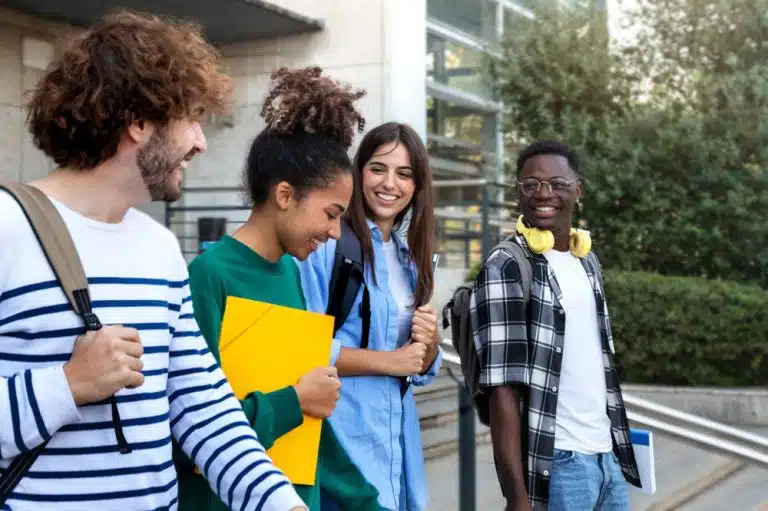 In addition to gender diversity, both Rice and Bates also have a significant international student population. At Rice, international students make up around 14% of the student body, while at Bates, the number is slightly lower at 10%. This diversity adds to the richness of the academic and social experiences at both institutions.
Furthermore, both Rice and Bates prioritize creating a welcoming and inclusive environment for all students. They offer a range of resources and support services, including counseling, academic advising, and student organizations, to ensure that every student feels supported and valued. This commitment to student well-being is reflected in the high retention rates at both universities.
Campus Life: Rice vs Bates
Both Rice and Bates offer students a wealth of opportunities for extracurricular activities, from student organizations to sports teams and community service groups. Rice has a well-respected athletic program, with 14 Division I sports teams, while Bates is known for its strong commitment to social justice and community service.
Both universities offer excellent dining options, with a wide variety of healthy and delicious options to choose from. Student housing at both institutions is comfortable and spacious, with a range of options available to suit different preferences and budgets.
Additionally, both Rice and Bates have a vibrant arts scene, with opportunities for students to participate in theater productions, music ensembles, and visual arts exhibitions. Rice has a state-of-the-art music building and a renowned theater program, while Bates has a dedicated arts center and a strong tradition of student-led performances.
For those interested in outdoor recreation, both universities are located in beautiful natural settings. Rice is situated in the heart of Houston, with easy access to parks and outdoor spaces, while Bates is located in the scenic town of Lewiston, Maine, with nearby hiking trails and waterways for kayaking and canoeing.
Career Opportunities and Outcomes for Graduates: Rice vs Bates
Graduates of Rice and Bates alike are well-prepared for success in their chosen fields. Rice graduates have gone on to work for a range of prestigious companies, including Google, McKinsey, and Goldman Sachs. Bates graduates have gone on to pursue a range of careers, from politics to finance and education. Both institutions have strong alumni networks that are committed to supporting recent graduates and helping them achieve success in their chosen fields.
In addition to the strong alumni networks, both Rice and Bates offer a variety of career services to their students and graduates. These services include resume and cover letter reviews, mock interviews, and networking events. The career centers at both institutions also provide access to job and internship postings, as well as career fairs and workshops.
Furthermore, both Rice and Bates have a strong commitment to experiential learning, which allows students to gain hands-on experience in their chosen fields. Rice offers a variety of internships, research opportunities, and study abroad programs, while Bates has a unique program called the Purposeful Work Initiative, which helps students connect their academic studies to their career goals and provides funding for internships and research projects.
Alumni Networks and Giving: Rice vs Bates
Rice and Bates both have strong and active alumni networks, which provide opportunities for graduates to connect with one another, stay informed about university news, and give back to their respective communities. Both universities offer opportunities for alumni to get involved as volunteers, mentors, and donors, and are committed to building a strong and supportive network of graduates.
Additionally, both Rice and Bates have dedicated staff and resources to support their alumni networks and encourage giving. Rice's Office of Alumni Relations offers a variety of programs and events throughout the year, including regional alumni chapters, career networking opportunities, and reunion events. Bates' Alumni and Parent Engagement team provide similar resources, including career services, regional events, and opportunities to connect with current students.
Rankings and Reputation: Rice vs Bates
Both Rice and Bates are well-regarded institutions that consistently receive high rankings in national and international surveys. Rice is consistently ranked as one of the top 15 universities in the United States by U.S. News and World Report, while Bates is ranked among the top 25 liberal arts colleges in the country. Both institutions are also well-respected internationally, with a global reputation for academic excellence and innovation.
One area where Rice stands out is in its research programs. The university is home to several prestigious research centers and institutes, including the Baker Institute for Public Policy and the Rice Space Institute. These centers attract top researchers from around the world and contribute to Rice's reputation as a leader in cutting-edge research.
Meanwhile, Bates is known for its strong commitment to community service and social justice. The college has a long history of promoting civic engagement and has been recognized for its efforts to create a more just and equitable society. Bates students are encouraged to get involved in community service projects and many go on to pursue careers in public service or non-profit organizations.
Financial Aid, Scholarships, Tuition Fees, and Cost of Attendance Comparison
Attending college can be expensive, but both Rice and Bates are committed to making education accessible to all qualified students. Both institutions offer financial aid packages to help offset the cost of tuition, with Bates offering a range of merit-based and need-based scholarships. Rice is more expensive than Bates in terms of tuition fees and cost of attendance, but offers generous financial aid packages to students who demonstrate financial need.
It is important to note that the process of applying for financial aid and scholarships may differ between Rice and Bates. Rice requires students to submit the CSS Profile in addition to the FAFSA, while Bates only requires the FAFSA. Additionally, Bates has a "no-loan" policy, meaning that all financial aid packages consist of grants and work-study opportunities, rather than loans that need to be paid back.
Rice also offers work-study opportunities but may include loans in their financial aid packages. It is important for students to carefully review the financial aid policies and requirements of each institution before making a decision on where to attend college.
Conclusion: Which University is Better for You? Factors to Consider Before Choosing
Choosing a university is a highly personal decision that depends on a variety of factors. Before making your decision, it's important to consider what's most important to you in terms of location, academic programs, campus culture, extracurricular activities, and overall fit. By taking a comprehensive look at Rice and Bates, we hope we've provided you with the information you need to make an informed decision and find the university that's right for you.
However, it's important to remember that choosing a university is not just about finding the "best" one. It's about finding the one that is the best fit for you and your unique goals and needs. Don't be afraid to reach out to current students, attend virtual events, or visit campuses (when it's safe to do so) to get a better sense of what each university has to offer. Ultimately, the decision is yours and should be based on what you feel is most important for your personal and academic growth.
Want to learn more about getting into College? You've come to the right place. At AdmissionSight, we have over 10 years of experience guiding students through the competitive admissions process.
AdmissionSight can help you put your best foot forward when applying to college this fall. Contact us today for more information on our services.