Saint Louis University Acceptance Rate
Saint Louis University (SLU) is a Jesuit research university that is both private and located in St. Louis, Missouri in the United States. It also has a campus in Madrid, Spain. Saint Louis Institution was established in 1764 and is currently the oldest university west of the Mississippi River. It is also the second-oldest Jesuit university in the United States. In the year 1818, Louis William Valentine DuBourg was the one who established it. It is one of the 27 colleges and universities that are members of the Association of Jesuit Colleges and Universities, and because the Saint Louis University acceptance rate is competitive, it is usually included on lists of the best colleges in the country since. Additionally, it is frequently ranked among the top five Jesuit universities in the United States.
Accreditation for the university was bestowed on it by the North Central Association of Colleges and Secondary Schools. At the start of the 2021–2022 academic year, with its competitive Saint Louis University acceptance rate, there were 12,883 students registered at SLU. The student population consisted of 8,138 undergraduate students and 4,745 graduate students from 82 different nations and all 50 states of the United States. The Carnegie Classification of Institutions of Higher Education places the University in the Research II category of institutions of higher education.
Students at Saint Louis University, which is one of just nine Catholic universities with a "higher" or "highest" research activity accreditation, are given the opportunity to work alongside faculty mentors on innovative research while also gaining practical experience. Students don't just think about how to solve today's most difficult challenges; they actively work to make those answers a reality, doing everything from building systems to filter arsenic contamination out of the water to finding novel ways to bring fresh food into low-income communities.
Over the course of more than half a century, the educational institution has kept a campus in Madrid, which is located in Spain. The Madrid campus was the first freestanding campus to be administered by an American university in Europe. It was also the first American institution to be recognized as an official foreign university by Spain's higher education authorities.
The campus has a total enrollment of 850 students, 110 teaching staff members, an average class size of 17 students, and a student-to-faculty ratio of 12 to 1. 788 students out of a total of 12,883 attend classes at the Madrid Campus. These students come from 45 different nations, making up the total number of countries represented by students.
So, what is Saint Louis University acceptance rate? Saint Louis University is a university that is considered to be of a moderately competitive level according to its acceptance rate of 58%. Saint Louis University had a total enrollment of 12,281 students in 2021, with students coming from all 50 states in the United States as well as 72 other countries. the Saint Louis University acceptance rate is only 70% due to the university's highly difficult admissions process. At Saint Louis University, the deadline for submitting an application is ongoing.
The grade point average of a prospective student is given a great deal of weight by the admissions committee at Saint Louis University. Saint Louis University's admissions officers do not take into consideration an applicant's high school class rank; however, they do take into consideration the applicant's letters of recommendation.
What GPA do you need to get into Saint Louis University?
A candidate's chances of being accepted into the college of their choosing can be improved as well as their ability to stand out from the crowd by maintaining a high-grade point average (GPA). Notably, Saint Louis University places a premium on having a strong grade point average as one of the criteria for admission. So, what GPA do you need to get into Saint Louis University?
The grade point average (GPA) you earned in high school is a figure that represents how well you did academically while you were enrolled in high school. Colleges may take either a weighted or unweighted grade point average into consideration when making admissions decisions.
An unweighted grade point average is calculated by taking the average of all of your results on a scale from one to four for each class. 4.0. Unweighted grade point averages might range anywhere from 4.0 to below 1.0. When calculating your weighted GPA, your average grade as well as the level of difficulty of your classes are taken into consideration. A weighted grade point average (GPA) raises your overall score by giving you more credit for courses that are designated as honors or advanced placement.
Additionally, the suggested Saint Louis University acceptance rate, candidates are required to have grade point averages of 3.50 or higher during their time in high school. It is important to note that the grade point average (GPA) of applicants who are accepted into SLU is 3.90 on average. The applicants are responsible for a number of things, one of which is having a solid understanding of the admission requirements. These requirements include being aware of the necessary documents as well as the information that is considered when admission decisions are made at Saint Louis University.
A class rank was submitted by 29.26% of all of the students who were accepted into the program. At Saint Louis University, 39% of students graduated in the top 10% of their high school class, 70% graduated in the top 25%, and 91% graduated in the top 50% of their class.
In addition to submitting an application to the university, prospective students are obligated to hand in a selection of critical supporting materials. They consist of the grade point average earned in secondary school, a record from secondary school, and admission test scores (SAT/ACT). In addition to this, applicants are strongly encouraged to submit additional documentation, such as proof of completion of a college preparatory program, in order to be considered for admission.
What's a Good SAT Score for SLU?
Aside from a competitive GPA, what's a good SAT Score for SLU applicants? With the Saint Louis University acceptance rate discussed above, the admissions committee at Saint Louis University also takes into account the candidates' SAT scores while making their decision. You should aim to get a score on the SAT that is between 1240 to 1430, or higher, in order to be competitive with other applicants to Saint Louis University.
At Saint Louis University, one-quarter of accepted students have a score of more than 1430, and one-quarter have a score of less than 1240, although the majority of students have a score that falls somewhere in the middle of these two numbers. The average total SAT score for a Saint Louis University student is 1326.
25 percent of students at SLU received a score of 720 or higher or higher on the SAT math section, while 75 percent of students received a score of 620 or higher or higher. 25% of Saint Louis University students received a score of 710 or higher on the SAT Critical Reading portion (which was originally known as the Verbal part), and 75% had a score of 620 or higher.
Admission Requirements
What are the admission requirements for SLU? The commitment of the Saint Louis University community to service and social justice is inspired, in part, by the Jesuit heritage. SLU was the first institution to be named to the President's Higher Education Community Service Honor Roll for nine years in a row. In addition to having the designation of "character-building college," SLU was the first university to receive this honor. Students help their neighbors by preparing meals in the Campus Kitchen, donating their time at student-run medical and legal clinics, and collaborating with hundreds of neighborhood organizations to provide needed services.
Reflecting on the Saint Louis University acceptance rate, an education at Saint Louis University not only provides graduates with the skills necessary to be successful in their careers but also with the wisdom necessary to lead lives that have meaning and purpose. Alumni of Saint Louis University have gone on to become mayors of major cities, been instrumental in sending humans to the moon, directed Hollywood blockbusters, and collaborated with Mother Theresa.
You are strongly encouraged to submit your application to Saint Louis University by using the university's free online application system. Every application receives a comprehensive evaluation that is conducted with the utmost attention to detail and concern for each applicant. Here is what Saint Louis University is looking for:
Academic Performance
When we evaluate your application for admission as a freshman, one of the most important factors we look at is your academic success in courses that prepare students for college.
You need to be graduating from high school, have an appropriate score on the HiSET exam, or be willing to take the General Education Development (GED) test in order to be considered for enrollment.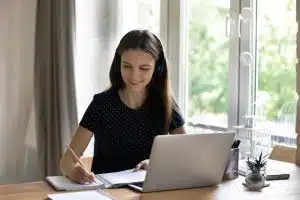 In addition, prospective students are strongly encouraged to present a curriculum consisting of five academic courses for each of their four years of high school, including the following:
Four years each of English and mathematics
Three years each of foreign language, natural sciences, social sciences, and academic electives
The Doisy College of Health Sciences requires students to have completed courses in biology and chemistry in their senior year of high school in order to participate in certain academic programs. Candidates for physical therapy should give serious consideration to taking physics.
If you completed Advanced Placement, Dual Enrollment, or 1818 classes while you were still in high school and earned college credit as a result, please go to the Advanced Placement Examination Chart for more information about transferring those credits to Saint Louis University.
Standardized Testing
Although knowing the Saint Louis University acceptance rate, Standardized test scores are not required for admission into any of Saint Louis University's undergraduate programs. Applicants may choose to submit their scores, but those who do not do so will not be penalized in any way during the admissions process.
Applicants who opt to include their ACT and/or SAT scores in their application have the option of either having the results provided electronically from the testing provider or including them on official high school transcripts. Additionally, self-reported scores will be taken into consideration. If several test results are received, SLU does not superscore.
English Language Proficiency
It is expected of international applicants to provide evidence that they are proficient in the English language. This can be accomplished by providing any one of the following options:
550 on the paper-based TOEFL (PBT)
80 on the internet-based TOEFL (IBT)
627 on the TOEFL ITP Plus for China
6.5 on the IELTS
54 on the PTE
540 on the Evidence-Based Reading/Writing portion of the SAT
21 on the English portion of the ACT
Successful completion of a college-level, non-ESL English class at a U.S. college or university
110 on Duolingo
SLU retains the authority to demand additional English proficiency tests from any prospective student and reserves the right to do so. In addition, scores are regarded as accurate for a period of two years.
Additional Documentation
In order for us to process your application for admission, we require that you send us the following items. Your application will not be reviewed until after we have received all of the required information.
Official High School Transcripts
The website used to apply for admission to Saint Louis University requires that transcripts be sent digitally by the issuing university or institution. There will be consideration given to both the weighted and unweighted grade point averages.
In order to be considered for Early Decision admission to our nursing, occupational therapy, or physical therapy programs, all supporting documents must be sent by the 30th of November at the very latest. In order to be considered for Early Decision II, Early Action, or Regular Decision for admission to these programs, all supporting documents must be sent by January 12 at the very latest.
Additional Items for Consideration
The following items are greatly encouraged but not essential for entry even if they are not required. Please take note that all submissions must be sent in an electronic format, as directed by the website for the SLU.
Secondary School Report Form. The Secondary School Report Form should be completed by your high school guidance counselor.
Professional Résumé. Résumés may be submitted via email which should include your name, state, and high school on your résumé.
Letters of recommendation. Letters should be emailed from the recommender to the admission website and must include your name, state, and high school.
Admission Interview. To set up a one-on-one admission interview on campus, contact the Office of Admission and ask to speak to a visiting assistant.
Personal Essay. All applicants for freshman admission must submit a personal essay when they apply through the Common Application or through the SLU online application.
Admissions Chances
The admissions pool at Saint Louis University is highly demanding, requiring students to have SAT/ACT scores and GPAs that are above average. This is reflected in the Saint Louis University acceptance rate. However, Saint Louis University also uses a comprehensive admissions process that takes into consideration a variety of additional variables in addition to your GPA and test results. Your candidacy may be strengthened by your participation in significant extracurricular activities, as well as by a well-written and compelling application essay and a challenging course schedule.
Applicants at Saint Louis University are strongly encouraged to send in a report from their secondary school, a professional resume, and letters of recommendation, even though it is not needed. Interviewing prospective students for admission is something that the university highly encourages candidates to do. Even if a student's grades and test scores fall outside of the typical range at Saint Louis University, they may still be given significant consideration if they have a really engaging story or have accomplished something exceptionally noteworthy.
Want to learn more about getting into Saint Louis University? You've come to the right place. At AdmissionSight, we have over 10 years of experience guiding students through the competitive admissions process.
AdmissionSight can help you put your best foot forward when applying to college this fall. Contact us today for more information on our services.