Stock Trading Schools
Trading stocks may be an enjoyable activity. A deeper comprehension of the process of purchasing and selling shares in firms in an effort to capitalize on fluctuations in stock prices is required. Attending a stock trading school may be the best option for you at this point in time.
Numerous schools provide stock trading education. Read on to learn about some suggestions for stock trading schools, plus needed skills and degrees for trading.
What are the best stock trading schools in the US?
Where can one find the most reputable stock trading schools in the United States? You have the option of taking a class that teaches you the core information through video modules or one that emphasizes more hands-on interaction between you and the professor, depending on your preferences and the requirements of the course.
You might only need to strengthen your foundation and learn the basics of stock trading, and you might be able to locate classes that are either inexpensive or free.
Depending on your needs, the following is a list of some of the top schools for trading stocks, in our opinion:
1. How to Trade Stocks by Benzinga
The How to Read Charts and Make Trades course is Benzinga's flagship offering, and it will teach you the fundamentals so that you can learn how to read charts and make profitable trades in the market using straightforward, straightforward tactics.
You will also discover why you should trade, how to choose a broker, trading methods, price studies, technicals, and indicators, how to construct a strategy and trading plan, and learn about trading psychology. All of this information will be provided to you.
In a methodical manner, the lesson might be of assistance to you in achieving success.
2. The Complete Foundation Stock Trading Course by Udemy
On Udemy, you can learn The Complete Foundation Stock Trading Course for for $12.34. This course will help you comprehend the fundamentals of the stock market.
You'll also learn how to better manage your money and get advice on how many shares to buy, where to take a loss, and how to manage risk on each position. Mohsen Hassan, owner of the Montreal Trading Group, teaches the session. His relevant experience will assist you in being consistently lucrative.
Day Trading and Swing Trading Strategies for Stocks on Udemy includes lifelong access to all materials. There are shareable papers that you can give to other traders, as well as various videos and the possibility to obtain a certificate after you finish the course.
You will learn how to screen equities, track historical stock performance, and develop a trading plan.
Discounts are available from time to time at the course's usual price of $139.99.
3. Financial Trading and Investment for Beginners
Utilize the Financial Trading and Investment for Beginners course at Shaw Academy if you are interested in gaining an understanding of the fundamentals behind financial trading and investment, as well as learning how to respond to shifts in the market at the most advantageous moments.
It is completely free for the first 28 days, and the course is broken up into the following sections:
Leverage, margin and all the jargon
Psychology of real world trading
Becoming a counter retail trader
Protecting your capital
Technical charting
The opening bell
Candlesticks
4. Mindful Trader
Fourth on our list of stock trading schools is Mindful Trader. This company not only delivers stock and option recommendations, but it can also teach you the trading method that goes with them. The Mindful Trader strategy is founded on facts and statistics. Sign up for Mindful Trader's help for only $47 per month.
Eric is the "Mindful Trader," the platform's owner and operator. He conducted several years of quantitative stock market study, and the outcome is a trading method that, according to a 20-year back test, could have delivered an 181% yearly return. Furthermore, Eric is a Stanford graduate who spent $200k and several years of his life conducting quantitative research on whether trading tactics could really work.
Every day, The Mindful Trader publishes his watch list and explains the same trading tactics he use to trade stocks and options. The entire program teaches you how to make swing trades with a statistical advantage. There is no prior trading experience necessary.
5. Silvia Bellrock: The Bellrock Accelerator
Silvia Bellrock provides what she refers to as the Accelerator Course. Although this course costs $900, you will get lifelong access to all materials and tools. After learning about markets with the Accelerator Course, you may want to choose the Bellrock Pro service, which costs $119 per month.
This service includes additional videos, analytical reports, and individualized advise for each member. You will also receive stock alerts and advice by text or email. Silvia works in the sector every day, guaranteeing that you receive the most up-to-date and relevant information.
One of the most crucial aspects of the Bellrock Accelerator is that it is market-driven. The course is constantly updated, and you may get those updates even if you purchased it many years ago. By simply adding other services, you may concentrate your trading education and achieve a level of consistency that many beginning traders can not achieve.
6. Algorithmic Trading and Finance Models with Python, R, and Stata Essentntial Trade by LinkedIn Learning (formerly Lynda.com)
Next on our list of stock trading schools is the Algorithmic Trading and Finance Models with Python, R, and Stata Essential Trading. This is exclusive for LinkedIn Learning's premium membership. There is a separate associated fee of  $29.95.
This is the second class in the series, and if you need a refresher on the material from the first class, you may attend that class as well.
You will learn about algorithms and how they function in the stock market if you enroll in this course, which is geared for intermediate stock traders.
By the time you finish the course, not only will you have developed your own stock trading techniques, but you will also be able to construct an algorithm for trading.
7. Accelerated Trading Course by Bulls on Wall Street
An accelerated trading course is one of the offerings provided by Bulls on Wall Street. Kunal Desai, a lead trader, is the instructor for this course.
You will learn more about the psychology of trading, how to assess indices, and how to timing the deal, among other things, throughout the course of the sixty-day trading boot camp. You get together with the other members of your group once a week to discuss the state of the market.
You will receive comments from Kunal, and he will provide you with insight into the stocks that are the greatest to trade.
8. Warrior Pro by Warrior Trading
Second to the last entry of stock trading schools is Warrior Trading. They have a course called Warrior Pro. This course provides students with access to the trading system as well as more than a thousand video lectures.
In addition, you will be able to take part in a chat room, use a real-time trading simulator, and access all of the lessons offered. You will get access to six small group mentorship meetings over the duration of your training, which is one of the most beneficial components of the class.
Warrior Trading is the most costly choice available in this group, with a price tag of $4,297 for a period of three months or $5,997 for a whole year.
9. Eagle Investors
Eagle Investors is a viable option for a wide range of investors, from novices in need of a trading education to seasoned professionals looking to expand their pool of available resources.
The most essential benefit is that it is effective for intermediate traders who want to take in as much information as they possibly can.
After registering, you will have access to several alert channels as well as discussion rooms, both of which will assist you in enhancing your trading approach. In addition, you may choose to follow various sorts of traders depending on the trading method or philosophy that most appeals to you.
Eagle will assist you in advancing your trading into the world of lucrative and comfortable trading once you have upgraded from a free account to a premium account and started off with a free account.
10. Investors Underground
You may get access to level 2 analysis, high probability chart patterns, and live trading activity by enrolling in the advanced course that Investors Underground provides. The course lasts for 12 hours. The video lectures offered by Investors Underground also include a tick-by-tick commentary on real transactions.
This allows you to get insight into the strategies that have been successful for traders with more than ten years of market experience.
You will also get access to monthly Q&A webinars and daily stock watchlists if you pay the additional fee of $1,497.
What Makes a Stock Trading School Great?
What are the qualities that distinguish good Stock Trading schools? There are several different types of schools that teach stock trading. Before enrolling in a school for stock trading, you will need to perform some preliminary research.
The following are some things that you might want to keep an eye out for:
Recent experience.
Check out the specialist or instructor who will be leading the class before you commit to signing up for it. It is important that the individual in charge of your chosen class is still engaged in active trading.
Some courses will teach you tactics that were successful five or ten years ago but are no longer applicable in today's business environment.
Reasonable claims.
Regrettably, there is no foolproof method or secret formula that can guarantee your success one hundred percent of the time. A good stock trading school, on the other hand, will make fair claims and promises to teach you a variety of tactics and approaches that will lead to your success in the market.
It's possible that the school that assures you'll make millions of dollars is not telling the truth.
Support outside the classroom.
It is possible that you will require more than a static course as your level of expertise continues to rise. In the greatest stock trading schools, you'll have opportunities to discuss difficult topics with both your instructor and other students in the class. This will make the information much easier to grasp.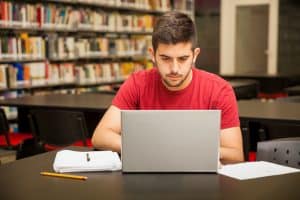 If you want to get the most out of your stock trading school, you should look for a forum, an email contact, or a mentoring program to assist you.
What Skills Do Stock Traders Need?
For success in the stock market, what abilities are necessary? Managing and pricing particular deals, coming up with ideas for the stock market, and maintaining communication with customers are often expected by entry-level traders.
As a trader gains more experience, there are a range of skills and capabilities that they are required to display, including the following:
Transactional knowledge of derivatives, options, futures, currencies, interest rates and other financial instruments
Computer programming skills (such as VBA, SQL, C++, Excel, Python, C# and Javascript)
Mathematical abilities, including stochastic calculus
Hedging strategies and other risk management skills
Ability to evaluate macroeconomic trends
Statistical analysis
You can acquire these abilities through on-the-job training, internships, or work experience in a financial organization, as well as through additional education.
What Stock Trading Jobs Are Available?
After finishing a rigorous training at stock trading schools, what kinds of jobs are there in the Stock Trading industry? Stock traders may be employed by major banks, brokerage firms, or hedge funds. Some people opt to work as independent day traders, while this is typically seen as a high-risk business. Typically, stock traders work long hours in high-stress conditions.
Before working for a financial firm in the United States, stock traders must receive a General Securities Representative license from the Financial Industry Regulatory Authority. Candidates must be sponsored by a member business and pass the Security Industry Essentials (SIE) and Series 7 tests to demonstrate expertise in selling various types of securities.
According to the U.S. Bureau of Labor Statistics, securities, commodities, and financial services sales agents made a median annual pay of $64,770 in 2020. According to the same agency, job growth in the occupation will be 4% from 2019 to 2029, which is roughly the same as the average across industries.
What Degree Focus Is Most Relevant?
Which academic discipline is most important for success in stock trading? A bachelor's or master's degree with a concentration in finance, mathematics, economics, business, financial engineering, computer science, or statistics is an excellent choice for those who are interested in a career in the stock market.
Candidates with any type of degree can significantly improve their employability by participating in summer internships, which are given by a large number of financial institutions. These internships give participants the opportunity to gain hands-on experience in their field of study.
Some advanced degrees, such as a Master of Science in Financial Management, a Master of Science in Finance & Risk Management, or a Master of Science in Computational Finance, are geared specifically toward individuals who aspire to work in the financial industry or who may already be employed in the stock trading industry.
These degrees include the MS in Financial Management, MS in Finance & Risk Management, and MS in Computational Finance. Students who enroll in these programs may expand their abilities in mathematics and computation, as well as get an understanding of the fundamentals of debt, equity, and derivatives instruments. These are just a few of the benefits they can receive from these programs.
Employers frequently look favorably on individuals who have completed an MBA program when considering them for managerial-level roles.
AdmissionSight is willing to help
When you are prepared to advance to a higher level in your education (aside from attending stock trading schools), AdmissionSight is prepared to assist you in making the transition. due to the fact that it has more than a decade of expertise supporting individuals who are just like you in achieving admission to the institutions of their first and second choices respectively.
In the industry of providing guidance for getting into college, AdmissionSight has emerged as the most reputable name. This is because AdmissionSight has established itself as the most reliable brand in the field of counseling pertaining to college admissions in recent years.
We would appreciate it very much if you could get in touch with us as soon as possible so that we can set up a preliminary consultation for you that will be provided free of charge.