The Best Boarding Schools In Massachusetts
The best boarding schools in Massachusetts have been painstakingly chosen to provide prospective students with access to a wide variety of educational and extracurricular opportunities. Boarding schools in Massachusetts are an initiative within a public school district, charter school, or private school to serve at-risk students in Massachusetts whose needs are not being met in the traditional school setting.
In this article, we are going to discuss the benefits and drawbacks of attending boarding schools, as well as provide a list of the best boarding schools in Massachusetts.
What are the disadvantages of going to a boarding school?
What are some of the drawbacks of attending a boarding school? Even though there are a great number of benefits associated with attending boarding school, there are also a few drawbacks associated with this choice that you need to be aware of before you make it.
Adjustments to the new environment
It can be challenging for anyone to adjust to a new setting, but for students attending boarding schools, where they are away from their families for an extended period, this can be an especially trying experience.
Some students may thrive off of being independent and having more freedom than they did at home, while other students may need more assistance adjusting to their surroundings than what is provided by teachers and counselors.
Boarding school costs
The expense involved in sending your child to boarding school is by far the most significant drawback of this educational option. The annual tuition at boarding schools can be quite pricey depending on both the school's location and the curriculum that it provides for its students.
Reduces opportunities for social interaction
A further disadvantage of boarding schools is that students may not have as many opportunities for social interaction as they would if they were attending a traditional school setting. This is in contrast to the situation that would prevail if the students attended a regular school.
Students may end up feeling less connected to those around them as a result of this, as they may only interact with each other once or twice a week during free time, sporting events, or extracurricular activities.
What are the benefits of going to a boarding school?
What are the advantages of attending a boarding school? It is important to gain an understanding of the benefits associated with attending a boarding school before moving on to the list of the best boarding schools in Massachusetts. Students who choose to attend boarding school are afforded a once-in-a-lifetime opportunity to fully immerse themselves in their education, develop their identities within a community that is both accepting and diverse, and set themselves up for future success.
Let's take a look at seven of the most significant benefits that come with attending a boarding school.
Challenging academics
Education at a boarding school is notorious for being more difficult than an education at a private day school or a public school. Students who are immersed in an atmosphere centered on their experiences are better prepared for the rigors of higher education because they cultivate greater self-discipline and a solid work ethic.
78% of students who attend boarding schools report feeling prepared for college, in comparison to 36% of students who attend private day schools and 23% of students who attend public schools.
Peer learning
A boarding school is a type of educational institution in which students live, play, study, and interact socially in the same environment. A setting like a diverse boarding school, with students coming from a variety of different backgrounds, offers a unique opportunity for personal development and academic improvement. When students learn together, both inside and outside of the classroom, they have the opportunity to broaden their perspectives and horizons.
Smaller class sizes
The success of an individual student can be significantly impacted by the size of his or her class. Students engage with the subject matter more closely and interact with their classmates and teachers when they are allowed to do so. This dynamic increases the likelihood that the information will be retained by the students.
When there are fewer students in a class, the teachers can form closer mentoring relationships with each student. In addition, students frequently report feeling a greater sense of self-assurance and comfort when it comes to expressing their opinions and sharing their answers.
Personal growth
One of the benefits that might be offered by one of the best boarding schools in Massachusetts is the opportunity for personal development. There are countless opportunities for one's personal development that can be seized when living away from home and settling into a dorm room on campus. Students who attend boarding schools are more likely to develop important life skills such as independence, time management, and work ethic in a more expedient manner than students who attend public schools.
A learning-conducive atmosphere
A boarding school serves as a center for academic pursuits. Students have ample opportunities to challenge themselves and put the knowledge they gain in the classroom into practice at many different schools. This includes a variety of different types of facilities, such as those for the performing arts, science labs, athletic fields and courts, and more.
Advanced co-curricular activities
When you live on campus, you put yourself in a position to take advantage of a wealth of opportunities for both academic advancement and personal development. Every student has the opportunity to get involved in activities and clubs that cater to their specific areas of interest, from those that focus on the acquisition of new languages and participation in athletic competitions to those that emphasize the development of STEM-related projects and artistic expression.
 Social Maturity
When you learn and live with a diverse group of other people, there is a greater chance that you will have disagreements. Nevertheless, this dynamic paves the way for widened perspectives of the world and increased social maturity.
Students gain important life lessons about connection and conflict through their schoolwork. As a consequence of this, they are frequently more socially prepared and ready to embrace a world filled with a variety of people whose points of view are in contrast to their own.
What are the best boarding schools in Massachusetts?
What are the best boarding schools in Massachusetts? Students who are having academic or behavioral difficulties, or have been expelled from their regular school, may be recommended to attend a Massachusetts boarding school. Students whose preferred modes of education are incompatible with traditional course material or instructional strategies may benefit from attending a Massachusetts boarding school.
Attending a boarding school in Massachusetts not only provides students with the opportunity to achieve academic success but also instills in them a sense of exploration and curiosity about the world around them.
Cushing Academy
Cushing Academy presents high school students with an educational opportunity that is both cutting-edge and highly engaging. It provides students with engaging and rigorous academic opportunities in a wide range of subject areas. In addition to that, they provide a broad selection of art classes as well as many different sports teams to join.
Students have the option of living in the roomy dorm as boarders or commuting during the day. At Cushing Academy, the student center serves as the nerve center for all of the school's extracurricular activities. In the center, the students have access to a wide range of activities. They also have the option to sign up to participate in a variety of excursions and other activities. Students have the opportunity to participate in a variety of fun activities such as dances, concerts, fishing trips, and hiking excursions.
Dana Hall School
One of the best boarding schools in Massachusetts is Dana Hall School. A relic of a bygone era, the Dana Hall School can be found in the heart of Wellesley, Massachusetts's historic district. Back then, the majority of high school students enrolled in boarding schools to improve their chances of being accepted to the nation's top universities.
The Dana Hall School is still equipped with the resources necessary to help students gain admission to the nation's top educational institutions, and those students are destined to become the most successful members of our society today. The school works to ensure that students receive an excellent education from a school that upholds moral principles and fosters an atmosphere that is welcoming to all.
Deerfield Academy
Located in Deerfield, Massachusetts, the Deerfield Academy is a residential school for both male and female students that was founded in 1797. When Governor Samuel Adams signed a charter in 1797 authorizing the establishment of a school in the Deerfield, Massachusetts area, the institution was initially a boarding school for prominently wealthy boys.
It first opened its doors in 1797. In 1944, the boarding school was opened to both male and female students for a short period. A significant number of people who had attended the academy had gone on to earn degrees from universities in the Ivy League, including Princeton, Colby, and Brown, amongst others.
Eagle Hill School
In Hardwick, Massachusetts, in the United States of America, you'll find the boarding school known as Eagle Hill. The Eagle Hill School is a comprehensive institution that places equal emphasis on academics, sports, and the arts.
This boarding school is considered among the best boarding schools in Massachusetts because it takes a unique and creative approach to the educational experience it provides for its students. Eagle Hill's mission is to honor each student as an individual, and they also encourage students' growth as people in both their personal and social lives. The institution is home to a plethora of clubs and activities, all of which contribute significantly to the local community.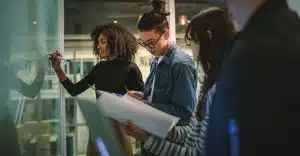 In addition, Eagle Hill provides numerous opportunities, both inside and outside of the school, for students to develop their leadership skills. The teachers at Eagle Hill strive to have a deep understanding of their pupils to better assist them in pursuing and developing their passions and areas of expertise. They want every student to realize their full potential, and they work hard to make that happen by assisting each student in accomplishing their goals and realizing their ambitions.
Middlesex School
The Middlesex School is an independent, co-ed, boarding school for grades 9 through 12 that can be found tucked away in the historic district of Concord, Massachusetts.
It is not enough for teachers at Middlesex to simply equip their students with the knowledge and skills necessary to perform well on standardized examinations; instead, they instill a passion for learning in every one of their students before they let them leave their classroom.
This ensures that Middlesex High School graduates not only have a solid academic foundation for their first year of college but also have a strong desire to continue their education after they leave the district.
Academy at Swift River
Cummington, Massachusetts, is home to the Academy at Swift River, one of the best boarding schools in Massachusetts. There are a total of 120 students enrolled at this school, and they are of both sexes. In addition to its therapeutic programs, the Academy at Swift River is a high school that prepares students for college. They provide a wide variety of different extracurricular opportunities for the students to participate in.
Rock climbing, mountain biking, fly fishing, hiking, and many other outdoor pursuits would be included in this category of activities. This school's mission is to assist students who, while attending a traditional public institution, were struggling to meet their educational goals.
The issues that the students were dealing with included skipping classes, receiving low grades, and possibly even dropping out of school. The Academy at Swift River's goal is to assist those who require it to get back on track regarding their educational requirements.
AdmissionSight provides several different counseling and tutorial programs that could assist you in selecting and enrolling in the school that is the ideal fit for you. Because the professionals at AdmissionSight have worked in the field of college admissions for the past ten years, we can guarantee that the service we provide will be of the highest possible standard. Book a free initial consultation to learn more.