The Best Colleges For Education Majors
What is an education major?
What exactly does it mean to major in education? College students who choose education as their major develop the knowledge and abilities necessary to instruct others. Students who study at the best colleges for education majors benefit from this degree as they combine the ability to design interesting lessons with the drive to share their knowledge with others. Classes in educational psychology, the history of education, and public policy are examples of topics covered in this major.
Students who major in education investigate how people learn and the most effective methods for teaching others. These students investigate how to develop engaging lesson plans and how to evaluate student knowledge as part of their preparation to work in a classroom setting.
Students majoring in education may also study developmental and sociocultural theories to broaden their understanding of human development and how it relates to the capacity of students to learn, regardless of whether or not they intend to become teachers. Graduates with a degree in education can become teachers or advance the education field through work in policy and nonprofit organizations.
In addition to the coursework, many programs offer students who major in education the opportunity to gain hands-on, real-world experience teaching, developing curricula, and administering tests. Coursework and clinical experiences help education majors hone the interpersonal and organizational skills that will serve them well as they move forward in their careers in the education sector.
Why study education?
There are a lot of people who ask, "Why should you major in education?" If you enjoy learning new things and assisting others in developing a deeper comprehension of the world around them, you should consider pursuing a degree in education. The desire to improve the lives of others is a common motivation for many students majoring in education.
Education majors who work in classrooms may take on the role of mentors, assisting students in emotional and social development and imparting knowledge of facts and concepts. An education major can also prepare you to pursue careers related to research and policy, which is useful if you would rather work in a setting other than a classroom and have a strong interest in expanding educational opportunities and equity.
Someone who enjoys a challenge and values having a wide range of experiences in their work would do well in the field of education because it constantly evolves and moves rapidly. You can never truly know where your influence on others will begin or end. Choosing this as a career means you are dedicated to helping others grow intellectually and socially. The job of an educator never ends, and you can never truly know where it will begin or end.
When considering whether or not studying at the best colleges for education majors is the right choice for you, here are some questions to ask yourself:
Am I able to be creative? Do I get a kick out of examining something from many different points of view and finding new ways to link seemingly unrelated subjects?
Should I be curious? Do I make it a habit to keep an eye out for emerging technologies, research, and ideas?
Am I communicative? Do I listen to others to understand what they are saying and then look for ways to communicate information to a diverse population in a way they can relate to?
Am I conscientious? Do I make a concerted effort to understand the meaning behind what I do and to reflect on how I can continue to improve?
Am I compassionate? Do I have compassion for others and a desire to make the world a better place for those who share my environment?
If you answered "yes" to each of the questions that were presented above, then perhaps you should consider majoring in education and studying in the best colleges for education majors.
What are the best schools for earning a degree in education?
The field of education consistently ranks among the top 10 sought-after majors in the United States. The fact that there is such a high demand for qualified educators across the board, from early childhood education up to higher levels of education, makes this very encouraging news. Some individuals will ask, "How can I improve my teaching skills?" in this context. The solution is to enroll in the appropriate educational institution. One can earn a degree in various ways, and every institution of higher learning has its own distinct flavor and characteristics that set it apart from the others.
The University of Michigan in Ann Arbor, MI
The University of Michigan has been around since 1817 and is considered one of the best colleges for education majors. Its esteemed School of Education opened its doors in 1921, and since then, it has grown to accommodate hundreds of graduate and undergraduate students annually.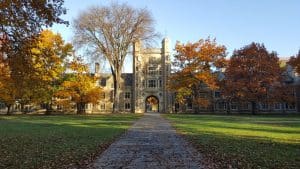 Many of the institution's faculty members hold expertise in fields as diverse as history and psychology, mathematics, literature, linguistics, and economics, many of whom hold positions in other related schools at the University of Michigan. The School of Education at the University of Michigan confers the following degrees:
B.A. in Elementary Education
B.S. in Elementary Education
M.A. in Educational Studies
M.A. in Educational Assessment and Evaluation
M.S. in Post-Secondary Science Education
Ph.D. in Educational Studies
The University of Texas in Austin, TX
The University of Texas at Austin was established in 1883 and currently has more than 51,000 students. It was ranked 49th among national universities in 2019 by the U.S. News and World Report, and it was listed on the list of the best colleges for education majors.
Its Career Services Center is responsible for organizing career fairs and providing assistance to both current students and graduates with the revision and improvement of their resumes, as well as with the search for employment and the transition into the working world. Students can earn the following types of degrees from the College of Education at UT:
B.S. in Applied Learning and Development (ALD)
B.S. in Kinesiology
B.S. in Athletic Training
M.A. in Science and Mathematics Education
M.A. Foreign Language Education
M.Ed. in Special Education
Ph.D. in Educational Psychology
Ph.D. in Educational Education
Vanderbilt University in Nashville, TN
The Peabody College of Education and Human Development provides undergraduate students with the opportunity to participate in one of eight education-related degree programs, such as elementary education, secondary education, cognitive studies, or child development.
Students majoring in education at Vanderbilt begin gaining real-world experience in the classroom during their second semester of college. The program culminates with a full-time student teaching placement that lasts for 15 weeks. This has made people consider this college as one of the best colleges for education majors. The following types of education degrees are available to students at Vanderbilt:
B.S. in Child Studies
B.S. in Elementary Education
M.Ed. in Child Studies
M.Ed. in Reading Education
Ph.D. in Language, Literacy, and Culture
Now that you have an idea of where you should go to study for an education major, your college admissions should be where you pay attention next. To ensure that you get into the college you want, you can get help with AdmissionSight. With ten years of experience with college admission experts, Admissionsight can help you get into the college of your choice. You can talk to our experts today to get an initial consultation.