Top UCLA Summer Programs for High School Students to Consider
College represents a significant turning point in students' lives. Along with being the first time most students live away from home, college serves as an important step on the road to the future, opening the door to graduate programs, law school, internships, and careers.
So, it's no surprise that students (and families) are seeking ways to ease the stress of that transition. An effective way of getting accustomed to the college lifestyle, UCLA summer programs let high schoolers gain independence while exploring majors and interests prior to starting school.
As a bonus, students can interact with peers from around the world and develop relationships with professors. Wondering if one of the UCLA summer programs is right for you? Keep reading to learn about the benefits of summer study and discover the best UCLA summer programs for achieving your goals.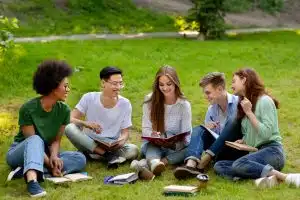 What Summer Programs Entail
Also known as pre-college programs, summer programs allow high school students to take college courses while gaining exposure to campus life. Offered by colleges around the U.S. and even abroad, these programs typically last one to six weeks and focus on a range of topics.
Along with academic programs in STEM, humanities, writing, and history, students can opt to attend courses focused on performing arts, music, or even video games. Participants have the opportunity to develop their interests in one or more areas while simultaneously learning what it's like to live or study away from home.
The curricula for summer programs vary based on the school and subject matter, and a UCLA summer program in math might be completely different from one offered at Boston University. However, courses often include one or more of the following components:
Instruction inside and outside the classroom
Professor-driven research projects
Pitches and presentations
Debates
Performances
College application help
Career guidance
The selectiveness of summer programs varies from school to school. While some pre-college programs are open to all applicants, others have strict admissions standards. For the most competitive programs, you can expect to provide your grades, test scores, essays, and even teacher recommendations as part of the application process. The cost of programs also varies, with some courses featuring a high price tag. However, there are some free options available. Additionally, a number of pre-college programs allow students to earn college credit for the future.
Reasons to Attend a Summer Program
Attending a pre-college program comes with numerous benefits. Here are some of the top reasons to consider a UCLA summer program or one offered by other colleges and universities around the U.S:
Choose a Major
The last thing you want is to spend a semester or more pursuing a major you don't really love. One of the biggest advantages of attending a summer program is that it allows you to try out a concentration before committing. For example, if you think you may want to be a lawyer, you might consider enrolling in UCLA's Mock Trial Summer Institute to learn about the legal system and gauge your interest in a law career. On the other hand, if you're passionate about a career in film, UCLA's Digital Filmmaking Summer Institute might give you the insight you need to determine whether you should major in cinema studies.
Live in a Dorm
Of course, the benefits of summer programs go beyond the academic. When you attend a live-in summer program, you can see what it's really like to reside on a college campus. These programs invite students to move into dorm rooms, living and eating alongside their classmates and engaging in campus activities. As a result, summer program participants tend to enjoy a smoother transition to college life than their peers.
Impress Top Colleges
It's no secret that college admissions are becoming increasingly competitive. In fact, the UCLA acceptance rate for 2018 was 14 percent, while Ivies like Harvard and Yale had rates of 5 percent and 6 percent respectively. As a result of this increase in applicants, many selective colleges are starting to consider how students spend their summers. Attending a college summer program is a great way to pad your resume while showing schools that you're serious about your academic future.
Tips for Choosing a Summer Program
With hundreds of pre-college programs offered each year, it can be hard to choose the right one for your needs and goals. When selecting a summer program, be sure to weigh the cost of the course against its potential value. The most desirable programs are low in cost but highly selective. On the other hand, the least desirable programs are high in cost but open to all applicants. While it might be worth shelling out a little more money for a program that lets you explore an area of interest, you should be aware of the fact that less selective programs probably won't make as big of an impression on admission committees.
If you want to attend a summer program but are concerned about cost, consider applying to programs that award students college credit. While the number of credits varies by program and institution, this option can be a great way to invest in your education before you head off to college. Additionally, UCLA summer programs award need and merit scholarships to California high school students in grades eight through 11.
Types of UCLA Summer Programs
Whether you live in Los Angeles or are open to traveling to the West Coast for the summer, you may want to consider one of the many UCLA summer programs open to high school students. Currently, the school offers three different summer experiences for students looking to gain academic exposure while bolstering their college application profile. Note that for 2020, all programs will be offered on a remote basis because of COVID-19. In future years, UCLA will likely transition back to in-person classes and programs.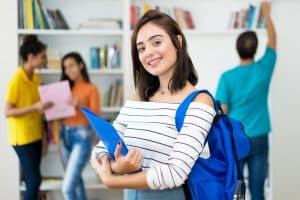 Academic Courses: High school students can sign up for dozens of courses during the summer months. Starting in either June or August, sessions run three, six, or eight weeks. Courses include traditional topics like engineering, English, and communications, as well as less common subjects such as Ancient Near East and Romanian. High school students may take up to 10 units (two courses) per summer.
Summer College Immersion Program: Created to expose talented high schoolers to the college environment, the UCLA Summer College Immersion Program (SCIP) invites students to enroll in two courses while participating in additional lectures and workshops. This competitive six-week program is open to rising juniors and seniors with a minimum 3.3 GPA. Additionally, applicants must submit their transcript, resume, and a statement of purpose describing their academic goals. In typical years, accepted students can opt to live on or off campus while attending the program.
Precollege Summer Institutes: Another great option for high-achieving high schoolers, UCLA's Precollege Summer Institutes are residential programs covering a range of academic subjects and extracurricular interests. Lasting one to three weeks, these programs include various types of learning, such as classroom instruction, field trips, group projects, and research. Below is a list of the 2020 Precollege Residential Programs. Note that, for 2020, some of these courses are cancelled, while others are being offered on a remote basis.
Applications of Nanoscience Summer Institute – (remote)
Acting and Performance Summer Institute – (remote)
Art Summer Institute – (remote)
Camera Acting Summer Institute – (remote)
Design Media Arts Summer Institute (cancelled)
Digital Filmmaking Summer Institute – (remote)
Economics Summer Institute – (remote)
Engineering Design Summer Institute – (remote)
Game Lab Summer Institute – Session B – (remote)
International Development Summer Institute – (remote)
Introduction to Investments Summer Institute – (remote)
Mock Trial Summer Institute – (remote)
Model United Nations Summer Institute – (remote)
Musical Theater Summer Institute – (remote)
Nanoscale Microscopy Lab Summer Institute
Nanoscience Lab Summer Institute
Sci|Art Lab + Studio Summer Institute – (remote)
Teen ArchStudio Summer Institute (cancelled)
Cinematography Summer Institute – (remote)
Game Lab Summer Institute – Session A – (remote)
Immersive International Studies Summer Institute (cancelled)
Writing Summer Institute: Introduction to College Writing – (remote)
How to Choose the Right Extracurriculars?
Spotlight on the Top UCLA Summer Program
Wondering what summer program is right for you? Here are some of the best UCLA summer programs to consider during your high school career:
Acting and Performance Summer Institute at UCLA
This three-week program is ideal for students who are happiest performing in front of the camera or a live audience. Lasting three weeks, the Acting Summer Institute invites students to learn from instructors, actors, and their peers. Along with performance training, the course features movement-based techniques, auditioning tips, and a final acting project. Tuition is $5,798 and includes room and board. Note that students entering the UC system in the fall qualify for a discount.
Design Media Arts Summer Institute at UCLA
UCLA's leading design professors teach this program, which invites students to learn more about media and graphic design. Lasting two weeks, the course exposes talented high schoolers to the most state-of-the-art design software and technologies. As a bonus, students leave the program with an online portfolio and valuable connections in the design industry. Tuition, room, and board run $3,385.
Digital Filmmaking Summer Institute at UCLA
Hollywood is the heart of the movie industry, so there are few better places to study filmmaking than the University of California, Los Angeles. Available to high schoolers with a passion for cinema, this two-week program concludes with a film festival at which participants can showcase their skills and achievements. Along the way, they'll learn from instructors and industry professionals, with topics including production and editing. Additionally, students will have the opportunity to tour real Hollywood studios and form valuable relationships with students and professors. Tuition, room, and board for this program total $4,225.
Game Lab Summer Institute at UCLA
Do you spend your free hours playing video and mobile games? Targeting those with a passion for gaming and a talent for tech, the UCLA Game Lab Summer Institute is a two-week course exposing high schoolers to topics like game design, game development, and story creation. Working alongside professors and peers, students will hone their skills for building memorable game worlds and characters. They'll also learn the requirements for making games mobile-friendly. The course runs $2,361 including tuition, room, and board.
Summer Art Institute at UCLA
Art lovers may want to consider the Summer Art Institute at UCLA. Ideal for students considering a major in visual arts or those looking to hone their skills, this program allows high schoolers to choose among a range of programs, including drawing, painting, sculpture, and photography. Along with spending time in the studio, students will attend lectures, meet with faculty, and go on field trips in the Los Angeles area. Depending on the program you choose, you can expect to spend between $1,990 and $3,575 for this two-week course that ends with a final critique by members of the prestigious UCLA art faculty.
Mock Trial Summer Institute
A career in law involves a serious time commitment; after four years of undergraduate school, aspiring lawyers go on to take the LSATs, attend law school, hold internships, and study for the Bar Exam. A great way of exploring whether a legal career would bring you satisfaction, the UCLA Mock Trial Summer Institute invites students to spend a week learning about the process of trying a case.
Along with educating students on the American legal system, the program helps participants build confidence and gain new communication techniques. Additionally, students will have the chance to learn from UCLA Mock Trial Team Coach while building connections that may serve them in law school and beyond. The cost of attendance is $1,441 for Summer 2020.
Want to avoid spending another summer watching Netflix? UCLA summer programs are an excellent gateway to future success. Consider one of the above programs or check out some of the many options available at other colleges and universities around the country. You may just discover your future passion.
Up Next: Discover the Biggest Misconceptions About College Admissions