Undergraduate Students at Duke
If you are interested in attending one of the most renowned institutions in the United States, you should strongly consider applying to Duke University. Duke University was established in 1836 as a Quaker and Methodist seminary. So, learn more about the undergraduate students at Duke
Duke University, which is located in Durham, North Carolina, is home to a marine laboratory, a chapel that was designed by African-American architects Julian Abele and Horace Trumbauer, and a medical center that is known all over the world. Duke University has an endowment of $12.7 billion, which means it can do a lot of very innovative research and activities.
As one might expect from a school that has garnered such extraordinary support, Duke has a history of ties to some of the most significant individuals. Senator Elizabeth Dole and President Richard Nixon have both attended this university in the past. The faculty and alumni of Duke University include some of the most well-known business leaders, like NBA Commissioner Adam Silver and Apple CEO Tim Cook, as well as five Nobel Prize winners.
Does Duke have undergraduate students?
Does Duke have undergraduates? Duke University has three schools and institutions that are home to its undergraduate students, namely the Trinity College of Arts and Sciences, the Pratt School of Engineering, and Duke Kunshan University.
Program II, which allows students to design their interdisciplinary major in arts and sciences, and IDEAS, which allows students to design their engineering major, are two of the many options available to students at Duke University. The university also offers 46 majors in the arts and sciences, four majors in engineering, 52 minors, and two minors in engineering. In addition, there are twenty-four certificate-granting programs.
Students are required to declare a major and have the option of declaring up to three additional concentrations, which may include minors, certifications, and/or a second major. The total number of undergraduate students at Duke in its Trinity College of Arts & Sciences is 85%. The remaining students enroll in the Pratt School of Engineering at Duke University.
There are currently 15 interdisciplinary majors that have been approved by both Duke and the Chinese Ministry of Education, and more majors are in the process of being approved, including a major in behavioral science. The undergraduate students at Duke Kunshan have the option to choose one of these majors.
Trinity College of Arts & Sciences
Trinity College serves as the epicenter of experience for undergraduate students at the university. Trinity is also the main place where nearly half of the Duke common curriculum requirements for engineering students are met.
Students in the School of Engineering are permitted to enroll in any class offered by the College of Liberal Arts, while students in Trinity College are permitted to enroll in any class offered by the College of Engineering. The programs offered to undergraduate students place considerable emphasis on the study of humanities-related subjects. Both a writing class and a seminar on contemporary themes are required courses for first-year students. Moreover, there are over 1200 doctorate and master's students receiving their education at Graduate Schools. These students are learning about many different things, like religion, engineering, business, environmental and earth sciences, and more.
Pratt School of Engineering
The curriculum of Duke University's Pratt School of Engineering has undergone a considerable overhaul in recent years, exposing undergraduate students to design, computers, research, and entrepreneurship. Even so, the school still offers learning opportunities, like double majors, in a wide range of subjects taught in other places at Duke.
The school places a strong emphasis on its undergraduate students participating in research with instructors. First-year students have the chance to do research and design through a course called "Design in the Real World," internships, independent study and research fellowships, and capstone courses that focus on design.
The total number of undergraduate students at Duke participating in an intensive research experience during their four years of study is more than 60%. Almost 20% publish or deliver a research paper off campus. Almost 54% of Duke Engineering freshmen complete an internship or study abroad. About 85% of the number of undergraduate students at Duke get jobs or job offers after they graduate.
Duke Kunshan University
The newest of the university's programs offered to undergraduate students can be found at Duke Kunshan. The curriculum at Duke Kunshan is labeled as a "research-inflected liberal arts experience," and it places a heavy emphasis on interdisciplinary coursework and majors. Their curriculum has "seven principles":
Rooted Globalism
Collaborative Problem-Solving
Research and Practice
Lucid Communication
Independence and Creativity
Wise Leadership
A Purposeful Life
Total number of undergraduate students at Duke
Based on the enrollment statistics of Duke University last fall, in the year 2021, the total number of undergraduate students is 6,789.
The first three years of undergraduate students must be spent living on campus. Students starting their second semester of junior year are eligible to seek an exemption from this requirement. The administration of Duke University justifies this requirement by stating that it is an effort to assist students in connecting on a deeper level and maintaining a sense of belonging within the greater Duke community. As a result, the total percentage of the number of undergraduate students at Duke living on campus is 85%.
Every first-year student lives in one of the 14 residence halls located on the East Campus. The Epworth Hall is the university's oldest residential hall; it was constructed in 1892 under the name "The Inn," and it can house anywhere from 50 to 250 people (Trinity).
The residential component of East Campus is connected with students who share similar academic and social interests through the use of "learning communities." Students in FOCUS, a first-year program at the university where classes are centered around a certain topic, are required to live in the same residence hall as other students in their cluster.
At Duke University, around 30% of the total number of undergraduate students at Duke are males, and approximately 40% of undergraduate females are members of fraternities and sororities, respectively.
What undergraduate major is Duke known for?
Here at AdmissionSight, we will briefly discuss what undergraduate major is Duke known for. According to its published statistics last fall of the year 2021, the most popular major is computer science, and it is being followed by public policy, biology, economics, and psychology.
Because the vast majority of sectors run their operations with the assistance of technology, they have a constant demand for highly educated people who can create software, build websites, and manage databases for their operations. As a direct consequence of this, degrees in computer science are in high demand, and there's an increase in the total number of undergraduate students at Duke pursuing them.
How to choose an undergraduate major at Duke?
Choosing the appropriate college major can be a crucial component of your overall college approach. However, there are practically too many different majors to pick from, so making a decision might be challenging. Don't get frustrated because you are not the only one experiencing this predicament.
Here at AdmissionSight, you will also learn how to choose an undergraduate major at Duke. Simply remember the following, and you can choose the perfect major for you.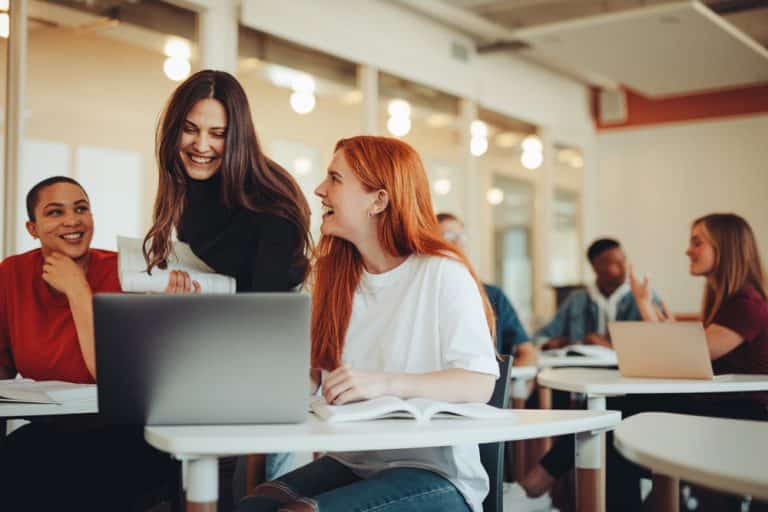 Identify which career you're pursuing. Get a grasp on what you want to accomplish in your life after graduating from Duke University. Having a clear goal in mind, such as a field of study or a particular profession, might help narrow down the options. Examine the several majors that are linked to and necessary for those careers, then pick the one that speaks to you most strongly.
Moreover, if you already have a career route in mind, we recommend that you participate in job shadowing. During this phase, you will shadow a professional in the industry in which you are interested in working so that you can observe their daily activities. Numerous media portrayals of vocations are overblown and do not accurately convey what it is truly like to work in that field. You do not want to wander into a field with a picturesque view just to discover that it is nothing like what you imagined.
Determine the affecting factors. If you can't think of a profession that would be a good fit for you, you can't select between a few possible jobs, and you don't know what you want to major in, ask yourself what is most important to you. Consider fields that pique your interest as well as the prospective salary and work possibilities.
What other ambitions do you have for the time after you graduate besides finding a job? You may wish to think about stability, financial goals, homeownership, travel, and perhaps relocation. This may steer you in the correct direction in terms of the best careers (and majors) that will help you achieve your goals.
List your interests. Nevertheless, you should also consider the factors that are crucial to you. Which fields have always held your interest? Consider the things that have intrigued you throughout the years as well as the activities you've engaged in during your free time. This may steer you toward the major (and career) that is ideal for someone like you. The happiest students are those who pursue academic disciplines in which they have a true interest. Those who enter a field of study in which they have little to no interest risk becoming exhausted.
Even if you don't know what you want to study when you get to college, having a general idea of what interests you can be helpful. Get started on fulfilling the requirements for your general education by attending classes that interest you. In one of these classes, you might discover that a certain field of study is calling out to you.
Learn about your capabilities. You should choose a major that makes the most of your skills and abilities. Reviewing your former accomplishments, such as the grades you earned in high school, can be an effective way to gain insight into both your strengths and your limitations. If you are set on pursuing a certain major, you should have full confidence in your capacity to do well in the coursework required for that major.
In addition to this, be honest in assessing yourself. Even if you have a passion for science, if you have a difficult time succeeding in science classes, majoring in science might not be the ideal choice for you.
Learn about the majors offered at the university. There are several majors to choose from at Duke University, and many people are unaware that there is a wider variety of majors from which to choose. Some educational institutions provide courses of study that are not taught at any other school in the country (or maybe the world).
You must acquire adequate knowledge concerning the numerous majors that are offered. You don't need to carry out exhaustive research on each of them; all you need to do is acquire the knowledge necessary to understand the background of each major, and then decide which one best satisfies your interests, passions, and professional aspirations. Also, Duke has one of the best learning environments in the country, so you'll be well-equipped to achieve your goals.
What is the Duke acceptance rate?
We all know that Duke University has a very selective nature during its admission process, so it is crucial to determine what is the Duke acceptance rate. Major publications consistently place Duke University near the top of their lists of the best colleges and institutions in both the United States and the rest of the world. With a total acceptance rate for the class of 2025 of only 5.7%, undergraduate admissions are among the most competitive in the country.
Surprisingly, 44% of applicants did not provide SAT or ACT results. Duke believes that a sizeable portion of those students believed that their SAT or ACT scores were not the greatest aspect of their application and that they could be greater candidates without them. In fact, more and more schools are putting less weight on SAT scores on applications because of policies like "test-optional" and "test-flexible."
How to get into Duke as an undergraduate?
Because its acceptance rate is so low, Duke University is in a position to pick only the most qualified students to enroll, making thousands of students ask how to get into Duke as an undergraduate.
Duke University has rigorous requirements for admitting students. However, even if your scores aren't quite up to par, you can still put together an attractive application profile. If you do not have the grades and test scores expected by Duke's admissions officers, you can try to improve your grade by engaging in a variety of extracurricular activities.
Duke University values well-rounded individuals who excel in their academic and extracurricular activities at the university and who will have a significant influence on their campus and community.
You can now begin the process of building a well-rounded identity. Even if you are still in high school, you should start getting involved in political activities in your neighborhood if you want to study politics at Duke.
This indicates that you should not only be involved in activities such as student government and Model United Nations, but you should also be gaining experience in the real world. Participate in the distribution of flyers or the collection of signatures at a political event. Support a person for whom you have a strong personal interest, even if the position is for something as unimportant as drain commissioner.
The application process at Duke must conclude with a written essay. This is your opportunity to explain yourself, to tell the admissions committee what you've done to become the kind of person that Duke wants to have in their student body, and how the university will help you continue to grow as an individual after you enroll there.
Consider not only what Duke can do for you, but also what you can do for the learning community there. Think about how you can contribute. In what ways do you plan to contribute? What steps are you going to take to make the lives of your fellow students better? How will you contribute to the improvement of their academic careers?
These activities not only add to the content of your application but also put you in touch with individuals who might be able to provide you with a letter of recommendation. If you want to go to a prestigious school, having a powerful person write a letter of recommendation for you can go a long way toward making it more likely that the admissions officers will choose you.
If you make the effort to demonstrate your capabilities, intelligence, talents, and determination during the application process, it may not be as difficult as you believe to attend the school of your dreams. At AdmissionSight, we can provide you with tools, resources, and services that will help you improve your admissions profile. If you want to build a reputation for yourself as an undergraduate at Duke, you will need to exert significant effort throughout the admissions process. We are available to guide you to success at every stage of the process. Contact our admissions consultants today to see for yourself how we provide exceptional support.