UPenn Law Application: What You Need to Know
The University of Pennsylvania Carey Law School, founded in 1850 and located in the vibrant city of Philadelphia, is a prestigious institution known for its renowned faculty, innovative interdisciplinary programs, and commitment to public service. As one of the top law schools in the United States, UPenn Law boasts a rigorous academic environment that prepares students who apply for UPenn Law application to excel in various legal fields.
The school's highly competitive admissions process underscores the importance of submitting a strong application. This is the first step toward joining the ranks of distinguished alumni who have gone on to shape legal landscapes across the world.
Crafting a compelling application demonstrates your passion for the legal profession and showcases your unique strengths, experiences, and potential contributions to the UPenn Law community.
Given the high caliber of the school and its commitment to producing top-notch legal professionals, it is essential for applicants to thoroughly prepare and present their best selves through their application materials, ensuring they stand out among a highly qualified pool of aspiring attorneys.
UPenn Eligibility and Requirements
1. Academic qualifications
Academic qualifications are significant in determining a student's eligibility in UPenn. This is because they indicate an applicant's intellectual capabilities and preparedness for rigorous coursework. To be eligible for admission, applicants must hold a bachelor's degree from an accredited institution or complete one before enrolling at the law school.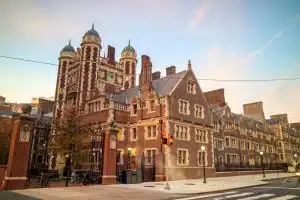 While no specific major requirement exists, applicants should demonstrate a solid foundation in critical thinking, analytical reasoning, and communication skills. GPA requirements are not explicitly stated, but a strong academic performance is highly recommended given the competitive nature of UPenn Law's admissions.
A competitive GPA showcases an applicant's ability to excel in a challenging academic environment and indicates a strong potential for success in law school.
2. Language proficiency
Language proficiency is crucial for international students applying to UPenn Law, as comprehending and communicating effectively in English is essential for success in the law school's rigorous academic setting.
International applicants whose native language is not English or who have not completed their undergraduate degree at an institution where the primary language of instruction is English must demonstrate their English proficiency by submitting TOEFL or IELTS scores.
The minimum TOEFL score requirement is 100 on the internet-based test (iBT), while the minimum IELTS score is 7.0. Meeting or exceeding these minimum score requirements is crucial for international applicants. It ensures that they possess the necessary language skills to engage actively in class discussions, comprehend complex legal materials, and excel in their written work at UPenn Law.
3. LSAT score
The LSAT score is a critical component of the UPenn Law application process, including for UPenn Law, as it provides admissions committees with a standardized measure of an applicant's aptitude for law school. The LSAT evaluates skills in logical reasoning, analytical thinking, and reading comprehension, which are essential for success in legal education.
Although UPenn Law does not have a strict minimum LSAT score requirement, a competitive score can significantly increase an applicant's chances of admission, demonstrating their readiness to excel in the demanding academic environment of law school.
Prospective students should dedicate ample time to prepare for the LSAT and aim for a high score to improve their application's overall strength and increase the likelihood of gaining admission to UPenn Law.
4. Character and fitness requirements
Character and fitness requirements are essential aspects of the law school application process. They ensure that applicants possess the necessary ethical and professional qualities to succeed in the legal profession.
UPenn Law, like many other law schools, evaluates an applicant's character and fitness through various application components, such as personal statements, letters of recommendation, and information about past conduct.
Admissions committees look for evidence of integrity, honesty, maturity, and a commitment to ethical behavior, as these traits are critical for maintaining the high standards of the legal profession. Applicants must disclose any past academic or professional misconduct, criminal records, or other incidents that may raise concerns about their character and fitness to practice law.
Being forthright and honest about any such issues while demonstrating personal growth, responsibility, and a commitment to ethical conduct can help mitigate potential concerns and show that the applicant is prepared to uphold the values and responsibilities of the legal profession.
UPenn Application Components
1. Application form
The UPenn application form is the foundation of the law school application process and serves as a comprehensive overview of the applicant's background and qualifications. For UPenn Law, the form includes several essential components.
First, personal information, such as contact details, demographics, and citizenship status, is required to establish the applicant's identity and communication preferences. Second, the academic history section requests information about the applicant's educational background, including undergraduate and graduate institutions attended, GPA, major, and any academic honors or awards received. This section highlights the applicant's intellectual capabilities and academic preparedness.
Third, the employment history section provides insight into the applicant's professional experiences, achievements, and potential contributions to the UPenn Law community. Lastly, the extracurricular activities section showcases the applicant's interests, passions, and commitment to community engagement, leadership, and personal growth outside the classroom.
2. Personal statement
The personal statement is a critical component of the UPenn Law application, as it allows applicants to showcase their unique qualities, experiences, and aspirations beyond their academic and professional achievements.
Its purpose is to give the admissions committee a deeper understanding of the individual behind the application, highlighting their motivation for pursuing a legal education and demonstrating their potential fit with UPenn Law's community and values.
To craft a compelling personal statement, applicants should tell a genuine and engaging story that reveals their personality, passion for the law, and commitment to personal and professional growth. Maintaining a clear and concise writing style, avoiding clichés, and ensuring the statement is well-organized and free from grammatical errors are essential.
By thoughtfully reflecting on their experiences and articulating their motivation for pursuing a legal career, applicants can create a personal statement that resonates with the admissions committee and leaves a lasting impression.
3. Resume or Curriculum Vitae
A well-structured resume or curriculum vitae is essential to the law school application process, as it concisely summarizes an applicant's academic, professional, and extracurricular accomplishments. When formatting a resume, applicants should prioritize clarity and readability by using consistent fonts, headings, and bullet points to organize their information.
The content should include relevant details such as education, work experience, internships, research projects, publications, awards, leadership positions, and community involvement.
To tailor the resume for a law school application, applicants should emphasize experiences and skills demonstrating their ability to succeed in the legal profession, such as research, writing, analytical thinking, and communication.
Additionally, highlighting relevant volunteer work, advocacy, or experiences within the legal field can showcase the applicant's genuine interest in pursuing a legal career. By creating a well-crafted and tailored resume, applicants can effectively convey their qualifications and potential contributions to the UPenn Law community.
4. Letters of recommendation
Letters of recommendation play a crucial role in the law school application process. They provide the admissions committee with an external perspective on an applicant's academic abilities, personal qualities, and potential for success in the legal profession. When selecting recommenders, applicants should choose individuals who know them well and can speak to their strengths, accomplishments, and character.
These individuals may include professors, supervisors, or mentors who have observed the applicant's intellectual capabilities, work ethic, and personal growth. To help recommenders craft compelling and informed letters, applicants should provide them with necessary materials such as their resume, personal statement, and a brief overview of their aspirations and goals in pursuing a legal education.
Additionally, it is essential to give recommenders ample time to write the letters and communicate any specific requirements or deadlines set by UPenn Law. By selecting appropriate recommenders and providing them with the necessary guidance and materials, applicants can ensure that their letters of recommendation highlight their unique qualities and potential contributions to the law school community.
5. Optional essays
Optional essays offer applicants an opportunity to provide additional information or context that may not be adequately covered in the required components of their UPenn Law application.
For UPenn Law, the Public Interest Essay is a chance for applicants to express their commitment to public interest work, showcasing their past experiences, future goals, and how they plan to engage with public interest initiatives during their time at law school.
This essay helps the admissions committee identify applicants passionate about social justice and public service, aligning with the school's commitment to fostering a community of public interest-minded students.
Additionally, UPenn Law may offer other optional essays, such as a diversity statement or an addendum to address specific circumstances, like gaps in education, academic inconsistencies, or personal challenges.
These optional essays provide a more comprehensive understanding of an applicant's background and experiences, allowing the admissions committee to holistically evaluate their potential fit with the UPenn Law community. By thoughtfully crafting optional essays, applicants can demonstrate their unique perspectives, resilience, and dedication to their legal aspirations.
UPenn Law School Application Timeline
1. Key dates and deadlines
Staying informed about key dates and deadlines is crucial for a successful UPenn law school application. UPenn Law offers both Early Decision and Regular Decision application options.
The Early Decision deadline typically falls in November, and applicants who apply under this binding agreement demonstrate their strong commitment to attending UPenn Law if accepted. Regular Decision deadlines usually occur in January, allowing applicants more time to prepare and submit their applications.
It is important to note that the admissions process for UPenn Law is rolling, so applying earlier may be advantageous. Additionally, applicants should be mindful of financial aid deadlines, which may differ from admissions deadlines.
These deadlines, often in February or March, are important for prospective students seeking need-based financial aid or merit-based scholarships. By keeping track of these key dates and deadlines, applicants can ensure that they submit their materials promptly and maximize their chances of gaining admission to UPenn Law and receiving financial assistance.
2. Timeline for completion of application components
Creating a timeline for completing UPenn Law application components is a proactive approach to ensure a well-prepared and timely submission. Applicants should start by researching UPenn Law's specific requirements and deadlines for each component, including the application form, personal statement, resume, letters of recommendation, optional essays, and financial aid documentation.
Once these details are gathered, applicants can work backward from the deadlines, setting milestones for each component. Ideally, prospective students should begin preparing for the LSAT several months before their desired test date while researching the law school and its programs.
Drafting the personal statement, resume, and optional essays can begin a few months before the application deadline, allowing ample time for revisions and feedback.
Simultaneously, applicants should reach out to potential recommenders well in advance, providing them with the necessary materials and guidance. By establishing and adhering to a structured timeline, applicants can ensure a smooth application process and submit a comprehensive and compelling application to UPenn Law.
3. Notification of decisions and response deadlines
After submitting their applications, applicants await notification of UPenn Law's decisions. The admissions process operates on a rolling basis, making decisions as applications are reviewed, and notifications are sent out continuously throughout the admissions cycle.
Typically, decisions can be expected within a few weeks to a few months after the application's submission, depending on the volume of applications received by the admissions committee.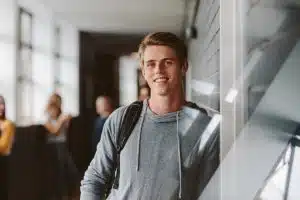 Once an applicant receives a decision, they should be aware of response deadlines, which require them to accept or decline the offer of admission within a specified time frame, usually a few weeks. If admitted, applicants may also need to submit enrollment deposits to secure their place in the incoming class.
It is essential to keep track of these response deadlines to ensure timely communication with the law school and avoid losing a spot in the class. By staying informed about decision notifications and response deadlines, applicants can effectively manage their law school application journey and plan for their future at UPenn Law.
UPenn Financial Aid and Scholarships
Need-based financial aid
Need-based financial aid is an essential resource for many students pursuing a legal education at UPenn Law, as it helps alleviate the financial burden associated with attending law school. To apply for need-based financial aid, applicants typically need to complete the Free Application for Federal Student Aid (FAFSA) and any additional institutional forms required by UPenn Law, ensuring they meet the specific deadlines set by the school.
The application process involves providing detailed information about the applicant's and their family's financial situation, which allows the UPenn Financial Aid office to determine the appropriate level of assistance. Types of need-based aid available may include federal loans, institutional grants, and work-study opportunities, depending on the applicant's financial need and eligibility.
By understanding the UPenn Law application process and exploring the types of need-based financial aid available, applicants can make informed decisions about funding their legal education at UPenn Law.
Merit-based scholarships
Merit-based scholarships are another valuable resource for students seeking financial support while attending UPenn Law. These scholarships are awarded based on an applicant's academic achievements, leadership potential, and other exceptional qualities rather than financial need.
In many cases, the application process for merit-based scholarships is integrated into the general law school application, meaning applicants are automatically considered for such awards when they submit their application materials.
However, some scholarships may require additional essays or separate applications, so it is essential for applicants to research UPenn Law's specific scholarship opportunities and their respective requirements. Types of scholarships available can range from partial to full-tuition awards, and they may be sponsored by the law school, alumni, or external organizations.
By familiarizing themselves with the application process and types of merit-based scholarships available, applicants can explore various opportunities to fund their legal education at UPenn Law and recognize their academic and personal achievements.
Tips for a Successful Application for UPenn
1. Researching UPenn Law and demonstrating fit
Researching UPenn Law thoroughly is crucial for crafting a compelling application that demonstrates a strong fit with the school's values, programs, and community.
By gaining an in-depth understanding of the school's academic offerings, faculty expertise, interdisciplinary opportunities, clinics, externships, and public service initiatives, applicants can articulate their interests and goals more effectively in their personal statements, optional essays, and interviews.
Additionally, attending events such as virtual information sessions, webinars, or open houses can provide valuable insights into the school's culture and resources, allowing applicants to better envision themselves as part of the UPenn Law community.
Engaging with current students or alumni can also offer unique perspectives on the law school experience and the opportunities it presents. By demonstrating a genuine understanding of and fit with UPenn Law, applicants can convey their commitment to pursuing a legal education at the school and their potential to thrive as future legal professionals within its community.
2. Proofreading and polishing all application components
Proofreading and polishing all application components are essential steps in submitting a strong law school application. A well-polished application for UPenn not only reflects the applicant's attention to detail but also demonstrates their professionalism and commitment to presenting their best self.
Applicants should thoroughly review their personal statements, resumes, optional essays, and other written materials for grammatical errors, typos, and inconsistencies in formatting.
It is also helpful to read the documents out loud to catch any awkward phrasings or repetitive language. Additionally, seeking feedback from trusted friends, mentors, or advisors can provide valuable insights for improving the clarity, organization, and overall impact of the application materials.
By investing time and effort in proofreading and polishing all components of their application, applicants can ensure they submit a cohesive, well-prepared, and compelling package that showcases their qualifications and potential contributions to UPenn Law.
3. Seeking advice from mentors and alumni
Seeking advice from mentors and alumni is a valuable strategy for navigating the law school application process and gaining a deeper understanding of the opportunities and experiences that UPenn Law has to offer. These individuals can provide unique insights, share personal experiences, and offer guidance on crafting a competitive application.
Mentors can help with selecting recommenders, revising personal statements, and providing feedback on resumes and optional essays. Alumni, in particular, can share their perspectives on UPenn Law's academic programs, campus life, and professional development opportunities, helping applicants gauge their potential fit with the school and identify aspects to highlight in the UPenn Law application.
Establishing connections with mentors and alumni not only strengthens an applicant's understanding of UPenn Law but also fosters a supportive network that can be valuable during their legal education and future career endeavors.
4. Preparing for interviews, if applicable
Preparing for interviews, if applicable, is an essential part of the law school application process, as it offers applicants a unique opportunity to showcase their interpersonal skills, and passion for the law, and fit with UPenn Law's community. To prepare effectively, applicants should begin by researching common interview questions and practicing their responses.
These questions may address topics such as the applicant's motivation for pursuing a legal career, their interest in UPenn Law specifically, and examples of overcoming challenges or demonstrating leadership.
Familiarizing oneself with UPenn Law's programs, faculty, and unique offerings will enable applicants to speak knowledgeably and confidently about their interests and goals within the context of the school.
Additionally, engaging in mock interviews with friends, mentors, or advisors can help refine communication skills, body language, and overall presentation. By thoroughly preparing for interviews, applicants can make a strong impression on the admissions committee and further demonstrate their commitment to pursuing a legal education at UPenn Law.
Now that you have an idea about the University of Pennsylvania law school, your admission to that university should be next on your mind. To ensure that you get into UPenn, you can get help with AdmissionSight. With ten years of experience with college admission experts, AdmissionSight can help you get into the University of Pennsylvania. You can talk to our experts today to get an initial consultation.