Villanova University Acceptance Rate: 23%
Successful Applicant Profile
Demographics
Majors
SAT/ACT scores
Entry Requirements
Tuition
Scholarships
Checklist of Application Requirements
Application Deadlines
What Should You Expect
Student life
Academics offered
Athletics offered
Notable Alumni
Villanova University is a private research university located in Villanova, Pennsylvania. Villanova University was founded in 1842 and is renowned for its contribution and approach to both its academics and its athletics. Admission to Villanova University is considered highly selective and data shows that the Villanova University acceptance rate appears to be dwindling slightly year-on-year, making it more competitive than ever to secure a position at this highly regarded academic Roman Catholic institution.
If you have decided that Villanova is the school for you, it is important to know all you can about application process and what the university expects from its applicants prior to submitting your application to give you the best possible chance of gaining admission and becoming a Wildcat.
For the class of 2026 admissions cycle, the Villanova University acceptance rate was just 23%, demonstrating the highly selective nature of their admissions process and the standing of one of the oldest and most respected academic institutions within the state of Pennsylvania. Getting into Nova is no mean feat and the admissions process is designed to focus on a wide array of factors.
When it comes to SAT and ACT scores at Villanova University, these scores will be taken into consideration as part of your application, but are listed as optional at Nova through to at least the 2023-24 admissions cycle. For those who did decide to submit their SAT or ACT scores as part of the application process for the class of 2026, the average range of standardized test scores was 1390-1480 on the SAT and 31-34 on the ACT. In addition to this, an impressive 84% percent of students from the most recent admitted cohort placed in the top 10% of their high school class.
Villanova University is famous for its personable approach to academics, placing a large emphasis on student-professor relations and providing an academic experience that is specifically tailored and unique to its students. It has produced notable alumni in a wide array of fields, including politics, film, sports, engineering and law. The Villanova Wildcats are the athletics department of the university and has gained national recognition across a variety of teams, excelling in basketball and football in particular. We are now going to explore what it takes to gain admission to Nova.
Successful Applicant Profile
Villanova University is a private, selective and highly regarded Roman Catholic that is highly regarded both in the United States and internationally. A degree from Villanova carries considerable gravitas for its graduates and the university enjoys a great reputation.
This reputation has resulted in an increasing amount of applications year-on-year for the past decade or so and a sharp decline in the Villanova University acceptance rate percentage to match. In summary, it's more competitive than ever to gain admission to Villanova and having a sense of what the university is looking for when making its admissions decisions is of crucial importance to your chances.
Demographics: Who Makes up the Villanova Student Body?
Diversity amongst its student population is not something Villanova is famous for, although the university have been making efforts to increase the level of diversity in recent years. According to the statistics which the university released for the class of 2026, 56% of its student body identified as female and 44% identified as male, showing a slight majority of female students.
When it comes to the race and ethnicity of the student population at Villanova, the university released the following breakdown of its student body for the class of 2026;
Asian: 7%
Hispanic: 11%
African American: 6%
Two or more races: 4%
White: 69%
A very small number of the undergraduate student body, just 2%, are considered international students at Villanova. Amongst these, the highest number of these students come from the following countries; China, Vietnam, Canada, Nigeria and India, representing a real mixed bag.
The Office of Intercultural Affairs (OIA) at Villanova is primarily concerned with taking care of the diversity of the study body on campus. The office offers a wide range of services including anti-racism resources, scholarships, experiences, workshops and events for all students and states that its mission is to "create and supports programming that fosters and sustains a community of respect and inclusion for Villanovans with a special focus on underrepresented students."
Just two percent of the undergraduate student body at Villanova is made up of international students, but the university does have a dedicated International Student Services which provides activities and helps international students in navigating life in the US once they arrive on campus as well as providing advice on travel, documentation and other immigration issues as required.
Average SAT/ACT Scores of Students Admitted to Villanova
As a response to the COVID-19 pandemic, Villanova adopted a 'test-optional' policy that has now been extended through to the 2023-24 admission cycles. This means that applicants to Nova can submit test scores if they wish but are not required to do so in order to be considered for admission. Choosing not to do so will not harm your application and the university places an emphasis on both your academic and intellectual fit when making decisions on who to admit.
Those who did choose to submit standardized tests scores from the Villanova University class of 2026, the most recently released scores, the mid-50% SAT range was 1390-1480 and the ACT range was 31-34. In addition to this, an impressive 84% percent of students from the most recent admitted cohort placed in the top 10% of their high school class. This further underlines the high academic standards expected of incoming students at Villanova University.
Entry Requirements
The admissions acceptance percentage at Villanova has decreased dramatically in recent years while the number of applicants to Nova has increased. So much so that applications to the university have increased by 30% in the last five years and the acceptance rate, close to 50% as recently as 2014, has now reached 23% and is expected to continue to drop.
It goes without saying, then, that applications to Villanova are more competitive than ever. However, don't worry, we here at AdmissionSight have got you covered – here's the lowdown on everything you need to know about gaining admission to Nova and what is expected of its successful applicants.
How Much Will it Cost to Attend Villanova University?
For undergraduate students in the academic year 2022-2023, the total cost of first-year tuition and fees for Villanova University amounts to $59,900. It should be noted that the university does not differentiate between in-state and out-of-state students in terms of the cost of tuition and fees. The total above is different from the total cost of attendance, which also factors in other expenses such as the cost of room and board and books, supplies, and general living costs while at Nova.
The total breakdown of costs for attendance at Villanova University is outlined below;
Tuition and fees (in-state) – $59,900
Tuition and fees (out-of-state) – $59,900
Room and board – $15,386
Personal expenses & books/supplies – $2550
In total, this amounts to an overall cost of attendance for first-year undergraduate students of $77,836, which definitely places Villanova in the expensive bracket when considering your higher education options. To offset the cost of attendance, the university offers a variety of financial aid options and continues to promote equality and diversity through an array of financing options that include university and program-specific scholarships and grants on top of standard federal aid.
Financial Aid at Villanova University
Given the high cost of attending Villanova University for first-year undergraduate students, financial aid is of course an important consideration for prospective students. The total cost of attendance for first-year undergraduates is $77,836, which places Villanova amongst the most expensive non-Ivy League schools in the country. However, in order to offset these costs, the university does offer a variety of financial aid options to make attendance possible for students from all backgrounds and provide value for money as relates to the standard of education.
Villanova is keen to stress the value for money it provides in terms of making the decision to study at its institution and seeing this as a crucial investment in your future. The office of financial assistance states on its website that "A Villanova University degree is among the best investments you'll ever make. Through grants, scholarships, loans and student employment, we strive to closely meet your family's need, and offer payment options to assist with your educational expenses."
Standard federal aid options such as Pell Grants and the Supplemental Educational Opportunity Grant (SEOG) are offered at Villanova. These are supplemented by the Villanova University Grant and the PA State Grant, all of which are listed under Villanova-endorsed, Federal, and State Grants.
Additionally, further needs-based grants are offered by the university such as the St. Martin De Porres Scholarship, which covers the full cost of tuition and general fees. There is also merit-based awards such as the Anthony Randazzo Endowed Presidential Scholarship, the Villanova Presidential Scholarship and the Denise McNair Memorial Scholarship, all of which are for first-year students.
There are also numerous grants and scholarships available depending on the college and specific program. For a more detailed and specific run down of the financial aid available at Villanova, students can use the Financial Aid Calculator provided by the university on its dedicated website.
The Application Requirements
The Villanova University acceptance rate has dramatically decreased in the last five years as both the academic and athletic standing of the university continues to grow. Nova has long been an established and respected academic institution whose degrees hold a significant amount of weight, and this reputation has only flourished in recent years.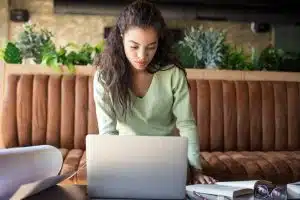 Nova noted that 23,813 applications were received for the 2021-22 admissions cycle and as such competition for places remains as tough as ever. Therefore, it is extremely important to present the best application possible. Admissions requirements are program and department-specific, but Villanova provides a guide of basic requirements for all first-year undergraduates applying for admission. These include:
Completed Common Application with Essay
School Report and Official High School Transcript
At least one (1) teacher recommendation
Counsellor recommendation (optional)
SAT or ACT scores (optional)
$80 Villanova application fee or application fee waiver
In addition, perspective international students from non-English speaking institutions or applicants whose first/primary language is not English or whose secondary schooling has not been in English are also required by the university to submit official proof of English language proficiency.
Important Dates for Villanova University Admission Timeline
For students hopeful of gaining admission to Villanova, it should be noted that admissions decisions are split into two separate sections; the Early Action (EA) admissions deadline and the Regular Decision admissions deadline depending on the date of completed application.
For Early Decision admissions, the deadline to submit your application materials to Nova is November 1 at 11:59pm. Applicants are then told of their admissions decision by January 20.
For Regular Decision admissions, the deadline to submit your application materials to Nova is January 15 at 11:59pm. Applicants can then expect their Regular Decision response by April 1.
What Students Can Expect
Located in the affluents suburbs of Villanova, Pennsylvania, Villanova University is famed for offering a tailored student experience that fosters great relationships between its students and its professors resulting in high-class academics across the board. With a beautiful, suburban campus, this Roman Catholic university gives off the 'private' vibes it intends to and the exclusive setting really lends itself to the community feel that has allowed both its academics and athletics to flourish on the national stage. Nova is routinely ranked among top 50.
"One thing you can get at Nova and not at bigger schools: student-professor relationships, wrote one student on Unigo. "It's so nice to have all of your professors know you by name, and to know you can easily visit them (and not a TA) during their office hours if you need any help. Classes definitely aren't easy, but if you pick the right ones, you won't mind the work that's involved. I'm an accounting major, marketing and entrepreneurship minor–as well as currently studying abroad and planning to work in an internship during a semester–and I was able to fit that all into four years without much of a problem. I would definitely recommend Villanova!"
In order to get more information about the Villanova University acceptance rate , life on campus and the entire admissions process at Nova, you can email [email protected] or call the admissions department at 610-519-4000.
Academics Offered
Villanova University is considered a mid-size university with a fantastic reputation for both high-class academics and high-class athletics that has allowed the reputation of the Roman Catholic institution to thrive year after year. In total, Villanova University offers 55 distinct undergraduate degrees, concentrated into 48 majors within 23 broad fields of study, underlining its diversity.
Academics at Villanova University are divided amongst its five undergraduate colleges listed below
College of Liberal Arts & Sciences
Villanova School of Business
College of Engineering
College of Nursing
College of Professional Studies
Villanova has developed stellar reputation in all its academics, and given the size of the university it is considered a specialist institution in all the disciplines it offers. Some of the most popular programs at Nova include: Business, Management, Marketing, and Related Support Services; Social Sciences; Engineering; Health Professions and Related Programs; Communication, Journalism, and Related Programs; Biological and Biomedical Sciences, Nursing and Psychology.
What Athletic Options are Available?
Villanova University offers a total of 22 varsity sports teams – 10 of which are men's teams and 12 of which are for women. The teams, known as the 'Villanova Wildcats' are listed below:
Men's Teams
Baseball
Basketball
Cross Country
Football
Golf
Lacrosse
Soccer
Swimming & Diving
Tennis
Track & Field
Women's Teams
Basketball
Cross Country
Field Hockey
Lacrosse
Rowing
Soccer
Softball
Swimming & Diving
Tennis
Track & Field
Volleyball
Water Polo
Notable Villanova University Alumni
Villanova University has a vast number of notable alumni who have had a huge impact on the world. Amongst its alumni feature various famous and high-ranking government officials, actors, athletes and lawmakers that are too numerous to name. Some  notable Nova' alumni include;
Toby Keith
Bradley Cooper
Maria Bello
Howie Long
Andrew M. Allen
Ed Rendell
Richard Trumka
Jim Croce
Jamie Hyneman
Jon Polito
Barbara Harris
James F Orr III
Michael Steele
John Joseph O'Connor
Jill Biden
William J. Fallon
John G. Rowland
Tim Donaghy
William J. Martini
Patrick Kerins
Jerramiah Healy
Marjorie Rendell
If you've made the decision that Villanova is the university for you, some of their famous alumni may give you greater inspiration to follow in their footsteps. The admissions process is never meant to be easy, however if you feel you have what it takes, allow us at AdmissionSight to show you how to maximize your strengths and minimize any potential weaknesses in your application so that the college admissions officers at Villanova see you for the great potential you have.