What Are The Best Medical Schools In Europe?
Why study medicine in Europe?
There are many reasons why one should consider pursuing medicine in Europe. This might range from a deep-seated desire to help others to the promise of a lucrative career. Whether it's your top choice or a fallback, deciding to study medicine in another country is a major life choice that should not be taken lightly. Studying at the best medical schools in Europe has its benefits, some of which include:
Quality Education: European medical schools have a long history of providing high-quality education, with many of them being renowned for their rigorous and comprehensive medical curricula.
Clinical Experience: European medical schools provide ample opportunities for hands-on clinical experience, allowing students to work directly with patients and gain practical skills in a clinical setting.
Interdisciplinary Approach: Medical education in Europe often takes an interdisciplinary approach, incorporating courses in social sciences, ethics, and the humanities to produce well-rounded medical professionals.
Multicultural Environment: Studying medicine in Europe exposes students to diverse cultures and healthcare systems, providing a unique opportunity to broaden their perspective and understanding of medicine.
Career Opportunities: Graduates of European medical schools are well-respected and sought after globally, providing excellent career opportunities both within and outside of Europe.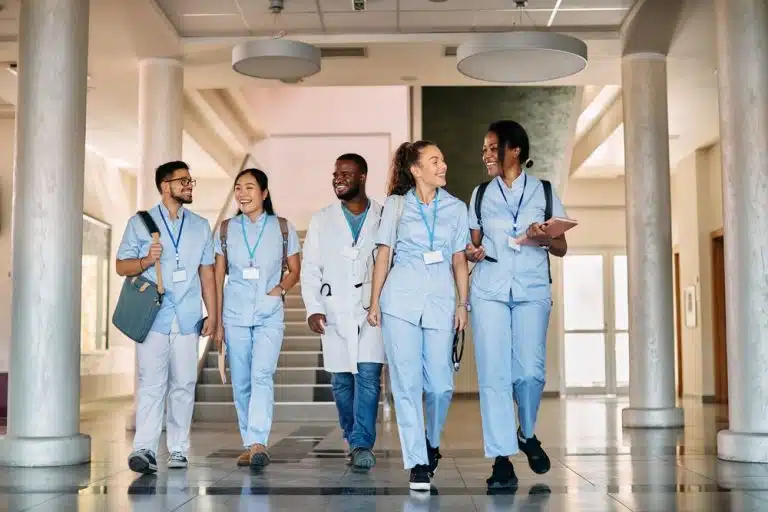 Research Opportunities: Europe is home to some of the world's leading research institutions and medical schools, providing students with opportunities to engage in cutting-edge research and innovation in medicine.
What are jobs with a medical degree?
1. Public Health Worker
One of the careers available with a degree in medicine is being a public health worker. Protecting and enhancing the general population's health is the primary focus of public health initiatives. You could seek to stop the spread of infectious illnesses or environmental health hazards; alternatively, you could be involved in developing methods to improve the health service's efficiency, effectiveness, and accountability.
2. Health Journalist
A journalist specializing in Health Journalism is in an extremely competitive industry; nevertheless, individuals with scientific degrees and expertise have an advantage over most journalists, who come mostly from backgrounds in the arts or social sciences.
This is also something a graduate from the best medical schools in Europe can do in addition to their regular clinical duties. It is important to remember that to launch a successful journalism profession; you may need to acquire additional certifications (even if they are earned on a quick training course) or experience.
3. Medical Teacher
Education in medicine can take many forms, from assisting students in medical school or doctors in training to teaching members of the public in one's own country or another. If you want to affect the education of a significant number of people, this option might be the best one for you to pursue.
4. Clinical Forensic Medical Examiner
An intriguing career path to pursue after finishing your training as a medical practitioner. The examination of living people is one of the primary responsibilities of a forensic medical examiner. Forensic pathologists are educated to perform medical examinations of the deceased.
5. Crowd Doctor
This is a terrific career choice for those who find it fulfilling to be able to serve others as a doctor but who perhaps do not want to work in a clinical hospital environment. Crowd doctors provide medical care to large groups of people through online platforms. People who are attending huge events that are taking place in stadiums and outdoor festivals have access to medical coverage provided by crowd doctors.
6. Medical Photographer
A line of work that will let you put both your creative abilities and your medical training to use. Photography and video are both tools that medical photographers utilize in providing patient care, providing general information, and marketing health publications.
7. Medical/ Pharmaceutical Researcher
The field of medical research is an active one that is consistently undergoing new developments. Experiments are performed, and the findings are analyzed so that researchers in the medical field can gain a better understanding of the human body and possible remedies. This could entail working in the academic field, the pharmaceutical sector, hospital labs, research institutes, or even for a charity that supports medical research.
8. Sports and Exercise Medicine
Someone who studies at the best medical schools in Europe could also consider becoming an SEM. SEM stands for sports and exercise medicine, a newly recognized medical sub-specialty. It is focused on treating medical illnesses and injuries in individuals, such as athletes, who participate in a significant amount of physical activity.
9. Occupational Physician
Suppose assisting people who have had a medical setback due to an accident or sickness and remaining employed or returning to work interests you. In that case, this position may be the perfect fit for you. In addition, the function may require providing organizations and individuals with health advice, education, or training to reduce the likelihood of injuries occurring on the job and maintain high health and safety standards.
10. Transplant Coordinator
These medical experts are responsible for coordinating all of the actions that are associated with organ donation and transplantation. They communicate with medical, paramedical, and non-medical workers. They may be involved in various stages of the procedure, ranging from meeting with donors and recipients to providing post-surgical care and following up with patients. The post typically requires involvement in both administrative and medical responsibilities.
What are the leading medical schools in Europe?
Karolinska Institute
Degrees offered: Bachelor's, Master's, PhD
The Karolinska Institute is widely regarded as one of the leading medical schools in Europe. The institution, which may be found in Sweden, is solely responsible for the highest proportion of all academic medical research carried out nationwide.
In addition, Karolinska has a teaching and research hospital linked with it; which exemplifies how the institution emphasizes theoretical knowledge, innovation, and practice. According to EduRank, the Karolinska Institute's research output in the field of medicine earned it the top spot, making it one of the best medical schools in Europe.
Because of the collaborative nature of its healthcare services, medical students have been able to experience and learn in situations ideal for clinical instruction and research. The institute's goal of improving the general population's health may now be accomplished comprehensively.
Charité – Universitätsmedizin Berlin
Degrees offered: Bachelor's, Master's, PhD
The Charité – Universitatsmedizin Berlin stands out among other universities in Germany due to the exceptional medical education it provides and its stellar reputation for research. It is one of the largest university hospitals in Europe and has earned a reputation worldwide for providing exceptional medical education and training.
This esteemed educational facility for the medical profession is staffed by knowledgeable physicians and researchers that provide direct supervision to medical students and help them become more prepared for clinical settings. Because healthcare is one of the most important to human existence, those who will one day work in the field must have the knowledge and experience necessary to provide patients with the best possible treatment.
The Charité was recognized as the most desirable place to work in the German healthcare industry and received an award from Focus Magazine for being the best hospital in Germany for the second year. Charité has demonstrated outstanding effects in the field of medicine, and as a result, medical students choose to study and serve under its auspices.
Heidelberg University
Degrees offered: Bachelor's, Master's, PhD
Another of the very best medical schools in Europe may be found at Heidelberg University. It is a state-funded research institution that is located in Germany. It is also considered the oldest university in the nation, and it provides a diverse selection of medical-related courses and degrees. It covers the entire range of subjects in the natural and living sciences, particularly medicine.
The University of Heidelberg is a teaching and research institution with an international focus. It places a strong emphasis on hands-on training, resulting in outstanding and organized graduates. The university makes it a priority to foster personal growth, increase interdisciplinary collaboration, and facilitate the application of research findings in industry and society.
Fifty-six people who have been awarded the Nobel Prize in the past have a connection to the university. One of just three universities in Germany to make the QS World University Ranking Top 100 Worldwide, Heidelberg University is one of those universities.
University of Amsterdam
Degrees offered: Bachelor's, Master's, PhD
The Faculty of Medicine at the University of Amsterdam combines comprehensive and high-quality patient care with ground-breaking scientific research and the education of aspiring medical professionals. Because of the extensive training the university provides its students; it is distinguished from other medical universities in the Netherlands.
This prestigious medical school in Europe is home to eight research institutions and provides educational programs in practically all medical subspecialties. The university's primary responsibility is integrating research, education, and training to provide patients with the highest possible quality of care.
The novel findings from this research have contributed to a deeper comprehension of the factors contributing to certain diseases and advancements in treatment methods. Due to the immense amount of medical experience possessed by UM, the institution was ranked as the number one Dutch university in THE Europe Teaching Rankings.
University of Leuven
Degrees offered: Bachelor's, Master's, PhD
The University of Leuven is a Catholic research university located in Belgium. It is an educational institution with a reputation that extends throughout the globe. It offers courses of the highest quality since they are based on the original research of the university's professors and scientists.
The University of Leuven is organized into 15 faculties, each focusing on a particular academic discipline. It provides an education that is both theoretical and practical through its Faculty of Medicine. The curriculum was designed so that students would acquire substantial theoretical knowledge in addition to hands-on experience through practice sessions, practicals, and internships. Students will have a far better chance of being prepared for the realities of the workforce if they take their education in this manner.
With the assistance of the university, aspiring medical students can significantly strengthen the foundation of their profession. Because its researchers file more patents than researchers at any of the best medical schools in Europe, starting in 2016, it has been given the title of Europe's Most Innovative University, a title it has held for the past four years in a row.
Maastricht University
Degrees offered: Bachelor's, Master's, PhD
The primary mission of Maastricht University is to cultivate the next generation of educated and conscientious individuals who will work in the medical field. It is beneficial to integrate the student's academic and professional development to better prepare students for successful careers in the medical industry.
In addition to having one of the best medical schools in Europe, Maastricht University strongly emphasizes hands-on experience. Even in the beginning phases of their education, medical students can meet with real patients. In addition to this primary training field, an advanced skills laboratory is also offered. Students are strongly encouraged to attend various international education fairs to network with famous medical professionals and participate in the conversations they have there.
Maastricht University is widely regarded as one of the world's most promising young academic institutions. It was presented with two illustrious quality certificates: the Institutional Quality Assurance Assessment and the Certificate for Quality in Internationalisation (CeQuint).
Erasmus University Rotterdam
Degrees offered: Bachelor's, Master's, PhD
To concentrate more on providing medical degrees, Erasmus University in Rotterdam established both an academic hospital and a medical faculty. Students receive extremely focused instruction as a result of this, enabling them to perform to their full potential.
Because the medical field is so intricate and dynamic, Erasmus Medical College considers the most recent advancements and includes them in its curriculum. The institution exists only to fulfill its mission of "producing well-built medical graduates who can contribute high-quality health care services in the Netherlands and beyond the world."
According to the results of the 2022 Times Higher Education Rankings, the Medical School at Erasmus University in Rotterdam came in as the seventh best in Europe.
Figuring out what kind of best medical schools in Europe can be a big help in your decision in pursuing medicine. If you have already made your decision, it is important that you also pay attention to your college admissions. You can get help with AdmissionSight in your college admission. With ten years of experience with college admission experts, AdmissionSight can help you get into the college of your choice. You can talk to our experts today to get an initial consultation.