What Does Legacy Mean in College?
What Does Legacy Mean On A College Application?
It's extremely likely that 2016 was one of the most competitive admissions cycles ever, with record-low acceptance rates, especially at prestigious institutions, as more data on college applications are released this year. The argument over legacy status in the college admissions process and whether it undermines the method of comprehensive, merit-based admissions standards has been revived by this issue. However, it is still a widespread practice. It's a guarantee that 10–20% of students at the most elite schools in the U.S. will be legacy students.
What does legacy mean on a college application and how will it affect my college application in the coming years? These are two questions that many students and families are asking as the debate about the fairness of college admissions methods rages on.
What does legacy mean in college? It is the formal and informal practice of giving favor to children or family members of alumni of a certain school in admissions decisions. Know more about legacy as we go on.
Even though it isn't widely advertised, it is typically simple to determine whether an institution uses legacy admissions—especially if they don't, as is the case with MIT and Amherst. It's also not always clear how highly legacy status is considered in a holistic examination of an application, even though many institutions break down how they evaluate various components of their applications on their admissions websites. However, some research suggests that it might increase a student's chances of acceptance by two, three, or even fourfold. These more subjective criteria are even more important now that the emphasis is less on quantitative application elements like standardized testing.
How Does Legacy Work For College?
The decision to accept legacies is made at the top by the trustees and school presidents in charge of fundraising. Therefore, while admissions staff are responsible for handling the specifics of admissions choices, presidents, deans, and boards of directors are in charge of deciding who is admitted and what a college is searching for.
So, how does legacy work for college? Tagging and secondary review are typical approaches, however, the techniques differ. The fact that a student is applying as a legacy is noted on their profiles, and it is taken into consideration along with other factors. Although it is unclear how much each college weighs and considers these pupils, it is obvious that it is taken into account in many situations.
What does legacy mean in college's "secondary review?" The secondary review is a procedure used not only for legacy students but also for those the institution thinks are significant, noteworthy, or deserving of recruitment and admission. This often applies to first-generation college students, legacy students, and children of teachers, while certain schools may determine that other students are deserving of this on a case-by-case basis.
These students are assessed and judged a second time in the context of the entire class after admissions choices are mostly made for all other applicants and they have already had a preliminary reading and review.
Although those who end up in the secondary review have a higher likelihood of admission than their classmates, it does not mean that any one applicant in this review pile will be admitted.
Which Colleges Have Legacy Admissions?
Which colleges have legacy admissions? Many prestigious U.S. schools and universities continue to grant so-called "legacy candidates," or those with familial links to an institution, a discernible advantage in the admissions process.
Let's quickly review on "What does legacy mean in college?" The "primary legacy" status, where one or both of the applicant's parents are alumni, is taken into consideration by several universities, including Stanford and UNC. However, "secondary legacies" who claim a grandparent, sibling, or another non-parental familial link to the institution will also often be given preference by schools.
Only a few prestigious schools have completely eliminated the practice from their admissions criteria. These include Cooper Union, MIT, and Caltech.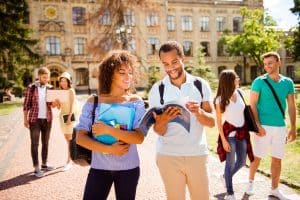 Even if it's debatable, having a legacy can significantly increase your chances of being accepted. For instance, Harvard legacies have an acceptance rate that is more than five times higher than non-legacies.
The top colleges according to U.S. News & World Report's rankings for 2021 are shown here, along with a status update on legacy consideration.
| | |
| --- | --- |
| Institution | Status |
| Princeton University | Legacy Considered |
| Harvard University | Legacy Considered |
| Columbia University | Legacy Considered |
| Massachusetts Institute of Technology | Legacy Not Considered |
| Yale University | Legacy Considered |
| Stanford University | Legacy Considered |
| University of Chicago | Legacy Considered |
| University of Pennsylvania | Legacy Considered |
| California Institute of Technology | Legacy Not Considered |
| Johns Hopkins University | Legacy Not Considered |
| Northwestern University | Legacy Considered |
| Duke University | Legacy Considered |
| Dartmouth College | Legacy Considered |
| Brown University | Legacy Considered |
| Vanderbilt University | Legacy Considered |
| Rice University | Legacy Considered |
| Washington University in St. Louis | Legacy Considered |
| Cornell University | Legacy Considered |
| University of Notre Dame | Legacy Important |
| University of California-Los Angeles | Legacy Not Considered |
| Emory University | Legacy Considered |
| University of California-Berkeley | Legacy Not Considered |
| Georgetown University | Legacy Considered |
| University of Southern California | Legacy Considered |
| University of Michigan-Ann Arbor | Legacy Considered |
| Carnegie Mellon University | Legacy Important |
| University of Virginia | Legacy Considered |
| University of North Carolina-Chapel Hill | Legacy Considered |
| Wake Forest University | Legacy Considered |
| Tufts University | Legacy Considered |
| New York University | Legacy Considered |
What Percentage Of Ivy League Admissions Are Legacies?
A popular query among students is "What percentage of Ivy League admissions are legacies?"
A legacy admissions statistic that may or may not surprise you is as follows: 36% of the Harvard Class of 2022 may claim a relative who was a student there in the past. It's interesting to note that the legacy admissions rate for the Class of 2025 was 16%. Likewise, only 12% of the incoming Crimson freshman in 2024 were noted.
On prestigious college campuses around the nation, the legacy advantage is evident. Other Ivies like Penn (22% of early applications for the Class of 2025) and Brown (10% of the Class of 2025) also accept a significant percentage of legacies in addition to Harvard. Princeton has been known to admit more than 30% of legacy candidates despite having a tiny admissions rate (Class of 2025) of 3.98%
What does legacy mean in colleges outside the Ivy League? Even prestigious public universities like the University of Virginia and the University of Michigan give legacy candidates preference. The degree to which these two schools openly publicize their legacy policies varies, nevertheless.
Children of alumni can participate in special events, webinars, and even schedule a one-on-one transcript consultation with the organization's director at any time during high school thanks to the University of Virginia's in-house Admission Liaison Program. The University of Michigan's applications webpage, in contrast, makes no mention of legacy status; the only mention of legacy admissions is tucked away in a FAQ.
How Much Does Legacy Affect College Admissions?
How much does legacy affect college admissions? Again, it's crucial to keep in mind that, while legacy status is a useful fact, it only accounts for a small portion of how college applications are assessed. If your GPA, test scores, and general candidate profile don't meet the university's admission requirements, they won't be covered by your legal status.
This is where it's important to comprehend what does legacy mean in colleges and how your candidate profile compares to that of other applicants to your choice of school.
Applying in the early admission round may increase your chances of admission if you have previously achieved high test and grade point averages and your top college of choice is also your legacy institution. In addition to the fact that early admission rates are frequently higher than regular admission rates, applying early also shows interest, and declaring yourself as a legacy can further show your resolve to attend if accepted.
Your application strategy may be impacted by applying as a legacy. As demonstrated by Cornell's admissions standards, legacy status is only taken into account at particular universities if a student applies in the early round. You should carefully consider this as another piece of the admissions puzzle because, in many situations, the benefits of applying as a legacy may be lost if you're not ready to apply early.
On the other hand, if your academic profile is not as strong as the middle 50% of admitted applicants, applying as a legacy will probably not be enough to keep you out of the "no" pile. It's crucial to keep in mind that while legacy status can give your application more context, it won't be enough to persuade admissions staff to ignore subpar test results, grades, activities, and other factors.
In the end, applying as a legacy student can support a great application overall, but it is insufficient to guarantee acceptance on its own. Students should think about how their academic background compares to the requirements for admission to the university, as well as how their total application, as well as other considerations like legacy status, should guide their application approach come autumn.
What Can I Do To Increase My Chances Of Getting Into College?
There is nothing else like the application process for college. It calls for perseverance, hard work, and frequently the assistance of parents and school officials. Though we have just discussed "What does legacy mean in college?", the most important factors to consider are creating an engaging essay and obtaining letters of recommendation in addition to receiving outstanding grades and high SAT or ACT scores.
But it's not impossible to get into an excellent school. Let's now discuss the answers to "What can I do to increase my chances of getting into college?"
1. Obtain Good Grades in Difficult Courses.
One of the most crucial criteria for college entrance is unquestionably a good GPA along with a demanding curriculum. Approximately 3 out of 4 universities surveyed, according to a 2019 report by the National Association for College Admission Counseling (NACAC), judged grades in courses to be very relevant when making admission decisions.
Try to enroll in as many difficult courses as you can, especially in your junior and senior years, as over 80% of institutions regarded course difficulty as at least somewhat important.
2. Increase the SAT/ACT Scores.
Even though more schools have begun to implement test-optional policies recently, particularly in light of the COVID-19 pandemic, SAT/ACT scores continue to be important predictors of college admission odds.
In the NACAC study, more than 4 in 5 institutions said that test scores were somewhat or very important. It's usually smart to submit your SAT/ACT scores even if the college you're applying to doesn't require them. It gives them time to consider whether they want to retake it in the fall of their senior year as many students take the SAT or ACT during their junior year
Utilizing official practice questions and tests, many of which are free is the most effective approach to get ready for either exam. Additionally, you can hire a tutor, sign up for SAT or ACT prep seminars, or purchase SAT or ACT preparation books.
3. Compose An Effective Personal Statement.
Particularly now that more colleges are removing their SAT/ACT requirements, the personal statement is crucial in the admissions process. The NACAC poll found that more than half of the colleges gave the essay or writing sample at least a substantial amount of weight.
One of the best opportunities to market yourself is in the essay.
Spend some time coming up with a distinct viewpoint and selecting the best prompt for you. Sharing an intimate, captivating story should be your aim.
4. Express Interest.
According to a 2019 NACAC research, 40% of institutions regarded applicants' demonstrated interest as a crucial criterion for admission.
If you are genuinely interested in attending a certain university, you can express your interest by visiting the campus, taking a campus tour, taking part in optional interviews, and getting in touch with admissions staff. Getting in touch with professors in your desired major, applying for early decision (if applicable), following the school on social media, and taking part in online seminars for prospective students are additional ways to show interest.
5. Secure Strong Recommendations.
The importance of letters of recommendation can't be overstated because they offer insight into your character that grades and test results can't. For this reason, you should try to ask those who can enthusiastically and positively discuss your abilities, successes, and attitude.
Most institutions demand 1-3 recommendation letters, usually from teachers and a guidance counselor from a high school.
When requesting something, be courteous. Additionally, make sure to ask a minimum of one month before the deadline for your college application. You want enough time for your recommender to write a persuasive letter on your behalf.
6. Submit Applications to Several Colleges.
Students should submit applications to a range of institutions, such as safety, match, and reach schools. Your high school guidance counselor can assist you in compiling a list of prospective colleges for which you meet or surpass all entrance requirements. These will be your safeties and matches, giving you a good probability of getting accepted.
After completing that, you can begin to consider reaching schools or organizations that you have a lower likelihood of being accepted to. Be aware that some colleges, such as elite private universities like Stanford and the Ivy League, are open to all students. By submitting applications to several universities, you increase your chances of being accepted to at least one of them, even if your top choice is rejected.
7. Select A Plan for Early Admission.
According to research, submitting your application early can increase your chances of being accepted if you're set on attending a particular college. This is because during early decision and early action rounds, universities often admit a higher proportion of applicants.
You must apply early for both plans, typically in November. Additionally, you might anticipate receiving an admissions decision earlier—typically around December.
Early action does not bind you to a specific school, unlike early decision, which is a contractual agreement that requires you to attend that school if you are admitted.
8. Maintain Your Online Image.
Examining candidates' social media profiles is becoming a more common practice among admissions officers as a way to get to know them better and see any potential red flags that would prevent them from extending an acceptance. Make sure there is no content on your LinkedIn, Facebook, Twitter, YouTube, Instagram, or TikTok accounts that you wouldn't want colleges to view while you are applying.
Having a suitable email address is crucial. To be sure there are no online rumors about you that could be damaging, you should also Google your name.
9. Seek Assistance When Necessary.
You shouldn't attempt the college application process alone because it can be challenging. Make sure to ask for help from those who are knowledgeable about the admissions process while you prepare and finalize your applications, such as your guidance counselors, professors, or college admissions experts like AdmissionSight.
Additionally, get advice from your parents, friends, elder siblings, and other family members who are knowledgeable about the application process and college life.
Last but not least, make sure someone proofreads your complete application. Grammar, spelling, and punctuation are all small details that matter a lot.
After we have tackled "What does legacy mean in college?" and how to improve your chances of getting in, with or without a legacy status, it's time to do the work. Contact AdmissionSight for a free initial consultation to discuss the next steps of your college application.