What is Berkeley Known For?
Why Is Berkeley So Prestigious?
What is Berkeley known for? UC Berkeley is the second-oldest institution of higher learning in California and the founding member of the UC System.
Today, UC Berkeley is regarded as one of the most esteemed universities in the UC System and the entire nation. Along with UCLA, UC Berkeley consistently ranks as one of the top two public universities, and it was ranked #20 in the Best Colleges among National Universities report for 2022–2023.
The state constitution of California envisioned a university that would "contribute even more than California's gold to the glory and happiness of advancing generations," which is how Berkeley came to be.
The university's almost 13,000 postgraduate students and more than 32,000 undergraduate students call the Bay Area near San Francisco their home.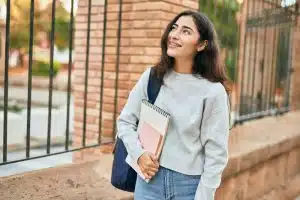 Cal has fostered its faculty, students, and alumni to scholarly accomplishments on par with those of Ivy League and other highly selective colleges since its foundation.
Why is Berkeley so prestigious? The majority of the 23 Berkeley graduates received the Nobel Prize awards in physics, chemistry, and economics. Recent winners include George Akerlof, who won the 2001 Prize for Economics for demonstrating how markets fail when buyers and sellers have access to different information, and Saul Perlmutter, who won the 2011 Nobel Prize for Physics for leading a team that discovered the accelerating expansion of the universe, suggesting the existence of a form of dark energy that comprises 75% of the universe.
In addition to what is Berkeley known for, in terms of the number of Sloan Research Fellows produced, Berkeley is second to MIT. With 785 graduates who have obtained NSF fellowships since 2015, UC Berkeley has historically topped the nation's list of NSF Fellows. If you enjoy chemistry, you might be aware that eight Periodic Table elements, including Berkelium, were found at UC Berkeley. If you enjoy physics, you should know that Berkeley is where the first cyclotron in history was built.
Who Is the Most Famous Person From Berkeley?
The University of California, Berkeley is not merely the top-ranked public university in the nation. So, what is Berkeley known for? It has been the vanguard of innovations that have changed the world, such as the wet suit and artificial legs, you might not be aware of its ability to turn out some rather well-known alumni. Numerous distinguished academics have walked the halls of UC Berkeley since it was founded in 1868, some of whom have become well-known.
You might wonder "Who is the most famous person from Berkeley?" Here is a list of 10 well-known UC Berkeley graduates:
Chris Pine
The American actor made his film debut as Lord Devereaux in The Princess Diaries 2: Royal Engagement in 2004.
Most notably, he played James T. Kirk in the 2009–2016 Star Trek reboot film series, Will Colson in Unstoppable (2010), Cinderella's Prince in Into the Woods (2014), Jack Ryan in Jack Ryan: Shadow Recruit (2014), Toby Howard in Hell or High Water (2016), Bernie Webber in The Finest Hours (2016), Steve Trevor in Wonder Woman (2017) and Wonder Woman 1984 (2020), Dr. Alexander Murry in A Wrinkle in Time (2018), and Robert the Bruce in Outlaw (2018). The character Jack Frost was also portrayed by Pine in the film Rise of the Guardians (2012).
Aaron Rodgers
American football quarterback Aaron Charles Rodgers plays for the National Football League's Green Bay Packers (NFL).
Before going to the University of California, Berkeley to play for the California Golden Bears, Rodgers began his college football career at Butte College in 2002. There, he established multiple career passing records, including the lowest single-season and lifetime interception rates. The Packers took him in the first round of the 2005 NFL Draft.
Steve Wozniak
American electronics engineer, computer programmer, inventor, philanthropist, and technology entrepreneur Stephen Gary Wozniak is also referred to as "Woz".
He co-founded Apple Inc. in 1976 with business partner Steve Jobs, which went on to become the largest company in the world by market capitalization and the world's largest information technology company by revenue. He gained widespread recognition as one of the key forerunners of the personal-computer revolution through his work at Apple in the 1970s and 1980s.
Brenda Song
Actress Brenda Song is a California native and started her career as a child model when she was six years old.
She made her acting debut in 1995 as a guest on the sitcom Thunder Alley. She then went on to perform in roles on shows for kids like Fudge and 100 Deeds for Eddie McDowd on Nickelodeon (1999). Song received a Young Artist Award for her performance as Song in the Disney Channel original movie The Ultimate Christmas Present from 2000.
She then got a contract with Disney Channel and became well-known for her roles as London Tipton in the comedy series The Suite Life (2005–2011) and Wendy Wu: Homecoming Warrior, the eponymous character in the action movie. For her roles, she won two Young Hollywood Awards. She has had starring parts in the television movies Get a Clue (2002) and the comedy film Stuck in the Suburbs (2004), and she played Tia on Phil of the Future from 2004 to 2005.
Paul Getty
The patriarch of the Getty family and an American-born British oil industrialist named Jean Paul Getty Sr. created the Getty Oil Company in 1942.
He was a native of Minneapolis and the young George Getty was his father. He was ranked as the richest living American in 1957 by Fortune magazine, and in 1966, according to the Guinness Book of Records, he was the richest private citizen in the entire globe, with an estimated net worth of $1.2 billion (or, roughly, $7.5 billion in 2020). At the time of his passing, his net worth exceeded $6 billion, or almost $22 billion in 2020.
A publication released in 1996 placed him as the 67th richest American who ever lived, based on his wealth as a percentage of the concurrent gross national product.
Ashley Judd
An American actress and political activist, Ashley Judd was raised in a performing arts family; she is Wynonna Judd's half-sister and the daughter of the late country music performer Naomi Judd. More than three decades into her acting career, she has also been more and more interested in political action and international humanitarian causes.
Gregory Peck
From the 1940s to the 1960s, Gregory Peck, an American actor, was one of the most well-known movie stars. Peck was ranked No. 12 on the American Film Institute's list of the 25 Greatest Male Stars of Classic Hollywood Film in 1999.
Alex Morgan
The National Women's Soccer League (NWSL), the top level of women's professional soccer in the US, and the US women's national soccer team both employ American professional soccer player Alexandra Morgan Carrasco. From 2018 to 2020, she co-captained the American women's soccer team alongside Carli Lloyd and Megan Rapinoe.
Jack London
American novelist, journalist, and social activist, John Griffith London, was one of the first American authors to achieve international fame and make a sizable fortune from writing. He was a pioneer of commercial fiction and American magazines. He also contributed to the development of the science fiction subgenre.
Isiah Thomas
Isiah Lord Thomas III, a former professional basketball player from the United States, is currently an NBA TV analyst. The 12-time NBA All-Star point guard was elected into the Naismith Memorial Basketball Hall of Fame and named one of the 50 and 75 Greatest Players in NBA History. He spent his whole professional playing career with the National Basketball Association's Detroit Pistons (NBA).
What Is Berkeley Known For Academically?
What is Berkeley known for academically? One of the four UC Berkeley students you would choose at random would be pursuing a degree in the social sciences. At UC Berkeley, the Social Science department is the largest program, employing 20% of the professors. Students who are interested in the social sciences are dedicated to discovering how people have lived in the past and now to use that knowledge to stop some of the longest-running conflicts in history.
The second most popular major is computer and information sciences, with 12% of undergraduates attempting to earn a degree in that field. At UC Berkeley, there are two methods for students to pursue a degree in computer science. Most first-year students are accepted into the Engineering and Computer Sciences major (a highly competitive process).
About 10% of UC Berkeley's undergraduate students are majoring in biological and biomedical sciences. The university confers more than 1,000 degrees in biological sciences each year, making it one of the best places in California to pursue a degree in this field. Students collaborate with teachers in several research divisions to create innovations in a variety of fields, including genetics, sustainability, and technology.
The Henry Wheeler Center for Emerging and Neglected Diseases (CEND), whose goal is implied by its name, is one particularly noteworthy division. The Cancer Research Laboratory (CRL) and CEND are working together to implement the Immunotherapeutics and Vaccine Research Initiative, a project that aims to find novel cancer treatment approaches. The biological sciences department's research centers provide an example of the practical learning opportunities that many students will have during their time in the classroom.
What Are Some Traditions At Berkeley?
Every country, city, and college has its own traditions, and UC Berkeley is no exception. The campus is filled with tales and superstitions that are only known to campus residents and a small portion of the outside world however, it represents what is Berkeley known for.
These customs can be palpable and have a lengthy history, such as the freshman-sophomore fights way back to the establishment of the university. Let's now tackle what are some traditions at Berkeley.
Step on the Seal
One of the most well-known campus superstitions holds that a student's GPA will suffer if they tread on the campus seal, three of which are inscribed on the ground near Memorial Glade.
According to the inscriptions on the seals, the classes of 1945, 1946, and 1947 dedicated them to all campus students, faculty members, and employees who served in World War II. A student who steps on one of these seals is supposed to be cursed, preventing them from earning a 4.0 GPA; one way to break the curse is to run and kiss the "4.0 ball," the statue of a ball in front of the Campanile. Kissing or stroking the statue of the ball can bring students luck in their lessons without having to stand on the seal beforehand.
Calling Out "Hugo" or "Pedro"
The students that reside in Units 1 or 2 might be the ones who are most familiar with this custom. Those who stayed up late may recall hearing the flimsy cry of "HUGOOO!" coming from the outside, frequently coming from the mouth of a buzzed campus student.
The custom is noted as "Pedro" in the UC Centennial Record book, which is likely what they shouted in the 1900s. This tradition is "very old and its origin is unknown," according to the book.
The Daily Californian searched for information about the change from "Pedro" to "Hugo," but was unable to locate any. There are a few tales that attempt to account for the screaming. One is the tale of Don José Domingo Peralta's daughter, who was formerly the owner of most of the land in the Berkeley area, and who traversed the countryside while calling out "Pedro" to the man she was in love with. The book claims that her ghost is still looking for him, and concerned pupils are helping by calling his name.
Another explanation for the custom is that it started when the dog of a University of California president ran off before finals and the president pledged to any student who located the dog that they would receive all A's on their upcoming tests.
Another legend, albeit a more contemporary one, is that a freshman student pledged a fraternity before disrespectfully breaking his pledge, forcing the fraternity's brothers to walk to the student's dorm building and cry his name, "Hugo."
Card Tricks
The campus Rally Committee sets up card stunts at every Cal football game, and they are a very well-known tradition.
The 1908 Big Game saw Cal supporters wearing white shirts and hats with two colors, which is considered to be the first time a card prank was used. The spectators would turn their hats inside out and create block letters out of the colors.
Cal fans were given stiff cards in a variety of colors for the 1914 Big Game, and they were instructed to hold them up in a specific order to form words and shapes. Card stunts have since become a custom at each home football game.
In order to organize a massive card stunt for the halftime show of Super Bowl 50 in Santa Clara, California, members of the Rally Committee traveled there. This was the same Super Bowl event that the Cal Band performed during the intermission.
What Are the Extracurricular Activities At Berkeley?
UC Berkeley offers a variety of opportunities for students to participate in extracurricular activities. You might now be curious of what are the extracurricular activities at Berkeley.
Attending Calapalooza, a bi-annual expo for student involvement that aims to bring together the 1,000+ student clubs, 60 fraternities and sororities, and student government organizations at UC Berkeley, is a fantastic place to start.
Having a good time over food? Join the Potluck Club, where participants make meals from a variety of international cuisines.
Other interesting and helpful clubs are Lean On Me and other organizations that share the goal of offering Berkeley students who might be struggling with mental health issues anonymous peer help.
At UC Berkeley, there is truly a group for everyone. Aerospace SAE combines academics with fun by designing and building remote-controlled aircraft to compete in the SAE International Aero-design Competition.
The social and charitable environment at UC Berkeley is significantly influenced by Greek life. A student who belongs to a fraternity or sorority is one in every three. Students are particularly dedicated to maintaining school customs and planning some of the school's greatest events, such as Welcome Week, Homecoming, and Trick or Greek on Halloween.
What is Berkeley known for in the sports field? Nearly 1,000 students engage in varsity sports at UC Berkeley, a member of the Pacific 12 Conference, and each student receives a little over $12,000 in athletic financial aid.
Out of all the sports offered by the athletic department at UC Berkeley, men's football is unquestionably the most popular and lucrative.
It might come as a surprise to hear that crew, which was the university's first organized activity back in 1868, is another important sport at Berkeley.  The men's crew team from UC Berkeley has won over 15 national titles and participated three times as part of the American Olympic team.
The women's volleyball team likewise has a strong track record and has participated in the NCAA Division I Tournament quite frequently. Athletes like Maddie Haynes and Jenelle Jordan, as well as volleyball legend Carli Lloyd, were all Golden Bears who later left college to play volleyball professionally.
The bottom line of "What is Berkeley known for?" is that it is one of the most prestigious universities in the US and is selective on top of that. Even though only around 16% of applicants are admitted each year, you can improve your chances of admission by being aware of the criteria the admissions committee uses to evaluate applications. You must ensure that your application distinguishes you from the thousands of other applicants.
AdmissionSight can guide you in making sure your application stands out among thousands of Berkeley aspirants. Feel free to set up an initial consultation with AdmissionSight experts to start your preparations.