What is the Most Prestigious Sorority?
What is a sorority?
What is a sorority? After completing the drawn-out application and admissions process, you can move on to the more enjoyable aspects of university. In addition to selecting your coursework and housing, you can also choose whether or not to join a sorority or fraternity. And most importantly, what is the most prestigious sorority in history?
If Greek life is unfamiliar to you, you might be wondering what a sorority is. Before joining a sorority or fraternity, there are many distinct factors to think about, and there are many components that make up each one.
In this blog, AdmissionSight will discuss the various facets of Greek life, including what a sorority is, what a sorority home is, and what the most prestigious sorority is. Find out if Greek living is right for you by reading on.
A sorority is a group on a college campus that promotes, among other things, community and camaraderie. Men join a fraternity, whereas women join a sorority. Greek life is prevalent in institutions across the United States and Canada.
While the objectives, guidelines, and expectations vary from sorority to sorority within Greek life, they are largely the same. If you can demonstrate that you possess the qualities that meet their particular qualifications, you can join a sorority. Most of the time, the things they look for are things like your personality, academic achievements, community involvement, and activities on campus.
Since they offer a sense of community and a place for students to build alliances and friendships, sororities and fraternities are frequently sought after by freshmen in college. Greek life is also linked to a particular way of living, which might support students in feeling like they belong or in assimilating into campus life.
What is a sorority house?
What is a sorority house? What is the most prestigious sorority? A sorority house is a sizable residence used by its residents as a common living area. Most of the time, the houses are used for social events, fundraisers, and mostly sorority chapter meetings.
The sorority house is just a place where members of a sorority might decide to live while attending college. Additionally, some sorority houses have standards for membership that require sorority women to live there for a set period of time.
What functions do sororities serve?
Sororities do serve a wider purpose for their members, in addition to giving new students a place to meet peers who share their interests.
Students who join a sorority or fraternity in college will develop a sense of sisterhood or brotherhood over time. When coping with the stress of college life, this sense of community can have a favorable impact on your overall education.
Sororities also have high expectations for behavior and success in the classroom, so members are responsible for their work and deeds.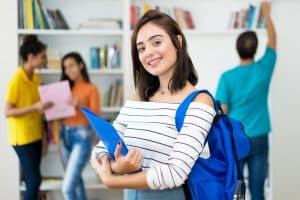 Additionally, Greek life offers members a priceless network that they can use for the rest of their lives. In particular, when it comes to their jobs, sorority sisters are frequently urged to support one another. For graduating students, this networking opportunity might open a lot of doors.
What is the most prestigious sorority?
What is the most prestigious sorority? The exciting part of college life begins once you've completed the drawn-out and stressful application process and are eventually admitted to your dream university. Making decisions about your academics, housing, and whether or not you want to make lifelong connections on campus by joining your first fraternity or sorority are all important.
If you don't know much about Greek letters, Greek life, or Greek organizations, you might be interested in how a sorority or fraternity built on friendships or a secret society that is common in many colleges works and how they solve problems on campuses and in their communities. Let's explore the several prestigious sororities than trying to identify the greatest one. Below is AdmissionSight's list of the most prestigious sororities that you may think of joining along with their unique identification.
The largest: Chi Omega
Chi Omega, the largest women's fraternal organization in the world with over 400,000 initiates, 181 collegiate chapters, and 248 alumnae chapters, was founded at the University of Arkansas in 1895. Chi Omega has provided its members with unparalleled possibilities for personal growth and development throughout its lengthy and illustrious history.
Famous alumni of Chi Omega, include Lucy Liu, Sela Ward, and Joanne Woodward.
Most historic: Alpha Kappa Alpha
The first Greek-letter sorority created by African-American women with college degrees, Alpha Kappa Alpha, was founded in 1908 at Howard University and is the oldest of the Divine Nine—the historically black sororities and fraternities that comprise the National Pan-Hellenic Council.
Maya Angelou, Katherine G. Johnson (one of the NASA researchers featured in the film Hidden Figures), Althea Gibson, Phylicia Rashad, Wanda Sykes, Star Jones, Alicia Keys, Kamala Harris, Coretta Scott King, Rosa Parks, and Alice Walker are notable Alpha Kappa Alpha women.
What is the most prestigious sorority? AKA has become a global sisterhood with more than 290,000 members in the US, Liberia, the Bahamas, the US Virgin Islands, Germany, South Korea, Bermuda, Japan, Canada, South Africa, and the Middle East. The organization takes pride in supporting members' personal and professional development, advocating for social change, and being of "service to all mankind."
Alpha Kappa Alpha helps more than two million families each year and contributed more than $5 million to various community organizations and scholarships in 2016.
Most famous former members: Kappa Alpha Theta
The need for members is not a problem for Kappa Alpha Theta, which has approximately 220,000 women worldwide. What is the most prestigious sorority for having a large number of well-known alumni? Kappa Alpha Theta!
Tory Burch, Sheryl Crow, Laura Bush, Barbara and Jenna Bush, Melinda Gates, Ann-Margret, Dylan Lauren, Cindy McCain, Katie Lee Joel, Stephanie Marsh, Sarah Clarke, Rue McClanahan, Claire McCaskill, Lynne Cheney, and Kerri Strug are just a few of the famous people who have pledged Theta.
As college students and alumni, they have access to a wide variety of organizations. Theta, however, differs from other groups. The membership is diverse, and they don't mind standing out and working as a team to change the world. Theta has dedicated itself to battling racism, prejudice, and injustice—both inside the sisterhood and throughout the world.
Most devoted to public service: Delta Sigma Theta
The founding sisters of Delta Sigma Theta, the largest Greek-letter organization for black women, marched in Washington, D.C.'s Women's Suffrage March just two months after the organization's establishment in 1913 at Howard University.
DST runs on a "five-point" agenda intended to encourage economic and educational growth, international and political knowledge and activity, and physical and mental health. It now has more than 1,000 chapters and has been around for more than a century.
Delta Academy, which enhances education for young adolescents, and Mary Help of the Sick Mission Hospital, which offers prenatal and maternity care to women in Kenya, are two examples of sorority projects and efforts.
Additionally, Delta Sigma Theta founded the Delta Research and Educational Foundation (DREF) as a public charity that supports academic excellence, community service efforts, and research projects centered on African-American women. Shirley Chisholm, Barbara Jordan, Barbara Watson, Patricia Roberts Harris, and Ruby Dee Davis are examples of DST sisters.
Oldest: Alpha Delta Pi
What is the most prestigious sorority for being the oldest sorority? The first female-only secret society in the nation was established in 1851 at Wesleyan College in Macon, Georgia, under the name Adelphean Society. In 1905, it changed its name to Alpha Delta Phi. It grew to include Salem College in Winston-Salem, North Carolina, that year. In 1913, it changed its name to Alpha Delta Pi. There are now 155 active chapters of the sorority in the United States and Canada.
Alpha Delta Pi is the oldest secret society for undergraduate women in the world, having been established on May 15, 1851. The history of Alpha Delta Pi is impressive. It began at Wesleyan College in Macon, Georgia, the first institution in the world to be granted a charter to award degrees to women. Who would have thought that a young girl's dream was the beginning of it all?
Best sorority house: Phi Mu
The University of Alabama chapter of Phi Mu revealed a stunning, three-story, 39,444 square foot sorority house in 2016 that cost a princely $13 million. The home, which hosts 68 women each semester, features a baby grand piano, marble floors, an elevator, and a chandelier that was formerly part of New York City's Waldorf-Astoria Hotel.
The Phi Mu Fraternity has been encouraging women to reach their full potential since 1852. The open motto, "Les Soeurs Fideles," the Faithful Sisters, embodies its rich history as the second-oldest secret society for women in the United States. They always work to offer their members the numerous advantages of a strong sisterhood.
Most undergraduate chapters: Alpha Omicron Pi
At Bernard College in New York City, four female companions founded Alpha Omicron Pi on January 2, 1897. The sorority later expanded to other colleges and universities in the US. After more than 120 years of existence, it now has 139 active chapters and about 170,000 members who were initiated.
Alpha Omicron Pi is a social fraternity that operates under the four tenets of loyalty, scholarship, character, and dignity. Members of the sorority are dedicated to equality, diversity, and inclusiveness even though the organization's primary values center on close ties and friendship. Additionally, they launched the DEI Culture Survey, a survey that creates and maintains a review of the structure of an organization.
The foundational idea of "service to humanity" is central to Alpha Omicron Pi's sorority life. They have supported many causes, but one of their oldest collaborations dates back to 1967 with the Arthritis Foundation. The group has contributed a sizeable sum to arthritic research as well as to camps, seminars, and other projects. Sister for Soldiers is one of the charitable endeavors that assists female service members and men serving overseas.
A few of the notable members are, among others: American TV personality Parvati Shallow and the $1 million winner of the popular TV series Survivor; the first photographer for Fortune; Margaret Bourke-White; curator emeritus at the Carnegie Museum of National History, Mary Dawson; and many more.
Best charity partnership: Delta Delta Delta
What is the most prestigious sorority for having the best charity partnership? Since the 1970s, children's cancer organizations have benefited from the support of Delta Delta Delta, which began by supporting St. Jude Children's Research Hospital in 1999. Tri Delta has contributed more than $45 million to the hospital. In July 2014, the sorority made a fundraising pledge of $60 million over 10 years, making it the highest fundraising commitment in St. Jude's history.
Tri Delta is a group of feminists with common beliefs that you can be who you are and still feel like a part of something greater. They are steadfast, fearless, and loving. They are driven by a desire to serve people, committed to improving ourselves, and committed to empowering women to live, learn, and lead with a purpose for a lifetime.
Best leadership program: Kappa Kappa Gamma
The first program of its kind among Greek organizations, GIRLS Academy is a leadership and self-esteem program for middle-school-aged girls administered by Kappa Kappa Gamma Kappa. Its goal is to counteract the objectification of women and encourage empowerment. Girls talk about their struggles, perform community service, and write about their aspirations during half-day retreats.
The organization has been bringing women together for 152 years so they can develop, learn, and be inspired to make great changes in their lives.
The ideals of Kappa Kappa Gamma are to courageously challenge ourselves to reach our potential and to perceive brilliance in all women.
Most philanthropic: Delta Gamma
The 1873 Oxford, Mississippi-founded Delta Gamma fraternity's motto, "Do Good," has made it synonymous with generosity. Annual gifts from the DG Foundation support Service for Sight, an organization dedicated to preserving the gift of sight, as well as the four schools for blind or visually challenged children that were founded by Delta Gamma.
One of the biggest social events at many colleges is Anchor Splash, its annual swimming competition fundraiser. The DG sisters gave 227,171 hours of service last year, and the Delta Gamma Foundation has given more than $4.3 million in the last ten years.
In addition, Delta Gamma provides a scholarship program called Sisters Helping Sisters, which has granted more than $2.2 million to collegiate women who are struggling with student loan debt.
Having to know what is the most prestigious sorority, you may be considering whether Greek life is worthwhile. Beginning to think about Greek life and other college-related activities is exciting. You must first apply for admission to the school of your choice. Here, a college admissions expert can be helpful.
With more than ten years of expertise assisting students looking to attend college, just like you, to better comprehend the college application process, enhance their applications, and be accepted into the school of their choice. Top admissions experts include AdmissionSight. Make an appointment with us right now.