10 Most Popular College Majors
The most popular college majors have their appeal for a good reason. In addition to equipping students with skills that are in high demand in the workforce, they cover engaging themes. Choosing a college degree that will be able to keep up with the frenetic speed of our constantly shifting environment can be a challenge.
Because of the proliferation of new industries and the rapid advancement of technology, some of the jobs that are in demand today may become obsolete in the next few years.
What are the most popular college majors?
What are some of the most common majors chosen by college students? Examine the following list of college majors and think about which one corresponds most closely with the skills and activities that you enjoy doing the most. This will help you select the right major for you.
According to data provided by NCES, the following are the top 10 most common majors chosen by college students.
1. Business
Job Growth Rate (2020-30): 8%
Common Specializations: Accounting, business administration, business intelligence, business management, entrepreneurship, finance, international business
In the United States, undergraduate degrees in business are sought-after and ranked among the most sought-after degrees overall. In the academic year 2018-2019, the field of business was responsible for the conferral of 390,600 bachelor's degrees.
Studying the underlying business ideas and practices that underpin an organization's ability to function effectively is the focus of business programs. Students who intend to major in business regularly engage in the study of ideas from a variety of fields to hone their capacities for effective communication, leadership, and critical thinking.
2. Health Professions
Job Growth Rate (2020-30): 16%
Common Specializations: Health informatics, health sciences, health services, healthcare administration, healthcare management, medicine, nursing, nutritional science, public health, sports medicine
It is expected that there will be a greater need for medical professionals as the population continues to age and as individuals grow increasingly dependent on receiving medical care. Because of this need, health-related majors are consistently ranked among the most popular college majors to study.
According to the National Center for Education Statistics (NCES), in the academic year 2018-19, colleges and universities awarded a total of 251,400 bachelor's degrees in health professions and allied areas. This represented 12% of all bachelor's degrees.
Every conceivable route in the healthcare industry calls for a unique education and set of skills. Programs like those for nurse practitioners, for instance, require clinical experience (i.e., working directly with patients in hospitals, nursing homes, and public health offices). Fundamental aspects of healthcare education, such as anatomy and physiology, are typically covered in almost all programs.
3. Social Sciences and History
Job Growth Rate (2020-30): 8% (all life, physical, and social sciences)
Common Specializations: Anthropology, criminology, economics, geography, history, legal studies, political science, social work, sociology
More and more students are choosing to major in social sciences to assist in meeting the rising demand for specialists in the life, physical, and social sciences. According to the data provided by the NCES, colleges and universities awarded a total of 160,600 degrees in the social sciences and history for the 2018-19 academic year. This indicates that approximately one in ten students chose to major in social science.
Coursework in the social sciences typically follows an interdisciplinary approach at the undergraduate level, incorporating subjects such as economics, sociology, and history. Many programs in the social sciences offer a liberal arts education to their students. This helps students develop their skills in areas such as analysis, communication, and leadership while also preparing them for a variety of possible professional pathways.
4. Engineering
Job Growth Rate (2020-30): 6% (architecture and engineering jobs)
Common Specializations: Chemical engineering, civil engineering, electrical engineering, electronics engineering, industrial engineering, mechanical engineering, nuclear engineering
It is anticipated that there will be a greater need for engineers as the market for alternative energy sources and renewable energy sources continues to grow. In the academic year 2018-2019, there were around 126,700 students that graduated with a bachelor's degree in engineering. Thus, Engineering is among the most popular college majors.
Students in all engineering programs learn abilities in areas such as project management, graphical communication, and problem-solving, although the major coursework varies based on the type of engineering being studied. Students might also anticipate discovering solutions through the use of mathematical models and quantitative approaches.
5. Biological and Biomedical Sciences
Job Growth Rate (2020-30): 5% (biochemists and biophysicists)
Common Specializations: Biomedical engineering, biotechnology, chemistry, environmental science, microbiology, wildlife biology
In the academic year 2018-2019, universities and colleges in the United States awarded 121,200 bachelor's degrees in biological and biomedical sciences. Since the 2010-2011 academic year, when 89,980 degrees were awarded, this number reflects an increase of 35%.
There are a variety of biology-related careers that offer great income potential and room for advancement, which may be one factor that contributes to the popularity of this discipline.
Studies in ecology, cell biology, and genetics are just a few of the topics that are covered in undergraduate biology programs. Students who major in biology frequently choose to concentrate their education in a particular subfield to better prepare for a particular kind of job.
6. Psychology
Job Growth Rate (2020-30): 8%
Common Specializations: Applied psychology, behavioral psychology, child and adolescent psychology, clinical psychology, forensic psychology, organizational psychology
As the prevalence of mental health disorders continues to climb, an increasing number of people are seeking the assistance of psychologists. In the academic year 2018-19, colleges and universities issued a total of 116,500 bachelor's degrees in the field of psychology. This represented 6% of all bachelor's degrees that were granted during that period. Hence, Psychology is on the list of the most popular college majors.
The topics of research methodologies, statistical analysis, and cognitive processes are frequently emphasized throughout psychology coursework. In addition, supervised clinical experiences are typically required of students in graduate schools.
A Ph.D. is typically required for employment in the field of clinical psychology; however, if you have a bachelor's degree in psychology, you may be qualified for positions in business or education.
Bachelor's degree holders in psychology are typically successful in sectors such as marketing, advertising, and sales. This is because psychology studies help students gain a better knowledge of human behavior.
7. Communication and Journalism
Job Growth Rate (2020-30): 14%
Common Specializations: Advertising, editing, marketing, media communication, public relations, technical writing, translation, writing
Students who major in communication or journalism gain marketable skills through coursework that focuses on writing, editing, and critical thinking, among other topics. A total of around 92,500 students obtained their bachelor's degrees in communication or journalism during the 2018-2019 academic year.
Students who major in either of these subjects will be more prepared for careers in business, marketing, and writing.
Students who take journalism classes at the undergraduate level can expect to improve their reporting and writing abilities. Students receive instruction on a wide range of topics connected to the media, such as the philosophies of contemporary journalism, media law and ethics, and narrative.
Those who are interested in obtaining a well-rounded education in the liberal arts will benefit the most from studying communication at the undergraduate level. In the context of coursework, topics including public speaking, public relations, and broadcasting are frequently covered.
8. Visual and Performing Arts
Job Growth Rate (2020-30): 4%
Common Specializations: Animation, art history, dance, fashion design, film, fine arts, graphic design, illustration, interior design, music, photography, video game design, web design
As a result of the fact that the earning potential for artists is somewhat lower than that of professionals in sectors that require less creativity, the financial load of obtaining an art degree is frequently considered to be the biggest disadvantage. Despite this, a staggering 89,700 bachelor's degrees were awarded in the fields of visual and performing arts for the academic year 2018-2019. And ranked among the most popular college majors in the country.
When considering a career in the arts, many people are motivated less by the potential financial rewards and more by the satisfaction that comes from creating art. Coursework in art at the undergraduate level develops abilities in creativity, collaboration, and time management. Students should be prepared to put in a significant amount of time working in various labs and studios.
While some art programs concentrate on theory and practice, others go more deeply into topics relating to administration and design. Some art programs focus on both theory and practice.
9. Computer and Information Sciences
Job Growth Rate (2020-30): 13%
Common Specializations: Computer programming, cybersecurity, data science, database management, information technology, network administration, software engineering, web development
Because technology is becoming increasingly pervasive, businesses are searching for qualified computer specialists to address issues relating to technology and increase operational effectiveness. In the academic year 2018-2019, 88,600 students graduated with bachelor's degrees in computer and information sciences from four-year institutions and universities.
Topics like information theory, programming, data structures, and the principles of operating systems are often covered in computer science courses taken at the undergraduate level. Students majoring in computer science frequently work with a variety of programming languages and tackle difficult coding challenges.
10. Education
Job Growth Rate (2020-30): 10% (education, training, and library jobs)
Common Specializations: Early childhood education, elementary education, health education, math education, music education, physical education, secondary education, special education
When there are more students, there is a greater need for more teachers. In the academic year 2018-2019, colleges and universities awarded a total of 83,900 bachelor's degrees in education.
The pay scale for educators shifts according to the grade level that they instruct. As an illustration, college professors earn a median yearly wage of $80,560, whereas middle school teachers earn only $60,810, which is a difference of approximately $20,000 each year. The annual salary for preschool teachers is significantly lower, coming in at $31,930.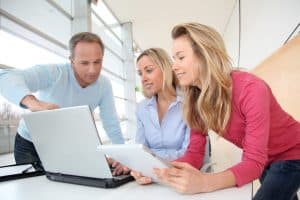 Undergraduate students who enroll in education and teaching programs learn how to run classrooms, develop lesson plans, and provide support for students. Contemporary teaching approaches, the social surroundings of education, and teenage development are among the topics that are covered in standard courses.
How to choose the right major for you?
What factors should you consider before selecting your major? Which of these most popular college majors are you most interested in studying? Earning one of these degrees could set you up for a successful career in a variety of fields, including business, education, healthcare, the arts, science, or another area. A college degree is the starting point for everything, regardless of the direction you take in life.
Spend some time investigating the various majors available to you and selecting the one that seems to be the most natural match. After you have made your decision, conduct research to find institutions that offer that degree, and then apply to the schools that are the most appealing to you. After that, you should get ready to put in the effort necessary to build a successful professional career.
Tips for choosing a major
Undecided students may experience some level of confusion when trying to select a major from among the many popular options and zero in on a field of study that they are passionate about. If this describes you, then consider the following tips for choosing a major:
1. Educate yourself on all the major options.
If you have decided on a school already, you should spend some time getting acquainted with the many choices available to them in terms of majors. You might also become familiar with the majors that are offered in the fields that you feel compelled to investigate.
For example, if you already know that you enjoy STEM subjects, you should concentrate your college major research on science and mathematics. You might discover that there is a program that you were unaware of but that you can utilize.
2. Take into consideration your interests.
Which topic most piques your interest? What kinds of things do you take pleasure in learning? Your choice of major may end up being significantly influenced as a result of this. Because deciding on one of the most popular college majors entails committing a significant amount of your time and energy to master a single subject, you should make sure that the field of study you select piques your curiosity.
An additional advantage is yours to take advantage of if you select a major that corresponds to your areas of interest. The people you study with are likely to have interests that are comparable to your own; as a result, you will have the opportunity to cultivate meaningful friendships and build professional network ties that may accompany you after you from college and into your career.
3. Consider your passion.
Do you have a certain aspect of life and society that you feel very strongly about? If this is the case, it may help you decide which field of study to pursue. If you want your future work life to be more energizing, consider pursuing a profession in an area in which you have a strong interest.
Have the bravery to pursue your interest in a field that could lead to a successful profession, and do so without fear.
For instance, if you have a strong desire to assist people who are disadvantaged or going through tough times, you could pursue a career in social work by majoring in that particular subject of study. If you have a passion for the arts, you should think about pursuing a degree in art, performance, or even design.
If you attend classes and take courses that are related to your interests while you are in college, you will be able to make the most of your time there and will have a more positive overall experience.
4. Consider your strengths.
It's safe to say that college will be more challenging than high school was. You can anticipate that it will test both your capabilities and your way of thinking. However, if you look into majoring in a subject that plays to your strengths, success will be within reach with only a little bit of effort on your part. Therefore, you should think about your advantages.
Are there particular domains in which you perform very well? Is there a route I can take to direct these toward a particular major? If you can concentrate your study on a subject that is at least somewhat familiar to you, you will discover that you have a much easier time enjoying your time at college. If you can achieve success in that area, your time spent in college will be extremely rewarding.
5. Seek assistance from a faculty member or an advisor in the major.
You already know what the most popular college majors are, and once you start to lean toward a certain subject or major, it's time to start getting more specific advice about how to move forward with your education. Get in touch with the academic advisor or a member of the faculty who specializes in that major or the overarching subject that it is supported by.
Make an appointment with them to discuss their division at a later time. Learn more about what you plan to study, what employment opportunities are available, what the advantages and disadvantages of that line of study are, and whether or not your skill set is a good fit for that line of study.
6. Enroll in introductory classes that provide an overview of the major.
If you are narrowing down your options for a major, the next step is to enroll in classes related to that major to gain more insight into it and determine whether or not it is a good fit for you. You can get an overview of the main field's overarching ideas through several introductory classes, and then you can decide if it aligns with your objectives.
These classes may not transfer over to another major field if you change your mind about what you want to study, but they provide you with a secure environment in which to explore ideas and help you determine whether or not the major is something you want to devote three to four years of your life to pursuing.
7. Take into consideration potential future careers and earnings.
Even if this is something that should be investigated, most majors do have career path options associated with them. You have no choice but to invest your time, effort, and resources into earning a degree or certification that will eventually lead to a well-paying career.
As you investigate several career paths, you shouldn't overlook the importance of looking at the earning possibilities of each option. Check to see that the line of work you intend to pursue not only enables you to pursue your interests but also has the potential to earn you enough money to cover your expenses in the foreseeable future.
8. Engage in conversations with people about their majors.
Talk about your options among the most popular college majors with people you know who are now enrolled in college or who have recently graduated. Ask them what they enjoy and don't like about their major, how they chose it, and what they would do differently if they were in your position and making the same decision.
Choose someone to talk to who has career objectives that are comparable to your own so that you may obtain sound information about the sector and how it might relate to you and the things that you are passionate about.
If you're set on getting into a world-class college but aren't sure how to make it happen, we can help! AdmissionSight is a leading college entrance expert with over a decade of experience helping students just like you get into the schools of their dreams.
We focus on offering a wide range of services all aimed at helping students perfect their applications to catch the attention of admissions officers. Contact us today to schedule a free consultation to learn more about what we offer.